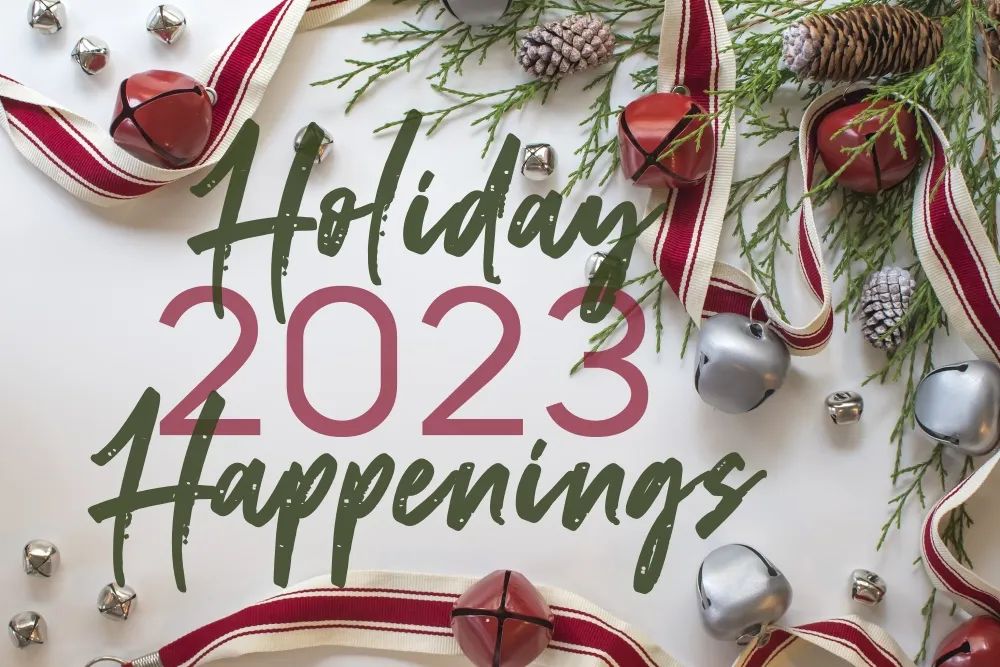 2023 Seasonal Snapshot
November 2023
From here to there and there to here, holiday fun is EVERYWHERE! We've mapped out the holly jolly good times (along with opportunities to be a handy helper) for you and yours to mark your calendars and make the most of this holiday season. {Scroll onwards for Santa Sightings, a full listing of 2023's Holiday Happenings, and our holiday-related content - we're talking everything from where to go Christmas light-looking to stocking stuffer ideas for all ages!}
CRAFT & VENDOR FAIRS
Each of the fairs, festivals, and markets listed here (and more in the calendar itself) share a desire to get your holiday shopping started in a unique way, but each offers its own unique atmosphere. Keep the cheer here while shopping locally this holiday season!
Nov 11 & 12 | Holiday Food & Gift Festival @ MetraPark Expo Center, Saturday, 9am-5pm / Sunday, 10am-4pm - Admission: $3 or $1 with a nonperishable food donation for the Billings Food Bank.
Nov 25 & 26 | MT Country Christmas Market @ MetraPark Montana Pavilion, Saturday, 9am-4:30pm // Sunday, 10am-5pm - Free admission.
Nov 25 | Small Business Saturday Vendor Sale @ The Yogurt Shop in Laurel, 10am-3pm – As you peruse a variety of goods, enjoy a nibble or sweet treat at the place where dessert first is always the recommendation!
Dec 1 & 2 | Rescued & Reclaimed Country Christmas Vintage Market @ MetraPark Expo Center, Friday, 5-8pm // Saturday, 10am-4pm - Featuring over 80 of the region's finest vendors who offer a unique variety of shopping opportunities.
Dec 1 | WinterFair @ Yellowstone Art Museum, 11am-8pm – It's back! This arts & crafts market showcases local artisan vendors throughout the museum featuring hand-made goods and more.
Dec 3 | Christmas to Remember | @ Laurel Middle School, 10am-4pm. Shop a variety of vendors at this annual bazaar.
HOLIDAY HAPPENINGS
Nov 4 & 18 | Holiday Wreath Workshop @ Montana Audubon Center, 2-4pm – With boots on the ground and hands at work, you'll first go for a hike to learn about local conifer trees while collecting fresh boughs. Head indoors for a hot drink to warm up those hands to assemble your wreath. Whether working together or alone, you'll go home with a fresh wreath! Cost: $30/wreath ($25/member) | https://mtaudubon.org/center
Nov 23 | Run! Turkey, Run! starts @ Wise Wonders Science & Discovery Museum at 9am. Lace up those running shoes for this Thanksgiving morning tradition that benefits food charities in Billings. Register: https://runsignup.com/Race/MT/Billings/RunTurkeyRunMontana
Nov 24-Dec 24, Dec 26-Jan 1 | Holiday Nights @ ZooMontana, 5-9pm. Open TH-SU, Nov 24-Dec 24; open nightly Dec 26-Jan 1. The dazzling walk-through holiday light display at ZooMontana is back for its 2nd year! Expect even more lights and new interactive options, more large-scale displays and characters to meet, and more S'more Huts. Get your tickets: https://www.holiday-nights.com/.
Nov 24 | Billings Holiday Parade @ Downtown Billings, 6:30pm – Bundle up and gather your family and friends for Billings' kickoff to the holiday season! 2023 Theme: Home for the Holidays.
Nov 25 & 26 | Billings Symphony Presents: The Nutcracker @ Alberta Bair Theater, Saturday, 2pm & 7pm // Sunday, 2pm. Alberta Bair Theater. With its signature theatrics, beloved choreography, and the exuberance of more than 100 local children, this charmingly light-hearted interpretation is a holiday classic the whole family will love. billingssymphony.org.
Nov 30-Dec 2 | Festival of Trees – The Family Tree Nurturing Center's Festival of Trees, held at MetraPark, is a sight to behold, kicking things off with the Gala Tree Auction (with a Nutcracker theme) on Thursday, then opening things up with fun for the whole family on Friday and Saturday. Check the online calendar for all the details!
Dec 3 | Laurel Christmas Stroll | @ Downtown Laurel, 2-8pm - Head on over to Laurel for a day filled with Shopping, S'more Stations, Pics with the Grinch, Lighted Parade (5:15pm), and Wagon Rides (following the parade).
Recurring Santa Sightings...
Santa's Wonderland
At Cabela's magical Wonderland, your family will receive a free 4x6 photo with Santa (along with a free, shareable video). Have a letter to Santa in need of mailing? You can take care of that during your visit, too, and receive free giveaways (while supplies last). Appointments are available 1 week from the current day (new appointments are released at 12:01 a.m. for the next available day). Reserve your spot at the link above. Each appointment is part of a 15-minute timeframe – make the most of every moment by arriving on time.
FULL CALENDAR OF 2023 HOLIDAY HAPPENINGS
Holiday-Related Articles: