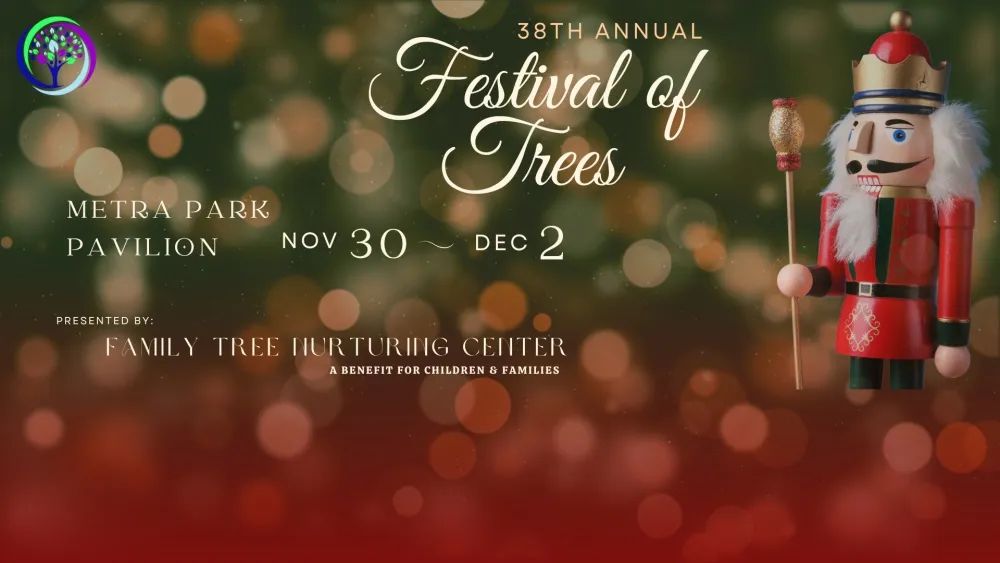 Family Tree Nurturing Center Presents the 38th Annual Festival of Trees
October 11, 2023
The Family Tree Nurturing Center's beloved kickoff to the holiday season is back for its 38th year at MetraPark's Montana Pavilion, November 30-December 2, 2023. This special event benefits children and families and supports the efforts of FTNC's mission to provide education and support in order to prevent child abuse and neglect and enhance the well-being of all families in Yellowstone County and the surrounding areas.
A veritable Winter Wonderland in the theme of The Nutcracker, the Pavilion will be filled with up to 40 beautifully and uniquely decorated trees that will be auctioned off in a live auction (along with Gift Baskets and Wreaths). As always, the Gala Dinner and Tree Auction launches the event on Thursday, November 30 at 5pm.
GALA DETAILS:
NOV 30 | Gala & Live Auction (Tickets: $75/person or $800/reserved table of 8)
5pm | Doors open, Champagne Reception, Hors d'oeuvres, No-Host Bar, Silent Auction
6:30pm | Holiday Dinner
7pm | Live Auction & Tree Auction begin
The Festival of Trees is the Family Tree Nurturing Center's primary fundraiser and funds the nonprofit agency's programs that provide support and education for parents and caregivers in order to "support families in Billings, helping them to cultivate deeper connections, overcome challenges, and grow together." FTNC offers a wide range of services and programs designed to promote healthy family dynamics, including parenting classes, child therapy, in-home mentoring, respite and childcare. In addition to our community-based programs, FTNC also provides parenting classes, zoom visits and other resources at the Montana Women's Prison. "We believe that every parent deserves access to the tools and resources they need to be successful, regardless of their circumstances," explains the FTNC website.
While Thursday evening is for the grown ups, there is fun for the whole family throughout the weekend:
ADMISSION PRICES:
$5/person
$15/family (2 adults + children)
Ages 6 and younger get in free
Accepted methods of payment: Cash & Credit Cards
FRIDAY, DECEMBER 1st SCHEDULE:
9-11am | Special Viewing (for Children & Seniors)
1-3pm | Tea in the Trees (Tickets: $10 for seniors / $12 in advance / $15 at the door)
3-8pm | Gift Boutique & Public Viewing of the Trees
5-8pm | Carnival, Gift Boutique & Entertainment
5-8pm | Photos with Santa
The Special Viewing provides the opportunity for seniors, children, and special needs groups to come early to visit the Festival prior to opening to the public for the day. No charge for groups viewing the trees.
Tea in the Trees allows attendees to stroll through the beautifully decorated trees while enjoying tea, coffee, cider, and goodies. The afternoon includes a Style Show by Dillard's with special guest, Miss Montana, Faith Johnson. Don't miss the gift boutique!
Find great holiday gift ideas at the Gift Boutique - shop local, handmade gifts, home décor, stocking stuffers, and more!
The afternoon and evening is open for Public Viewing of Trees when the community is invited in to experience the beautifully decorated holiday trees up close. Key word here, though, is "view," please don't touch the trees or any items below the trees. (Remember to vote for your favorite! It's $1 per ticket to vote; tickets may be purchased at the front entrance).
Local choral and dance groups will once again be onsite providing Entertainment throughout the weekend. Scheduling will be posted at the event.
The Carnival is a Family Fun Night for all ages! Expect games, prizes, airbrush tattoos, and more! Tickets are for sale at the Carnival Booth. (All proceeds benefit the Family Tree Nurturing Center.
What winter wonderland is complete without Santa? Bring the kiddos for their annual visit and photo opportunity with Santa. They can even bring their letter to Santa do drop in his mailbox!
SATURDAY, DECEMBER 2nd SCHEDULE:
10am-5pm | Public Viewing of Trees
10am-6pm | Gift Boutique & Entertainment
10am & 1pm | Storytime with Santa
11am-1pm & 2pm-4pm | Photos with Santa
Storytime with Santa- Join Santa as he shares one of his favorite Christmas books!