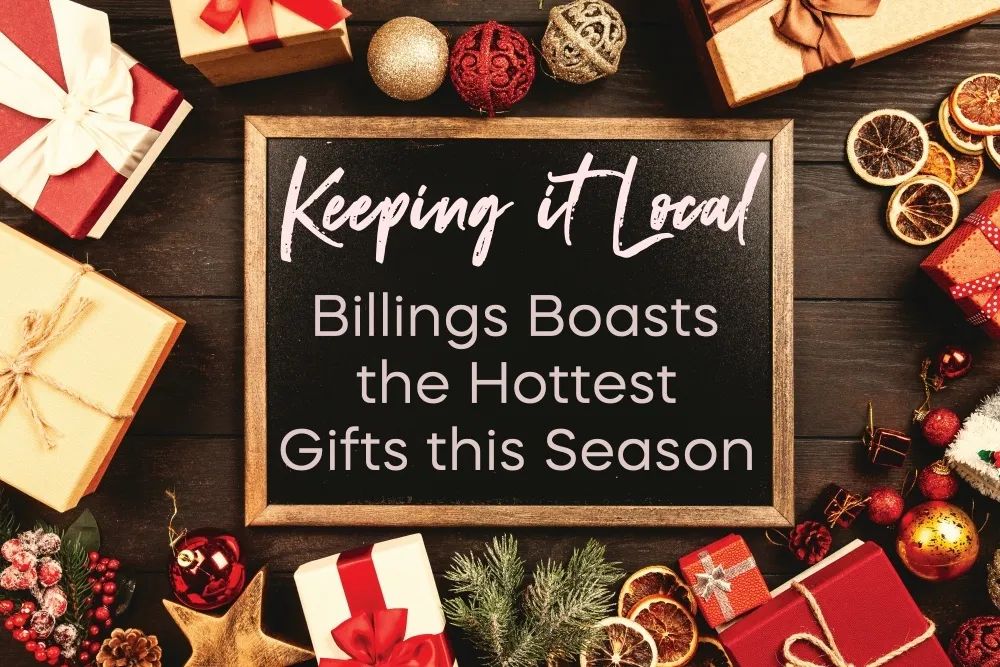 Keeping it Local: Billings Boasts the Hottest Gifts this Season
November 2023
The holidays are here; if you haven't already, it's time to dig in and get some shopping crossed off your list. Billings is ripe with exceptional local stops, so this year, we've compiled a list of the hottest gifts of the season for kids AND where you can buy them locally.
If you're anything like me, the amount of stuff in your house gets out of hand, so we try to limit holiday purchases by focusing on a few things for each child: one thing they want, one thing they need, one thing to wear, and one thing to read. It's hard sometimes to stick to that plan, but it helps us to truly consider each kiddo and their personality.
Below are some local stores offering the best buys on some of the hottest gifts this holiday season.
WANT
The latest toys, games, technology, and gear are at the top of wish lists. If this sounds like your kids, consider these ideas:
SCHEELS offers a recently expanded toy and gift section for a great selection. Bricks & Minifigs provides an impressive selection of Legos if those are on their wish lists. You can also find the most snuggly lovies at Bumps 'n Bundles and the Joy of Living. You're bound to find the cutest gifts, from Jelly Cat critters to the softest blankets, at either stop. And, if you're looking for games and puzzles, This House of Books, boasts unique offerings for all ages. A big craze is cool reusable water bottles. You'll find excellent options at SCHEELS and Joy of Living, and you can always pick up some kitschy, pragmatic, fun, or meaningful stickers to deck out all kinds of special things, from water bottles to notebooks to lockers to… well, you'll have to draw a line somewhere!
NEED
The way kids grow and change, their needs are tough to keep up with. So, let's start at the top. You'll find gorgeous journals and notebooks at the Joy of Living for a kiddo to write their feelings or express their artistic side. Paired with a special pen or drawing tools, your gift will make an impact. If it's winter gear or sports equipment on the need list, The Base Camp is your one-stop shop. You'll find various brands, sizes, and price points for every budget. You can even rent outdoor gear to try out before purchasing. Maybe you have little ones not old enough to choose yet. Bumps n' Bundles has you covered with amazing strollers, blankets, diaper bags, and more. Or, if you're looking for the cutest plates, cups, and cutlery, you'll find various options at all three of the above stores.
WEAR
The cutest kids' clothes in town are found at Bumps n' Bundles. From teeny tiny babes to toddlers and early school-age kids, you'll find practical daily wear and frills, ruffles, swagger, and sass for every personality. Looking for the older kiddos in your life? The Joy of Living has a selection of jewelry that is tough to top. Or, stop by SCHEELS or The Base Camp for everything from shoes to sweaters to pjs, stocking stuffers, and more.
READ
Books are one of the greatest treasures in our house. In years past, we've used books for many different themes: one year, they were an advent calendar, with one book opened and shared each day between mid-December and Christmas day (a mix of new and new-to-us reads!). This House of Books is the ultimate local stop for every book on your list. You'll find local and regional authors writing for all age groups (as well as games and toys to catch your attention). Telling Stories Wrong by Gianni Rodari, an illustrated children's book, and Elf Dog and Owl Head by M.T. Anderson for middle-grade readers are fabulous recommendations from our local book experts at This House of Books.
EXPERIENCES
To round out the gifts this season, consider adding gift cards or memberships to places where your child and family can experience something together. Purchase tickets or memberships for movies at Art House and the Babcock. Or consider memberships to ZooMontana or Wise Wonders Science & Discovery Museum; if your family is into baseball or softball, memberships or passes to D-Bat or Mitchell Golf will keep things swinging in the off-season. Or, look into season tickets for the Billings Mustangs. Local restaurants, events, classes, and camps can also be awesome additions.
Billings is a true treasure trove of unique finds and exceptional business. Whatever hits your shopping list this year, think local.
Originally printed in the November 2023 issue of Simply Local Magazine
Never miss an issue, check out SLM's digital editions here!