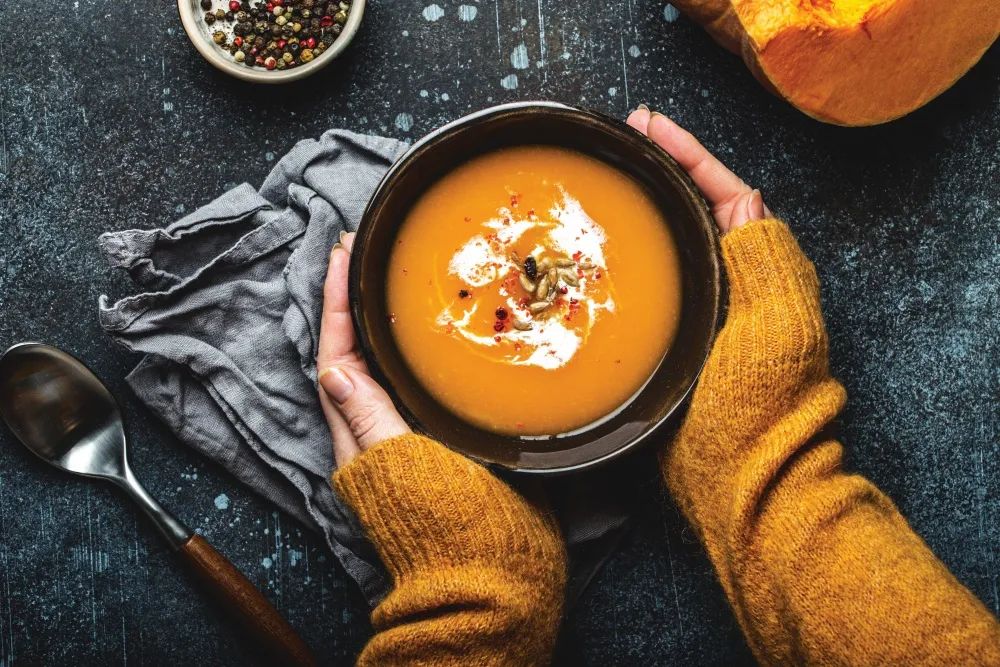 The Humble Bowl of Soup
January 2023
Do you remember the Campbell's soup commercial with the snowman who melts into a boy while eating a warm, comforting bowl of soup? The advertisement seemed to be an encouragement to get outside and brave the elements as you'll surely thaw out and warm up with a bowl of soup. As winter marches on with its biting wind, frigid temperatures, and shorter days - we can brave the elements and gain much more than warmth from a bowl of soup.
January is National Soup Month, and we certainly have much to celebrate about this humble meal. Soup is surprisingly popular, with 99% of homes in the United States having cans of soup in the cupboard. Soup from a can is a great staple to have on hand - but I'm encouraging you to create your own soup - and here's why:
Soup-erior Nutrition
Soup is an excellent way to incorporate an abundance of nutrition in one bowl. The earthy goodness of vegetables such as onions, celery, carrots, legumes, and potatoes not only boast flavor, but loads of good-for-you nutrition in soup. Let's look at the nutritional highlights of some of the more common soup additives:
Vitamin C is a necessary antioxidant helpful in boosting the immune system and is found in onions, celery, and potatoes.
Folate, a B vitamin critical during early pregnancy, may help decrease the risk of Alzheimer's disease. It's found in onions, celery, beans, and potatoes.
Potassium is the mineral to help lower blood pressure and ensure proper muscle function. Good sources of potassium include potatoes, onions, beans, celery, and carrots.
Fiber acts like a workout for your gut and sets the stage for a healthy gut microbiome. Beans and lentils are an excellent source of fiber, along with every other vegetable you could add to your soup.
The best part is that most soup recipes contain these ingredients as the base, so you're sure to get in these compounds with nearly any soup you try! Having soup on the menu regularly will help your overall health and immunity. No wonder we celebrate soup in January - it's the best meal to combat cold and flu season AND help you make the most of your resolutions!
Soup-erb Meal Planning
Soup scores major points in the meal planning department for two main reasons: generally, it's a one-pot meal and freezes well. Nearly every soup recipe can be doubled to enjoy twice with half the effort. With full schedules, soup is a meal that gives you time while it simmers. You can prep tomorrow's lunch, help with homework, or just rest your feet while the magic happens on the stove or in the crockpot.
If you double your recipe to freeze for later, make sure the soup cools thoroughly before freezing it. You could pour the extra soup into a 9x13 dish to cool evenly. Thicker soups and stews freeze well in a freezer plastic bag. After pouring it into the bag, get the air out and close it well. Then flatten it out, so it freezes like a book. Label the freezer bag with the soup name and date, then stack it in the freezer.
Soup-er Easy Entertaining
Entertaining guests is a snap when soup is the main course. As mentioned, a soup recipe can easily double or triple to feed a crowd. Sides are also soup-er easy too - salad, toppings, and a form of bread - corn muffins, sourdough biscuits, pita chips, or a crusty artisan loaf. When soup is the meal, the atmosphere is cozy and inviting - exactly what we need on these long winter nights.
Stew on This
Though a humble meal, soup almost demands a pause in our day. We need to sit down, be still, and enjoy. A bowl of warm, nourishing soup can put a calm moment in our busy, full day, so be sure to be present as you take it all in.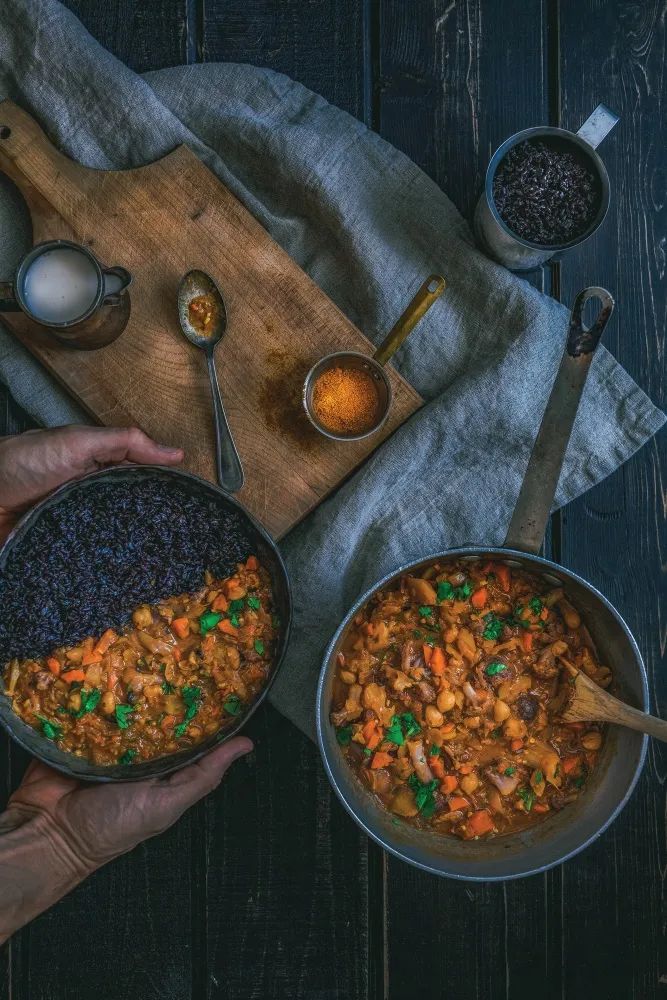 Photo by Roam in Color
*My family loves this stew! I've had to double it to have leftovers.
Ingredients:
1 Tablespoon oil
1 medium onion, diced
3 medium carrots, diced
3 stalks celery, chopped
1-pound Italian sausage (go spicy if you like heat)
3 cloves garlic, minced
2 Cups brown lentils
1/4 teaspoon cayenne pepper (omit for the spice-sensitive, increase if you like the heat)
1 teaspoon paprika
1 ½ teaspoon cumin
1 ½ teaspoon oregano
1/4 teaspoon salt
Dash of cinnamon (brings out the earthy flavor and slight sweetness of the lentils)
3 Cups low-sodium vegetable broth
2 Cups chopped spinach or kale (optional)
Directions:
Heat oil over medium-high heat. When hot, add in onion, carrots, and celery. Sauté for 5-7 minutes or until onions start to become translucent.
Add in sausage and garlic, stirring and separating sausage into crumbles. Continue until sausage is cooked.
Sift through lentils to pick out any stones. Add lentils, spices, and salt to the vegetable-sausage mixture. Stir until well combined.
Add in the broth. Add another cup or two if you like your stew as a soup consistency. Bring to a simmer. Reduce heat to low, cover with a lid, and let simmer for about 30 minutes. Check stew about halfway through to stir and determine liquid consistency. Add more broth if desired.
If using greens, add and simmer for another 5 minutes until they are soft. Adjust seasoning if needed.
Serve with crusty bread, sourdough biscuits, or potato chips (trust me on this one).
Double Pea Soup with Roasted Red Peppers (adapted from Veganomicon)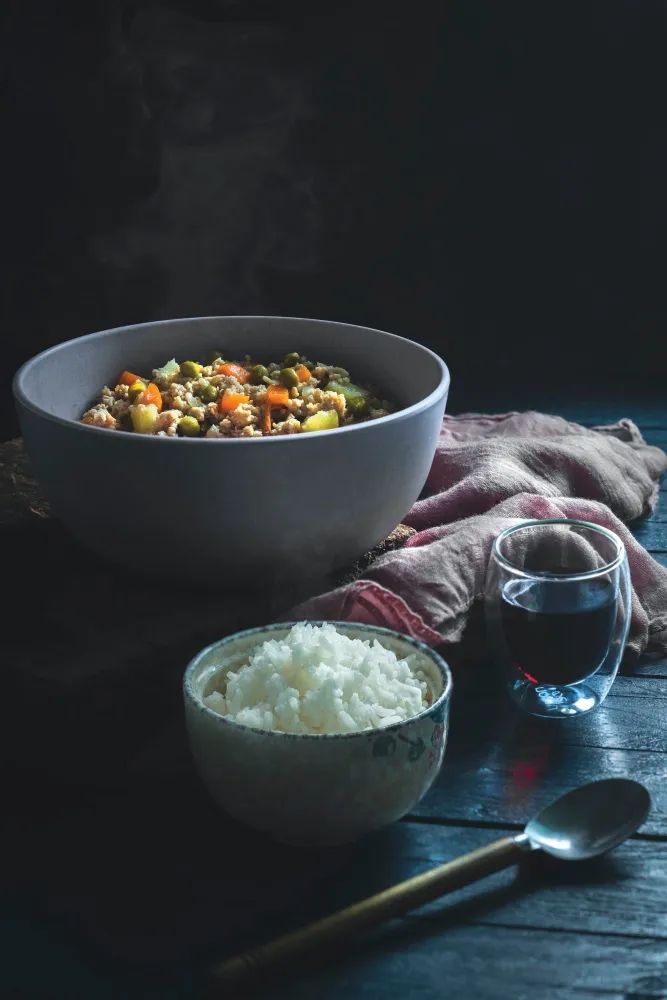 Photo by Eiliv Aceron
Ingredients:
3 Tablespoon olive oil
1 large onion, finely chopped
2 carrots, diced
2 stalks celery, chopped
10 ½ Cups water (we use 4 Cups of vegetable broth + 6 ½ Cups water)
1 pound dried split green peas
1-inch fresh ginger, peeled
1 bay leaf
2 teaspoon dried thyme
1 teaspoon dried tarragon
1 teaspoon ground coriander
1 teaspoon ground cumin
1 ½ teaspoon salt
1 16-oz bag frozen green peas
1 pound pre-cooked ham, diced (omit if making vegan)
1 Cup roasted red bell peppers, chopped
Directions:
Preheat a large stockpot over medium heat. Sauté the onion until translucent. Add carrots and celery and sauté for another 5 minutes until the veggies are tender.
Add the water, split peas, ginger, bay leaf, herbs and spices, and salt. Cover, raise heat, and bring to a boil. Lower the heat to medium-low and simmer for 45-50 minutes until peas are soft.
Stir in the frozen peas and bell peppers. Cover and bring to a boil, then lower the heat to simmer for another 20 minutes.
Remove ginger and bay leaf and allow to sit for 10 minutes before serving.
Enjoy with crusty bread.
Want homemade soup without making it? Try these local gems in Billings for some of the best soup in town:
Caramel Cookie Waffle Company
Soup & Such
Lisa's Sandwich Den
Entree Soup
Samurai (Pho 06)
Pro-Tip:
Make soup creamy without adding cream. Add in waxy potatoes (Yukon Gold) before boiling and simmering. Then, use an immersion blender to combine.
Originally printed in the January 2023 issue of Simply Local Magazine
Never miss an issue, check out SLM's digital editions here!