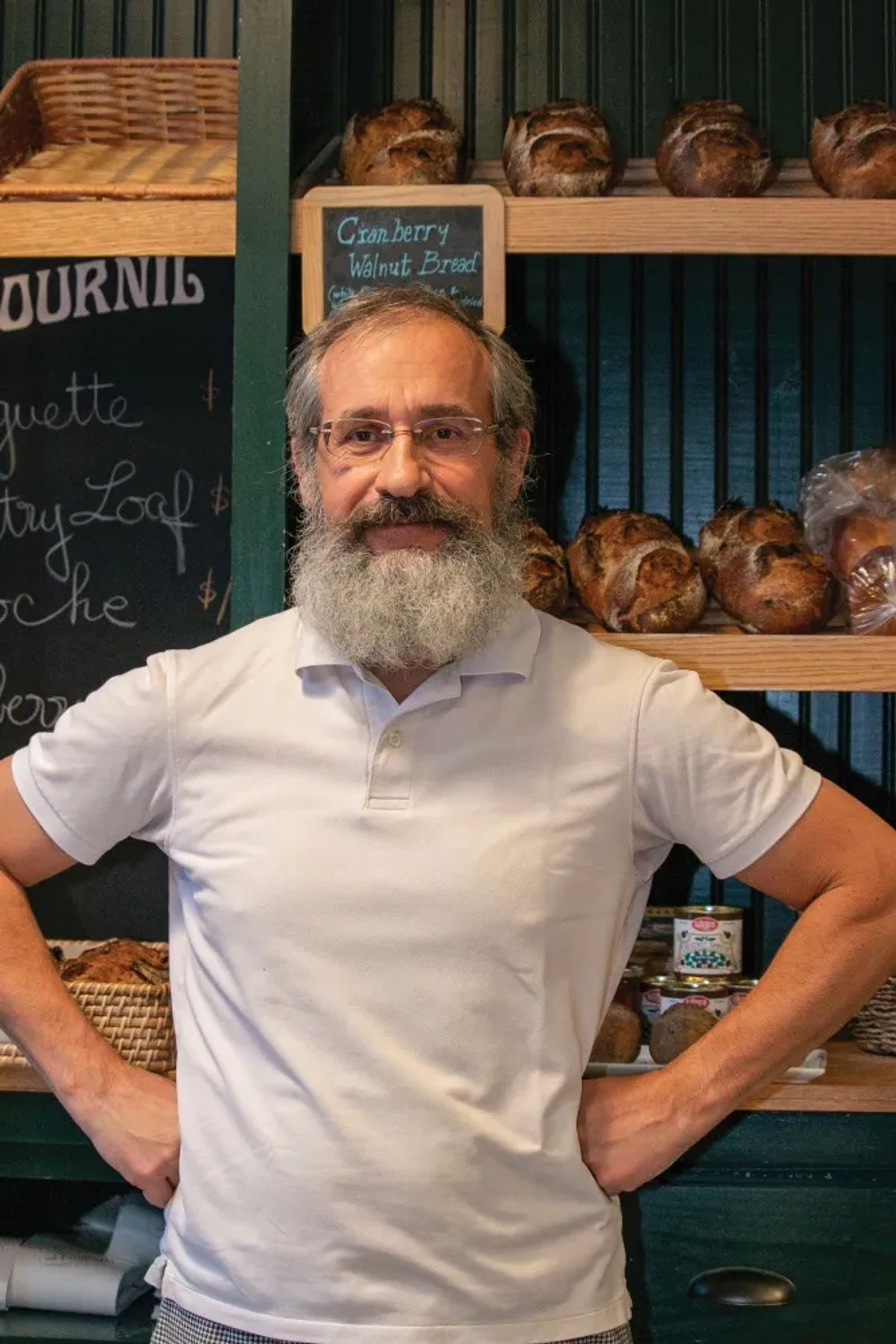 Le Fournil Offers a Taste of France in Billings
Meet the Baker: François Morin
January 2021 | article & photos by Renata Haidle
Water, flour, salt, and yeast; four of the simplest ingredients morph into a lean, wet dough, to be rolled into long batons and placed in the oversized three-tiered oven. Shortly after, dozens of traditional French baguettes emerge, hot and crunchy, their crust the color of honey. The smell of hot bread escapes from the oven in a small cloud of steam. François Morin gathers the baguettes on a large, heat-resistant board and places them neatly on cooling racks. The bakery is now ready to open for the day.
Workdays used to be quite different for Morin, a French-born, Paris-trained IT engineer. After spending a few good years working in information technology for a French oil company, in the early 2000s, he left his native country to pursue an international career. His job took him from one continent to another. After a few years in Johannesburg, South Africa, he moved to exotic Singapore in Southeast Asia. There, he developed a passion for bread making, learning from a baker trained in the traditional French method of making baguettes.
True to his exploratory nature and unafraid of major changes, a few years ago, Morin decided to uproot yet again and move to America, choosing Billings as his next destination. This latest choice wasn't as random as it seems, given that he has been married for more than 20 years to Marmee Connell, a Montana native. Moving closer to family and slowing down the pace of life only made sense. Retiring from his corporate job, Morin took a chance on following his passion, and in late 2017 he opened Le Fournil, an artisanal French bakery offering bread of the highest quality, a limited variety of pastries, and a handful of French products that every Francophile is familiar with. Traditional chestnut spread and apricot jam are joined on the shelf by Niçoise olives and, occasionally, even a chunk of Comté or Roquefort cheeses.
Customers come into the bakery at a steady pace, each of them ordering their favorites and chatting briefly with the baker. The bread and pastries fly off the shelves. Morin has amassed a faithful following, which allowed him to keep the bakery open during recent challenging times. People come from all over Montana and even Wyoming for a bit of French charm and a great loaf of bread. And if this wasn't enough to prove the bakery's success, in May 2020, the prestigious Food & Wine Magazine included Le Fournil in the top 100 best artisanal bakeries in the country. A welcome surprise that brought well-deserved recognition in a year that has been less than auspicious for small businesses everywhere. Relentless and always creative, Morin has found other avenues to distribute his baked products. He now provides bread for Sophie's Kitchen on the West End and via Yellowstone Valley Food Hub - an online substitute for the farmers' market that connects the community with small local producers.
Living in Montana has the wonderful benefit of abundant outdoor recreational options. François Morin takes full advantage of them whenever he can take time away from the bakery. He enjoys hiking, cycling, and traveling around the state during the warm season. Whenever his entire family gets together (he and Marmee have three grown children currently living out of state), they take a trip to Bighorn Canyon, its quiet beauty a welcome respite from the stress of everyday life.
It is well known that entrepreneurs have a thirst for knowledge and experimenting with new things, which led Morin to take up new hobbies centered around his life as a homeowner. Renovating his home has provided an opportunity to learn new skills like carpentry, painting, and tile work. Not surprising from a man used to working with his hands, after all.
While these shall remain hobbies for the time being, Le Fournil bakery is a mainstay in downtown Billings. With his children away and expressing little interest in following in their father's footsteps, Morin is left to keep the business alive and thriving, which he plans on doing for the foreseeable future.
And we will all be better for it.
Tips from the baker:
Eat the baguettes while fresh, and do not buy more than you can eat. If you do end up with leftovers, place them in a paper bag, and then wrap them in a kitchen towel. Do not use a plastic bag, as it will make the crust soggy.
You can freeze loaves and baguettes for two-three weeks. Once thawed, place them in a very hot oven for 30-40 seconds to get the crust crispy again.
Give day-old baguette a new life by slicing it thinly, rubbing it with fresh garlic and a squirt of olive oil, and broil for 3-4 minutes for a delicious pre-dinner snack.
Leftover brioche will last for several days, thanks to its high butter content. If it does dry out, you can use it to make excellent "pain perdu," aka French toast.
Originally printed in the January 2021 issue of Simply Local Magazine
Never miss an issue, check out SLM's digital editions here!