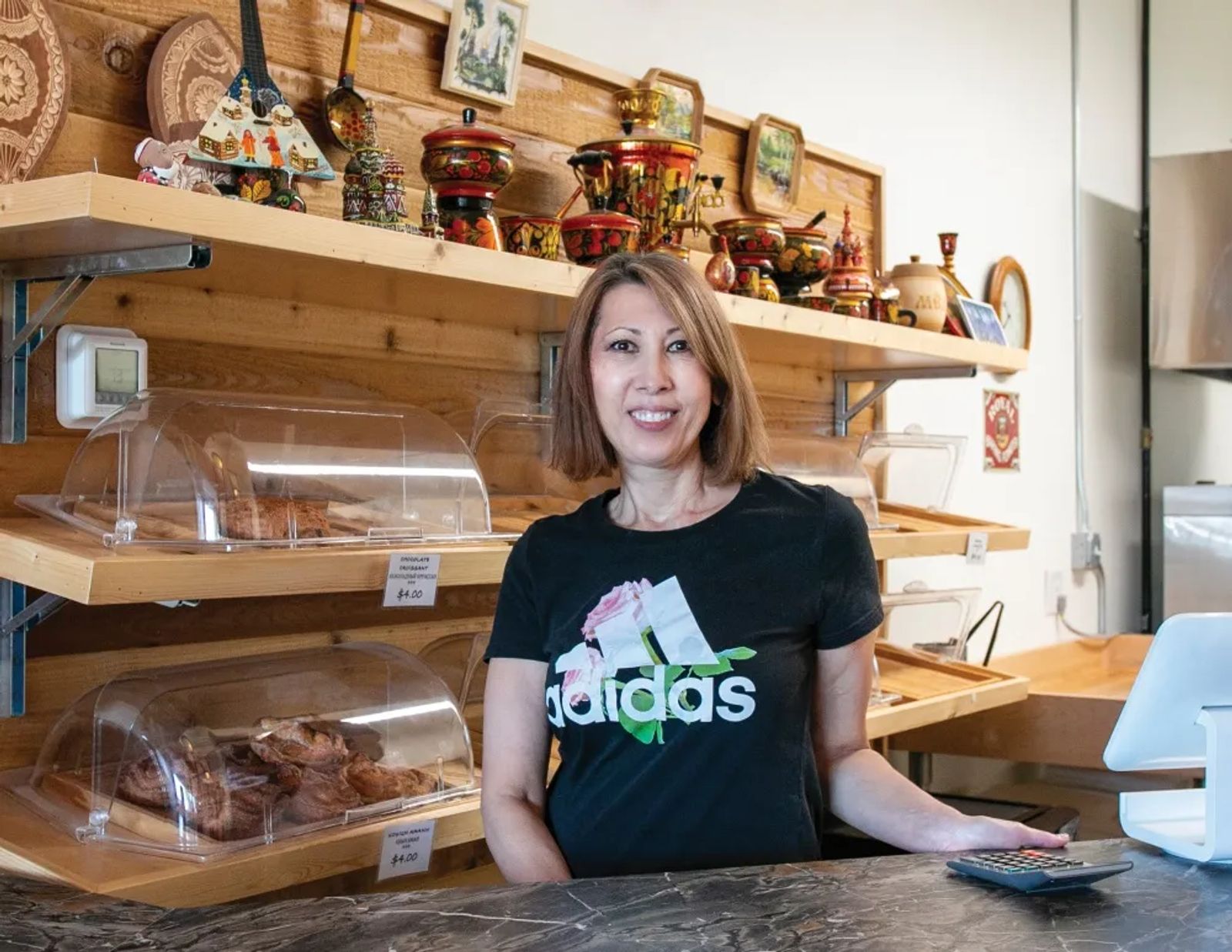 Meet the Baker: Veronika Baukema
December 2020 | by renata haidle
As soon as you step into the little bakery at 2513 Montana Ave, you know you're in for a treat. The air is heavy with the sweet aroma of freshly baked pastries. Flaky, crunchy goodness fills the wood shelves: Fruit danishes and turnovers. Perfectly shaped croissants, with or without chocolate. Foreign-sounding pastries like Kouign Amann and raisin escargots. And behind them all is the baker herself, there to greet you with the warmest smile, like you're a longtime friend. Meet Veronika Baukema, owner of Veronika's Pastry Shop, baker extraordinaire, and the woman behind this very successful local business.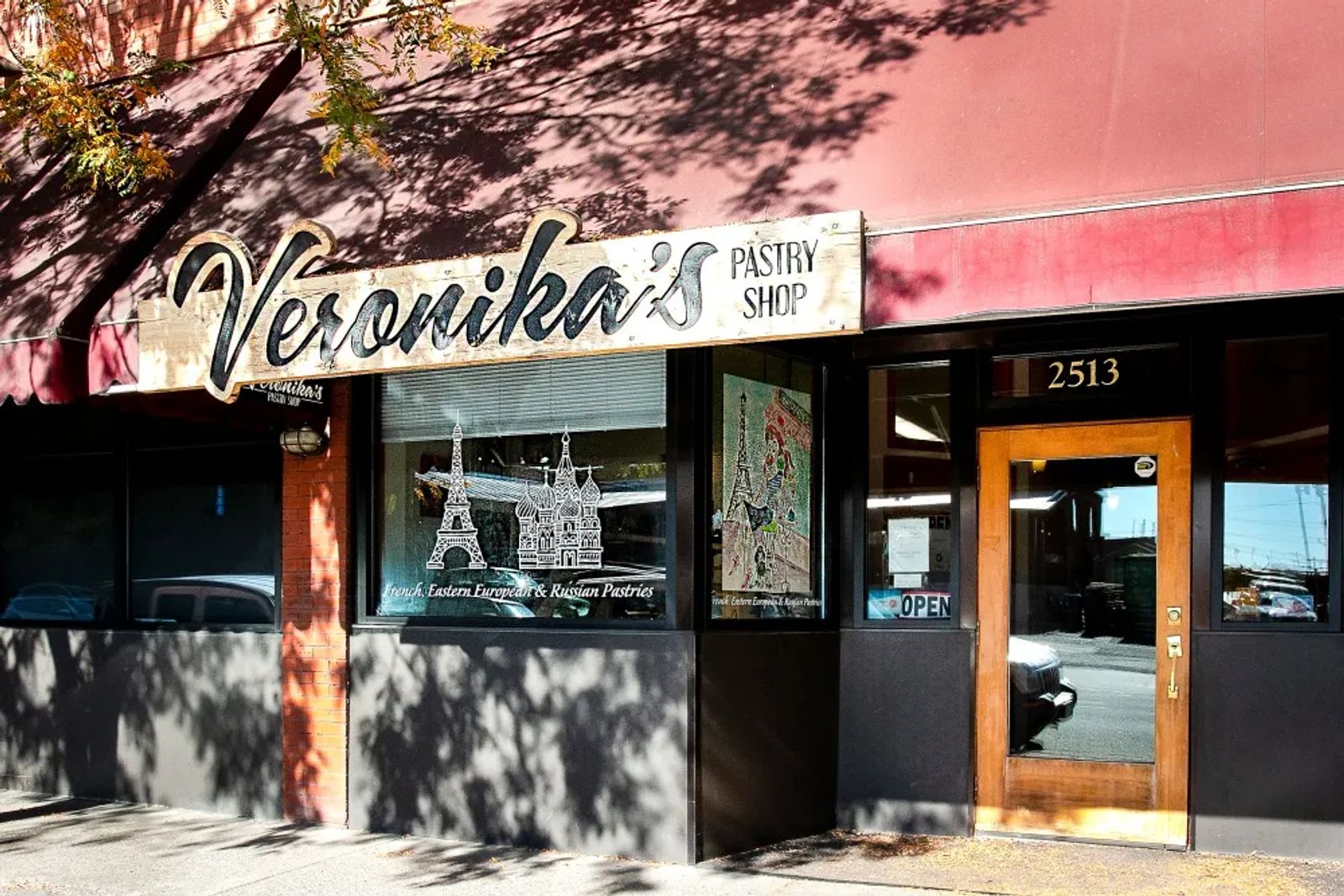 In a year of major change, which led to a profound transformation in how we live, work, and conduct business, embracing the unknown has become an essential survival skill for us all. Adapting and evolving is something that Baukema knows how to do well. She was born and raised in Tashkent, Uzbekistan's capital - a former Soviet republic located in Central Asia. When she arrived in Billings with her young daughter more than two decades ago, she knew little English and had a very limited support network. That didn't deter her from working hard and quickly integrating into the community.
I asked Baukema about the journey from being an accountant in Uzbekistan to becoming a Montana businesswoman. "I never went to culinary school," she recounts. "I learned how to bake from my grandmother, Polina." Though moving to a new country was challenging, Baukema and her daughter spent time trying local, American baked goods. "Unfortunately, most treats were too sweet and heavily frosted. We also wanted to find something that reminded us of home. During my travels around the Pacific Northwest, I would stop at local bakeries to find familiar European and Russian pastries. I often wondered why Billings doesn't offer anything like that - a thought that kept burning in the back of my mind. For a long time, I dreamed about having my own bakery, and in 2017 I took a chance and opened Veronika's Pastry Shop."
She makes it sound easy, but the journey wasn't without challenges. With help from Big Sky Economic Development, she drafted her business plan and evaluated how much money she needed. Although her personal savings were significant, she was $20,000 short. She applied for a grant from the Downtown Business Alliance, which was initially denied. Not one to give up easily, she applied a second time, and this time she obtained a $10,000 grant, bringing her closer to her dream. Her real estate agent found the perfect place on Montana Avenue. After the necessary remodel (formerly a hatmaker's shop), she was able to open for business in September 2017. 
Challenges didn't stop there, 2020 presented its own unique set with the pandemic raging on. Ingredients became more difficult to obtain, one of them (the chocolate she uses for croissants) coming from as far as France. Thankfully, the community support has been outstanding and she's been able to keep the bakery open throughout the year without missing a day. Her gratitude is palpable as she speaks about it, and it is easy to see how much she appreciates her customers.
After three years in business, Veronika's Pastry Shop is now a familiar fixture on Montana Avenue. Next time you find yourself craving an authentic French croissant, come right in, grab a box of crunchy, flaky pastries, and enjoy a quick and lively chat with the baker. It's sure to start your day off right. 
Baking advice
Is there an easy pastry you would recommend to a beginner baker? 
"Inexperienced bakers should start with a shortcrust pastry, which is made with butter being cut into flour, to create a loose and crumbly mixture. One can make flaky, buttery turnovers, or hand pies. It's easy and fun to experiment with either a sweet or a savory filling. I would recommend working your way up to using yeast. Baking with yeast-based dough requires certain practice and knowledge of properly proofing the dough to achieve good crumb texture."
What is your best baking tip?
"My tip is very simple. When baking, it is key to be precise and patient. That's how you will achieve the best results."
Originally printed in the December 2020 issue of Simply Local Magazine
Never miss an issue, check out SLM's digital editions here!