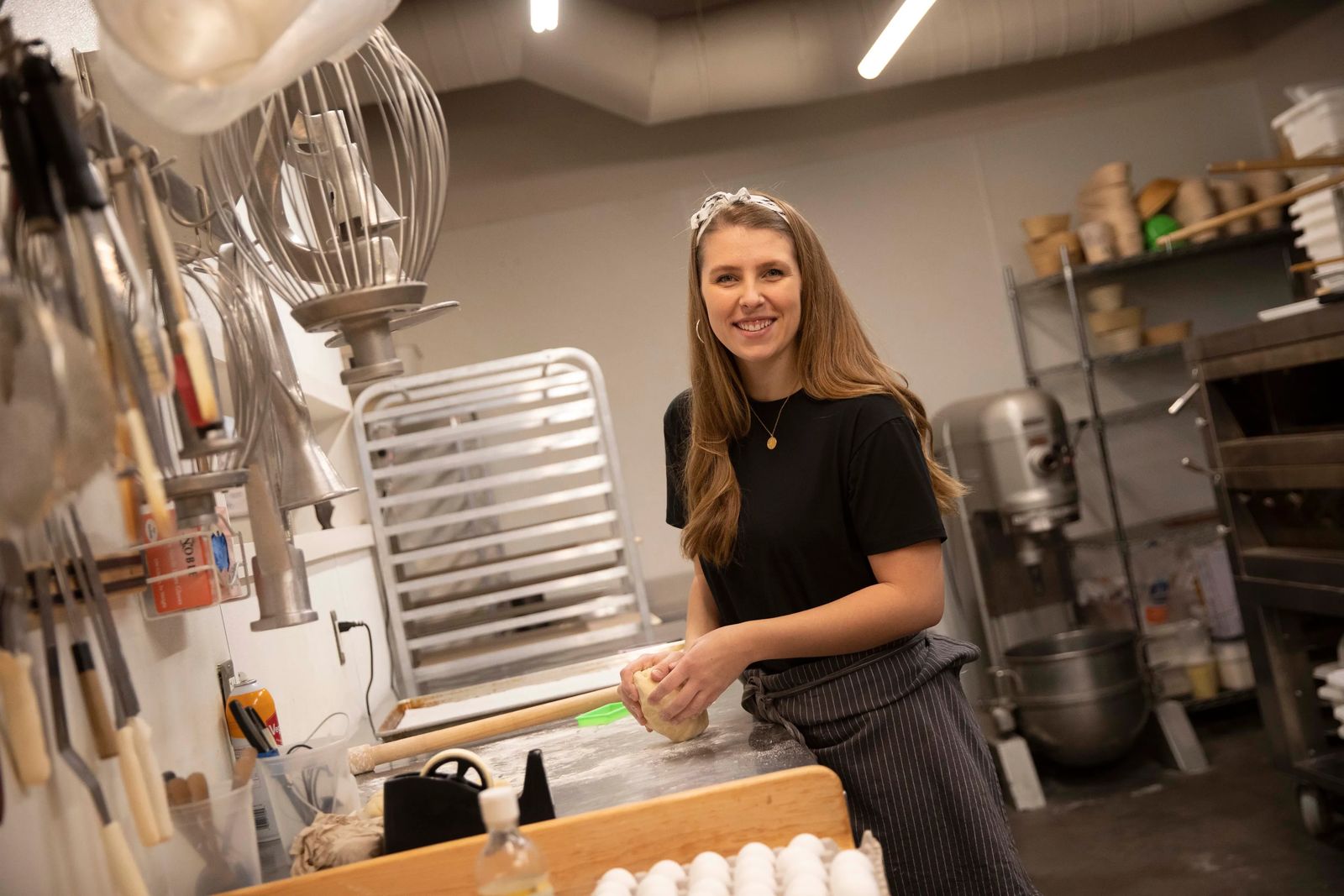 Meet the Baker: Sweets by Sam
March 1, 2020 | by stephanie hobby, photos by jana graham photography
The sheer intensity on Sam Walter's face as she ices a cookie is mirrored by any master craftsperson at work. After tracing the outside edges of a golden sugar cookie with a practiced hand, she quickly starts flooding the inner portion of the cookie, stopping every few seconds to tap it on the counter to evenly distribute the icing. Then it's time to add the painstaking details. Her results are truly breathtaking, but what's perhaps even more remarkable is that she's only been practicing this art for a few years.
Walter launched Sweets by Sam in the winter of 2017, in the middle of her senior year at Montana State University - Billings. She was there studying finance on a golf scholarship and realized that she couldn't ignore the creative outlet that baking and decorating offered. She took the leap, and in her second year of business, was filling 54 wedding cake orders, teaching sold-out cookie decorating classes, and perfectly icing hundreds of cookies a week.
The success took Walter a bit by surprise, particularly when the testimonials started hitting social media. "It was just the support (even from people I don't know); it was just crazy watching it, and it still feels unreal. To me, I'm just making cakes, and to other people, it's art, and it's something different, but it's been really fun for me."
Walter has adored baking since she was very young; in middle school, she and a friend started a small business baking and selling dog biscuits. She had to abandon that when her high school schedule took over, but Walter rediscovered her love of creating edible art while in college and watching Chef's Table on Netflix, a documentary devoted to culinary delights.
That segued into her watching online videos about cake and cookie decorating. Eventually, it was all Walter could do to keep away from the kitchen. She started picking up custom orders but was still busy going to school, working three jobs, and playing college golf. Somehow though, Walter knew she'd found her calling. "I just enjoyed it so much that all the other stuff kind of went to the back burner, and I decided I wanted to do this," she said.
One of her jobs was working as a server at The Fieldhouse; she was able to rent out their bakery space to start filling the orders that were beginning to pour in, and eventually, she found herself baking the ultimate: wedding cakes.
"I love weddings, I love the brides that aren't afraid to be nontraditional," Walter said. "I want something different where I can really feel like an artist, even though I can't draw or paint, but I can do it on a cake."
The cake flavors match the uniqueness of their exterior. Her menu includes options like white pistachio, cinnamon whiskey, and Elvis, Baby; which is a sweet banana cake with peanut brittle, chocolate ganache, and creamy peanut butter buttercream. Her goal is to shake things up a bit from the norm of chocolate or vanilla cake. "If you're paying the money for it, I want you to have a cake that's really awesome and that you can't get anywhere else," she said.
While her cakes are quite literally works of art, she says cookies are still her favorite to decorate. She offers classes for families and friends to enjoy the decorating process together. She's taught dozens of Christmas cookie workshops, hosted smaller "Galentine's Day" gatherings where groups of girlfriends can celebrate their friendships, and is looking forward to teaching the next batch of classes around Easter. Be sure to check her website for complete details and to sign up: https://www.sweetsbysammt.com.
And until you can get to a class, she has a few cookie decorating tips:
Decorate the bottom of your cookies. The flatter surface means the frosting won't slide off as easily. It's also the less-attractive side of the cookie, so you can easily cover it up.
Outline the edges first and then fill it in. This will help you achieve those professional, solid edges.
When outlining, go easy on the pressure of your icing bag. It will help you get straighter lines. Use more pressure when filling in the center.
Don't be afraid of icing. If you've made a good outline, it won't run off, so put a lot on there!
Use a toothpick to make adjustments, and tap the cookie on the counter as you're filling it to smooth the icing out.
Originally printed in the March 2020 issue of Simply Local Magazine
Never miss an issue, check out SLM's digital editions here!