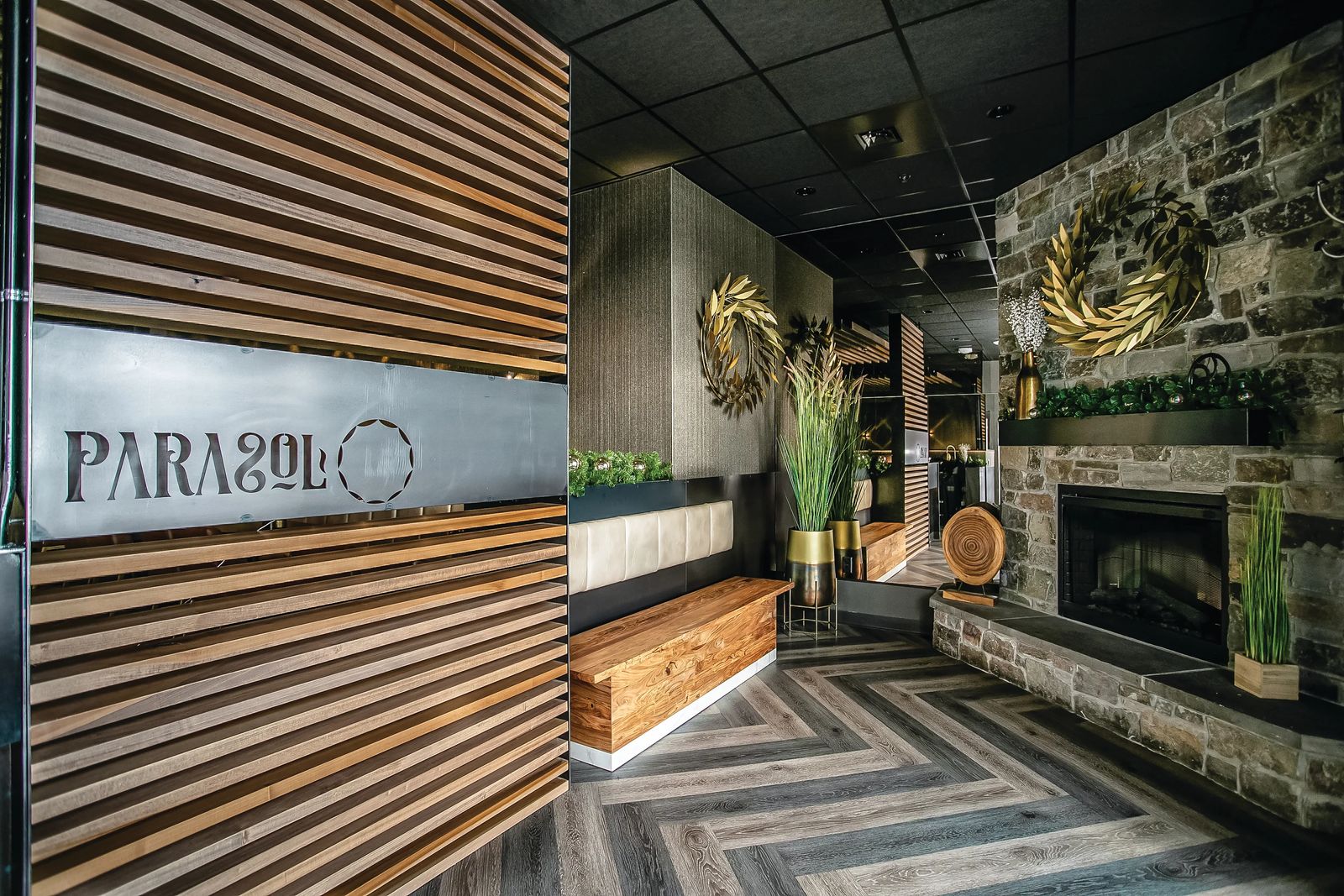 Meet the Chef: Jason Corbridge of Parasol
February 1, 2020 | by michael j. hitchcock | photos by lovely hitchcock
To enter into Parasol is to enter into a state of perfect balance: Simple elegance paired with practical lines and dark, calm woods bathed in warm, amber lighting. Yet the most notable balance to Parasol is undoubtedly the menu, which embodies a flavorful marriage of uniquely baroque recipes borne of Montana-grown ingredients. Billings-native chef and co-owner Jason Corbridge explains that "Parasol is Montana-born Americana."
Having previously owned and/or opened several other Billings restaurants, including the Last Chance Pub and Commons 1882, Jason and his business partners decided that Parasol's defining characteristic would be the product of combining decades of cuisine-based creative experience with made-from-scratch, audience-focused recipes. He builds the menu with an abundance of locally sourced meats and vegetables raised and harvested right here in Big Sky Country. When Jason talks about preparing dishes for the people he has known his whole life, he uses words like artisan and craftsmanship, and he glows with pride in explaining that the menu at Parasol is "tailored to the environment" of Montanan desires.
Jason's experience, as well as his acute awareness of what Montanans love to eat, comes from a lifetime of living, working, and experimenting with different flavors and dishes right here in Billings. He is one of us. A husband and a father to seven children, he and his family are as deeply entrenched in the culture as anyone could ever be. His life as a Montanan has allowed him to develop strong partnerships with local ranchers and farmers so that he can combine his understanding of Montanan's tastes with the seasonal availability of the State's considerable bounty.
Parasol's menu reflects Jason's concept of balance, as well. Appetizers include a House Salad that combines organic Arcadian greens with a fun dance between the creamy texture of mountain Alpine mocha swiss and a tangy cherry-wine vinaigrette. More adventurous patrons can relish the Duck Poutine, a starter composed of homemade fries gently blanketed in a savory duck sausage gravy and peppered with white cheddar cheese curds. The Poutine even includes a fried duck egg to perfectly complete this scrumptious start to any Parasol meal.
Jason's choice of main courses personifies Montana while considering the historic nature of recipes handed down from our pioneer origins. More familiar entrees include the Montana ranch-raised, dry-aged, hand-selected cut of delectable beef, and The Bison Burger served on a sage brioche bun and complemented by Flathead cherry BBQ sauce, white cheddar cheese, fried shallots, and swanky red butter lettuce. The piquant burger includes a side of garlic fries adorned with house-made ketchup. Almost as a bonus, most of Parasol's condiments are handmade using an array of Montana ingredients.
The menu also includes a collection of more audacious selections that reflect our ancestral heritage. The Winter Squash and Black Lentil dish boast grilled, marinated mushrooms (Montana-grown, of course) with sorghum poached cranberry. To finish this classic, Jason includes swanky roots microgreens, gently sprinkled with coconut butter sauce and a touch of Chipotle broth. For those who love a taste of the sea, there is the Tuna Tostada, a fried corn flour tortilla filled with refried black beans, pan-seared sashimi-grade red albacore tuna, all fondly seasoned with house-made Chipotle avocado mayonnaise and apple and habanero pico.
The strong theme of balance between sweet and savory, spicy and creamy, familiar and exotic is truly exhibited in every dish Jason designs. He is incisively mindful of his audience, holding a discriminating understanding that Billings folk are fun-loving, "meat and potato" Americans that appreciate down-to-earth, hearty ingredients arranged in exciting, fresh ways. Unique in the world, Montanans are a grand collection of differing cultures and tastes. Jason has managed to successfully capture this aspect of our unique and exceptional consortium in the balance of atmosphere and food that is Parasol.
From the Parasol Kitchen of Jason Corbridge
Fresh Pappardelle Pasta
620 Grams (Approx. 5 Cups) all-purpose Flour (plus 2 more Cups for dusting)
730 Grams No. 1 Semolina Flour (Approx. 6 ¾ Cups)
10 Whole Eggs
- 4 Yolks
4 Grams (Approx. .8 Teaspoon) Kosher Salt
150 Grams (Approx. .63 Cups) Tap Water
-
50 grams (Approx .23 Cups) Extra Virgin Olive Oil
In a mixing bowl combine all dry ingredients and blend well.
Create a well in the middle of the flours and add all the wet ingredients.
Pull the sides of the flour well into the egg mix until fully incorporated and knead the pasta dough for about 5 minutes. (The dough should not be sticky and should not stick to your hands. It should be elastic and a little resistant.) If it seems too dry, add more water. If it seems too wet, dust with a bit more flour.
Wrap up tightly in plastic wrap, press into a disc-like shape, and rest for at least an hour before rolling.
Now crank through the pasta roller, no thinner than the 6 setting, and place the noodles flat on a well-floured parchment paper on a full sheet pan. Boil off before serving, rinsing well with cold water, and then oiling to prevent sticking.
Originally printed in the February 2020 issue of Simply Local Magazine
Never miss an issue, check out SLM's digital editions here!