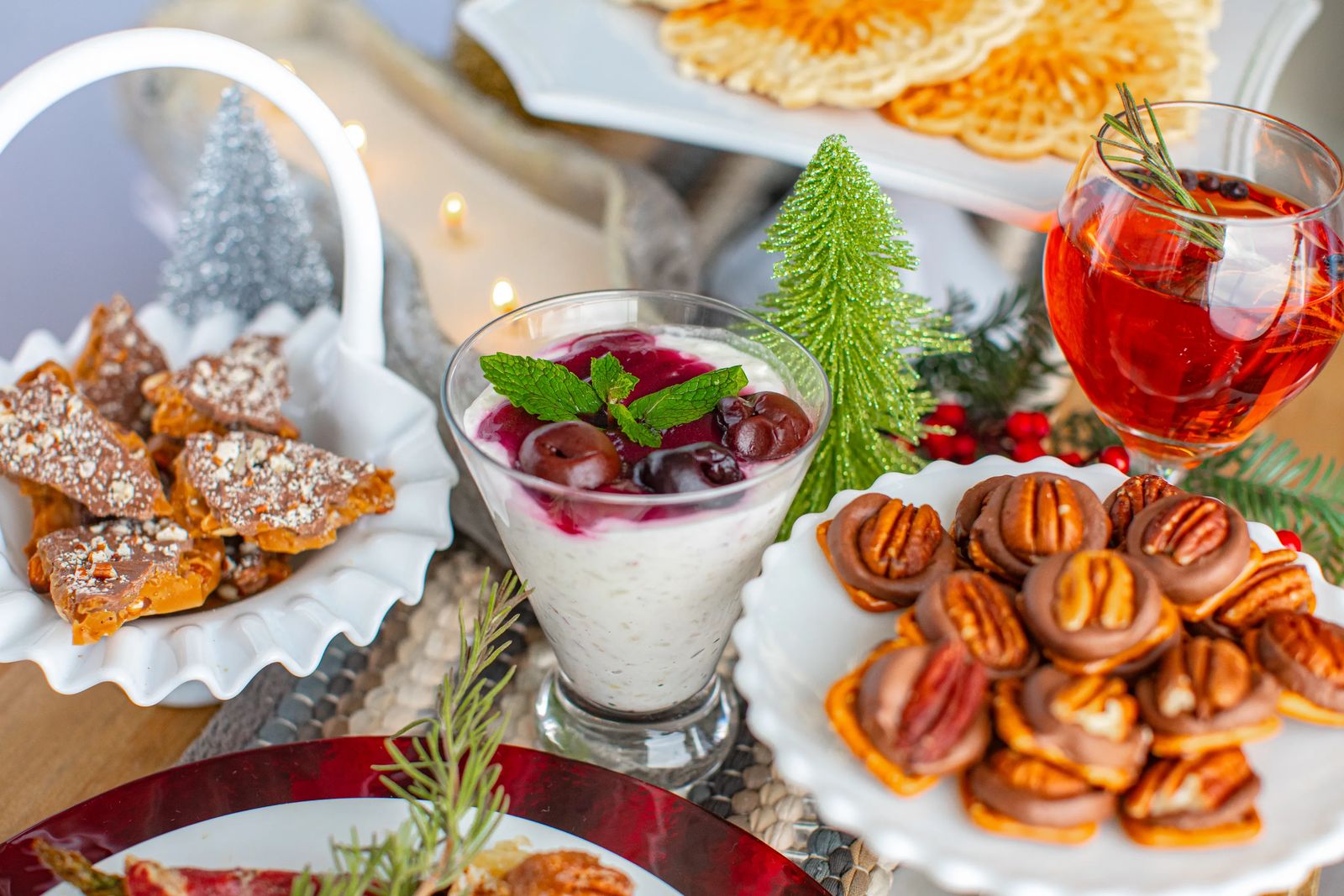 Fa La La La Fabulous: Festive Fixings
Staff Favorites
December 2020 | photos by lovely hitchcock
Scrumptious food is synonymous with the holidays and the staff at Simply Local gathered up some of our favorite appetizer, dessert, and drink recipes to share with you.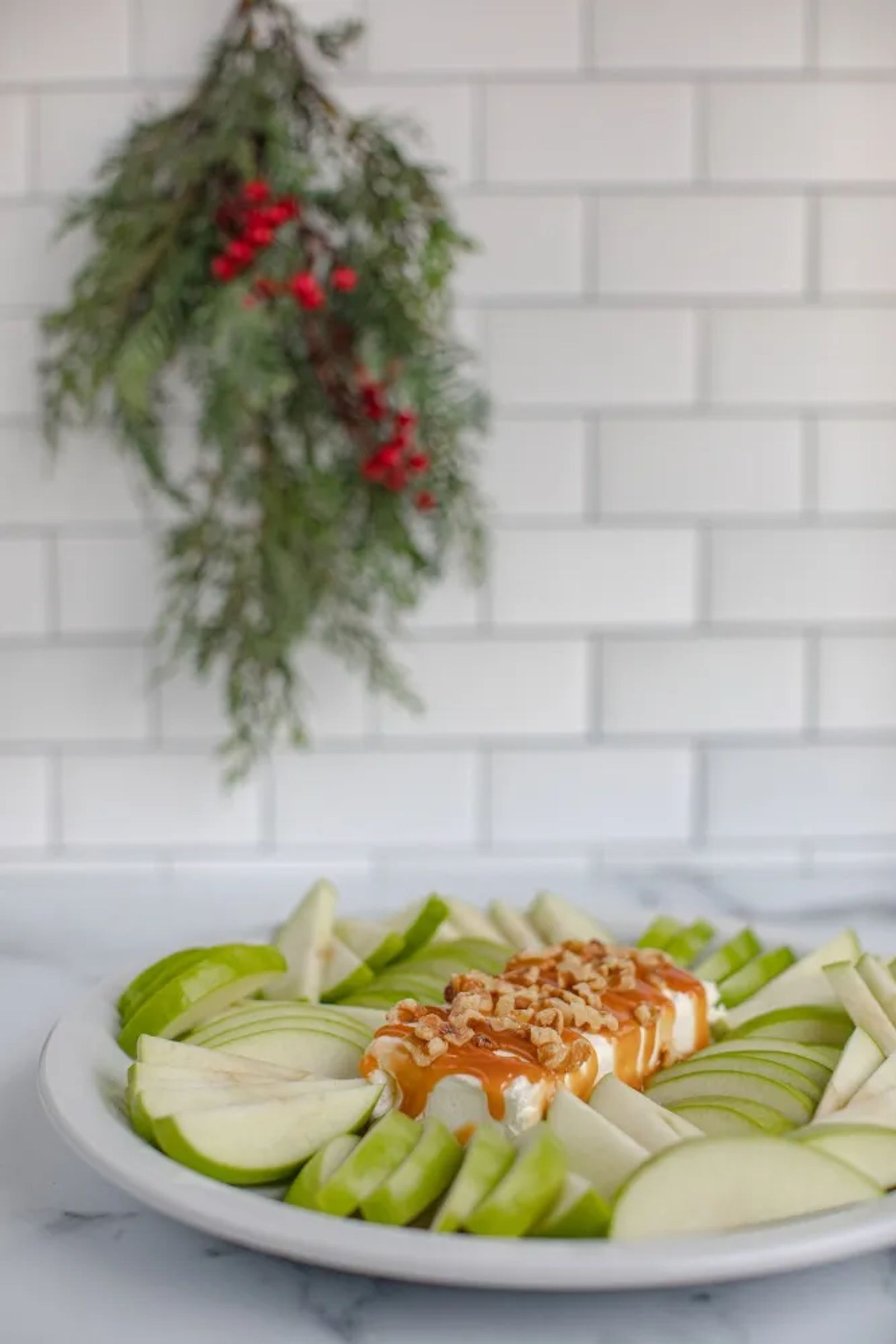 Caramel Apple Cream Cheese Spread
from the Kitchen of Holly Kincaid
As a designer, it's an assumption that I'm naturally a Pinterest mom – wrong! I like simple recipes that my kids will enjoy. It's so much work during the holidays to put together a menu that your kids will reject. This is an easy, no-bake appetizer that will get some fresh fruit into your week of holiday indulgences. For nut allergies, substitute crushed toffee for the walnuts.
Ingredients:
8 ounces cream cheese
½ Cup (or more) caramel sauce (homemade or store bought)
½ Cup (or more) crushed walnuts
Apples for dipping
Instructions:
Place cream cheese on a serving dish, drizzle caramel sauce over cream cheese, and top with nuts. Serve with sliced apples.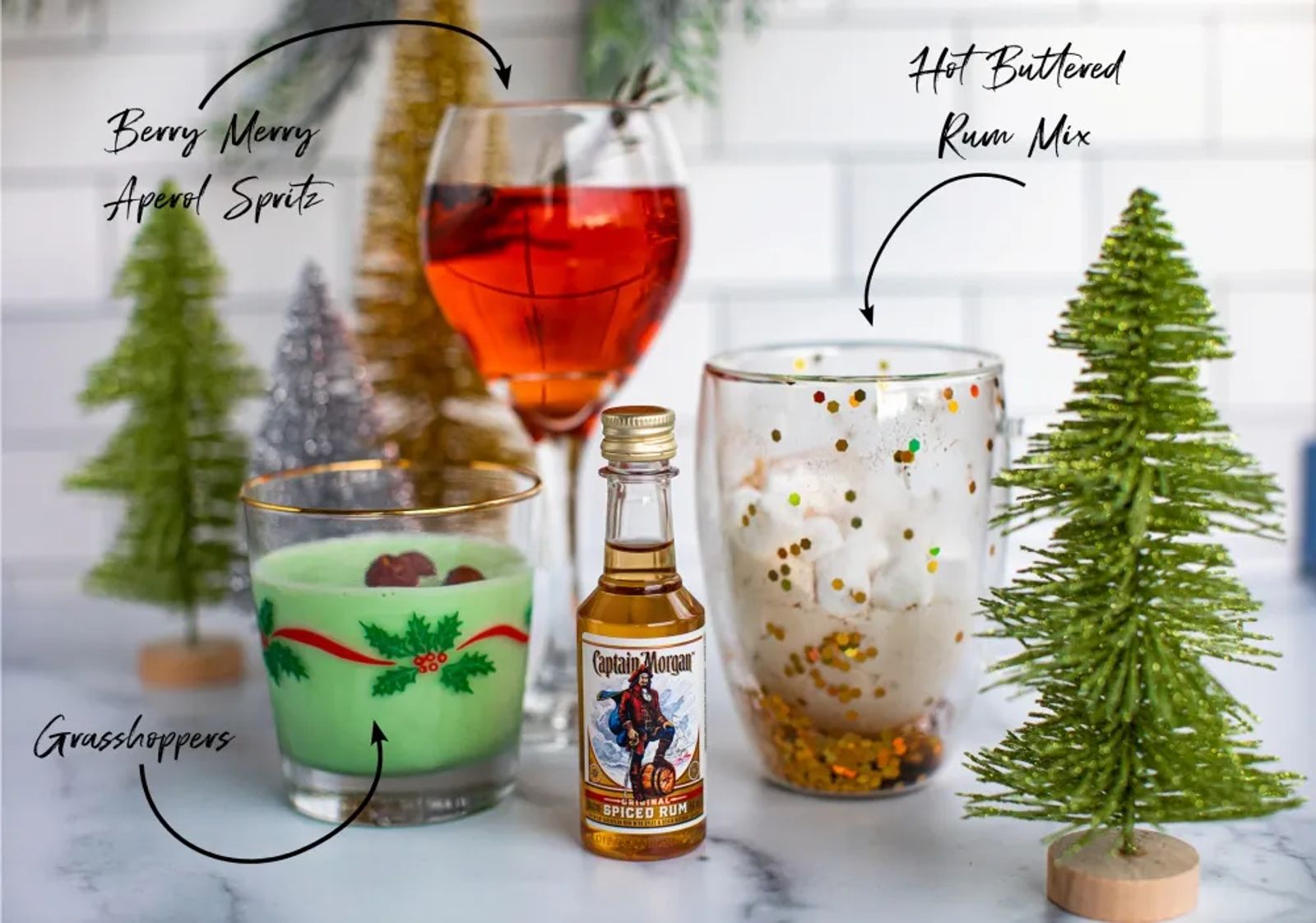 <<<< swipe for beverage recipes <<<<
Hot Buttered Rum Mix
from the Kitchen of Holly Netz
Having bartended my way through college, my skill set at gatherings was "the mixologist." Newly married and looking for something to give friends and family for the holidays, I stumbled on this amazing recipe for hot buttered rum. It was so popular that friends from 20 years ago still contact me on the holidays to give them the recipe yet again! 
Ingredients:
1 Cup unsalted butter, softened
1 (16 oz.) package powdered sugar
1 Pound light brown sugar
1 Quart vanilla ice cream, softened 
½ Tablespoon nutmeg
Instructions:
Combine the sugars and butter then add the softened ice cream a bit at a time, mixing to a creamy consistency until all is blended. Transfer to a tight-fitting container and place into freezer to store until ready to use.
To serve: place 2 heaping spoonfuls of mix into cup, add dark or spiced rum as preferred, then add hot water. Top with a couple of mini marshmallows and a dash of nutmeg or cinnamon. 
Note: the rum gives it a unique taste, and this mix can be used sans rum as a mocktail by adding a dash of rum extract for that extra spicy taste with no alcohol! 
Mix keeps up to 3 months in the freezer 
Pro tip: if you are having company over, place the mix serving in holiday cups ahead of time and cover with plastic wrap and keep in freezer. Then just whip out the cup, add some rum and hot water, and you're done! 
Berry Merry Aperol Spritz
from the kitchen of Anna Rogers
I chose to minor in Italian during my college years at Clemson University, which included a deep dive not only into the Italian language, but also the country's culture. While studying abroad in Urbino, a small town near the Adriatic coast, I was introduced to the tradition of aperitivo. Aperitivo is similar to an American happy hour, but much better and practiced almost every evening by the locals, pre-dinner! The drinks are meant to whet the appetite, and one of the most popular cocktails is the Aperol Spritz. The below is a holiday take on the Spritz utilizing cranberry and juniper berries to leave you in the Christmas spirit!
In a white wine glass, pour:
1 Ounce Aperol*
1 Ounce Cranberry Juice
Fill glass the rest of the way with Prosecco 
Top with:
8-10 Juniper berries
1 Rosemary sprig
*Aperol is an Italian liqueur originally created in 1919 that uses the same recipe today that it did back then. A unique infusion of selected herbs and roots, it's the perfect liqueur to take cocktails to the next level while adding a beautiful splash of color.
Grasshoppers
from the kitchen of Becca's mom and dad
These Grasshoppers are a minty, ice creamy, adult beverage delight that have become a Christmas Day staple that my mom and dad whip up (for the grown-ups) ahead of our family of 16's marathon present-opening session. The truth of this recipe is that it's pretty loose and open to adjustment.
My dad's words of wisdom? Make it to your liking and remember, the more liquid you add, balance it out with more ice cream so it doesn't get sad and soupy. (Okay, that last part might be more my words than his).
The following made 4 cups worth of Grasshoppers:
1½ shot glasses of Crème De Menthe and Crème De Cacao
The better part of a 1.5 quart of vanilla ice cream (there was literally a cup left in the carton)
Garnish with hazelnuts or mint sprigs
Instructions:
In a blender, we started with 4 healthy-sized scoops of ice cream and 1 shot glass each of the Crème De Menthe and Crème De Cacao. (We blended on the milk shake setting). Following that, we felt like we needed a bit more ice cream – adding in 2 additional scoops. After that blending and a taste test, it was determined we needed more of the Crèmes and therefore, more ice cream. (You see how this goes, yes?)
Blend and add to your desired flavor and consistency.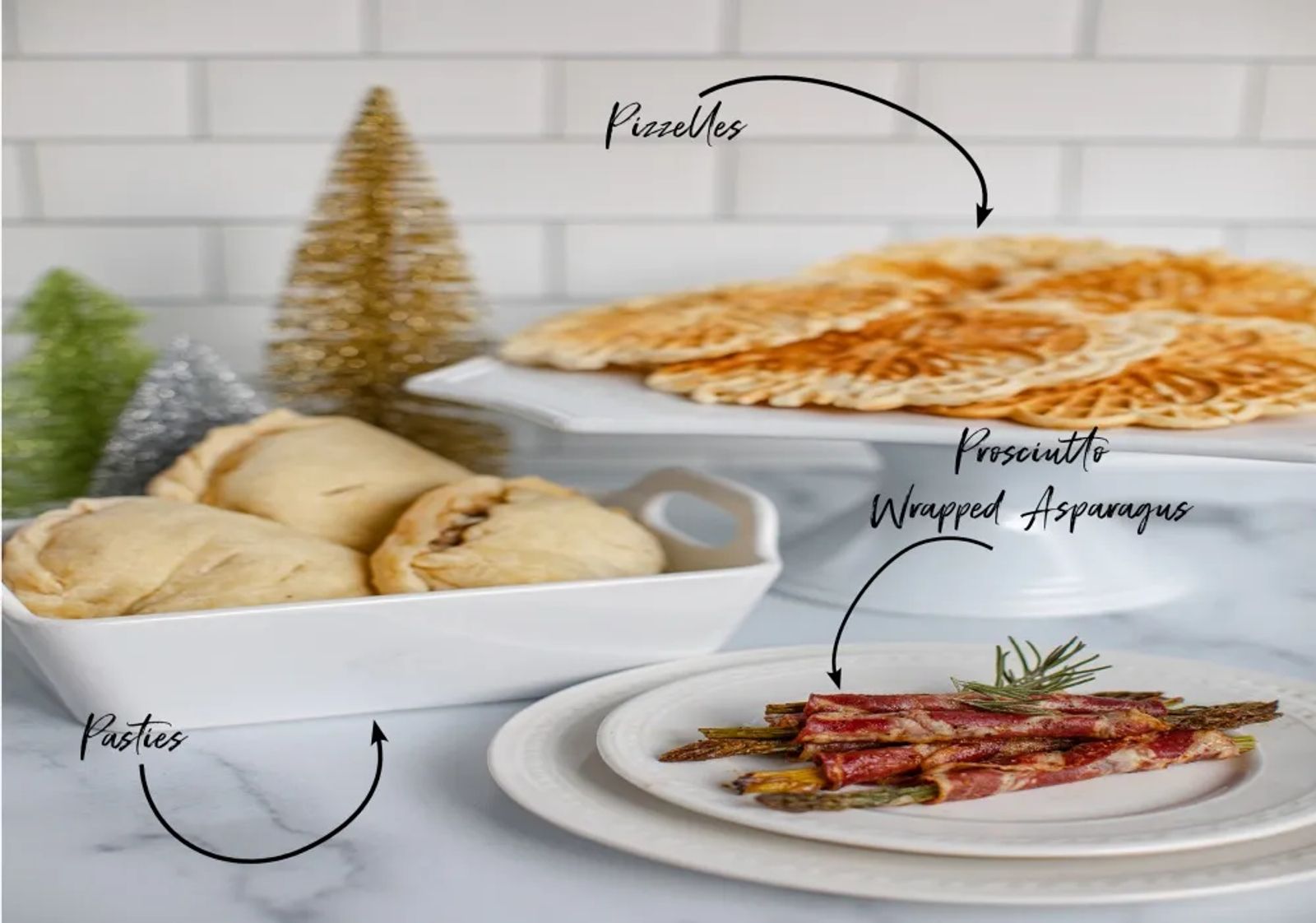 Prosciutto Wrapped Asparagus
from the kitchen of Lisa Bevan
Whenever I'm in the mood to give asparagus a little pizazz or I'm running behind on my appetizer ideas, I make these. This simple, tasty combination is a great complement to any main dish.
Ingredients:
1 Pound asparagus, preferably thick spears
3 to 3 ½ ounces sliced prosciutto
1 to 2 teaspoons olive oil
Ground black pepper
Lemon zest, optional
Freshly grated Parmesan cheese, optional
Instructions:
Preheat oven to 400 degrees and line a baking sheet with parchment paper. Clean and prep asparagus by cutting off ends. Cut prosciutto in half. Wrap prosciutto asparagus seal down. Sprinkle with salt and pepper to taste, and add Parmesan cheese or lemon zest if desired. Drizzle 1-2 Teaspoons of olive oil on top. Bake at 400 degrees for 8-10 minutes. (If desired crispier, broil for 2-3 additional minutes.)
Pizzelles
from the kitchen of Abbey Sage
Of all of the Italian Christmas cookies my Norwegian Grandmother made for my Italian Grandfather, this was my favorite because of its light crisp texture and beautiful pattern.
Ingredients:
3 large eggs
¾ Cup sugar
2 teaspoons vanilla extract
1 stick (½ Cup) butter melted and cooled
½ teaspoon anise seed extract
1 ¾ Cups all-purpose flour
2 teaspoons baking powder
Instructions:
Melt butter and set aside. Beat eggs and sugar until light yellow, 2-3 minutes. Add melted butter, vanilla, and anise seed extract. Beat until blended. Sift together 1 Cup of flour and the baking powder, then combine with wet ingredients. Fold together until just blended, add remaining flour and fold again until just incorporated.
Heat pizzelle iron; place approximately 2 Tablespoons of batter on the center of the pattern. Bake until golden brown (about 1:20 to 2 minutes) remove and cool on a rack. Repeat with remaining batter.
Almond Pizzelles
Omit the vanilla and anise flavors from the original recipe; add 1 Tablespoon almond extract or 2 Tablespoons Amaretto. Add 1 Cup finely chopped/ground almonds to the batter - optional. Bake as usual in your iron.
Pasties
from the kitchen of Jenny Barriger
Every holiday celebration in my family includes a cocktail version of the traditional pasty. I can't remember a time when any were left at the end of a gathering. While pasty making, by tradition, can be quite time- and labor-intensive, I have included some quick and easy modifications that I sometimes use to make them happen in my home when I am tight on time.
From Scratch.
Ingredients:
5-6 large potatoes, peeled and cut into cubes
1-pound ground sirloin (you can use steak if you'd like)
1 small, onion diced
Butter, salt, and pepper to taste
Place potatoes, ground beef, and diced onion (all raw) in a large bowl and mix together.
Crust
Ingredients:
4 Cups flour
1 Cup Crisco
4 teaspoons salt
1 Cup cold water
Cut Crisco into flour then add salt and mix. Add water last to form dough.
Modifications for quick and easy option.
Ingredients:
1 bag southern cut hashbrowns
1-pound ground beef
1 small onion, diced
Butter, salt, and pepper to taste
Store bought pie crust
Assembly and baking instructions:
Roll out a small handful of dough into a circle on a floured surface. Place a large spoonful/mound of the uncooked meat and potato mixture in the center. Add salt and pepper and a small bit of butter to the top of the mound. Fold dough over mixture and press edges together to seal. Place on a baking sheet and vent top of pasty with fork or knife.
Bake regular sized pasties at 350 degrees for 1 hour. Adjust time for smaller pasties. Cocktail pasties usually take 30-40 minutes to cook depending on size.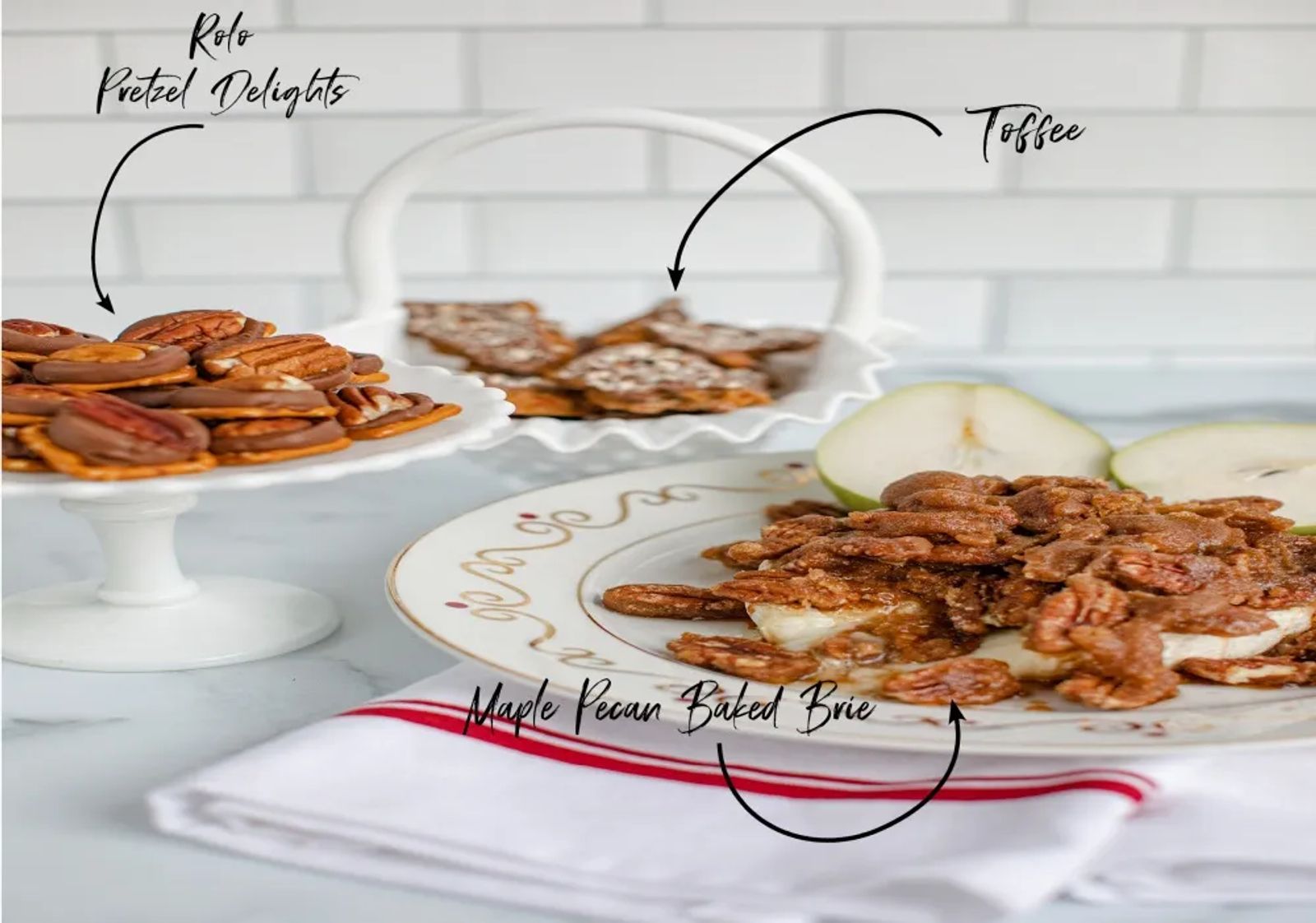 Toffee
from the kitchen of Robyn Fogle
Baking Christmas goodies to give to family, friends, and neighbors is a long-standing tradition in my family. But since I can only bake one cookie variety at a time, I like to incorporate a stovetop recipe into my Christmas "baking" day as well. 
I came across this toffee recipe several years ago and it has been one of my staple go-to holiday treats ever since. The original recipe comes from the 1989 issue of Better Homes and Gardens, but the version I found had been modified and simplified. 
It's the kind of toffee that melts in your mouth. And it's too good to make year-round (my waistline would surely suffer), so it has remained a holiday tradition. 
Ingredients:
1 Cup unblanched (skin on) whole almonds
1 Cup unsalted butter
1 Cup sugar
¾ teaspoon salt (reduce to ¼ Teaspoon if using salted butter)
½ teaspoon vanilla
1 (12 oz.) package milk chocolate chips (2 Cups)
¼ Cup finely chopped pecans
Instructions:
Toast almonds by spreading them in a single layer on a plate and microwaving on high for 2-3 minutes (stir after each minute). On foil-lined baking sheet, arrange almonds in a single layer over an area measuring approximately 13x9 inches. In a heavy, 2-quart saucepan, combine butter, sugar, vanilla, and salt. Cook over med-high heat, stirring constantly with a clean, dry, wooden spoon until butter is melted. Continue cooking and stirring for approximately 7-10 minutes until candy is the color of the brown skin of the almonds; it will start smoking slightly. Immediately pour candy, without scraping pan, over almonds, covering all nuts. Sprinkle chocolate chips evenly over the hot candy. Wait 1 minute and spread the melted chocolate until it is smooth. Sprinkle with pecans. Let cool and break into pieces. Store in a tightly covered container in a cool place or refrigerator.
Rolo Pretzel Delights
from the kitchen of Carina Deguire
This easy (and kid-friendly recipe) has been a part of our family's holiday traditions for the past 22 years. My mom hasn't missed a year making "Pretzel Turtles," since receiving the recipe from a friend while working at the Lincoln County Coalition Against Child Abuse in North Carolina. Nary has there been a Christmas where there wasn't an entire tray within arm's reach. They have always been a part of Christmas cookie trays delivered to the neighbors and have since become a favorite for her grandkids to help make. My only hope is that my kids still enjoy unwrapping 100+ ROLOS every year as they get older.
The easiest (kid-friendly) recipe for the holidays! 
3-3-3 | 3 Ingredients. 300 degrees. 3 minutes.
Ingredients:
Pretzels (square are best)
ROLO candies (unwrapped)
Pecan halves
Instructions:
Lay pretzels on a baking sheet. Place ROLO candy on top of each pretzel and bake in the oven at 300 degrees for 3 minutes. Immediately place a pecan half onto the ROLO and press down gently. Let cool and enjoy! 
Get creative! Swap out pecans for a different nut, or even holiday M&M's for a colorful and nut-allergy friendly version. 
Maple Pecan Baked Brie
from the kitchen of Stephanie Toews
Appetizers are by far my favorite holiday treats; I could make an entire meal out of them. I am also a huge fan of simple but delicious recipes. That's why this sweet and savory recipe is one of my favorites to make for any Christmas celebration.
Ingredients:
1 8-ounce round Brie
¼ Cup light brown sugar
¼ Cup pure maple syrup
¼ teaspoon ground cinnamon
¾ Cup pecans (chopped if desired)
Pear slices, crackers, or cinnamon pita chips for serving
Instructions:
Preheat oven to 350 degrees. Place Brie in a small baking dish or pie plate and bake for around 15-20 minutes until warmed through. Meanwhile, add sugar, maple syrup, and cinnamon to a small saucepan and cook over medium heat, stirring occasionally until sugar dissolves and mixture just begins to boil. Immediately remove from heat and stir in pecans. Pour mixture over brie and serve warm with pear slices, crackers, or cinnamon pita chips.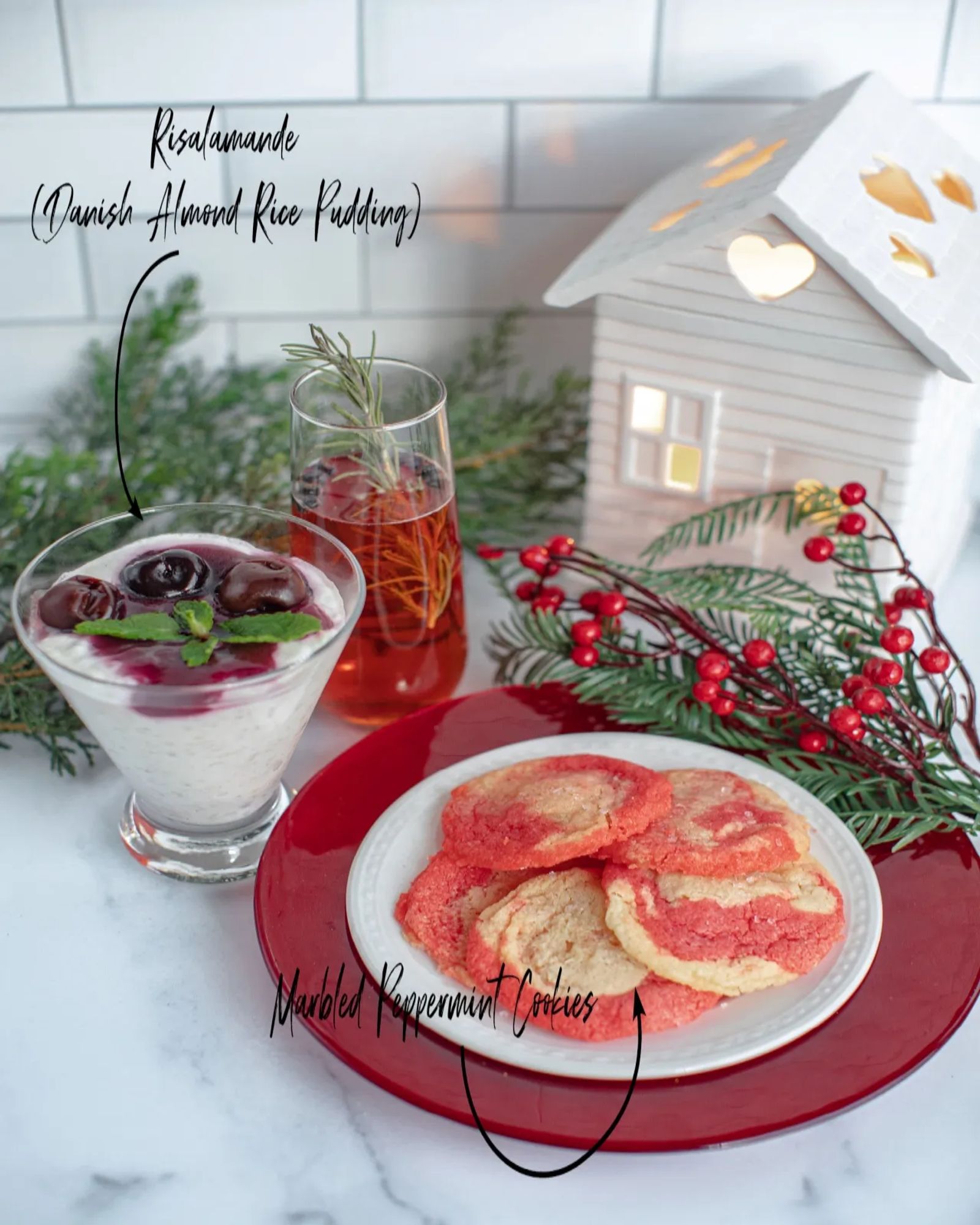 Marbled Peppermint Cookies
from the kitchen of Mikaela Besel
Nothing screams Christmas quite like peppermint - and these cookies that my grandma makes each year are my favorite way to enjoy it. They are definitely a crowd pleaser for the holiday season.
Ingredients:
2 ¼ Cups all-purpose flour
½ teaspoon kosher salt
1 Cup unsalted butter (2 sticks) room temperature
¾ Cup granulated sugar
½ Cup powdered sugar
2 large egg yolks
2 teaspoons peppermint extract
1 teaspoon vanilla extract
12 drops red food coloring
½ Cup decorating sugar red/white
Instructions:
In a small bowl, combine flour and salt. Set aside. In a stand mixer with the paddle attachment, beat the butter on high speed until light and fluffy, about 4-5 minutes. Scrape the sides, add the granulated sugar and powdered sugar and continue to beat until very light in color and fluffy, another 2-3 minutes. Scrape sides again and add the egg yolks, peppermint extract, and vanilla, beat on low speed until well combined. With the mixture running on low speed, spoon flour and salt mixture until all of dry ingredients have been added and fully combined. Don't over mix. Remove half of the dough and place on a sheet of plastic wrap. Add food coloring to remaining dough and mix just until the color has been evenly dispersed. Add dough to a separate sheet of plastic wrap and refrigerate 2 hours or overnight. Preheat oven to 325 degrees and prepare two baking sheets with parchment paper. Roll a bit of red and white dough together to make a ball and then roll into decorating sugar and flatten slightly on baking pan. Bake until slightly brown on the bottoms, 13 to 15 minutes. Remove from oven and cool on baking sheet for 5 minutes before transferring to cooling rack. Store in an airtight container segregated from other cookies as the peppermint flavor will transfer.
Risalamande (Danish Almond Rice Pudding)
from the kitchen of Ashley Fisher
This Danish recipe has been passed down from my great grandmother. My mother has memories of her cooking this dessert every holiday, and it is a beloved tradition across the generations! It is such a wonderful way for our family to remember her and our heritage around the holiday season!
Ingredients for the rice pudding:
1 Cup Arborio rice
¼ teaspoon salt
2 teaspoons finely grated lemon zest
2 Tablespoons sugar
1 ¼ Cups water
4 Cups milk
4 Ounces chopped blanched almonds
Instructions:
Bring the rice, salt, lemon zest, sugar, and water to a boil in a medium-sized stockpot. Boil for 3 minutes, add the milk, and return to a boil. Reduce heat to low, cover and simmer for 30-35 minutes, stirring occasionally, increasing the frequency of stirring during the last 10 minutes to prevent scorching. Stir in the chopped, blanched almonds. Let the rice cool and then chill for several hours or overnight.
Ingredients for Risalamande:
2 Cups heavy whipping cream
¼ Cup sugar
2 teaspoons vanilla bean paste (not extract)
½ teaspoon quality almond extract
Instructions:
Beat the cream until it starts to thicken. Add the sugar, vanilla bean paste, and almond extract and beat until stiff peaks form. Be careful not to overbeat. Serve the Risalamande at room temperature with the warm cherry sauce.
Ingredients for the cherry sauce:
1 ½ Cups canned or frozen cherries (plus ½ Cup of cherry syrup from the can) if using frozen cherries, add ½ Cup water instead
3 Tablespoons granulated sugar
1 Tablespoon fresh lemon juice
1 Tablespoon salted butter
1 Tablespoon cornstarch dissolved in ¼ Cup water
½ Teaspoon quality pure almond extract
Instructions:
In a small saucepan, place the cherries and cherry syrup (or water), along with the sugar, butter, and lemon juice. Bring to a boil, if using fresh or frozen cherries, reduce the heat and simmer another 3 minutes. Stir in the cornstarch mixture, stirring continually until the sauce is thickened, about 1 minute. Remove from heat and stir in the almond extract. Serve the sauce warm over room temperature rice/risalamande dessert.
Merry Christmas to you and yours from the Simply Local-Billings team!
Originally printed in the December 2020 issue of Simply Local Magazine
Never miss an issue, check out SLM's digital editions here!