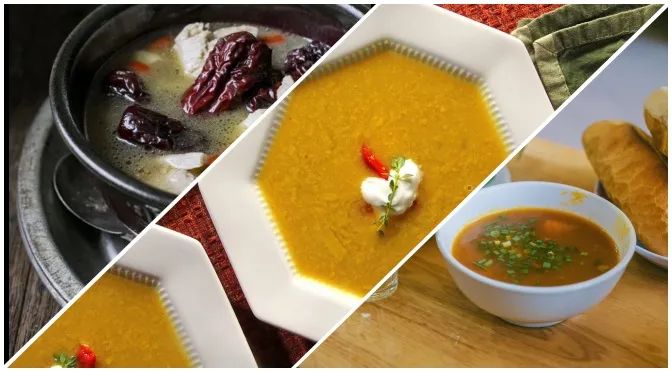 3 Hearty Winter Soup Recipes
February 6, 2020 | by nicole yurko
A good, hearty soup satisfies in the winter the way a cold, refreshing glass of lemonade does in the heat of summer. The comfort of leaning over a bowl, breathing in deep of the aroma while the steam gently stings your face, is enough to melt the present moment's worries away. There's a reason why a pot of soup is offered to those who are sick. The qualities of a good soup (warm, healing, nutritious) meet some of our basic needs as humans. When the temperatures and weather conditions of the winter are taking their toll on our bodies and emotions, a bowl of comforting soup may be all we need to reset.
Here are three unique winter soups that are substantial enough to be a meal in their own right. Pair these with a generous slice of fresh sourdough bread and fill your soul while fueling your body.
(A quick note on broth, as all of these recipes contain it in some form. Broth is a major component of what makes soup so powerfully healing. The collagen in bone broth helps to heal your gut, which is important, as the average American diet wreaks havoc on the good bacteria in our digestive systems. Broth is also packed with beneficial vitamins and minerals that are easy for your body to absorb in this liquid form. If your diet does not contain animal products, a vegetable broth is great for the body as well and can be substituted for the bone broth in these recipes. If you're up for the challenge, make your own bone broth by simmering beef or chicken bones for 12 hours with vegetables, garlic, apple cider vinegar, salt, pepper, and a bay leaf, along with enough water to cover all the ingredients. When finished, strain the liquid into glass jars and refrigerate or freeze.)
Butternut Squash Bisque
Ingredients
1/2 Stick Butter
1 Cup Diced Onion
1/2 Cup Chopped Celery
1/2 Cup Chopped Carrots
1 pound Cut Squash (1" cubes)
2 Clove Minced Garlic
3 Cup Chicken Broth
1 Bay Leaf
1/4 tsp Coriander
1 Cup Heavy Cream
1 TBSP Honey
Salt (To Taste)
Pepper (To Taste)
Sour Cream (For Garnish)
Directions
Sauté onion, celery, and carrot in the butter over medium high heat until soft.
Add squash and cook for approximately 12-15 minutes.
Add garlic and cook for 5 minutes.
Add broth and seasonings. Turn heat down to simmer. Cover and cook for 25 minutes.
Squash should mash easily on side of pot when pressed.
Remove from heat and let cool slightly.
Remove bay leaf and blend.
Pour contents from blender back into pot and stir in heavy cream and honey.
Ladle into soup bowls and garnish with sour cream.
Ingredients
3 TBSP Safflower Oil
1 Cup Diced Yellow Onion
1/2 Cup Chopped Carrots
2 Clove Minced Garlic
2 Inch Minced Ginger
6 Cup Chicken Broth
1 Head Bok Choy
1/2 Cup Pitted Dates
2 Cup Shredded Chicken
1 Cup Heavy Cream
Salt (To Taste)
Cooked Rice
Directions
Prepare the bok choy- cut the end off the head of bok choy. Cut off the stems and then cut the stems into thin strips. Roll the leaves together and also cut into strips. Set aside.
Over medium high heat, sauté onion and carrot in oil until soft.
Add garlic and ginger and cook for 5 min, until fragrant.
Add chicken broth and bring to a boil.
Lower heat to a simmer. Add bok choy stems, cook for 5 minutes.
Add bok choy leaves, cook for 5 minutes.
Add chicken and dates.
Salt to taste and add heavy cream.
To serve, place a portion of cooked rice in the bowl and ladle soup over the rice.
Ingredients
2 TBSP Olive Oil
2 Cup Chopped Beef (Raw)
1/2 Cup Diced Yellow Onion
2 Clove Minced Garlic
2 TBSP Red Wine
2 TBSP Worcestershire sauce
1/2 Cup Chopped Carrot
1 Stalk Chopped Celery
1/2 Green Pepper, diced
1/2 Cup Frozen Peas
1/2 Cup Frozen Corn
1 Can Petite Diced Tomatoes
6 Cup Beef Broth
2/3 Cup Barley
1/4 tsp Dried Thyme
1 tsp Dried Parsley
1 Bay Leaf
Salt (To Taste)
Pepper (To Taste)
Directions
Brown the beef in olive oil over medium high heat.
Add onion, sauté until soft.
Add garlic, sauté until fragrant.
Deglaze the pan with red wine and Worcestershire sauce. (Pour liquid over and scrape the bottom of the pot, pulling sautéed flavors from the bottom of the pot).
Add remaining ingredients, bring to a boil.
Reduce heat to simmer.
Cover and cook for approx. 45 minutes, or until the barley is soft.
Remove bay leaf and serve.