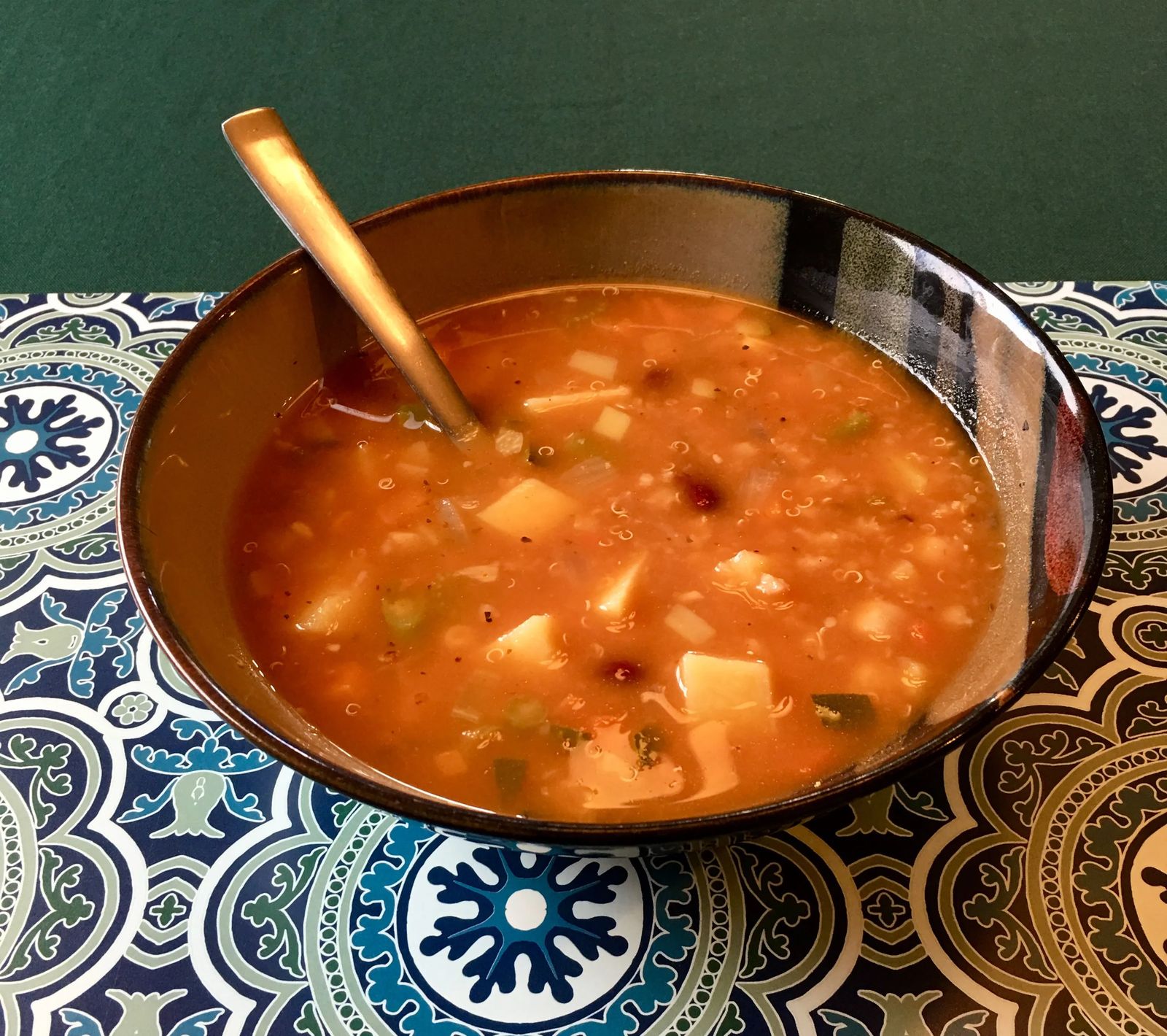 Bulk Up Your Minestrone with Quinoa!
January 27, 2020 | by katie jones backer
If your personal health goals and resolutions include losing weight or eating healthier this New Year, a great place to start is by increasing one's vegetable intake. That said, when it's cold and dark outside, a nice steaming bowl of soup seems to be more appealing (at least to the members in my household) than a cold salad.
For years after Christmas I would make a big pot of Minestrone (or a spin off from that) with lots of vegetables to fill us up after consuming all the decadent holiday foods. Yet my husband always complained that it didn't fill him up. It got me thinking, especially in the winter, how a heartier soup would sound good. And then I thought, what if I added quinoa, and tossed out the noodles, to bulk up the soup? Voila! I can tell you, my husband was happy, and I was even more pleased with the flavorful concoction I had come up with. Now my family asks for this soup, and I can rest easy knowing they're getting their protein, carbs, and a whole lot of vegetables.
Roasted Red Pepper & Basil Quinoa Minestrone
Ingredients:
3 Tablespoons Olive Oil
1 box of Chicken Broth and 2 cups of water at least (*Could also use vegetable broth or a mix between cans of chicken broth and cups of water)
1/2 White Onion
4 Celery Stalks
1/2 Zucchini
1 Large Carrot
1 (or 2) cans of Kidney Beans
1 can of Garbanzo Beans
4-6 yellow potatoes
1-2 cloves garlic (fresh or minced)
1/4 Red Pepper
Spinach Leaves
1 Small Can of Hunts Tomato Paste with Basil, Garlic, & Oregano
1 Can of Mixed Vegetables
1 Box of Near East's "Roasted Red Pepper & Basil Quinoa & Brown Rice Blend" (*or2 cups of quinoa or brown rice)
Spices/Herbs: I usually add in a dash of basil, oregano, thyme, garlic powder, and salt/pepper near the end.
*As with most vegetable soups, it's a great time to toss in whatever vegetables you have lying around… so experiment with it and throw in (or toss out) what you want. And you could keep with the traditional noodles used in many Minestrone recipes, too, if desired.
Directions:
Prep your veggies (dicing and chopping beforehand).
In a small saucepan, follow the quinoa instructions (ex. boil 2 cups of water, add quinoa and seasoning packet contents then cover and slow boil for up to 20 minutes).
In a separate large stock pot, heat the olive oil on Med-Low heat.
Add diced celery and onion; add garlic (your house will begin to smell amazing); stir until they soften or become translucent.
In the large pot, begin adding your ingredients (chicken broth, water, carrot, zucchini, mixed vegetable can, potatoes, kidney beans, tomato paste, garbanzo beans, red pepper); Stir and increase heat to Med. High (gentle boil).
After your quinoa timer goes off, add that to your large stock pot. Stir well. Boil.
Add chopped spinach, herbs (ex. basil, oregano, garlic, thyme, and/or bay leaves *pick out at end)
Slow boil for a few minutes longer (you definitely want the potatoes to soften and may need to test them before you turn down the heat).
Cover and let simmer for at least 30 minutes or until you're ready to eat.
Add parmesan (if desired) and serve with fresh garlic bread or a baguette.
There is a plethora of ways you could recreate this recipe to match your own tastes and ingredients. I hope you use this as a starting off point and get cooking! Remember the key is to eat more vegetables while also enjoying these winter evenings spent with loved ones over a warm bowl of soup.
Bon Appetit!