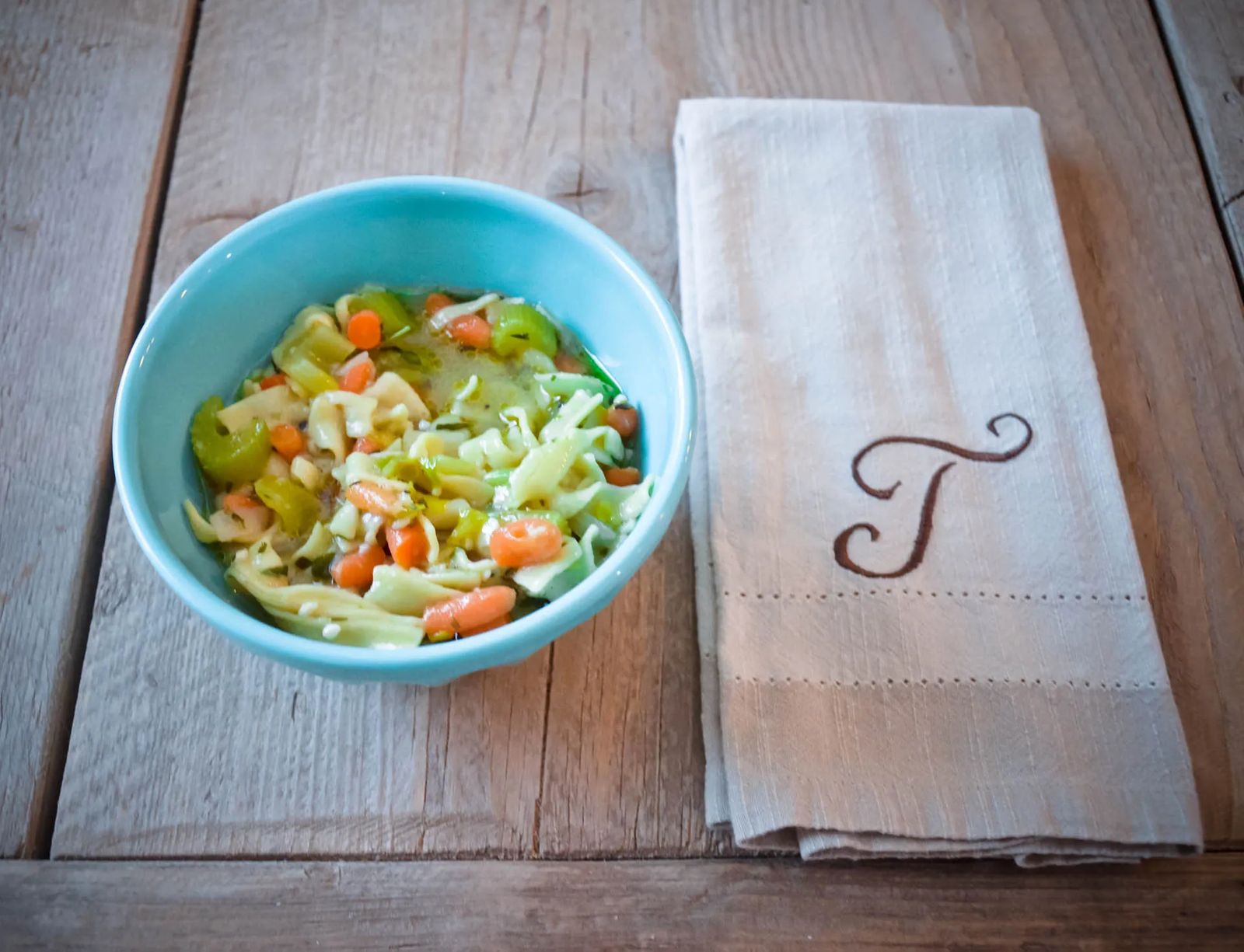 Mama's Homemade Chicken Noodle Soup Recipe
This homemade chicken noodle soup tastes just like home. Growing up, my mom would make it several times a year – usually in quantities large enough to feed a small army, multiple times – especially during the winter and the holidays. True Italian woman that she is, she never measures anything; recipes and exact measurements, who needs those? But everything she makes is always beyond delicious. I finally pinned her down and forced her to record this recipe for me. And now I'm sharing it with you. It's so easy it should be illegal; and tastes way better than anything that comes from a can. Your family is going to love it, and so will your neighbors! (Or your freezer, either way.)
Mama's Homemade Chicken Noodle Soup Recipe:
Ingredients
1 cooked, Rotisserie chicken (skinned, de-boned, and cut up into bite size pieces)
3-5 stalks of chopped celery (depending on your preference)
1 package of baby carrots, cut up
½ an onion, finely chopped
2 tablespoons of minced garlic (season to preference)
2 packages of fresh Tarragon, cut up (you can also use dried)
Herbs de Provence (season to preference)
Organic chicken broth (I use two 3 lb. containers)
A package of egg noodles, crunched up
Salt and pepper (season to preference)
Olive oil
To Make
Pour a generous amount of olive oil into a shallow pan, over medium heat. Add the celery, carrots, onion, Tarragon, and minced garlic to the pan, and sauté for just a couple of minutes. Transfer these ingredients to a large soup pot, over medium-low heat. Add the chicken and broth. Add the egg noodles and other seasonings. Cook for several minutes on medium-low, then switch to low heat and allow to simmer for at least an additional 10-15 minutes, so all the flavors can really steep and combine. Serve warm with fresh bread. This soup freezes and reheats perfectly. Enjoy!
About the author...Born and raised in southeast Texas, Jessica currently lives in Billings, Montana with her husband, her two year old daughter Savannah, and their newest addition, one year old Emma Kate. Jessica graduated from Texas Christian University with a degree in Broadcast Journalism. By day, Jessica works as a licensed Realtor, and moonlights as a freelance writer/photographer for several businesses around town.