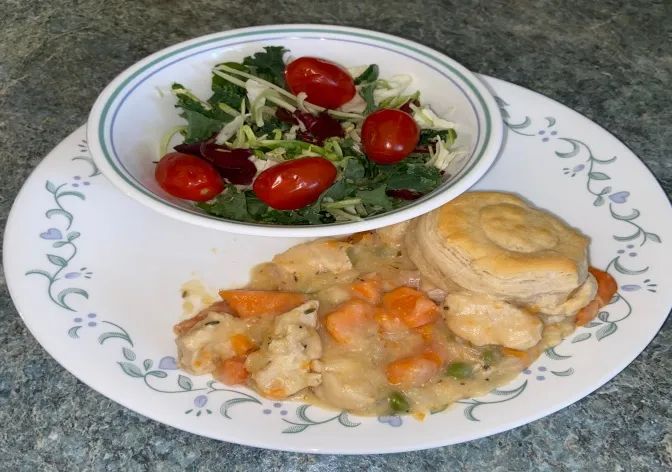 Skinny Chicken Pot Pie Recipe
January 28, 2020 | by b davis
Are you one of millions of people who set a New Year's Resolution to eat healthier? Are you part of the 80% of those millions who have already given up on that resolution? Was part of the reason is that "healthy" food just doesn't taste as good? Are you craving comfort food now that the cold weather has hit (kinda hit)? If you answered yes to either of these questions, or just want to try a delicious new recipe, than this Skinny Chicken Pot Pie is for you!
Ingredients:
3 cups chicken broth
1½ cups onions, chopped
1 cup potato, peeled and cubed
1 cup sweet potato, peeled and cubed
1 cup carrots, peeled and chopped
1 lb chicken breasts (boneless, skinless), cut into bite-size pieces
1 cup frozen peas (do not defrost)
1½ cup reduced-fat milk
½ cup, plus 1 tablespoon all purpose flour
1 teaspoon dried thyme
¼ teaspoon salt
¼ teaspoon fresh ground black pepper
1 pkg. Pillsbury Golden Layer Flaky Biscuits (100 calories for each biscuit)
Directions:
Preheat oven to 350 degrees.
In a LARGE pan, add chicken broth and bring to a boil.
Stir in onions, potato, sweet potato, and carrots. Bring back to a boil, reduce heat and cover. Simmer for 6 minutes.
Add chicken pieces and frozen peas, mix together. Bring back to a boil, turn heat to simmer, cover, and cook for 5 minutes.
Place a colander into a large bowl. Pour chicken, vegetables and broth into colander. Add strained broth back to the pan. Set aside chicken and vegetables.
In a separate small bowl, add flour. Gradually add milk to the flour, stirring with a whisk. Stir until well blended.
Increase heat to medium with the broth. Stir in milk/flour mixture with a whisk. Stirring frequently, cook for 5 minutes or until thickened.
Add back the chicken and vegetables, along with thyme, salt and pepper. Mix well.
Cover a large baking dish with tinfoil (for easy clean up) and pour in the chicken stew.
Open the package of biscuits, separate them and place on top of chicken stew. Line them evenly over the top. Depending on how you line these up, you might have one extra biscuit. Break it up into small pieces and place it in empty spaces on the stew.
Place the pie in the oven and bake for 15-18 minutes until the biscuits are golden brown.
Recipe Notes:
1. While this recipe has a bit of prep, you'll have plenty of time to do the dishes and have the kitchen all cleaned up before it is out of the oven.
2. Start the prep in the morning by cutting all the veggies and chicken breasts ahead of time.
Typical store bought chicken pot pie can run over 600 calories. This recipe slashes the calories in half and still hits the spot.
Recipe adapted from https://www.skinnykitchen.com/recipes/chicken-pot-pie/