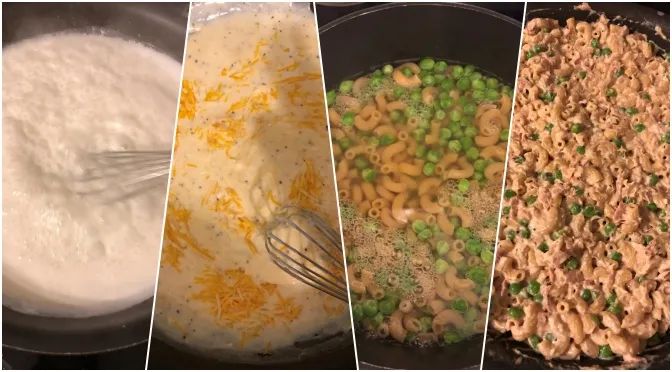 October 10, 2019 | by b davis
In the blink of the eye, September is over. The unofficial holiday season is upon us and whether you are looking to save money for the holidays or don't want to leave the house when the weather is ugly, this recipe is ideal. You are likely to have all the ingredients on hand, but if not, it is cheap to make.
Tuna Noodle Casserole
Ingredients:
8 ounces elbow macaroni (I used whole grain)
2 cups frozen peas
2 1/2 tablespoons butter
2 1/2 tablespoons all-purpose flour
2 1/2 cups milk
Salt to taste
1 teaspoon garlic powder
1 teaspoon onion powder
1 tablespoon dried parsley
Black pepper, to taste
4 ounces grated cheddar cheese
2 (6-ounce) cans tuna, drained and flaked
Topping: crushed Ritz crackers (or another kind of butter cracker) to taste
Directions:
Bring a large pot of salted water to a boil over high heat. Add the noodles and cook per package directions. A minute or so before the noodles are done, add the frozen peas to the boiling water. Once the noodles are cooked to your liking, drain the noodles and peas and set aside.
While the noodles are cooking, set a large skillet over medium heat. Add the butter and swirl until melted. Stir in the flour and continuously whisk for 2 minutes. Continue to whisk vigorously as you slowly and gradually pour in the milk. Stir until smooth and bring to a simmer, whisking regularly to prevent the bottom from burning. Cook for a minute or two until the sauce has thickened. Remove from the heat, stir in seasonings. Gradually blend in the cheddar until melted, and then stir in the drained tuna.
Stir the drained noodles and peas into the sauce and mix until everything is well coated. If desired, top with the cracker crumbs.