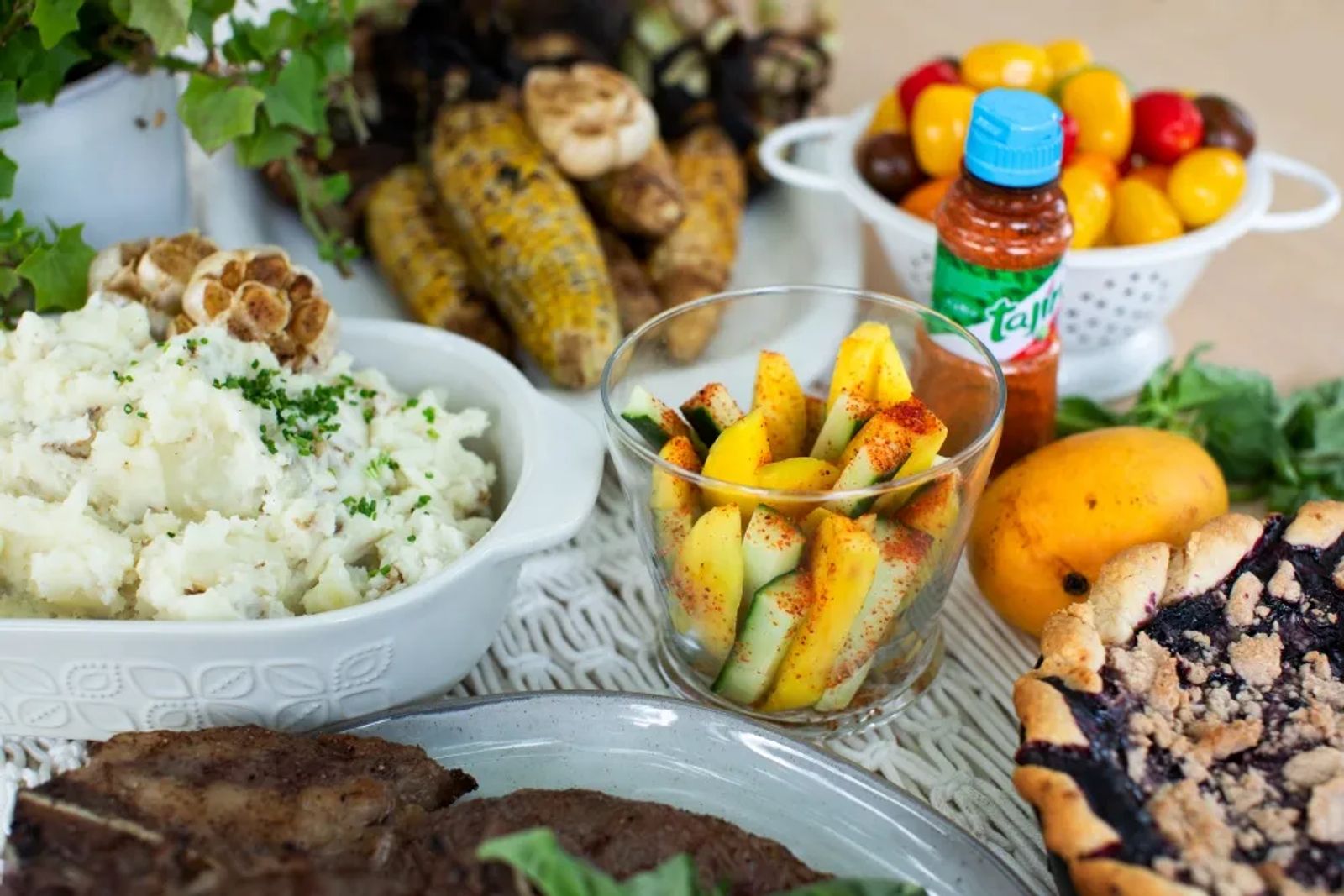 by michael j. hitchcock | photos by lovely hitchcock
I'm entirely convinced there's no better way to spend a weekend afternoon in Montana than holding a cool drink next to a hot grill chatting with family and friends. Every winter, I prepare for the warm days ahead by combing through hundreds of websites and YouTube videos to garner ideas and novel techniques for throwing meat and vegetables over a fire and enjoying the fruits of my labor. If you're a backyard BBQ aficionado like myself, you've probably developed a specific set of skills for creating masterful entrees that please anyone within sniffing distance of your grilling arena.
But what about those sides? While a perfectly marbled ribeye grilled to a marvelous state of juicy tenderness can melt in one's mouth, a well-crafted side dish can complete the meal, making it an even more memorable experience for one's guests.
I've spent some time working with sides that complement the amazing flavor and texture of well-grilled Montana meat. There are three I recommend joining with a fine local steak, be it beef or lamb. These sides generally work well with poultry, too. They combine specific flavors to pair nicely with savory, smoky, or even the sweet and spicy of a well-balanced BBQ sauce.
The first side, Roasted Garlic Grilled Mashed Potatoes, is a standard people-pleaser that works on anyone from age 1 to 120. If you haven't grilled potatoes or garlic on your equipment yet, try a practice run before entertaining guests to ensure you don't overcook or undercook these versatile vegetables. Trial runs can be quite enjoyable in their own right.
The Lovely Blueberry Pie is an excellent recipe that you can craft either on your grill or in an oven. It adds a nice element of fruity sweetness to any meal. In addition, it often surprises guests who are expecting less complex creations. The trick is to serve it in an iron skillet, as the presentation will 'wow' even your most discerning in-laws.
Finally, the Sweet & Spicy Mango is a quick and straightforward formula that will surprise more than a few of your gastronomic gang. You can whip this up in a pinch, and you only need two ingredients, both of which most grocery stores carry.
Grab that stained apron and your favorite tongs, get the fire just right and bring something new to the backyard this summer. Make sides as exciting as the main dishes and leave those guests delighted and coming back for more!
Roasted Garlic Grilled Mashed Potatoes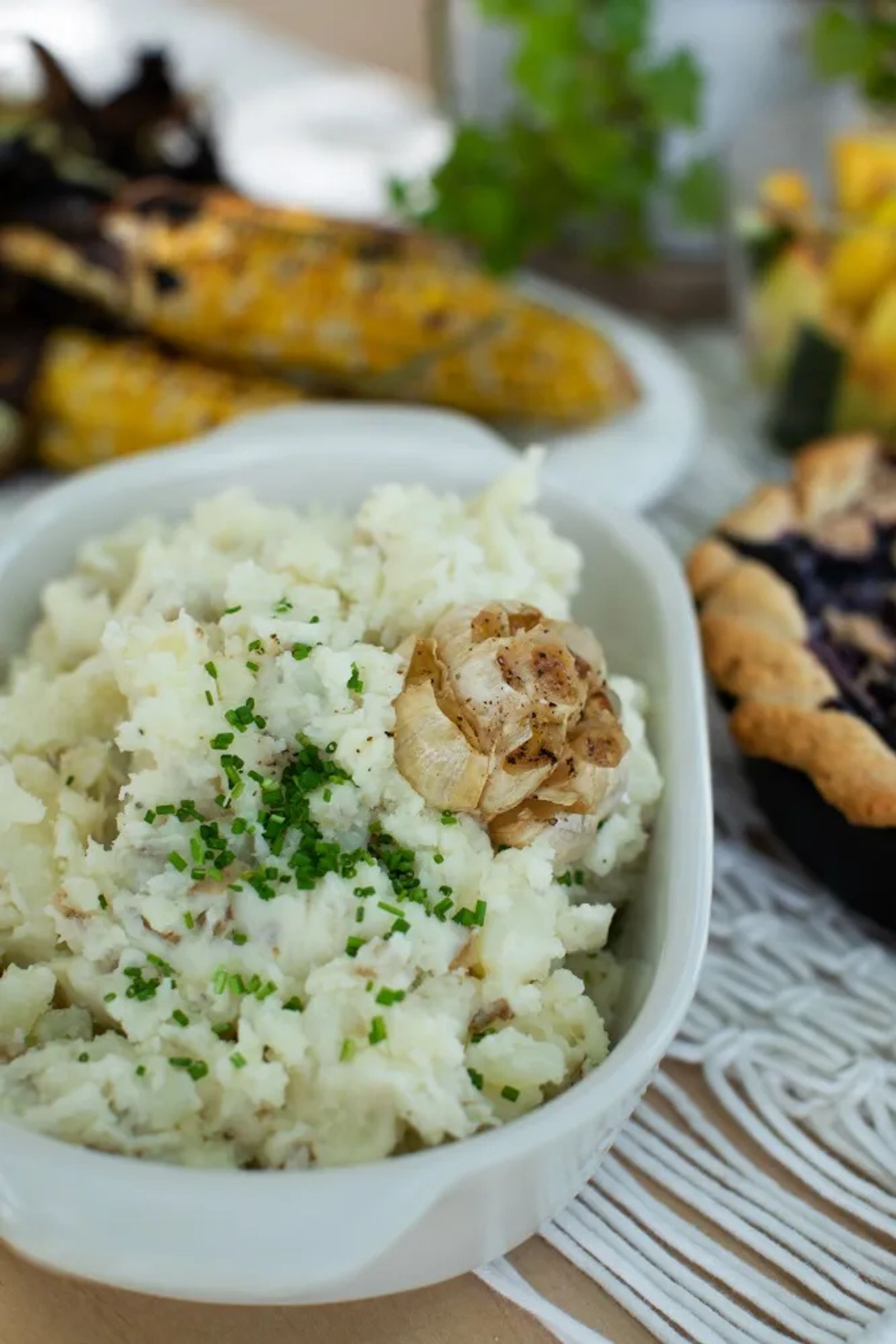 Ingredients:
3-5 lbs. potatoes
5 whole garlic cloves
½ Cup heavy whipping cream
½ Cup butter
3 Tbsp. olive oil
1 Cup chopped chives
Cut the potatoes of your choice (I'm an Idaho guy) into cubes about the size of a quarter; the smaller the cubes, the faster the grilling time. Prep the garlic by slicing off the top of the bulb to expose the cloves. Drizzle the potatoes and garlic with olive oil. Place the potatoes in a grill basket, if available, or an iron skillet. Cover each garlic bulb with tinfoil.
Place the garlic over indirect heat for 40 minutes or until soft to the touch. Grill the potatoes over indirect heat for about 20 minutes or until you can easily penetrate entirely through the cubes with a fork. Be sure to toss the potatoes frequently to prevent burning.
After grilling, mash the potatoes thoroughly (I prefer a few lumps) with the heavy whipping cream and butter. Add ½ Cup chives and any other seasonings to taste. Remove the husk from the garlic bulbs and garnish your potatoes with them and a sprinkling of chives.
Filling Ingredients
4-5 Cups fresh blueberries
½ Cup sugar
4 teaspoons corn starch
1 teaspoon lemon zest
½ lemon, juiced
Pinch of salt
½ teaspoon ground nutmeg
Crumb Topping Ingredients
½ Cup flour
1/3 Cup sugar
3 Tablespoons butter
Crust
Use your own favorite homemade or store-bought crust
Put blueberries into a large bowl and smash them. This releases the juices and flavor of the filling. Add sugar, cornstarch, lemon zest, lemon juice, nutmeg, and a pinch of salt. Mix well.
If you decide to go with a cast-iron skillet, be sure to lay a piece of parchment paper in it first. This will make removing the pie a lot easier later.
Place piecrust into the skillet. Pour in the blueberry filling, and don't forget to pour the remaining liquids on top. Spread the filling with a spoon for even coverage. Crimp the edges of the dough and finish with the crumb topping.
Place the skillet over indirect heat on your grill at 375. Cook for about 30-40 minutes. Before slicing the pie, let it cool for about 2 hours. This will allow the pie filling to set and make it easier to slice.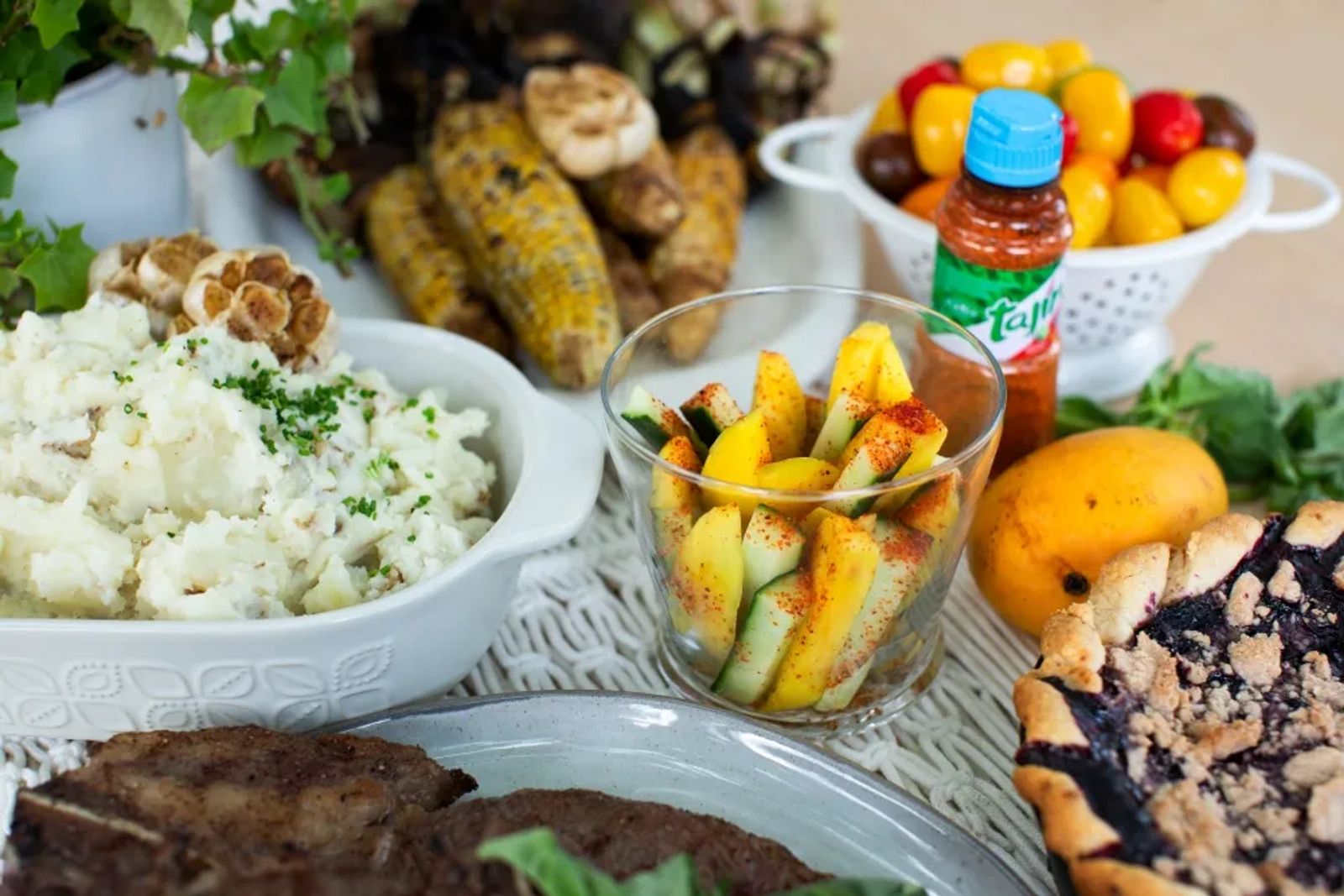 Ingredients
Tajín Spice
Sliced or Cubed mango
Tajín combines two of Mexican cuisine's signature flavors: chili spice and citrus. It makes for a nice twist on summer, creating a sweet, sour, and hot blend that perfectly complements mango, cucumber, or any other sweet and cool fruit or vegetable.
Originally printed in the July 2021 issue of Simply Local Magazine
Never miss an issue, check out SLM's digital editions here!