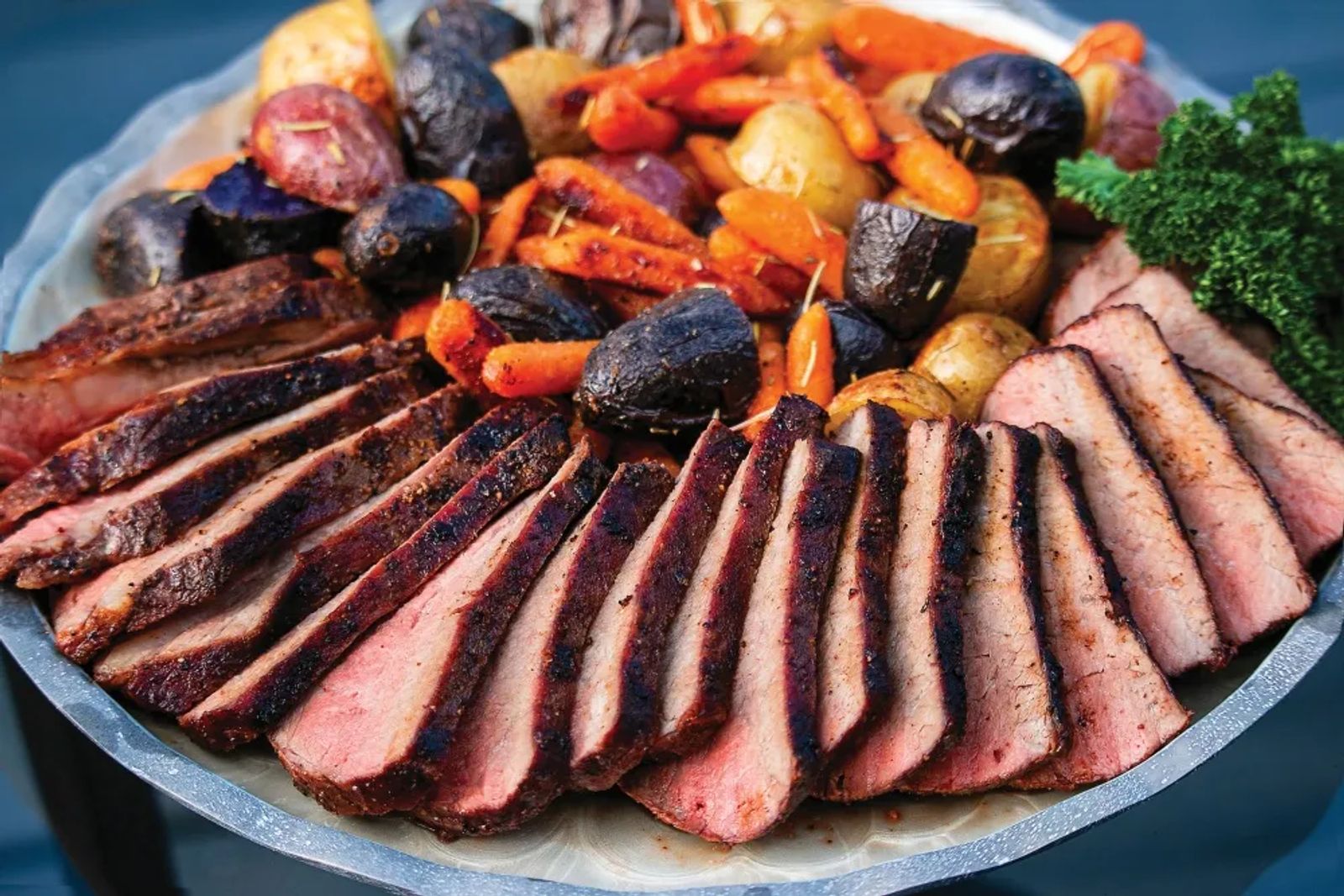 Tri Tip & Roasted Vegetables
Grillmaster: An Interview with John Thomas
July 2021
article & photos by renata haidle
It's summertime and the living is easy. The fire is roaring on grills throughout the neighborhood. All kinds of meats sizzle as 6 o'clock approaches. Familiar smoky smells are wafting in the evening air, while men in backyards all across town are flipping burgers and steaks while sipping a cold one.
John Thomas is one of them. A computer whiz during regular work hours and quite handy around the house, he is also highly skilled in the kitchen. This trait is inherited from a family that greatly enjoys cooking, grilling, and even brewing their own beer. So it is not unusual for John to get together with his parents and pick a recipe that they've cooked before but needs perfecting (because nothing less than perfect will do).
This passion for all things culinary goes way back to early childhood, with memories of his grandmother's mincemeat cookies perfuming the house at Christmas and his father preparing a family favorite. "My dad baked a lot," John recalls. "He has Yugoslavian heritage and he used to bake this amazing povitica bread. It is a sweet bread, filled with walnuts and cinnamon. If you had it once, there is no forgetting it and you really cannot get it anywhere that it tastes so authentic. I had to learn how to bake it, so my wife and I bake that every year now."
From sweet bread to cakes was only a short, logical path. With his technical mind enjoying the science of baking, John went on to experiment with various recipes. Taking his inspiration from Alton Brown and Cooks Illustrated, he has made significant progress over the years, to the point of receiving public recognition in a local competition. "Back in the day," he says, "if I was looking to impress a lady friend, I would definitely go with chicken parmesan. Now, since I am married, I am in charge of the desserts for most of our parties. In fact, my Raspberry Charlotte took "Best in Show" at the 2019 Montana Fair. I hang the ribbon on our Christmas tree every year."
Aside from the rigors of baking, there is still room to improvise in the kitchen and have fun with different recipes. For example, one of John's favorite things to grill is tri-tip, seasoned (Alpine Touch is a Montana-made spice mix he favors), aged in the fridge for a few days, cold smoked, sous vide* for a few hours, then finished on the grill.
With such passion and talent for baking and cooking, it begs the question: was a career in culinary arts ever in the cards? "In 2000 I went and visited the College of Technology at University of Montana because I wanted to be admitted in one of their tech programs," he recalls. "Once I got there, I saw they had a culinary program and yes, it did cross my mind to pick that for a career path. However, I am glad I picked cooking as a hobby and not as a career."
As we all prepare for the upcoming 4th of July celebration, I am curious to hear what is on the Thomas family menu. "Grilled homemade sausages (garlic or andouille)," John reveals, "shrimp and pasta salad, definitely ham, and probably a shrimp, potato, and cheese casserole for a side." Since a good number of us will probably stick with the predictable, reliable hamburgers, I ask John for a few tips to improve them. He obliges. "A panade* mixed with bacon bits does wonders. So does smoking them before grilling. Then top them with some fire-roasted chilies."
"I never improvise when I am baking, but I do when I am cooking. As the saying goes, cooking is an art, baking is a science." - John Thomas
*Panade: a mixture of starch (most commonly white bread, breadcrumbs, flour, or rice crackers) and a liquid such as water, milk, stock, or egg. When used in hamburgers, it helps bind the ground meat while adding volume, moisture, and flavor.
*Sous vide (pronounced sue-veed): a cooking method that involves vacuum-sealing the food in a plastic bag and cooking it to a very precise temperature in a water bath. This allows the food to be cooked to the exact level of doneness every single time. After removing the food from the plastic bag, it can be grilled, broiled, or seared to achieve a golden-brown crispy crust.
Originally printed in the July 2021 issue of Simply Local Magazine
Never miss an issue, check out SLM's digital editions here!