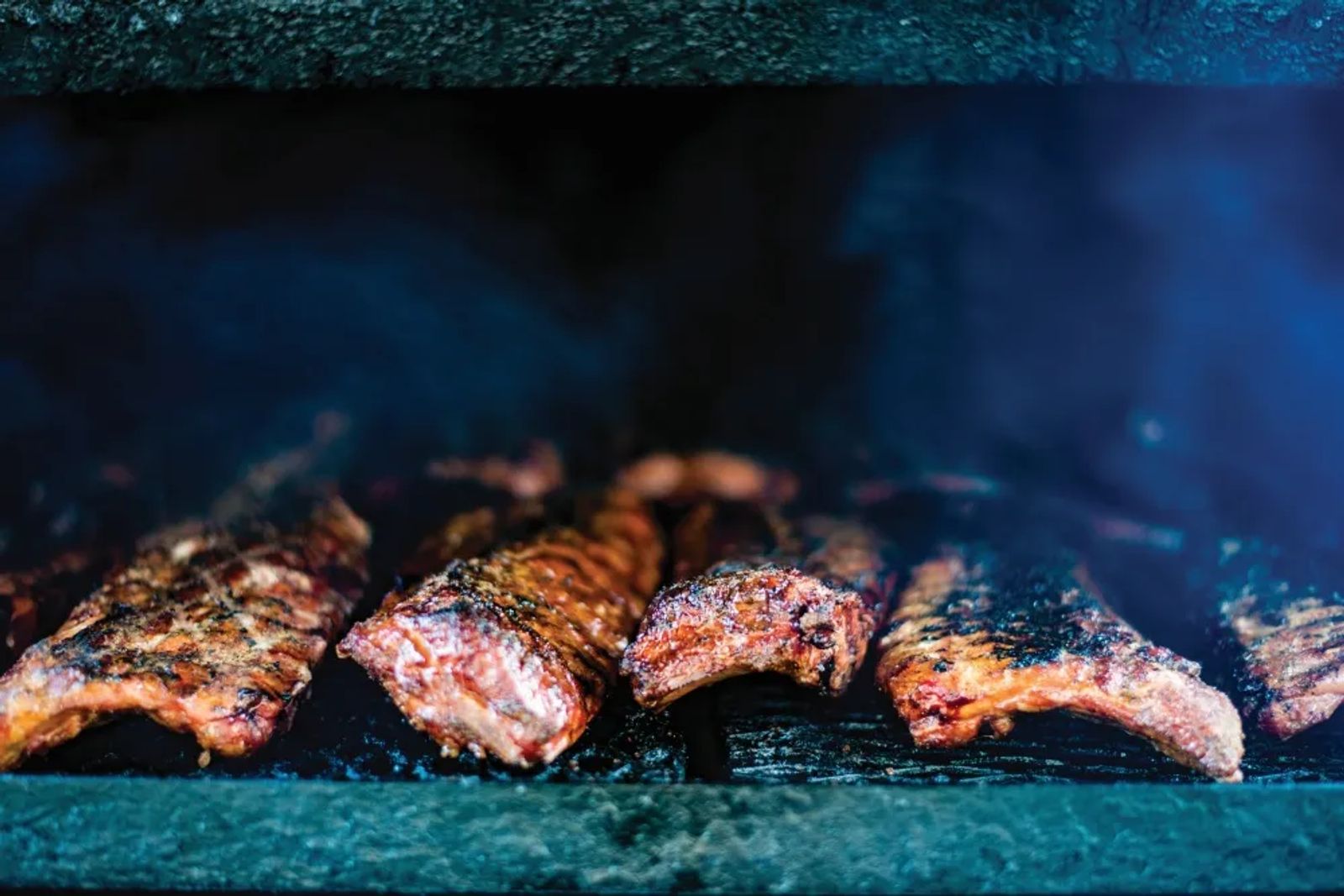 July 2020 | by rebecca stewart | photos by CM Photography
During the summer months, stoves and ovens are given breaks while their shiny, grated, outdoor counterparts take center stage, just prepped and ready to create all kinds of scrumptiousness. Many people eagerly anticipate this time of year when the grill is being fired up more often than not. Confession: I am not those people.
Don't get me wrong; I'd like to be – in fact, I'd probably love it – my family absolutely enjoys a good barbecue, but the truth is, we're challenged, the husband and I. In the early days we tried. Truly we did. We had people over; we fired up the barbecue, but then there was the steak flopping onto cement incident, and those times the burgers fell through the grill. There might have been a fire involving bacon…
Alas, I've watched with envy as my dad and brother-in-law present glorious feats of grilling deliciousness for our eager consumption. I've eyed Instagram stories with wistful wonderings if we, too, could coax such yumminess from our oft-neglected barbecue.
And you know what we finally discovered? If you just try, try again, good things can indeed happen, even for those who feel hopelessly challenged in their grilling capabilities. To help bolster the confidence of the hopelessly challenged and grilling newbies, alike, we turned to Kim Hager, owner of Blue's BBQ.
Meet the Expert
Kim's husband Kenny is from Oklahoma City, and in the early years of their marriage, the couple moved to Oklahoma for a short time. While there, Kim recalls that she tried southern smoked BBQ for the first time and fell in love. They decided to move back to Wyoming, where they opened a BBQ in Sheridan, WY, on April 19, 1995. She says they sampled out more meat than they sold that first year! It was in 2004 that they had an opportunity to move to Billings, and Blues BBQ has been in the same location for 16 years.
Having raised their daughters in Billings, and now, watching their grandchildren grow up here, Kim notes that "We could not think of a better place to have a business and raise a family than Billings, MT. We have the best customers and employees you could wish for!" She reflects on the many celebrations and milestones their restaurant has been honored to take part in, adding, "Our lives have been so enriched by the Billings community and surrounding areas. We could not be more grateful for the continued support and opportunity to be a part of this wonderful community."
Get Your Grill On
Always start with clean grates- Kim advises using an onion cut in half to clean the grates. Rubbing olive oil on the meats will keep them from sticking to the grates.
And don't forget to check those grease traps before lighting the grill!
Whether smoking or grilling meat, thermometers are a must- Always grill or smoke all meats to the correct temperatures. Kim recommends foodsafety.gov as a good site to check the correct temperatures to achieve while cooking meat.
If you're smoking meats…
Choose well-cured hardwoods. (Wood that is not cured properly will ruin your meat, and you will have a hard time getting the taste out of your smoker).
Fruitwood is available locally and is a nice, mild hardwood
Bringing out the flavor
"You can't beat a good dry rub," says Kim, "there are several good ones on the market and lots of good recipes out there too."
Spice the meat evenly on all sides and massage the dry rub into the meat.
Note: "I like to avoid dry rubs and mops with sugar in them. If I am putting on a sweet sauce or glaze, I wait until the very end of the cooking process."
Kim shares two recipes, an Apricot Glaze with us that is good for pork and chicken- you can put it on hams, tenderloins, pork chops, and chicken; and a recipe that has been in her family for over 50 years.
Apricot Glaze
1 cup apricot glaze
1 cup butter
1/2 cup brown sugar
1/4 cup yellow mustard
In a saucepan, mix all ingredients together, stirring constantly over medium-low heat until butter is melted, and ingredients are well combined.
Grandma's BBQ Sauce
1/2 cup diced onion
3/4 cup ketchup
3/4 cup water 
3 tablespoons vinegar
2 tablespoons Worcestershire sauce
2 tablespoons brown sugar
1/2 teaspoon chili powder
1/8 teaspoon cloves
1 teaspoon paprika
1/4 teaspoon cinnamon 
Salt and pepper to taste
Sauté onions in olive oil until soft, mix the rest of the ingredients in a saucepan and combine over medium heat until all ingredients are well blended. 
By the Meats
For whole briskets, roasts, and loins:
Mix a paste of olive oil and spice, after the meat is spiced, wrap it in plastic wrap and refrigerate (preferably overnight).
While smoking the meat, mop, or spray every 30 minutes.
Note: "I like to finish large cuts of meat wrapped or covered."
Grilling leaner cuts of steak such as sirloin or chicken breast:
Kim recommends using a marinade.
Expert usage: Mix salted butter with garlic and fresh herbs and put a teaspoon of it on your steak right after removing it from the grill.
Shout Out
The Yellowstone Olive Company has been a favorite of Kim's lately. She says, "they have a vast array of olive oils, vinegars, rubs, and spices. You can sample all their oils, and they have all kinds of great tips and flavor combinations."
Chicken
Must-try: Recently, Kim marinated chicken in YOC's Myer Lemon Olive Oil and balsamic vinegar and spiced it with their garlic and herb dry rub – "delicious!"
Start chicken breasts on medium to medium-high heat, brown both sides, then wrap in foil, and finish on medium-low heat. Top it off with a squeeze of fresh lemon juice over the top of the chicken before closing the foil packet.
Burgers
Kim's "latest obsession" is trying new hamburger add-ins, this is one of her favorites:
80/20 or leaner hamburger
Finely chopped dried dates
Minced garlic
Salt
Pepper
Mix the hamburger, dates, garlic, salt and pepper together. Form into patties press a small dimple in the center of each patty and grill.
Kim likes to top with a fresh pineapple ring that she brushes with olive oil or unsalted melted butter and grills. Finish the burger by spreading a little mayo on each bun and browning on the grill, then top the burger with the pineapple, a slice of avocado, and any other condiments you like. Grilling makes the dates creamy and sweet.
Kim recommends finishing the burgers wrapped in foil to ensure they reach the proper temperature and do not dry out or burn.
Finishing touches:
Whether you are grilling or smoking, Kim reminds us that practice makes perfect and that every grill and smoker is a little different. With countless different flavor combinations, don't be afraid to experiment!
Finally, if you're unsure about what cut of meat to use, utilize your grocery store butcher, they can point you in the right direction!
--
And keep in mind, when it comes to the grill, it's not only about the meats. From jalapeno poppers and kabobs that can be loaded with just about anything (with the added bonus of being able to make them to personal preferences) to veggies for every taste bud, the options are endless!
So, keep calm (try, try again), and get your grill on!
Originally printed in the July 2020 issue of Simply Local Magazine
Never miss an issue, check out SLM's digital editions here!