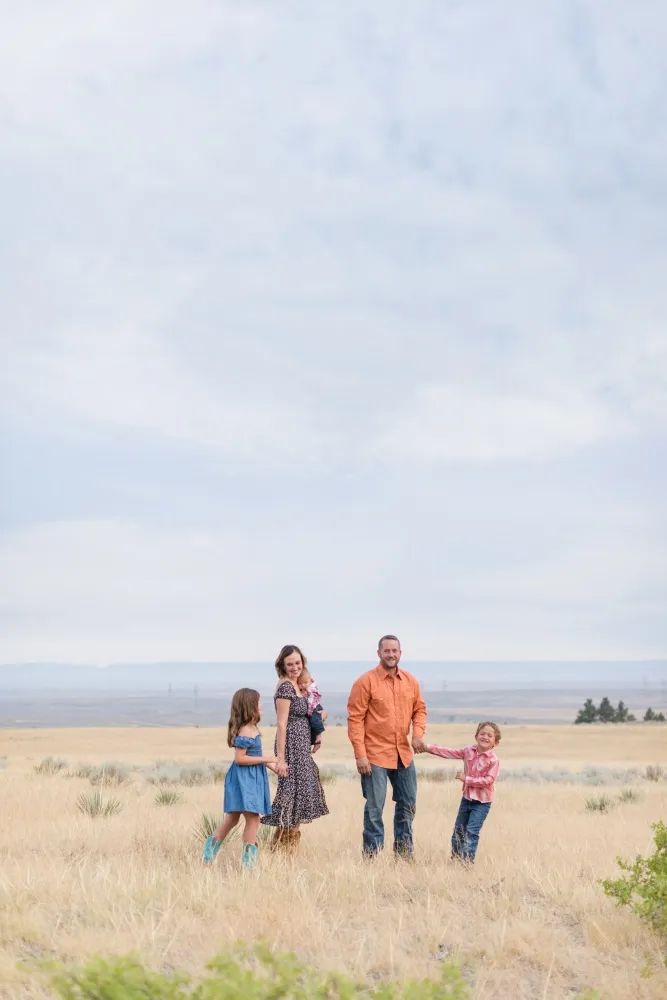 Returning to the Magic (City)
September 2021
by michael j. hitchcock | photos by lovely hitchcock
My name is Michael Hitchcock, and I am addicted to Montana.
Montana is a powerful magnet for the souls of those fortunate enough to have enjoyed her majesty. Once embraced by the sweet scent of her forests, the jewels of glittering light adorning her lakes and streams, and the awe of her soaring, snow-capped mountains, we are hopelessly addicted to the awe-inspiring magnificence of Big Sky Country.
Upon leaving Montana, we begin experiencing withdrawal symptoms; dreams of boundless, sapphire skies and an inescapable desire to spend the day sipping cold brew next to a glimmering lake with a pole in hand. Many who left have eventually yielded to the influence of her enchantment and returned to Montana. Resistance is, well...futile.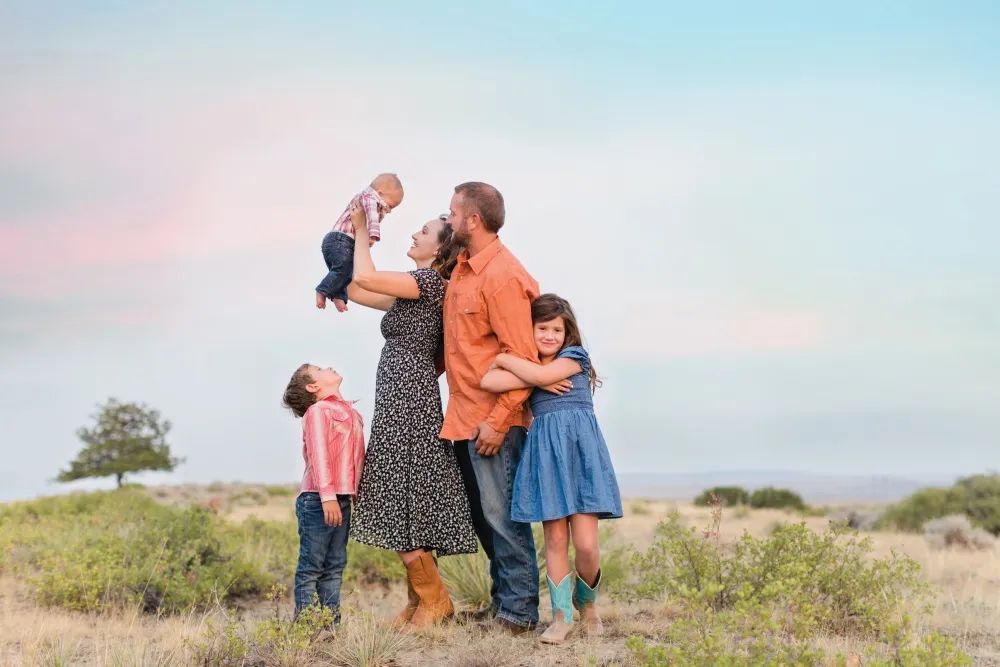 Annika Charter-Williams with husband Michael and Stevie (7), Willie (5), and Waylon (4 months)
Annika Charter-Williams is a native Montanan who grew up on a ranch in Shepherd. After graduating high school in 2006, she decided to move overseas and left her home. But, as many do, she couldn't resist the magnetic allure of Montana and eventually returned. She studied at the University of Montana for two years. She then completed a degree in Biology at MSU-Billings, ultimately earning a teaching certificate.
Today, Annika and her husband, Michael, raise three children while working with her father, Steve, on their family ranch. Michael also owns and operates 87 Rentals, a used equipment business, while Annika markets their family's beef business, Charter Beef & Livestock. She is also a founding member of the Yellowstone Valley Food Hub.
Annika is a Montana addict through and through. She tried another life but now revels in raising her family on the vast grasslands of Montana while helping others enjoy the bounty her home state provides. She has no plans to leave and believes that "People have to create the change they want in the communities they love." Annika is convinced that the people here are what make this place great. "Great places to live don't just happen." Annika Charter-Williams Montana is bursting with hard-working people who pour love and care into their communities, leaving them better than they found them.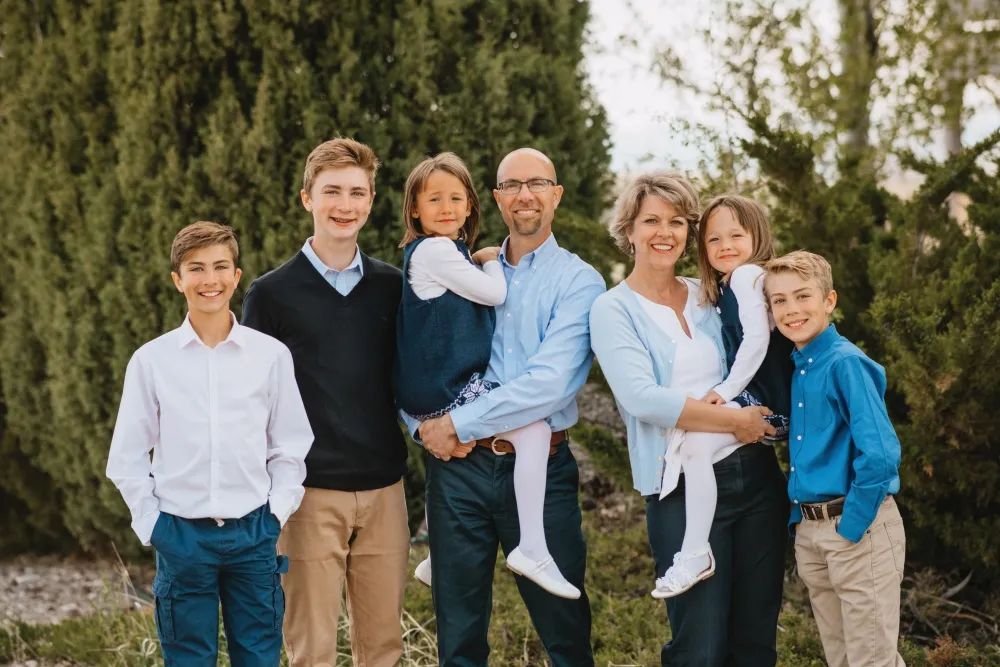 (photo by Abby Glover) The Sironi Family- Boaz (12), Joshua (15), Faith (7), Aaron, Kelly, Esther (5), and Phinehas (10)
People just like Kellie Sironi, a fourth-generation Montanan whose grandparents homesteaded here. In 2004, Kellie married her husband, Aaron, a Wisconsin native who, after attending school in L.A., moved to Montana in 2002 to be near Kellie.
In 2019, they transplanted their three sons, two daughters, and a black lab to Philadelphia to facilitate Aaron's job with the Christian Counseling and Education Foundation (CCEF). After only seven months in Pennsylvania, the area completely shut down due to COVID-19 restrictions. After living in PA for a year, they sold their house and returned home to Montana, where Aaron continues to work remotely for CCEF.
Today, these Montanans get a daily dose of Big Sky Country where they love watching American flags fly throughout their neighborhood, enjoy an occasional rodeo, and watch their kids "climbing over a pile of bikes thrown on each other's lawns while their friends congregate for an impromptu neighborhood whiffle ball game."
Unlike PA, they now move about freely and recognize the store clerks, postal workers, and others in their community. Kellie and Aaron found that they prefer the Montana lifestyle over the East Coast. Kellie advises those thinking of leaving Montana to first do their homework. They may discover that Montana's lifestyle is a better fit for them.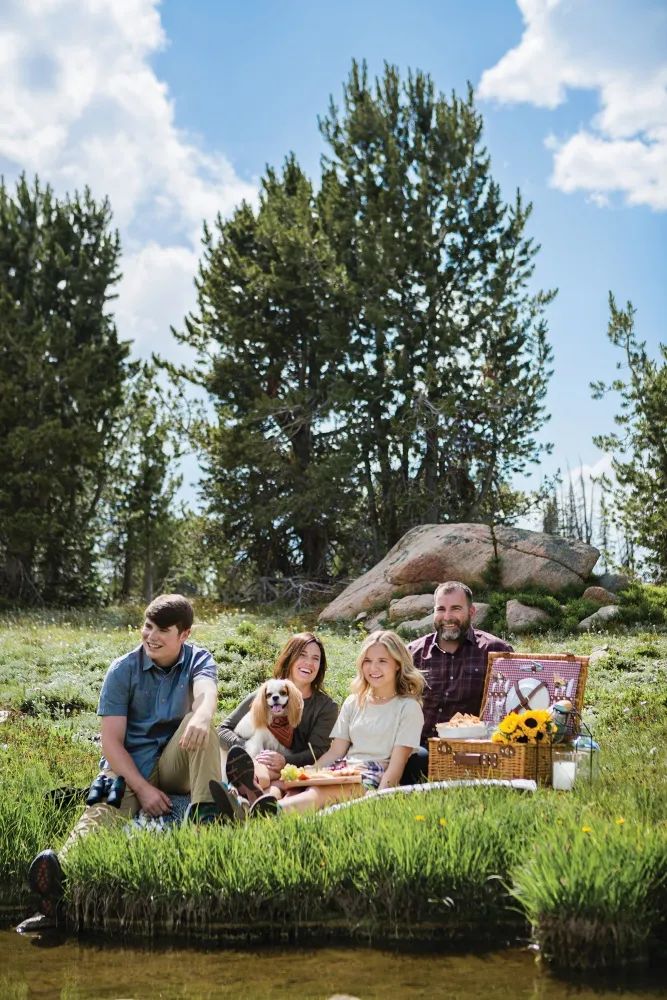 Jason and Julie, Aiden (17), and Natalie (15) Spillers
Jason and Julie Spillers would wholeheartedly agree. Originally from Louisiana, they moved to Montana in 2003, where they doubled the size of their family by adding a son and a daughter. Without realizing how close they had grown to their home here, they moved back to Louisiana in 2008 for Jason's job and to be closer to family.
The pull was too strong. Jason's work allowed him to move back to Montana in 2014, so they packed up and returned to Billings. However, in 2015, Jason's work drew the family back to Louisiana and eventually to Texas, where they bought a house in Houston. The heat was too much, and the children (native Montanans) missed their home. Finally, in April of 2021, the family gave in to Big Sky Country's compelling, magnetic force and once again made Billings their home.
Today they are delighted to be home and enjoy a slower pace of life, spending a large amount of their free time basking in all that Montana has to offer. They are avid outdoor explorers and can frequently be found camping, fishing, kayaking, or just enjoying a lazy day tubing down the Yellowstone River.
With their son soon starting college and their daughter in high school, they are establishing a business in this great state and have no plans to leave Montana ever again. Julie's two brothers recently moved here from Louisiana to help with the family business and often join the Spillers on their romps through the forests and mountains of Montana. Julie knows that once you spend some serious time here, it becomes your home and "stays with you no matter where life takes you."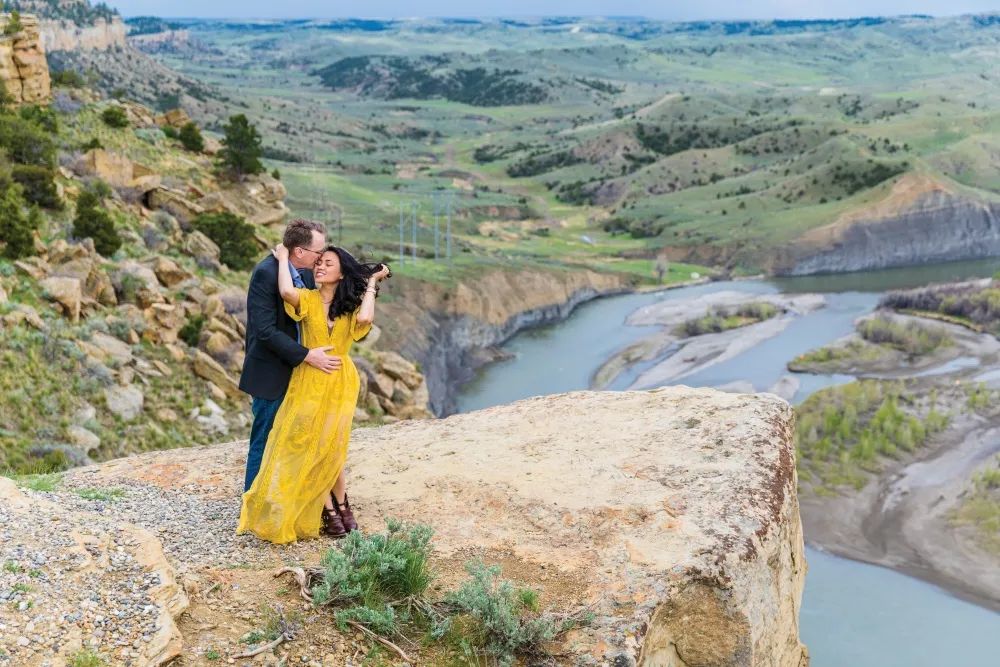 Michael and Lovely Hitchcock | photo by Juli Fields
My wife, Lovely, and I can attest to this reality. We are not native Montanans but moved here many years ago. In 2018, we decided to leave and move to Japan, where we had acquired five-year work visas. For a year, we taught English while ingesting immense and somewhat embarrassing amounts of sushi and sashimi.
Despite being somewhat nomadic and having spent our lives living in many different areas of the U.S. and other countries, we became homesick for Montana. Finally, after a year, we gave in to our addiction and returned to Billings. My wife picked up where she left off in her successful photography business, and I now freelance for a business coaching and English teaching company. We also spend time with the Spillers, which often involves profuse quantities of sunscreen and lengthy trips on twisty but gorgeous mountain roads.
My name is Michael Hitchcock, and I am a Montana addict in good company. Montana brings the best of everything to those who embrace her beauty, her people, and her shelter from the turbulent times many other states experience. Just ask Annika and Michael, Kellie and Aaron, Jason and Julie, Lovely and me, or countless others who have tried to escape the alluring tug of Montana.
It's good to be home.
Originally printed in the September 2021 issue of Simply Local Magazine
Never miss an issue, check out SLM's digital editions here!