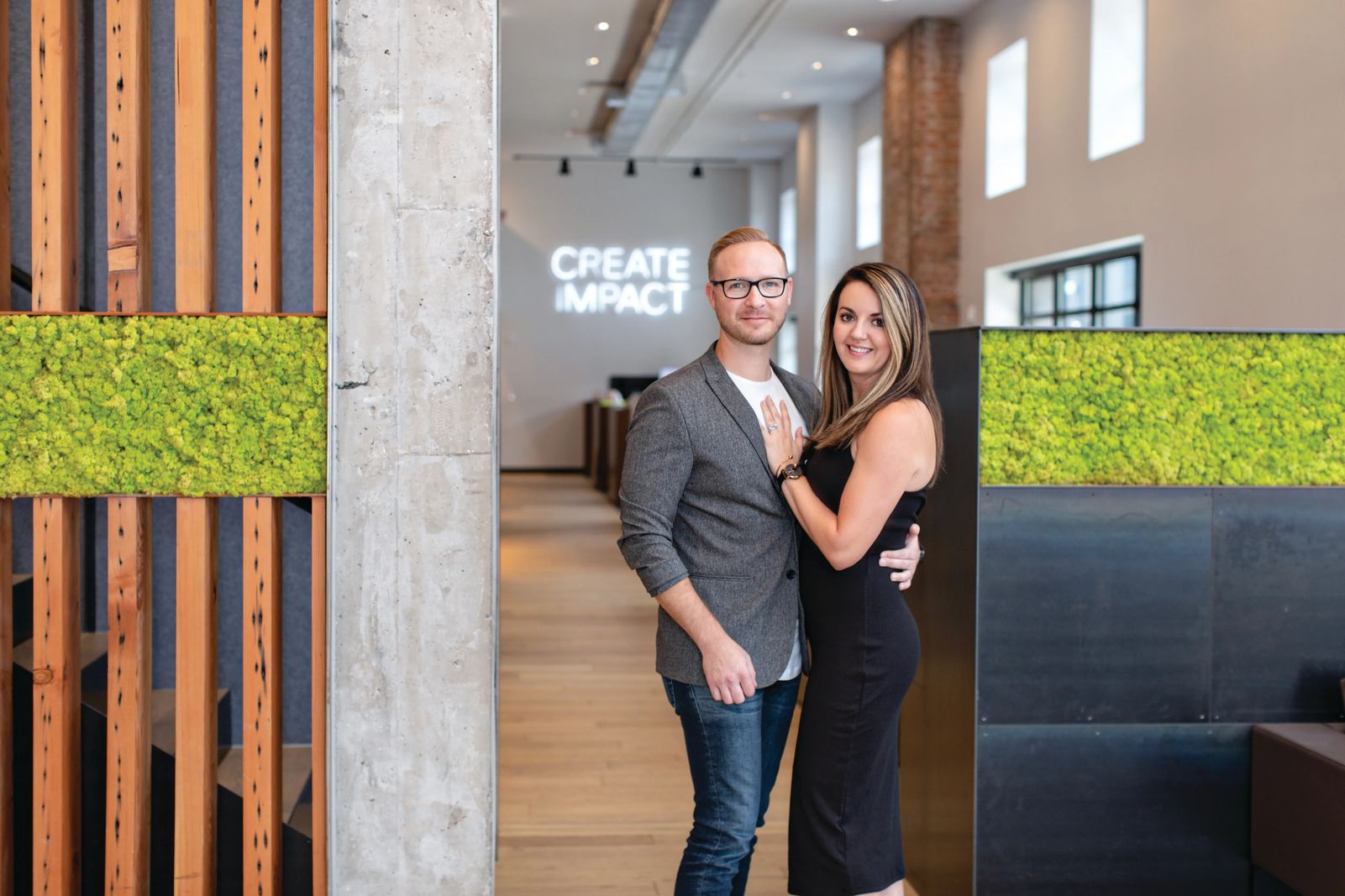 Billings professionals Chad and Kelsea Schreiner
Sticking with the 406
September 2021
by katie jones backer | photo by lovely hitchcock
Billings is considered home to approximately 110,000 people, many of whom were born and raised here, choosing to stay themselves. Not out of obligation but rather a rich desire to work and raise a family in the place they love.
Chad and Kelsea Schreiner have had many opportunities to leave for studies, work, and travel. Yet, their hearts have continuously resided in Montana. Their passion for Billings runs deep, both as professionals and parents.
The high school sweethearts grew up in Billings and attended West High School and Montana State University. "I majored in Business and minored in Spanish and International Commerce. I also took the opportunity study in Spain and Russia (with MSU'S international-studies program)," shared Kelsea. Once they started a family, Kelsea heard about the University of Montana's Master of Business Administration (MBA) program and was able to work, tend to their toddler, and complete the program in two years. "It was fantastic, well-rounded, and allowed telecommuting so I could attend partially at U of M and MSU Billings."
Chad explained, "It was an easy decision knowing that I would study Architecture. Other colleges may have similar accreditations, but none were under the Big Sky… or near Kelsea." Chad continued, "Ultimately, I graduated with an Environmental Design Bachelor's Degree and an Architecture Master's Degree," followed by an internship on Wall Street.
While they enjoyed Bozeman, Billings felt like the best place to pursue their careers when considering professions. Thirteen years later, Chad is now an Associate at A&E Design, and Kelsea is the Strategic Director and recent Partner at Kinetic Marketing & Creative. "If you've been into a City Brew," Kelsea explained, "you've seen the works of Kinetic while sitting in a café designed by A&E. "While we could go anywhere, why not create amazing things in Montana where it is beautiful, the cost of living is low, and our sons (ages seven and two) can grow up near family?" Chad echoed, "Coming home to Billings allowed me to not only work in my field of study, but also gave me the opportunity to work on a wide range of projects that I wouldn't have otherwise." The project types are plentiful in Billings. "I have had the opportunity to design schools (like Elder Grove) and hospitals, banks, golf club houses, and homes. I couldn't fathom raising our boys anywhere else. Montana is special; Billings even more so."
While there are many opportunities out there, many of us choose to live here for similar reasons. "As we have become more rooted, we've found a common purpose here in Billings. This town creates amazing opportunities for growth both personally and professionally," Kelsea reflected.
Another consideration is education. Montana is brimming with excellent schools. In Billings alone, we have MSU Billings (along with City College) and Rocky Mountain College and School District #2, private schools, county schools, and a connected homeschool community.
While Kelsea attended Elder Grove, a county school, Chad bounced between homeschool and public school in Billings, Laurel, and even Colstrip, giving them unique childhood perspectives. They both credit much of their success to their supportive families and teachers. Chad recalls, "As a kid I was artistic, inquisitive, and destructive. I would often disassemble things to try and understand them and would steal boxes and building supplies to build 'towers,' tree houses, or forts. I was enrolled in abundant art classes, a notable one being at Independent School, and given plenty of supplies to explore (predating STEM)."
Kelsea was strongly impacted by her mom, a School District #2 teacher of 35 years, and a high school program called Youth Leadership Billings through the Chamber of Commerce. She shared, "It was very insightful…. and one of my first true immersions into local business."
Now, as parents themselves, their sons' educations are another huge deciding factor. Kelsea smiled, every inch the proud mom, as she shared her eldest son's fantastic school experience, ranging from Montessori to a county school.
Whether for family, the outdoors, schools, or a profession, Chad put it best, saying, "I think the quality of life draws people here. The slow and steady pace of our city is alluring… and that you can comfortably put down roots."
We really are blessed to call Billings our home, aren't we?
Originally printed in the September 2021 issue of Simply Local Magazine
Never miss an issue, check out SLM's digital editions here!