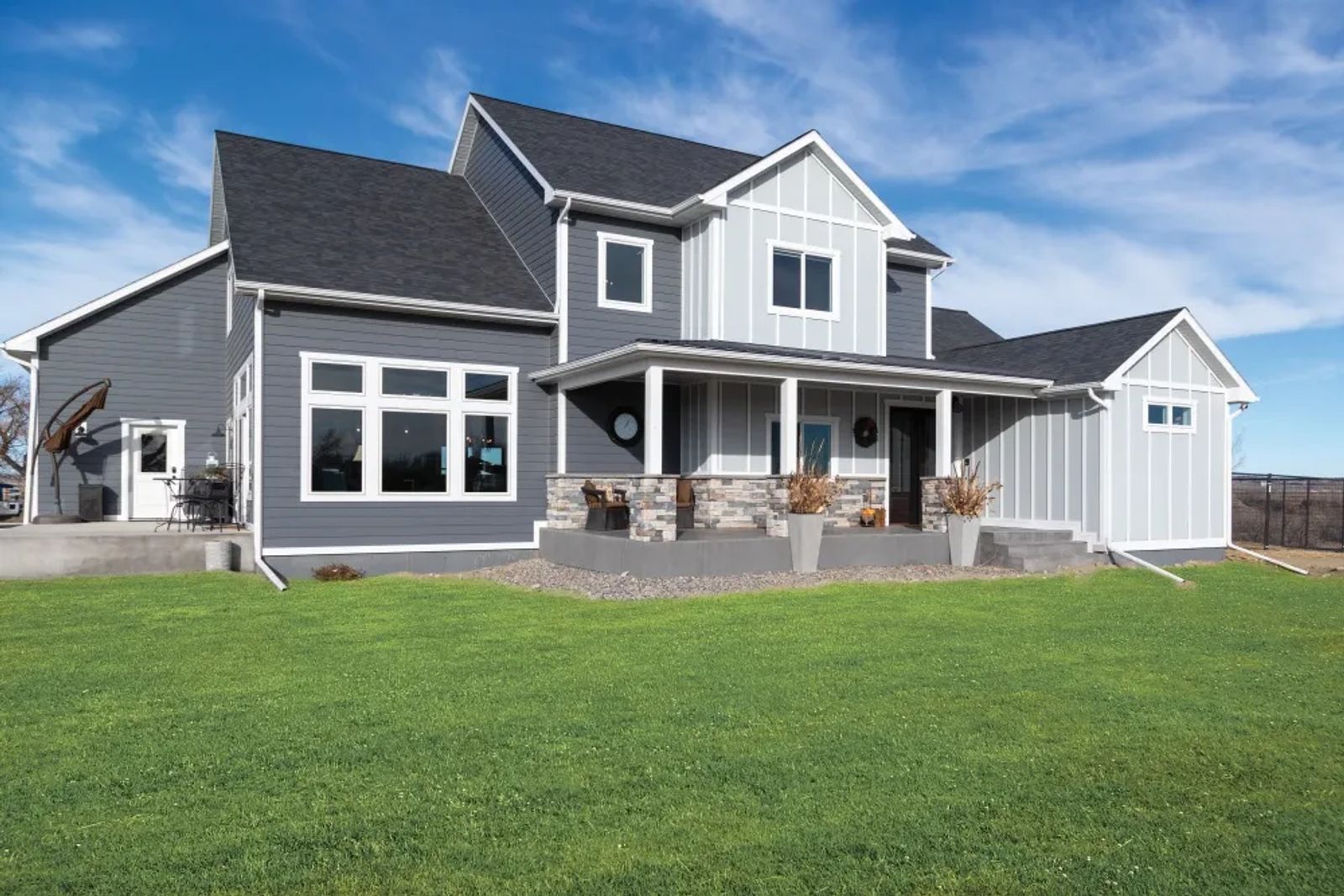 What Dreams Are Made of: Wide Open Spaces & a Family Connection
February 2021 | by stephanie toews | photos by nathan satran
When Mike and Jamie Hass and their two children Robbie (10) and Ellen (8), were deciding where to build their dream home, choosing acreage in Shepherd for the location was an easy decision.
Childhood Roots
Jamie grew up in Shepherd, and she says, "As our children got older, spending time in Shepherd at my parents' or brother and sister-in-law's houses out here, we realized how well it fit us and our lifestyle." The wide-open spaces were a draw for the family for several reasons. "Having space for kids to play, the quiet and calm of the country, and the smaller community," to name a few. Jamie says the small school was also a draw, "I had an amazing school experience out here, so we loved the idea of our kids growing up and attending school out here, as well as being closer to our extended family."
Plans and Priorities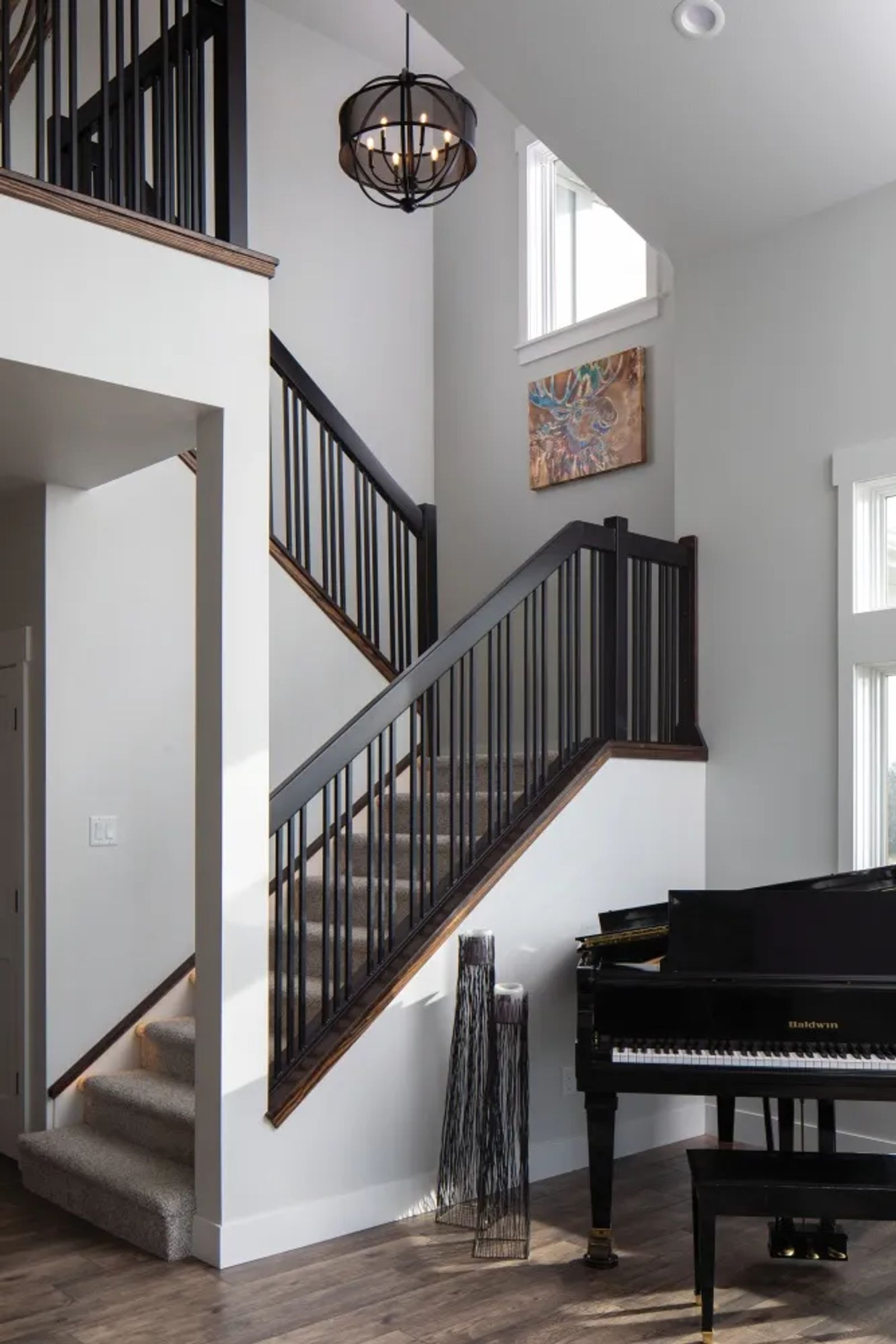 When deciding the shape that their new home would take, Mike and Jamie established early on that they cared more about the home than the house. "We wanted to move into a home and fill it with positive memories and experiences." Perfection, along with the stress and anxiety of maintaining it, was not the desired outcome.
In the initial home planning stages, Jamie says, "We worked really well together, often making decisions separately, but both choosing the same thing." They began by looking at plans online, finding what they liked, and then meeting with Cory Hess of Studio 4 Architects to create a plan. After Cory drew up plans, Mike and Jamie enlisted Scot with BRS Construction, "a close friend who was willing to work with us and the budget we had for the project."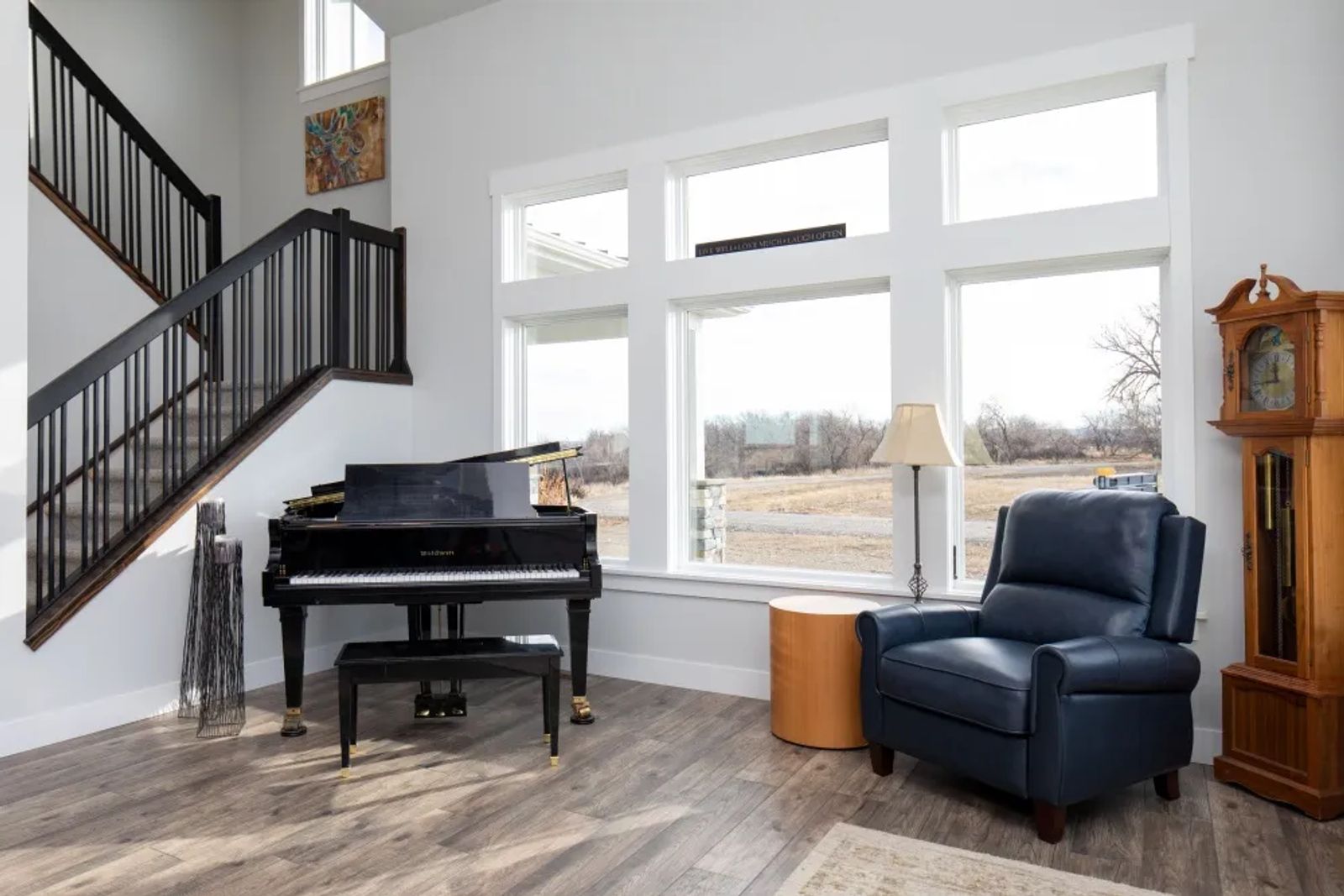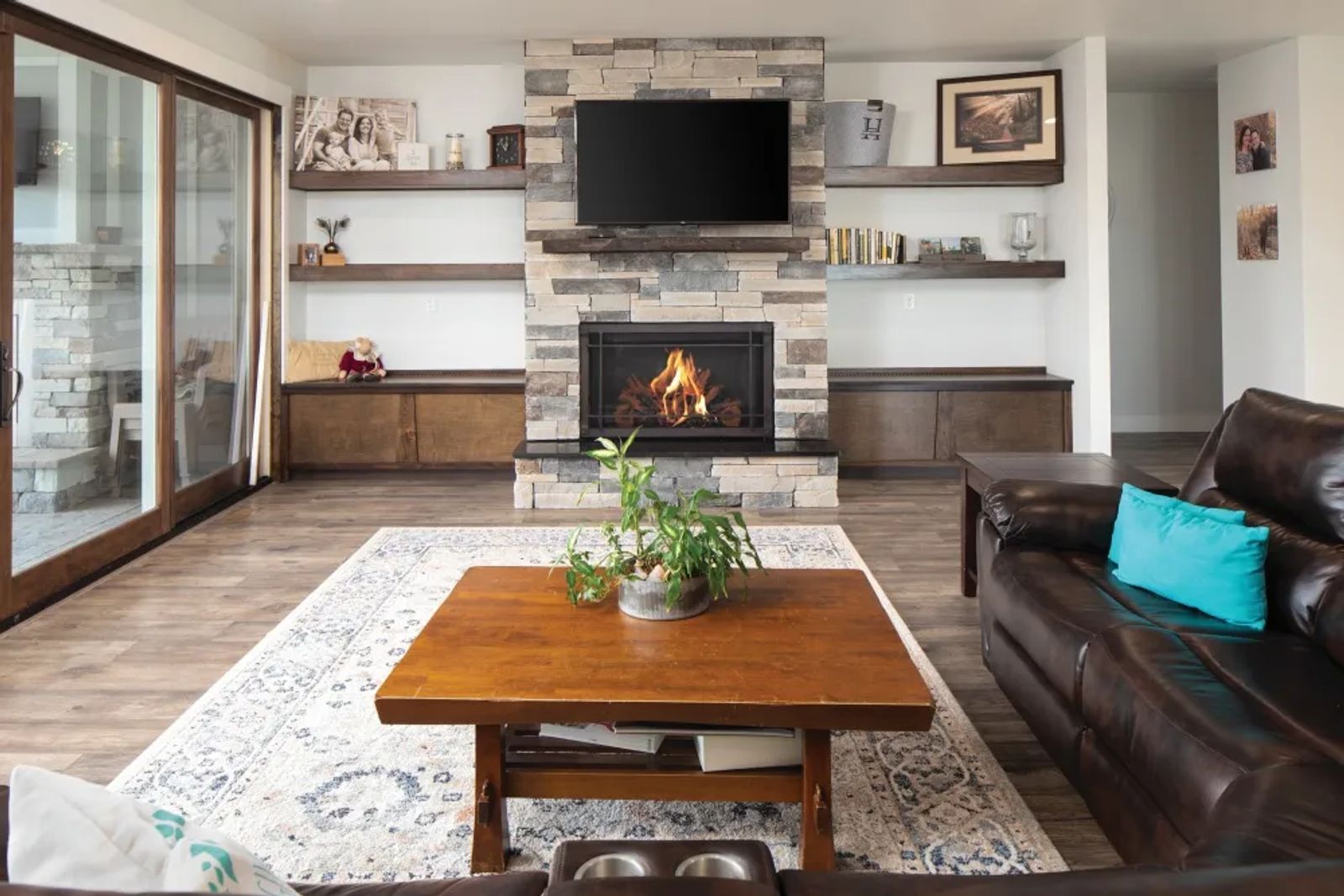 The Hass' wanted their house to feel "cozy and comfortable." While they wanted it to be attractive, more importantly, they desired a place for all to feel welcome. "I have always imagined as our kids grow, our home being the place where everyone is welcome."
Their modern farmhouse is a place that meets all of the Hass family's needs. After last year, the importance of having a place of reprieve became even more apparent.
"There's plenty of room for kids to go outside and just be kids- playing in the dirt, riding bikes with their cousins," explains Jamie. The ample space also works very well for Mike and Jamie to run their businesses. The couple both work from home. Before living in Shepherd, Jamie co-owned a childcare learning center in Billings for 13 years and sold that business before the move so that she could exclusively work from home. Mike works from home 2-3 days a week.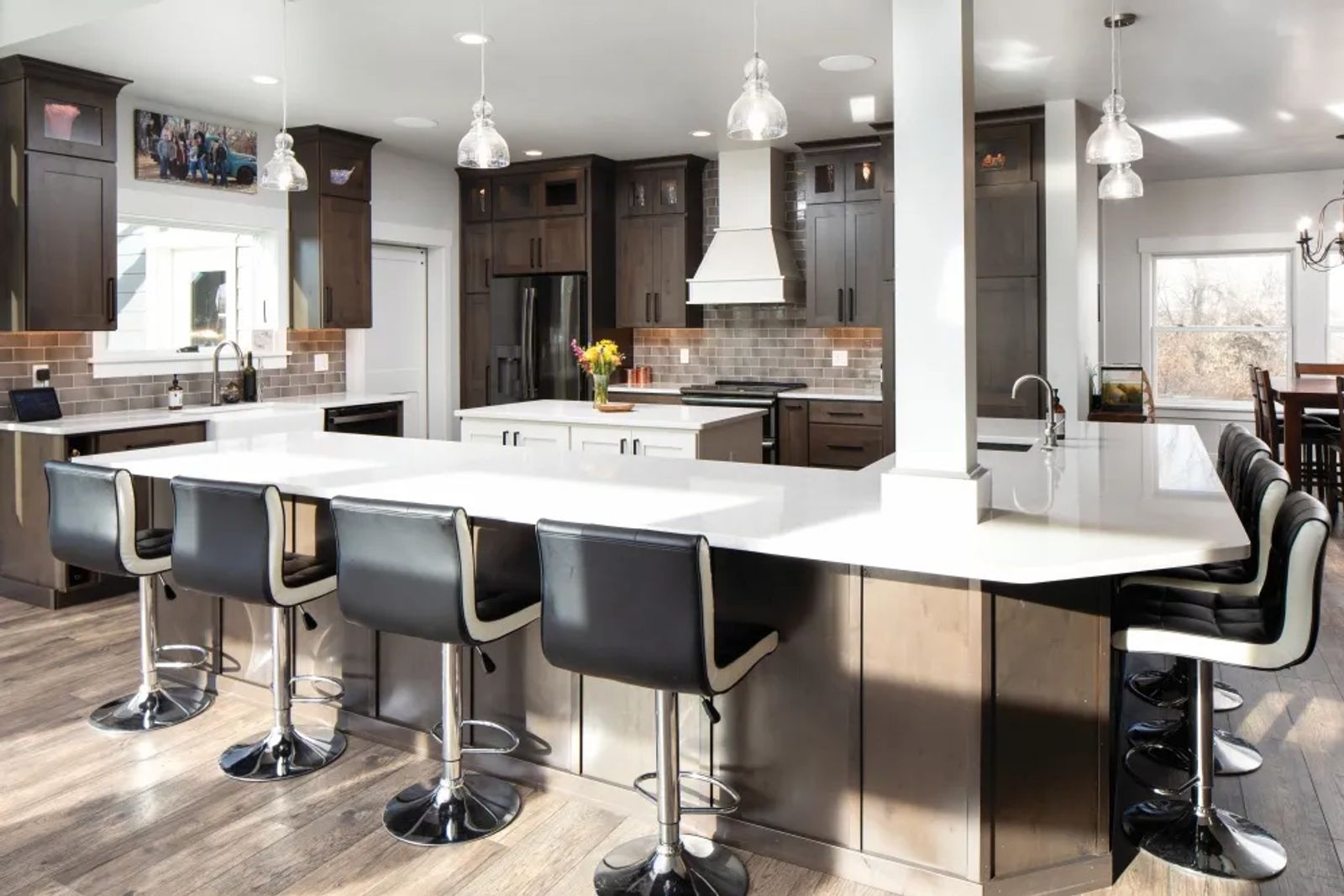 The kitchen was built with a counter large enough to seat eight comfortably. The open-concept space allows for ample space to spread out and house large gatherings for Jamie's team and business events.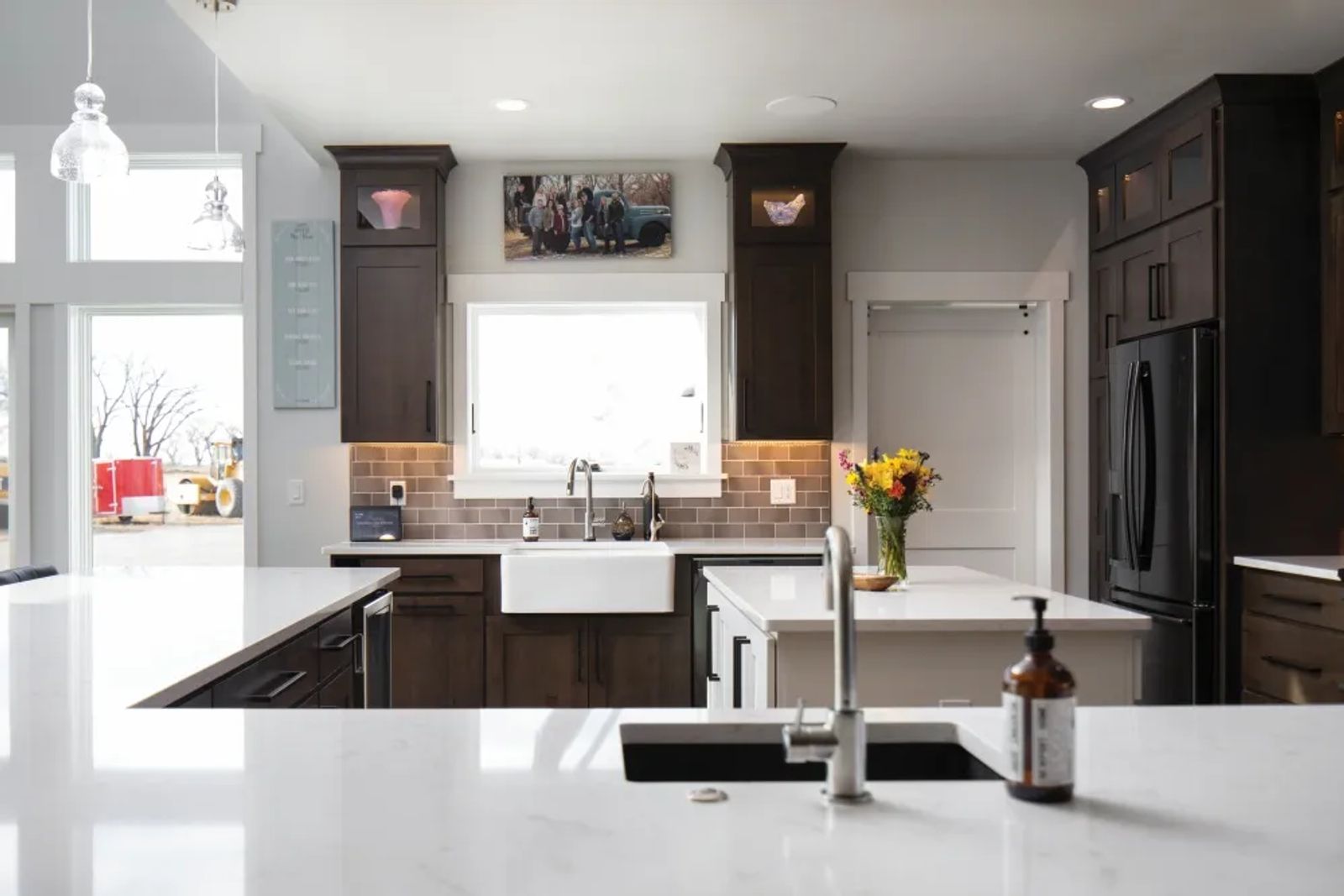 The home's layout needed to be functional to the family's lifestyle. The main living spaces and day-to-day needs are all accessible from the main floor, while the kids' rooms and extra spaces are upstairs and down.
Private Getaway
The master bedroom and bathroom are Mike and Jamie's favorite spaces in the house. "It's like our own private getaway!"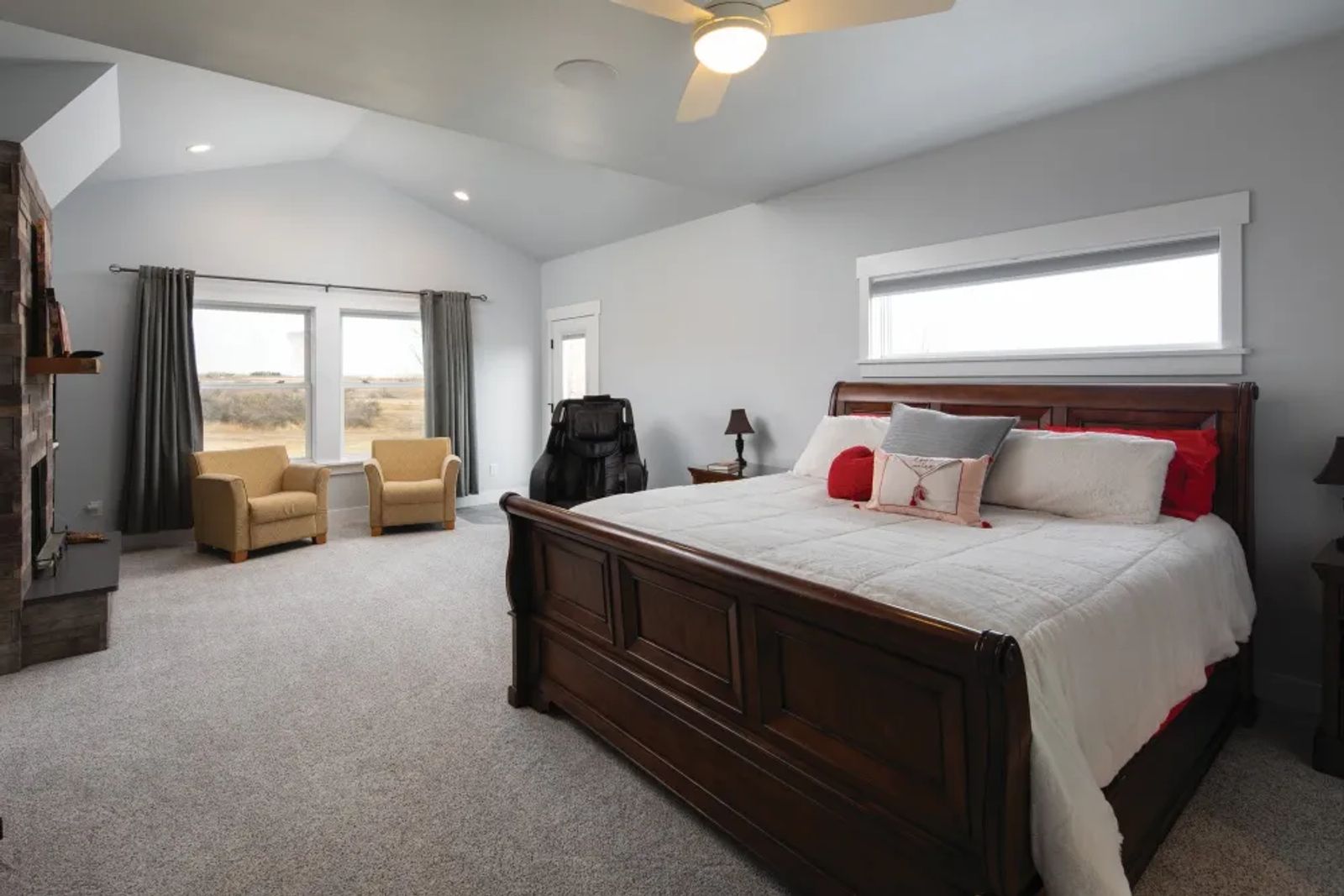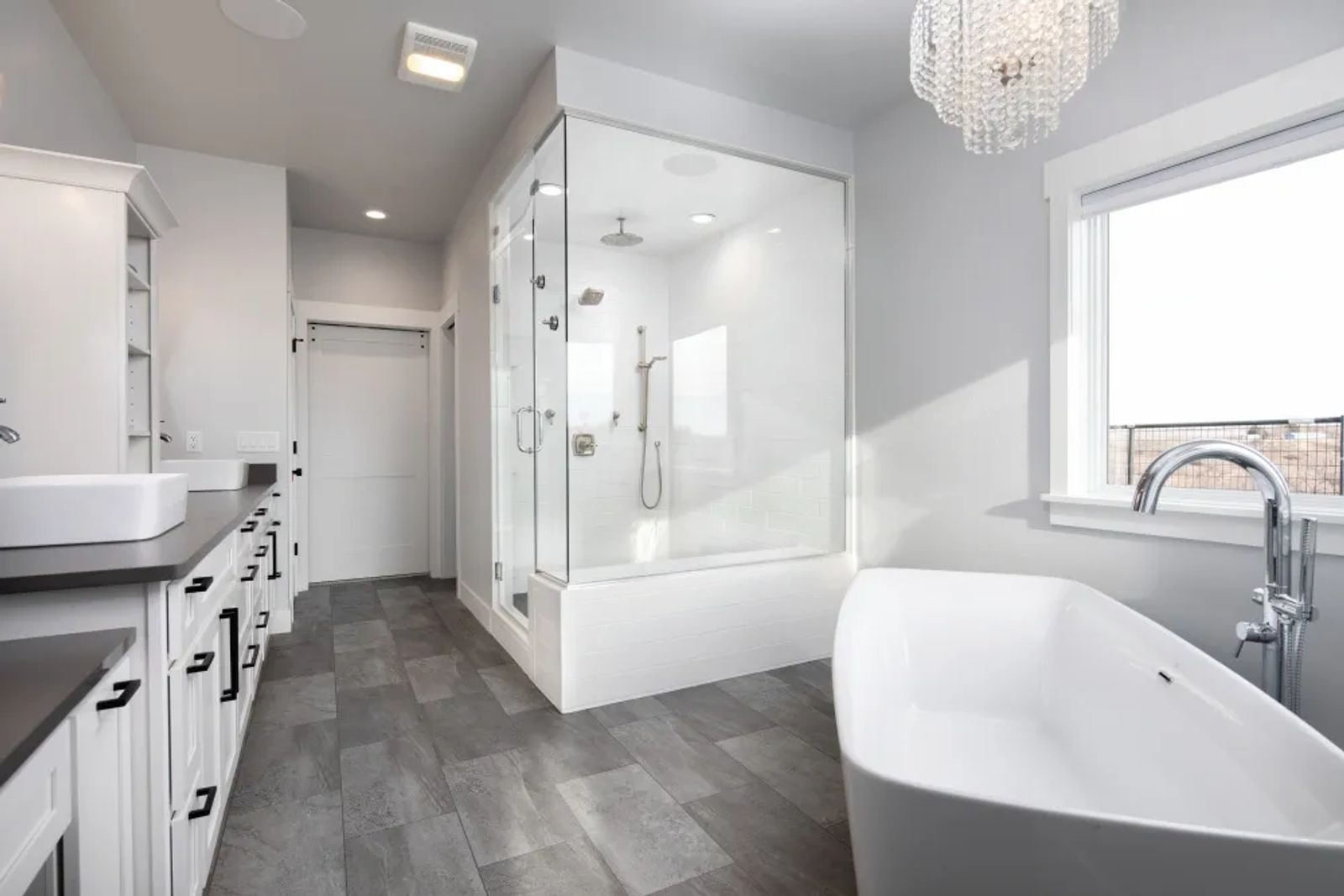 Jamie says, "In some ways, it [the master bathroom] was the hardest space for me… For the bathroom, specifically the shower, I had a specific idea in my head but I struggled to find the right materials, and at the right price point." After a lot of time, lots of back and forth before making final decisions, and plenty of changes after that, too, the end result is exactly how Jamie envisioned it.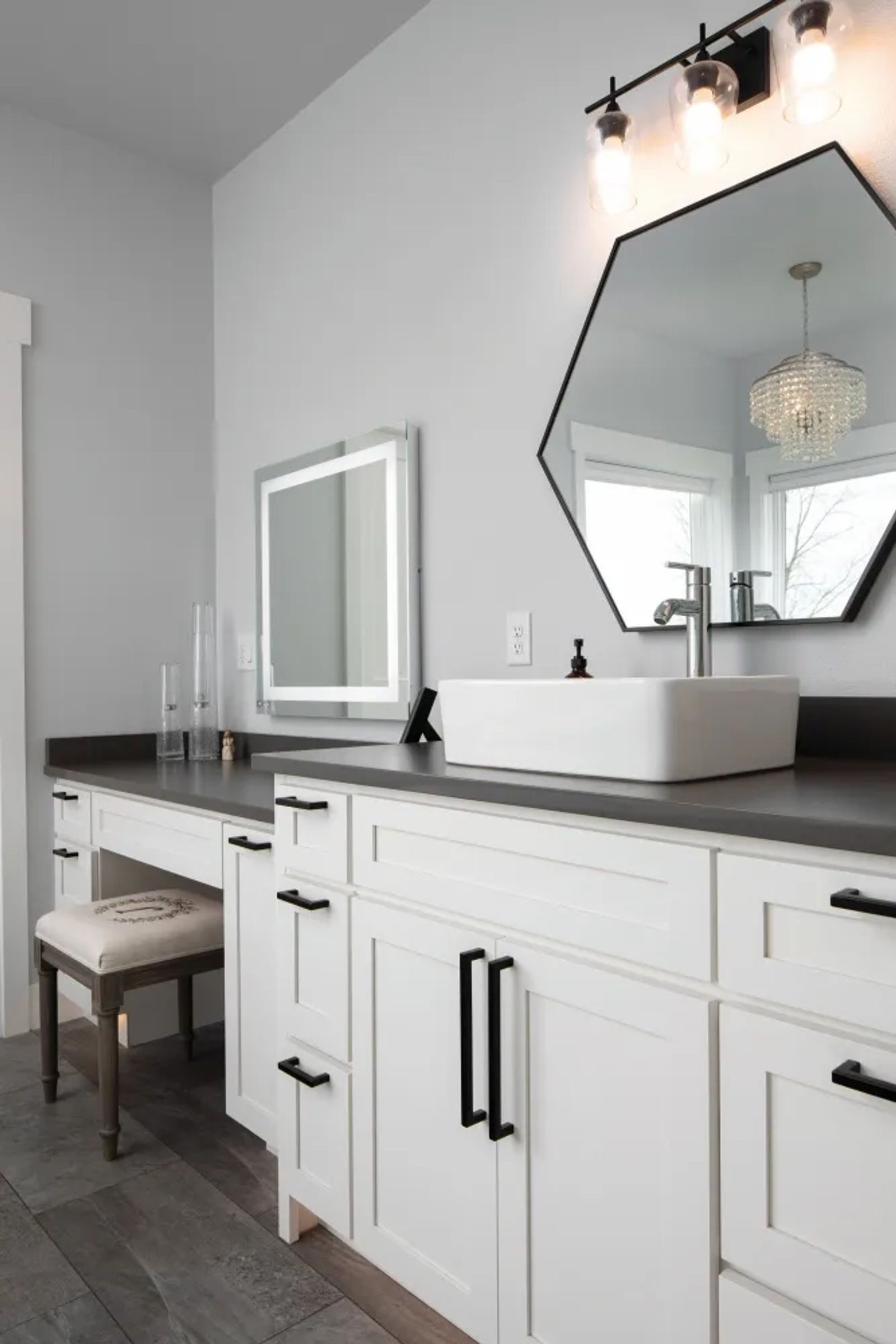 Kid's Spaces; A Family Affair
While Mike and Jamie set the initial plans for the kids' bedrooms, Robbie and Ellen helped with the details. The couple included the kids throughout the entire home building process. "They came along to meetings, helped where they could, regularly wanted to come to see what work had been done, and got as excited as we did with every new step." It was important that they felt like it was their home too. "They both are so happy out here and with how things turned out. It's fun to see the pride they have with the end result."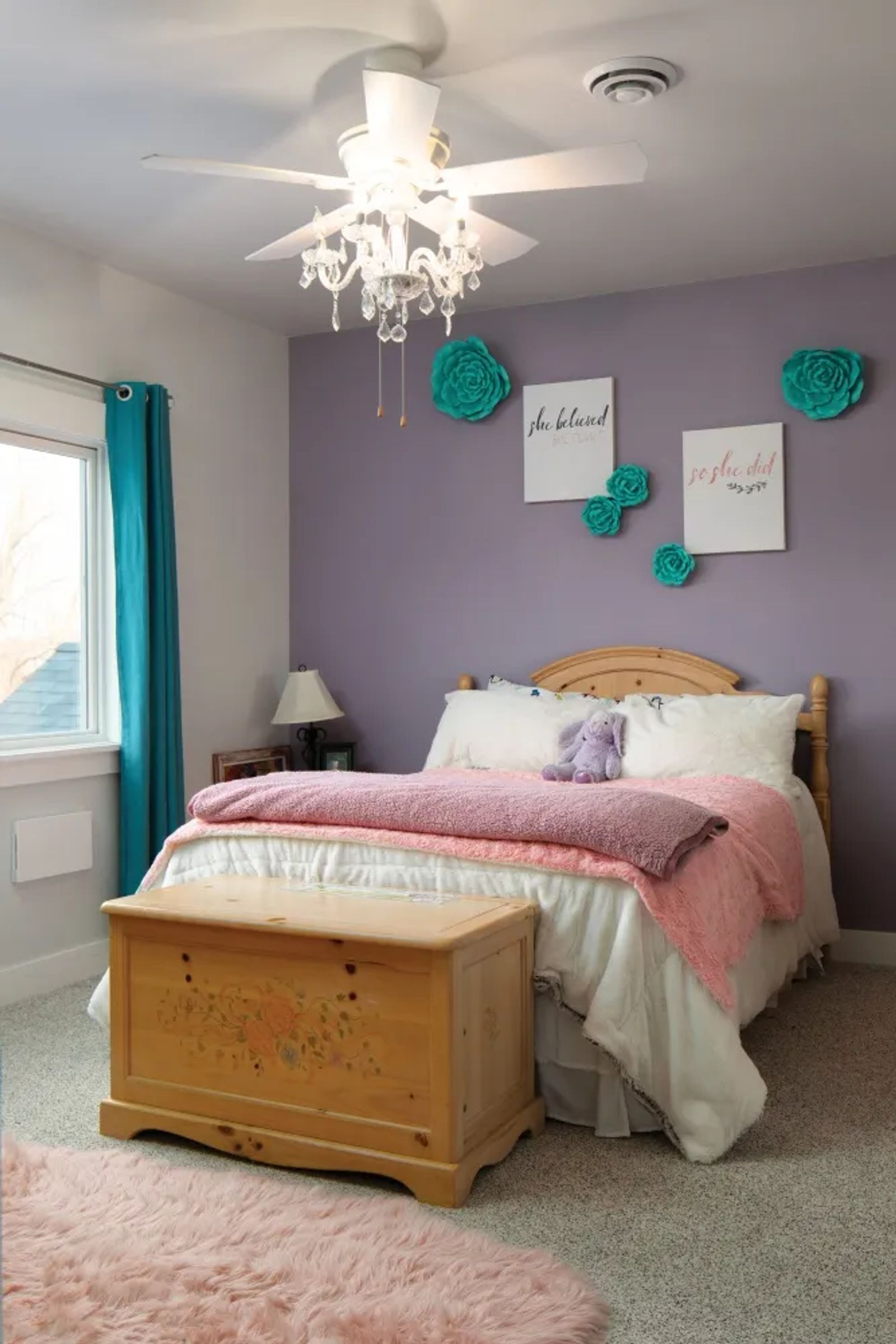 Ellen originally wanted a rainbow with eight colors picked and compromised with the purple color. She was very specific with the chandelier fan she chose for her room.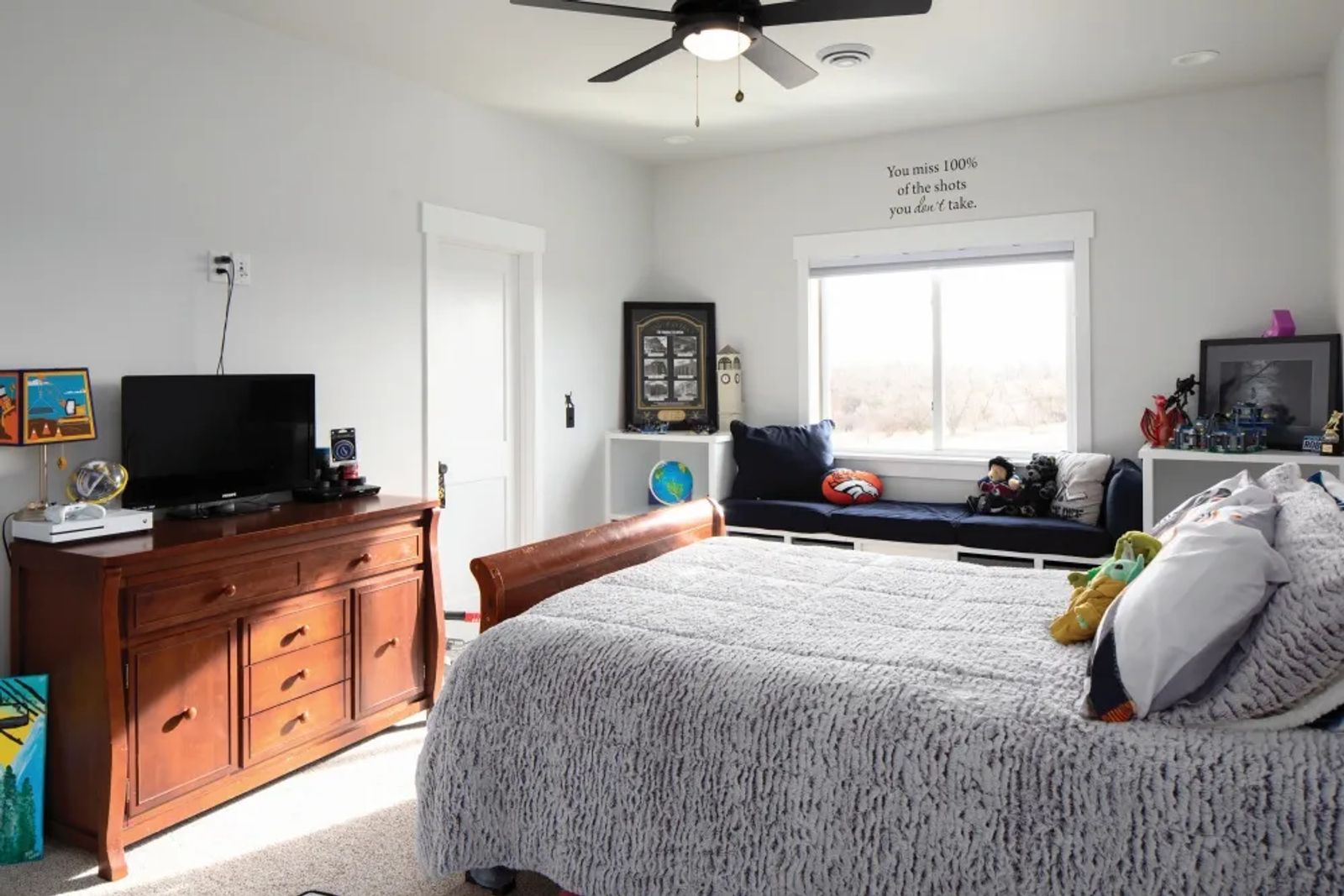 The reading bench was Robbie's specific request from the Parade of Homes last year.
The Hass Family is truly thankful to everyone that contributed to the building of their dream home!
Sources-
Studio 4 Architects- Cory
BRS Construction-Scot
Rimrock Plumbing-Bill
Rimrock Cabinets- Joel
GPS Electric- Brandon
CK Tech Smart Home- Craig
Murray Flooring- Kevin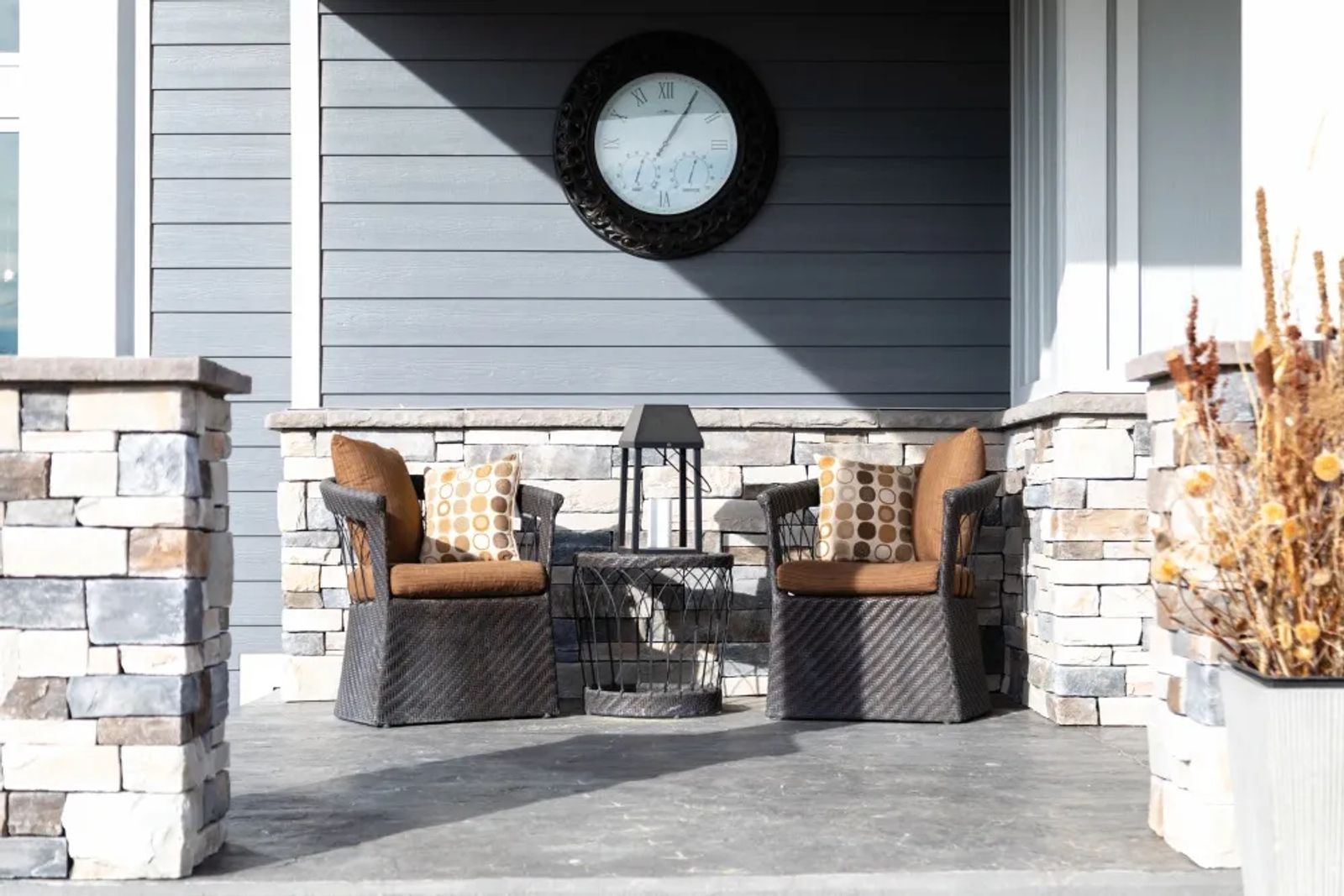 Originally printed in the February 2021 issue of Simply Local Magazine
Never miss an issue, check out SLM's digital editions here!