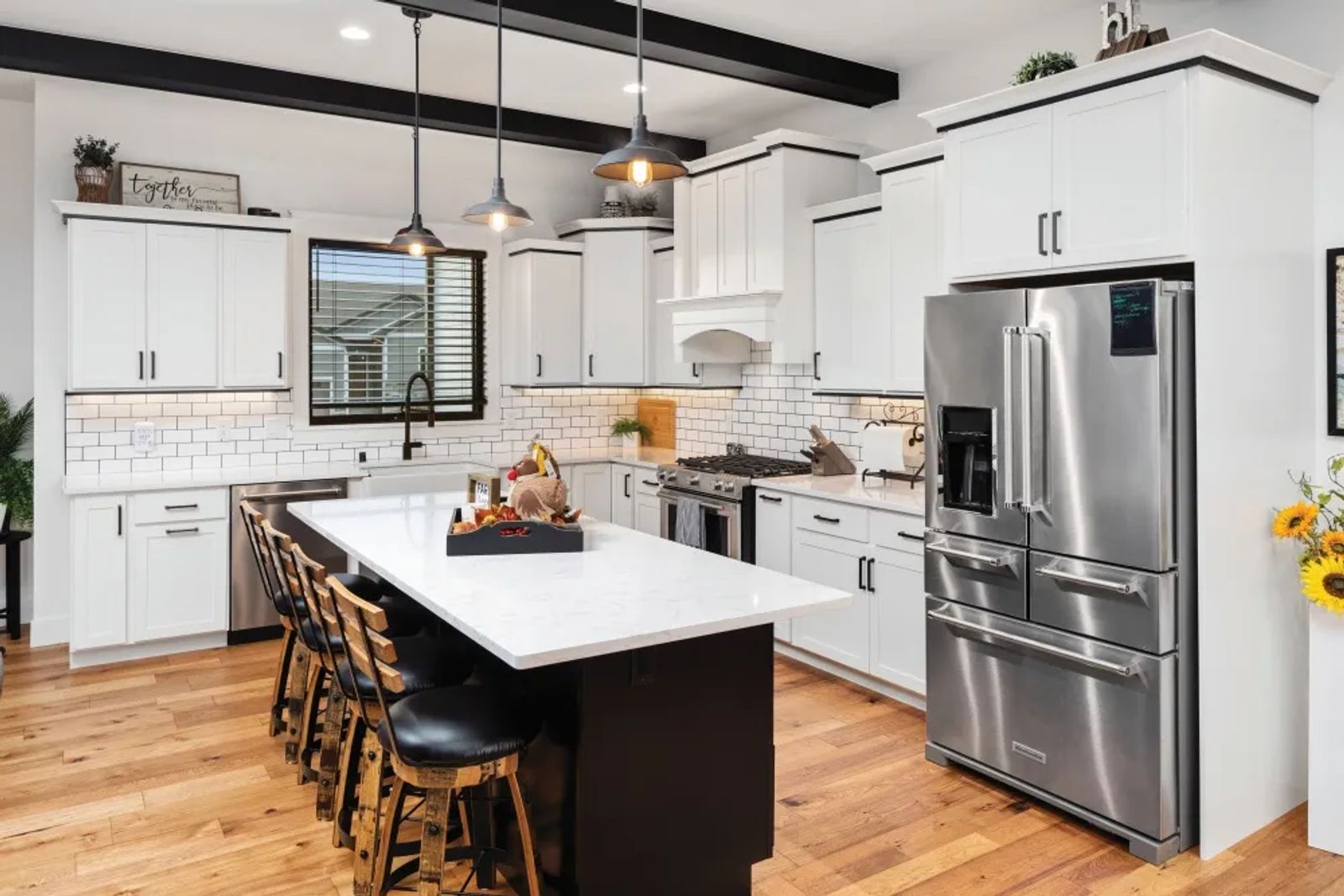 At Home with Realtor Alicia Donovan
January 2021 | by stephanie toews | photos by nathan satran
For those in real estate, buying and selling homes is all in a day's work. Armed with firsthand knowledge and expertise in the industry, local realtor Alicia Donovan and husband Quinn share their personal experience on the other side of selling and building a home.
The couple enlisted local builder Mac Leffler to construct their new home, whom Alicia describes as "a true artist." One of the Donovan's main home goals was an open-concept flow in the main areas (kitchen, dining room, living space) derived from their desire to create a place for their growing family.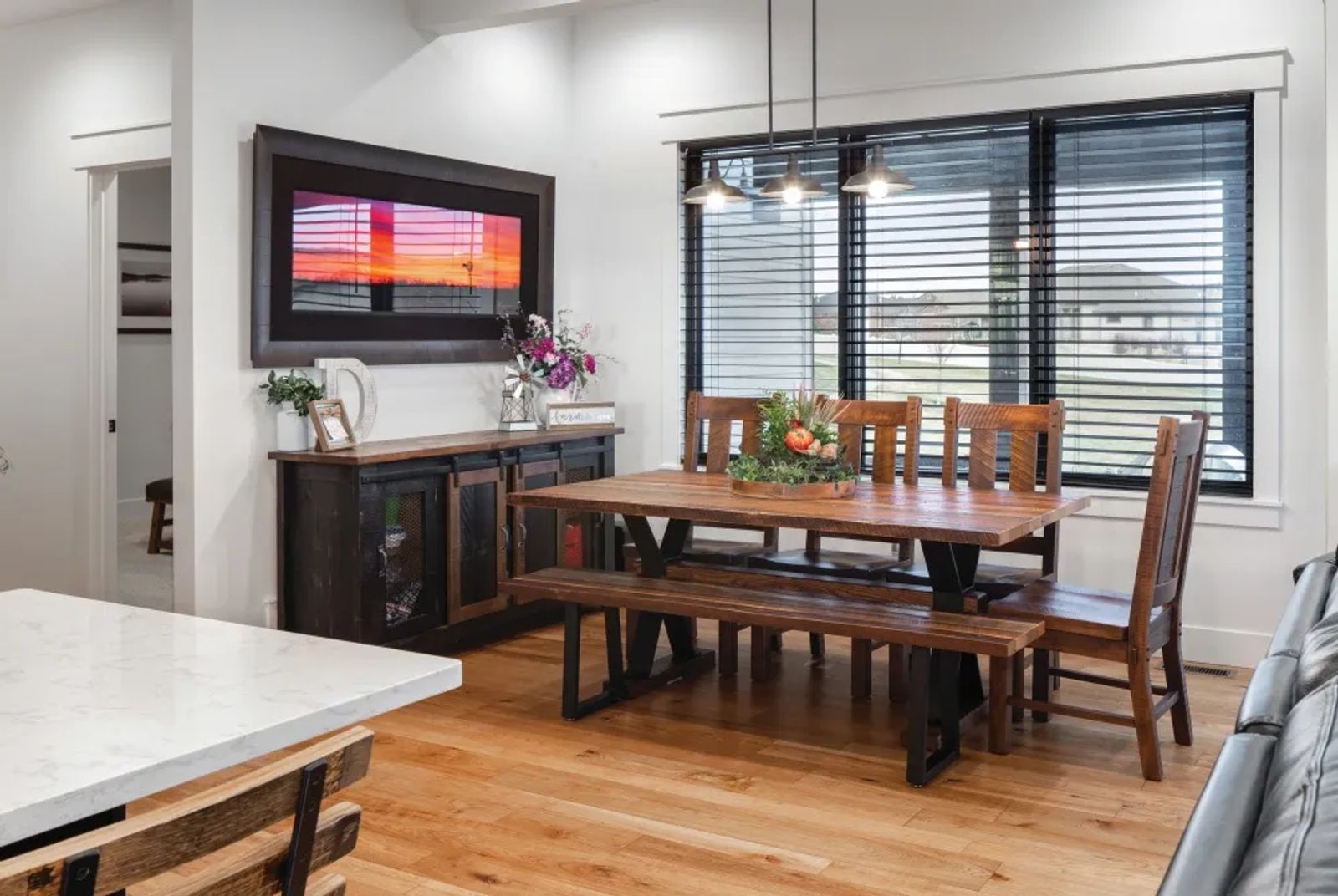 In addition to being the place where friends and family gather, Alicia's thought behind the kitchen's large island is "a spot where my sons can come home from a hard day and hop up to talk about it."
Montana Modern Farmhouse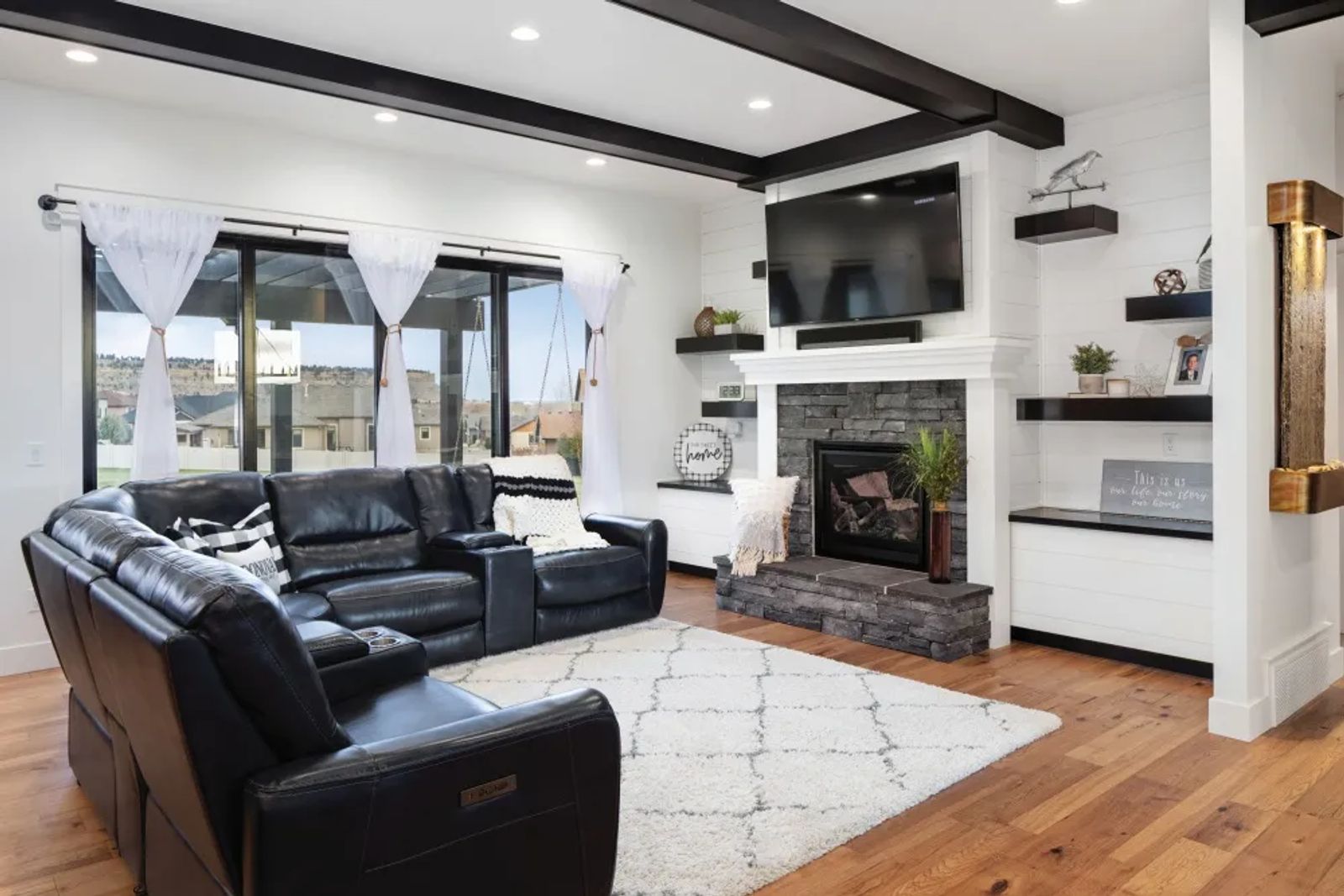 Alicia describes the overall style of their home as "Montana Modern Farmhouse." Quinn and Alicia both love black and white, and their ultimate goal was to keep things "classic and timeless."
The concept for this home was something the couple planned for and worked toward for five years. They dreamed and discussed, and Alicia created a self-described "out-of-control Pinterest board filled with three-and-a-half-years of pinning things I liked." Alicia had the advantage of being in "thousands and thousands of homes." Whenever she saw a cool layout or feature, she would snap a picture and save it.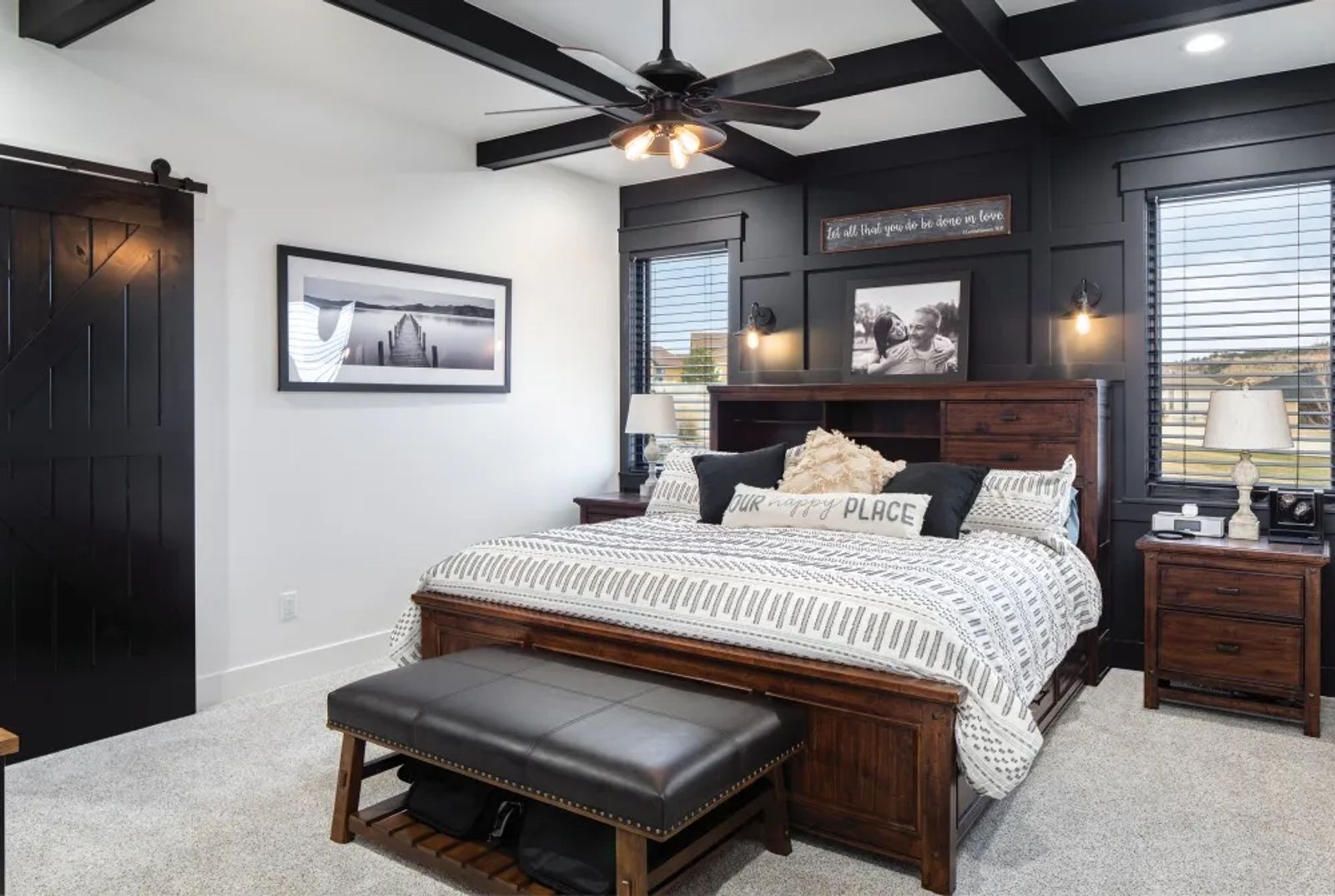 The black accent wall in the master suite was a very bold choice that makes a lot of impact and beautifully blends with the sliding barn door and beams on the ceiling.
Shower Power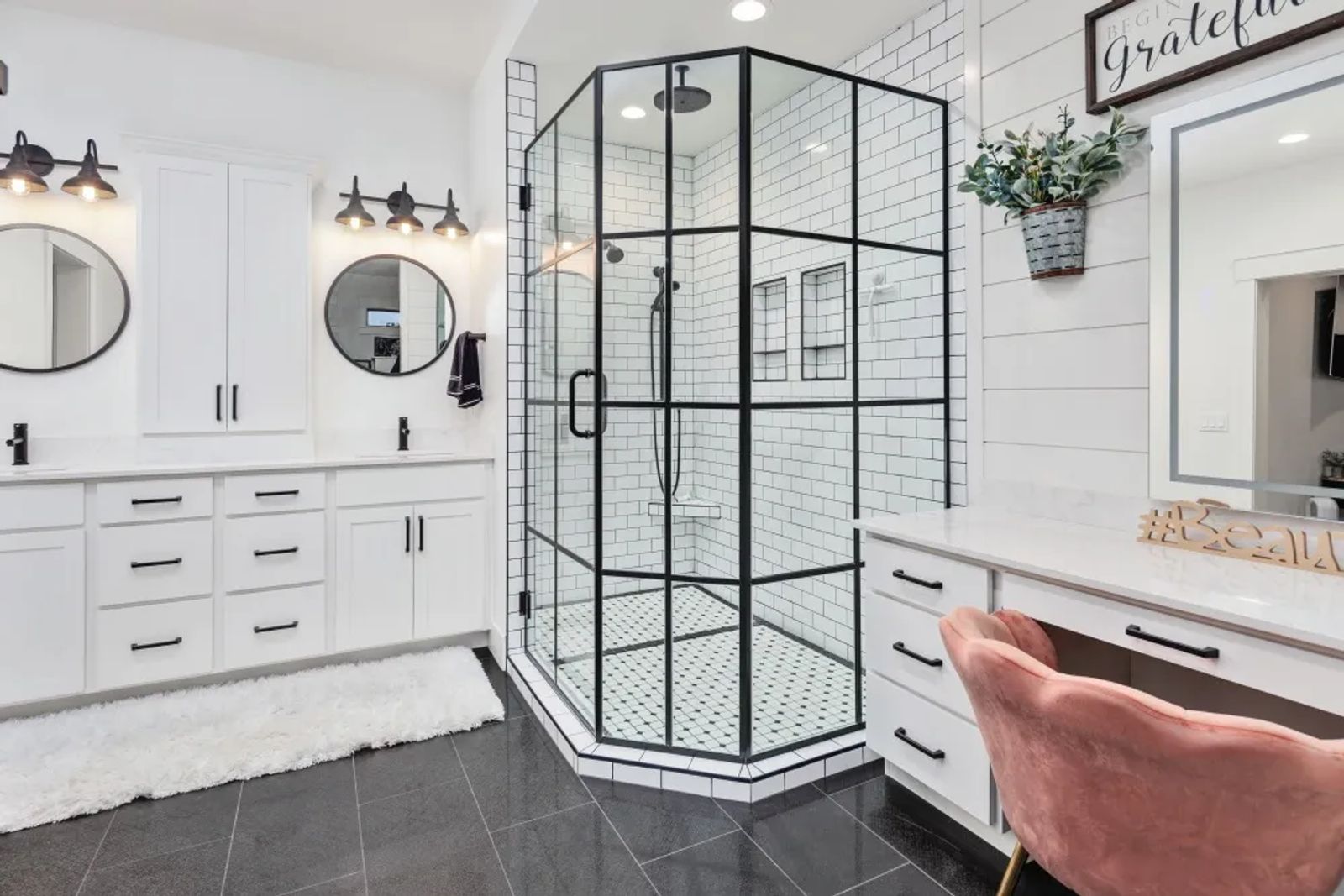 This stunning master bathroom features a shower that makes a powerful statement. The beautiful angular design and tile work create an attractive focal point for the space.
Stay Humble ~ Hustle Hard
The Donovan family strives to work hard so that they can play hard. The couple both grew up on a farm and ranch, and this mentality was instilled in them many years ago.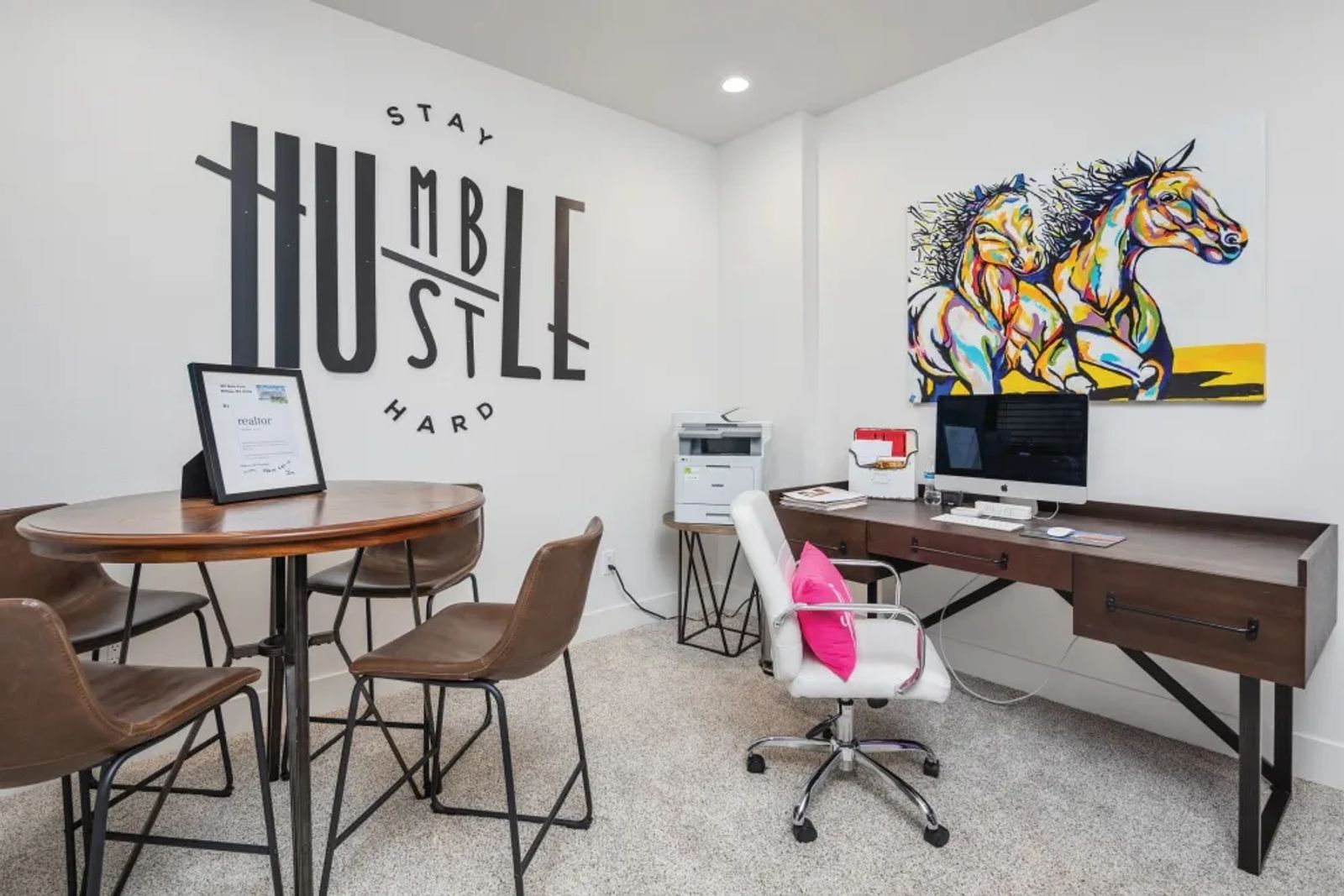 Alicia desperately needed an office where she could get more organized. This office space includes custom closet organization and the perfect place for her to hustle hard.
Play Hard- Live Life Colorfully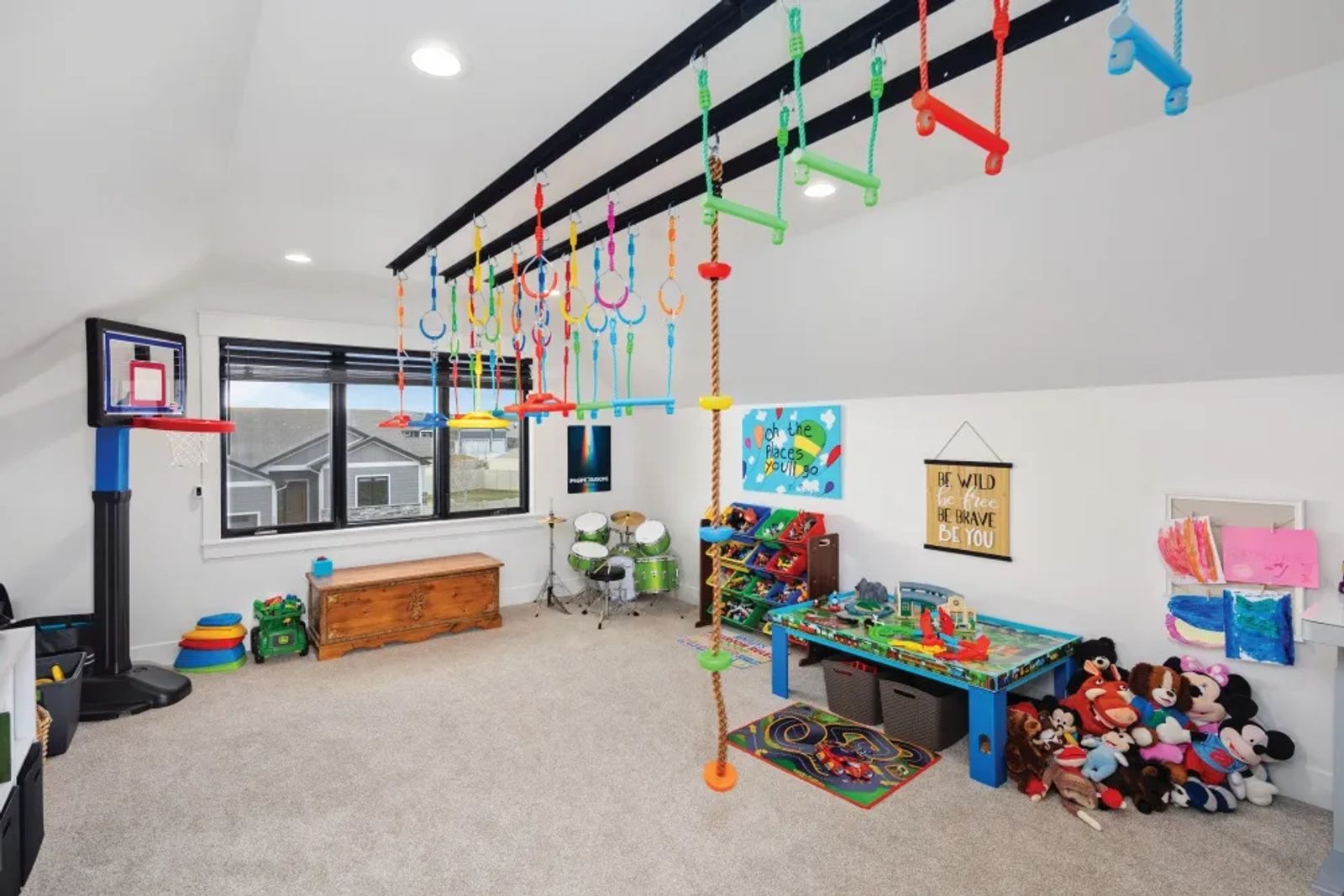 There was a lot of consideration that went into creating a cool space for the kids and their friends to gather. This playroom's design was taken from their previous playroom "on steroids!"
The couple's oldest son is obsessed with the ninja warrior course that Mac needed to create a tall enough roofline to accommodate. The other half of the room features a movie and gaming area for the boys to enjoy as they grow. There's even a patio off of the playroom on the second story that Quinn wanted to add. Alicia says, "the space turned out so much better than we could have envisioned!"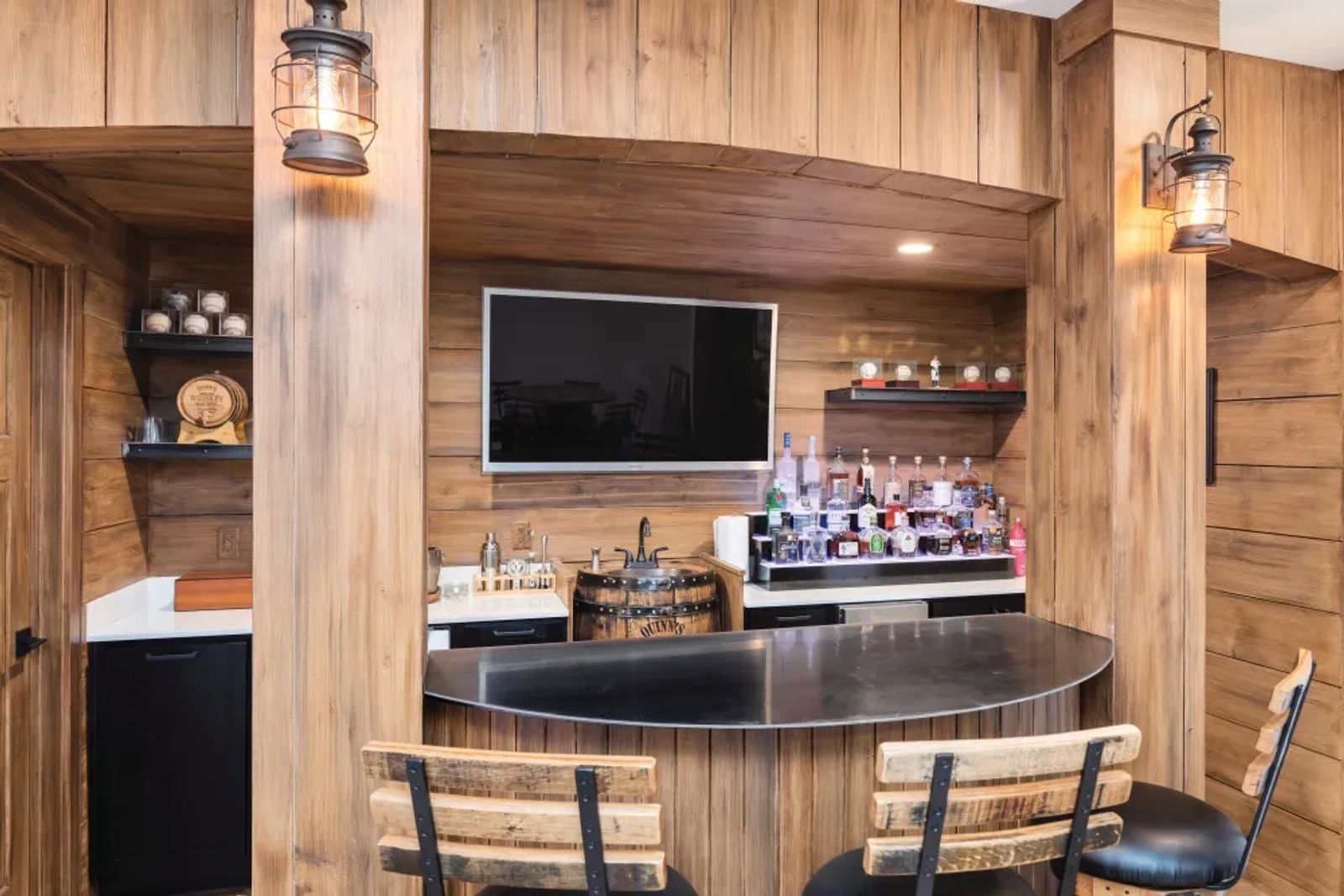 Mac's work shines in the bar area where the couple wanted to incorporate an Irish Pub feel in honor of Quinn's Irish roots. There's a whiskey barrel sink, steel counter from a steelyard, and hand-painted wood.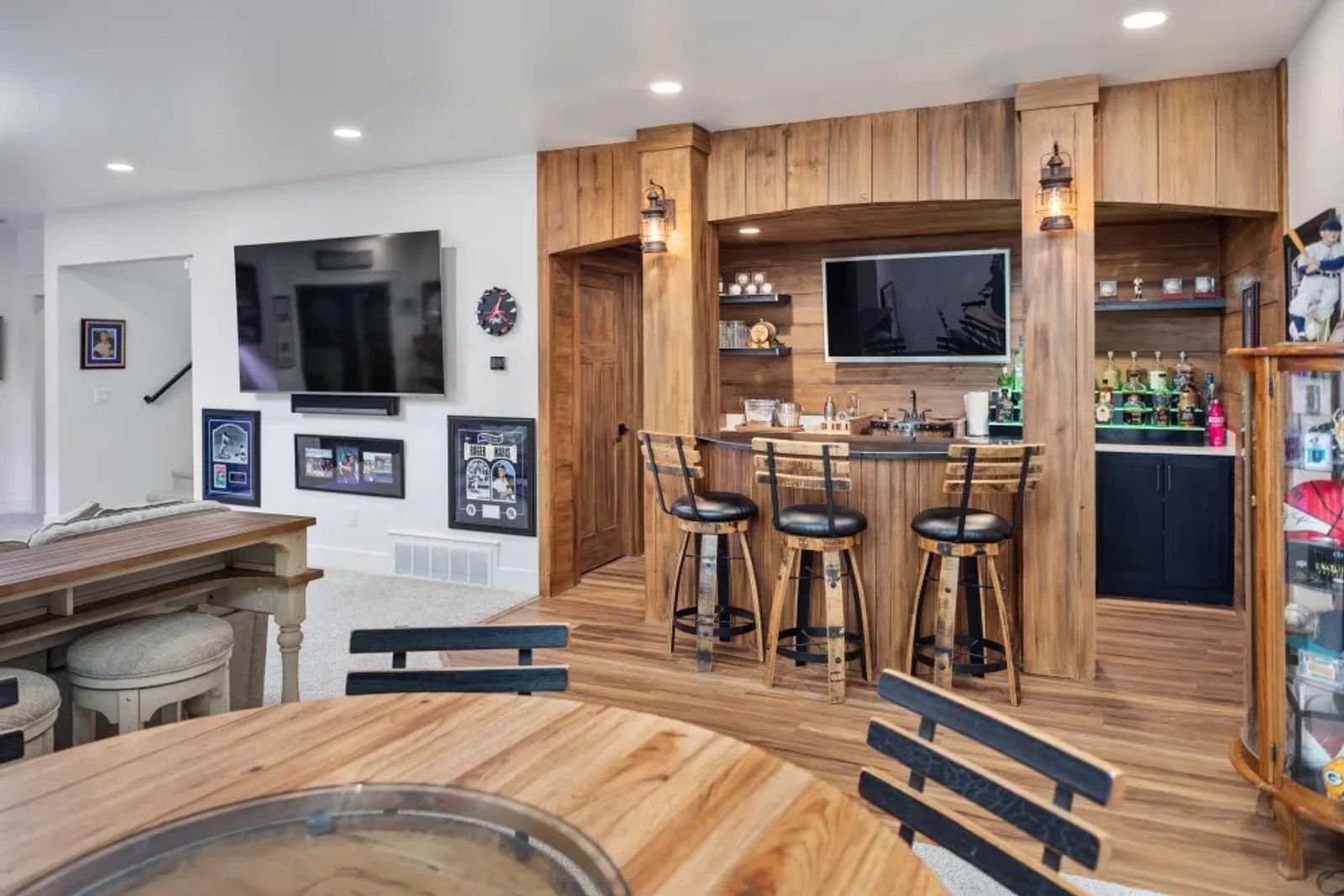 The basement was Quinn's space for his sports collection, and it has also turned into a great family space where lots of time is spent together.
Storage for Days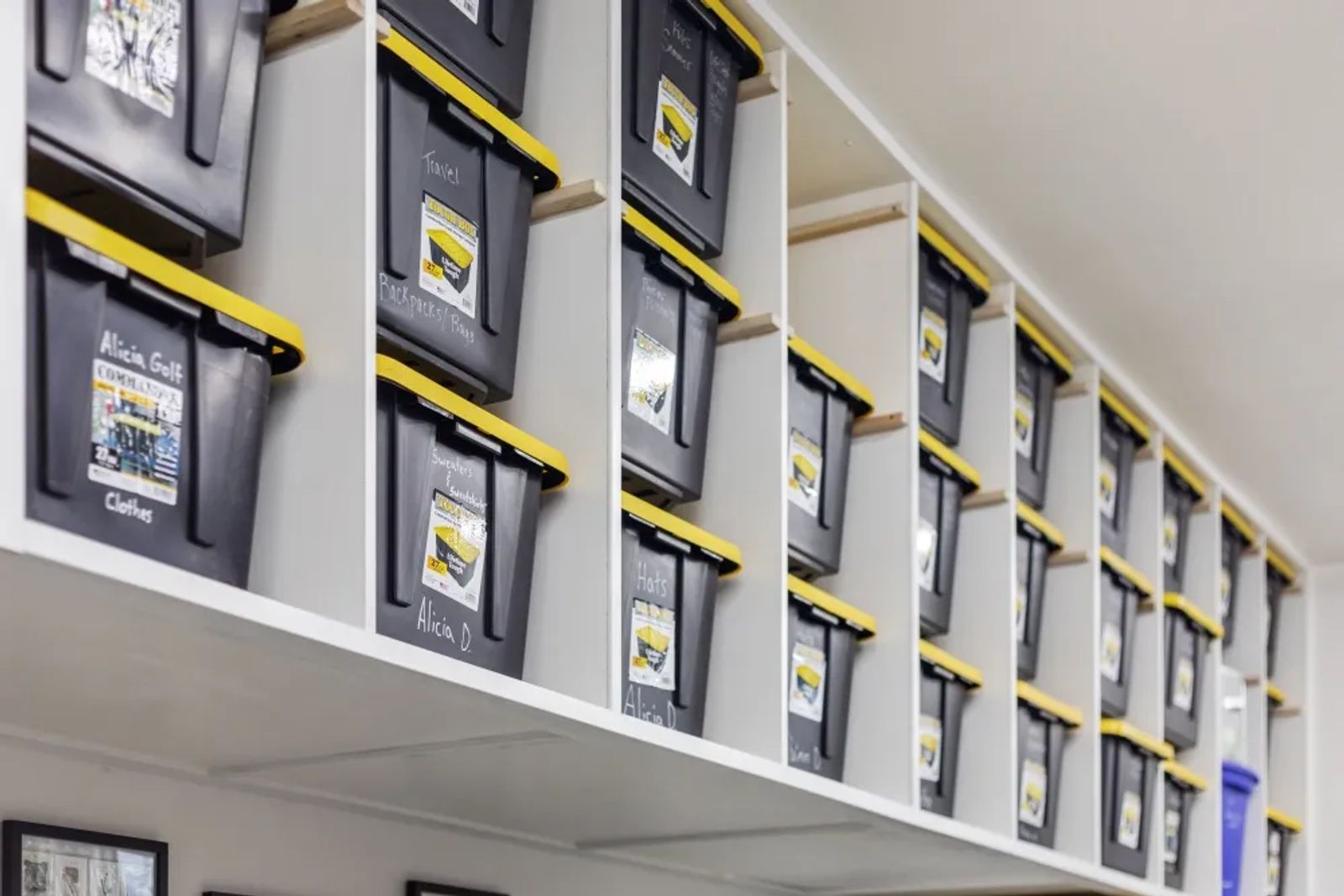 The couple almost found themselves in a pickle with garage stalls full and not enough places to put everything. The new home concept didn't have as many nooks, crannies, and storage spaces as their prior home. The garage organization system was a bit of a last-minute decision created by Mac's contractor buddy from Wyoming and one that Alicia describes as "the single best decision ever made." Everyone who has visited has asked about it, and with 30 storage totes, the family is "more organized today than we have ever been."
Expert thoughts from Alicia on selling and building a home:
Along the way, COVID was the hardest and most frustrating challenge the couple encountered. With manufacturers shut down, material shortages, and their home's completion arriving right around the time as the Parade of Homes, there were some inevitable delays. Alicia took the advice she typically offers clients to keep calm and now understands firsthand the frustrations where a lot of emotion management is required. "Even though we are in the industry, it was still a struggle."
Alicia tries to prepare her clients before listing their homes, saying, "Selling is the most inconvenient thing you will ever do." For the Donovan's, "Selling with an infant took that to another caliber!"
Like most real estate transactions, Alicia shares that a lot of emotion was involved in selling the home her husband Quinn built in 2007, and she moved into in 2010. There were many "firsts" in their former home, including bringing both boys home from the hospital, and many happy memories created there together.
While Alicia says that while she sets high expectations for her sellers (staging, de-cluttering, and painting), her personal expectations were even higher. They had the house professionally painted, cleaned, and staged by Tami Soumis, and the house sold in a week.
The Donovans would like to extend a very special thanks and a huge shoutout to the many talented businesses, craftsman, and contractors who made their home building experience a huge success, including:
Tami Soumas, the owner of B Staged, for providing staging of former home before its sale, interior design, and décor of the new home.
Andy LaSalle at LaSalle plumbing.
Jim Moreland of Choice Floors, whom Alicia has worked with on so many projects over the years! "It was fun for him to help us in our personal home."
Glen Timmerman, The Installer, for all of his finish carpentry.
Originally printed in the January 2021 issue of Simply Local Magazine
Never miss an issue, check out SLM's digital editions here!