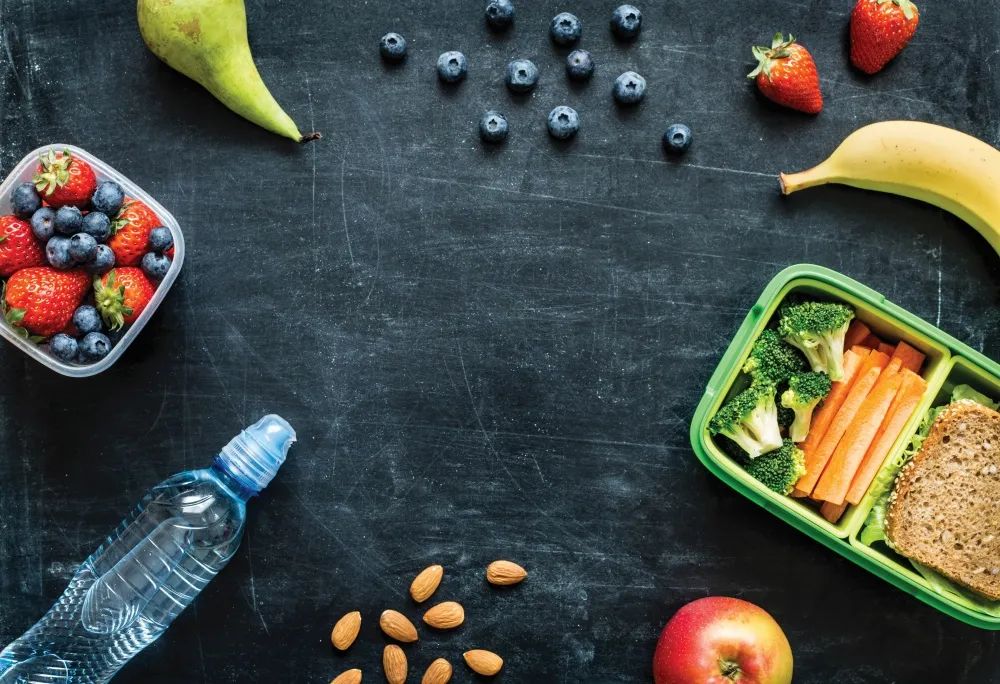 Meal Planning Blueprint
August 2022
Fall is approaching, which means PSL season, school supply shopping, and a wave goodbye to the relaxed nature of summer as we gear up for the routine of the school year. Here are two words that will make this reentry into back-to-school smoother - Meal Planning. If this phrase sparks a little anxiety in you, I get it. Perhaps the majority of us have made meal planning more difficult because of the expectations we've attached to this task - innovative and elaborate dinners, school lunches that are creative and exciting, and gourmet breakfast burritos that rival food truck fare. No wonder we're stressed!
But we don't have to be. Meal planning is simply a system to organize getting meals and snacks to the table. A simple and repeatable system will help you plan your meals so you can keep up with the schedule demands of fall. Here are two strategies to implement:
PLAN
The Schedule – Knowing your schedule before starting the recipe search can make meal planning most effective. Be aware of how much time you have to prepare meals before deciding what to prepare.
Account for new school routines, sports practices, music lessons, and the like.
Don't Forget - Include breakfast, lunch, and snacks to your overall meal plan. These items are typically more routine than our dinner meals, but still deserve a spot in the meal plan so that their ingredients get added to the grocery list.
Identifying Fan Favorites – These meals serve two purposes: 1. The meal takes little brain power on your part – you know the recipe, and it's easy to make. 2. Your family loves the meal and devours it every time.
Make a physical list of your Fan Favorites to add to your meal plans. Over time, you'll have several go-to meals to plug into your meal plan as easy wins.
PREP
You don't need Pinterest-worthy prep skills to use this strategy.
Look ahead at your meal plan and decide what you can do in advance: thaw meat, cut veggies, cook grains, or make muffins.
Use Your Gadgets - Can we take a moment to highlight the amazing Crockpot/InstantPot? Add your ingredients in the morning and come home to deliciousness in the evening. It can also help you save money, using leaner, often-cheaper cuts of meat as time in the crockpot tenderizes the meat. Back-to-school season is also opening soup and stew season, which is a perfect match for the crockpot.
Pro-Tip - While prepping a soup/stew for the crockpot, double the ingredients and add them to a freezer storage bag. Now you've got another meal already prepped and ready for the crockpot next week. Adjust your cooking times when starting with frozen ingredients and anticipate some texture changes from the freezer.
Double Batch - Double the recipe, and clean up once. Multiply grains, muffins, soups, stews, lasagna, and baked chicken to freeze for later. Give yourself the gift of time (and less mess!) by doubling up on staples you can use for other meals down the road.
The More You Know – Avoid freezer burn by using your batching ingredients/leftovers within a month. Opt for "freezer" storage bags or containers as they are sturdier and will protect your food.
ENLIST HELP
Life can get a little hectic. We have local services that can help! See the sidebar for local culinary experts who will take meal planning and prep off your hands.
MAKE IT EASY
Get Baked! - Fresh Take n Bake Meals @ getbaked.online
406 Provisions - Creative and fresh meals that the entire family can enjoy @ 406provisions.com
Market Deli & Catering - Locally owned gourmet deli @ mktdeli.com
Project Lunch - Grown-up lunch meals @ projectlunch.biz
Meal planning can be simple with the right strategies and a relaxed approach. As mentioned earlier, dinner meals do not need to be complex and complicated. When life gets busy, simple and easy is the way to go. Check out these dinner meal ideas on repeat from yours truly:
"Bean Pizzas' (refried bean quesadillas) with bagged salad
Tempeh rice bowls - sauteed tempeh, roasted veggies, and black rice
Indoor picnics - whole-grain crackers, deli meat, cheese, fruit, veggies, hummus
Sheet Pan meals - chicken sausage, veggies, potatoes, seasoning
"Fancy Pasta" - pasta, pesto, chopped tomatoes, cannellini beans
Now that we've covered the highlights of meal planning let's move on to school lunches. Ugh! Am I right? Kids are notorious for loving something one week and then changing their minds just when you have a menu planned out. No need to stress, here are some principles to help decrease the lunchbox dilemma:
Determine your child's ability to participate in making lunches. They should be involved in some aspect of the planning and prepping - and their age and ability determine how much they can lend a hand. Can they help with planning lunches? Can they make part of the meal? Can they load the lunchboxes? Even if it seems small, enlisting your child(ren) benefits them, and depending on their level of help, you too.
Create a rotating weekly menu. It's not necessary to have a new meal each day. Lunch can be redundant. We, as adults, often eat the same thing for lunch, so it is appropriate for our children to do so. You may have four or five different lunch mains that you rotate weekly to keep lunch-making simple.
Consider which lunch items can be prepped in mass. Clean, cut, and bag the celery stalks. Divide the big bag of pretzels into smaller containers. Portion the hummus into individual containers. Do what you can ahead of time to keep this process simple and easy.
Pack the lunchboxes the night before while cleaning up from the dinner meal. This saves so much stress in an already rushed morning. Keep the meal fresh by packing some items separately, such as yogurt and granola, bagels and cream cheese, or veggies and dip. The more you do ahead of time, the smoother your morning will be.
Let's talk about the elephant in the article: WHAT should you pack for school lunches? Check out the list in the sidebar for easy reference and inspiration. Packing a balanced lunch does not need to be blog-worthy; it can be a mix-match from the different food groups making sure to get in whole grains, fruits, veggies, dairy, and protein.
School lunch ideas:
Turkey + cheese tortilla roll-ups, sliced strawberries, snap peas, hummus
Hard-boiled eggs, whole-wheat crackers, apple, and jicama slices
Tuna salad, potato chips, grapes, string cheese
Plain yogurt + granola, blueberries, baby carrots + dip
Pancakes + nut butter, orange, cherry tomatoes, cheese cubes
We've covered a lot of ground in this article. Of all the tips, strategies, and recommendations listed, I hope your biggest takeaway is that you don't have to create the perfect meal plan or school lunch. There will be weeks when you nail it and days that need a do-over. But the end game isn't perfection; it's connection. A dinner meal is an opportunity to connect with your family, and the food inside that lunchbox provides energy to fuel some of your favorite people. With that - take a deep breath. Bring on back to school. You've got this!
Originally printed in the August 2022 issue of Simply Local Magazine
Never miss an issue, check out SLM's digital editions here!