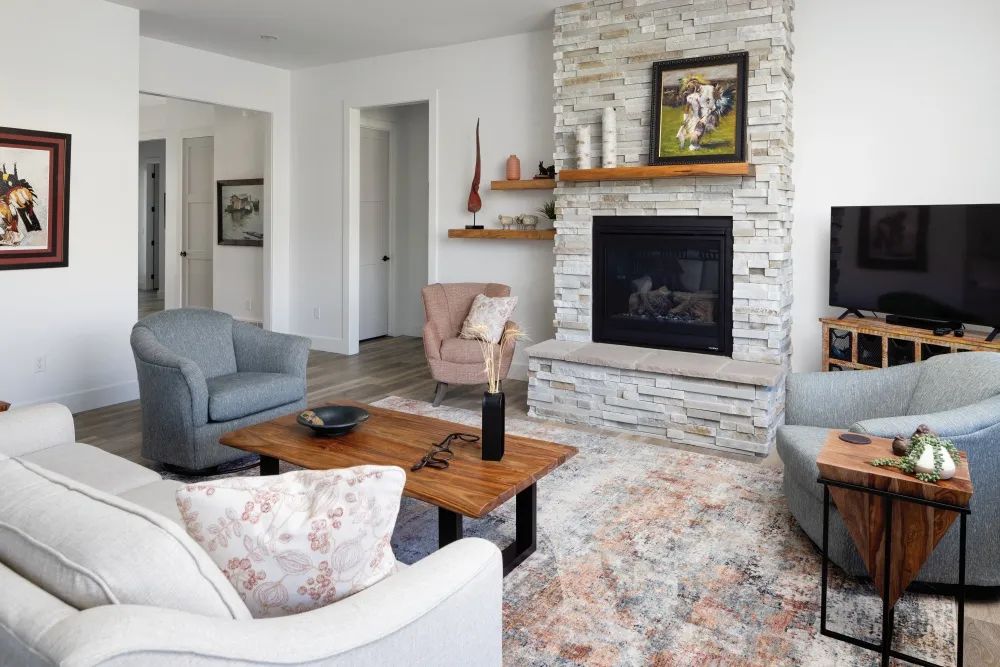 House to Haven with Timesquare Furniture
October 2023
by tiffany ricci | nathan satran
Furniture can transform a space into a feeling. It can make a living room into a cozy retreat for hospitality, a bedroom into a serene sanctuary, and a dining room into a family hub.
But when it comes to buying furniture, it can be anything but serene or welcoming. That is until you walk into locally-owned Timesquare Furniture, where you instantly get the vibe that this store is different. It's bright and inviting, almost relaxing.
I can hear the hesitation from those of you with kids, claws, and jaws in your home. I can relate in the midst of a long season of kids (three rambunctious boys, to be exact) that has me daydreaming of when I can have investment furniture pieces in my home. This was my first lament to Sidney, Sales Manager at Timesquare Furniture, and why furniture shopping can be a stressful experience - balancing the desire for appealing furniture with the necessity of that furniture being lived on.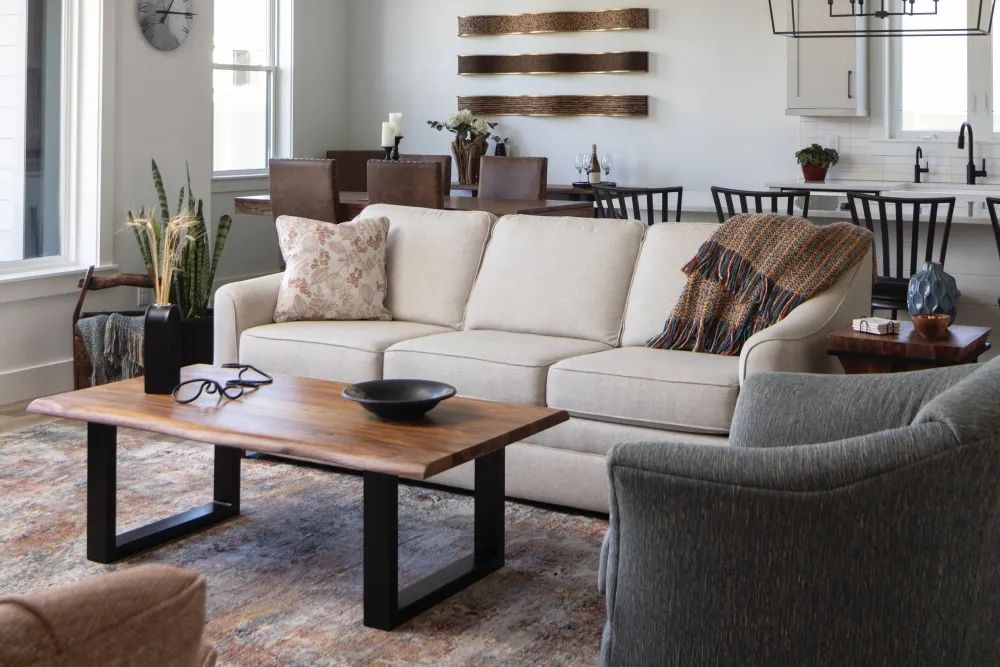 Timesquare Furniture has more bang for your buck with price points for everyone—no need to cover the couch in plastic.
The staff is not aggressive or pushy, so you don't have to put up your defenses, "I'm just looking," when you're just looking . They're non-commissioned, so they're not rushing for sales to earn a paycheck. This contributes to a relaxed atmosphere where furniture-buying is a little easier. You'll notice the variety of options - stylish, functional, and fit for a wide range of clientele. You'll observe unique, customizable options, sofa sets for movie nights with the kids, and everything in between.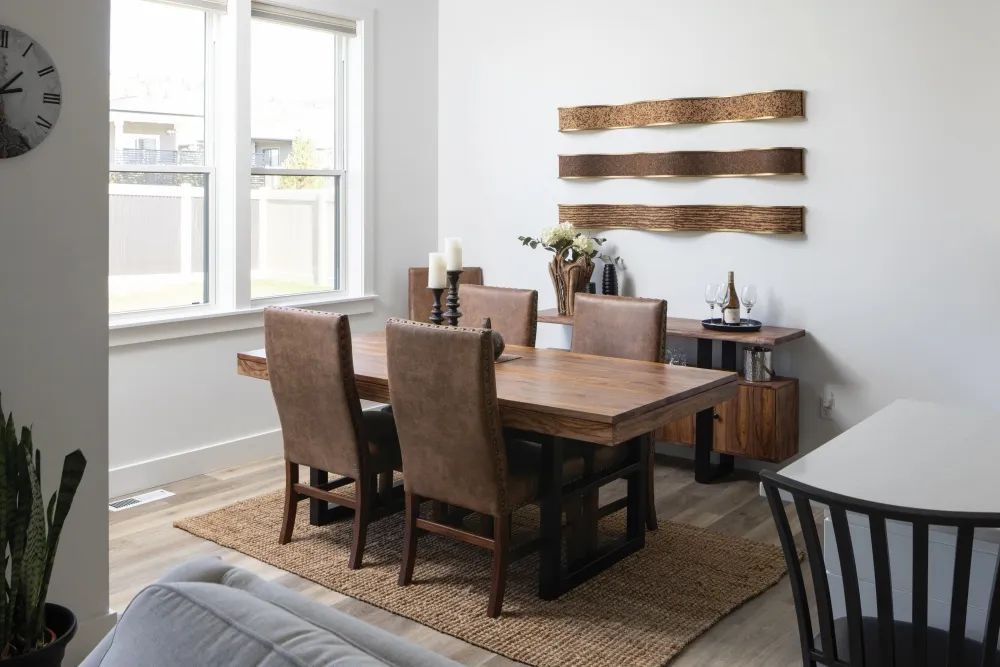 Timesquare designer Anne Murphy worked with homeowners who were downsizing and needed smaller furniture. This dining room table was the first piece the couple fell in love with in store.
While too many choices can be overwhelming, narrowing down your options is simplified with their two in-house store designers. They can help you translate Pinterest-worthy rooms into real life and find what works for your space. You'll discover what pieces will fit in your space to take your room from cold to inviting, outdated to outstanding, siloed to stylish. Feel free to bring in your room measurements and pictures of the space you want to fill, and let the store designers work their magic. 
Get the Uttermost console from Timesquare Furniture
The designers even make house calls. They can measure your space, note the lighting, and recommend paint colors and window treatments to tie the room together. The store designers have experience in interior design, so you are assured professional eyes and style know-how to help you transform your space into your haven. 
You get the feeling that Timesquare is a special place dedicated to helping their customers feel at ease when transforming a space with furniture. There's much more to the story. Perhaps the best part about Timesquare Furniture is the owners. What started as D's Discount Furniture blossomed into an opportunity to sell new furniture in a locally-owned store. Timesquare Furniture is not a chain store but is family-owned and operated by Chris and Johanna Kennedy, partnering with Sam and Kristie Brammer. Through the years of owning D's, they've developed relationships locally, regionally, and internationally to bring quality furniture to Billings, often, at a price point more attractive than what you can find online. You can even bring your online find into the store to see if they can match or beat it, supporting local and experiencing the customer service that comes with it.
The customer service aspect of Timesquare Furniture also goes above and beyond. They offer delivery of your new furniture and will take your old furniture with them simultaneously, so you're never without a place to sit or sleep. Bonus - if there is still life in your old furniture - D's Discount Furniture will give you credit for it to use toward your new furniture. That's the benefit of buying locally!
The Kennedys have a succinct business plan that serves Billings customers well. You truly can transform a space into a feeling from start to finish with Timesquare Furniture. From the store designers, custom options, delivery, and recycling of your old furniture - the process keeps customer service at the forefront so you can create a haven in your home.
Just as their efforts can help you create a haven in your home, so too, have the Kennedys found a way to extend that to the community. In 2022, the Kennedys, along with the help of Faith Chapel, launched Haven Camp, a retreat for foster children to enjoy during a week-long summer event. "Haven Camp is a chance for kids in the foster system to celebrate milestones and participate in activities tailored to help build confidence." The heart of Haven Camp is to be the place where healing relationships flourish.
The Kennedy's have mastered the art of transforming a space into a feeling - not only in their furniture store but also with the Haven Camp mission. It's this focus on taking care of people that makes furniture shopping so incredibly relaxing. You can walk into Timesquare Furniture knowing that you are the focus. The staff there are ready to help you create a haven in your home, just as they are helping to create a small haven for some of the most vulnerable children in Billings. 
Timesquare Furniture is open 10:00 a.m. - 6:00 p.m. Monday through Saturday and 10:00 a.m. - 5:00 p.m. on Sunday. They are located at 856 Shiloh Crossing Blvd, Billings, MT 59102.
Originally printed in the October 2023 issue of Simply Local Magazine
Never miss an issue, check out SLM's digital editions here!