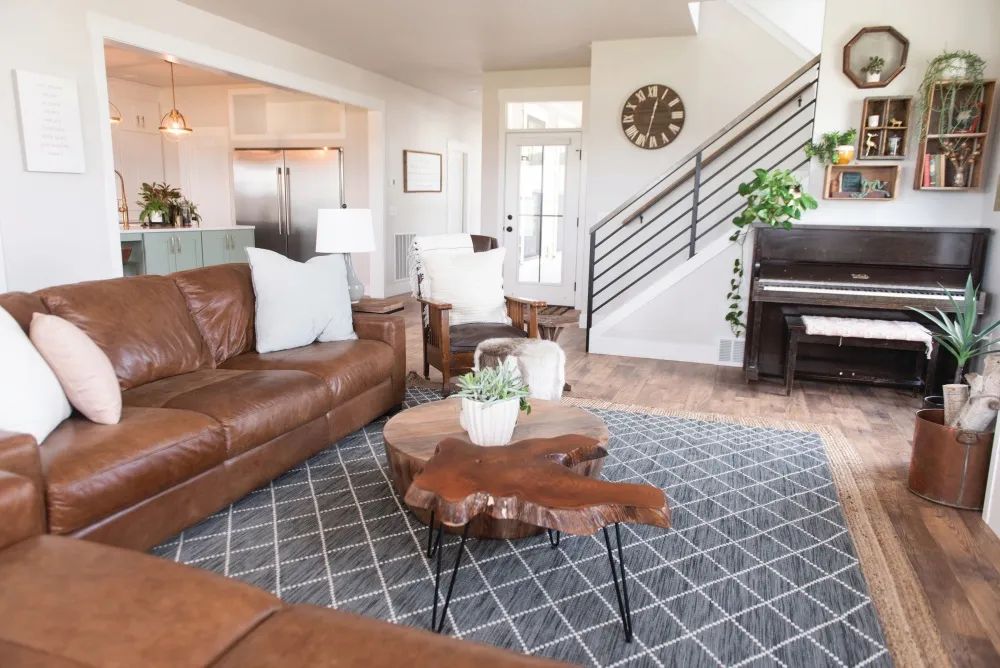 Your Home's Story: Creating Charm & Character
July 2022
by jenna jones | photos by Miranda Murdock Photography
When we moved into our last house, we knew it would be a temporary home. We got all the latest stuff from our favorite box stores, and overnight, it looked fabulous. A friend was helping us move in and casually commented, "Wow, this looks just like a magazine. I think I really want my home to feel like me." That got me thinking. I, of course, love a beautiful space. But, for our next house, I really wanted it to feel like us!
We just moved into this house a couple of months ago and plan to stay for at least five years. Although decorating and furnishing it has been a much slower process, we've had a lot of fun adding some one-of-a-kind personality. Here are some ideas you could bring to your home too. 
Local Craftsman: Jesse Jennings with Jennco Design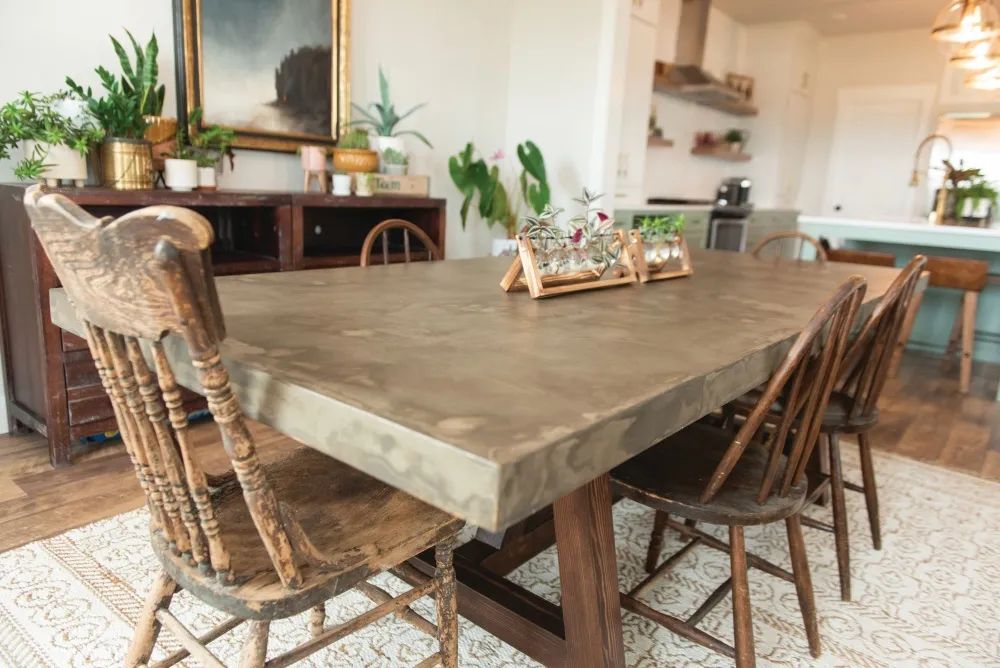 My concrete table vision was brought to life thanks to Jesse Jennings of Jennco Design.
We got this home so that we can host more people. I wanted the kitchen table to anchor the entire space, and I wasn't finding anything I loved in stores. I also envisioned a cement table. Local friends recommended Jesse Jennings with Jennco Design. He does all kinds of custom furniture, and the price range was very comparable with what we were finding in retail stores. Jesse and his wife invited me into their historical home, listened to my ideas, sketched up a design on the spot, and delivered just what I was hoping for. What a delight
Custom Art: Tyler Murphy with Montana Gallery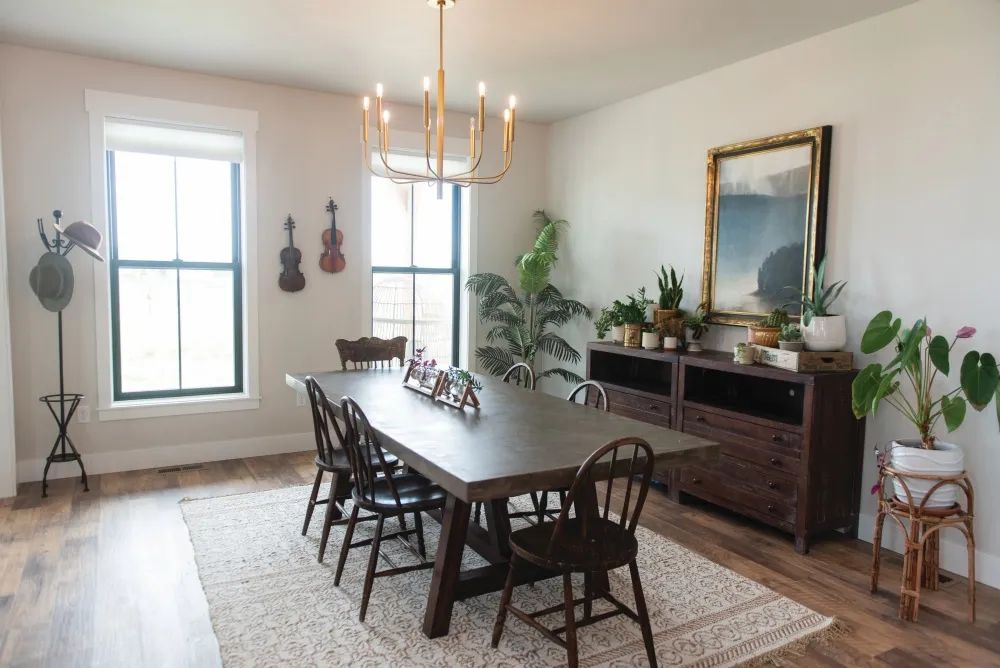 This one-of-a-kind painting by local artist Tyler Murphy is a dream come true
We just got our first piece of REAL art, and I am thrilled about it. Tyler Murphy owns the Montana Gallery downtown; you might have stopped by on a recent ArtWalk or have likely seen one of his paintings in a local restaurant like Diamond X or Carbon County Steakhouse. Montana landscapes often inspire his paintings, and I love that anchor to this place. Tyler is thoughtful and heartfelt, and you can see meaning layered in his work. This painting was on our wish list for a long time. It's an investment, but it's also something we will cherish forever, and it's one-of-a-kind. Have you checked out our local artists? Spend a Friday night downtown on an ArtWalk and invest in something that speaks to you!
Antiques: Old Things Made New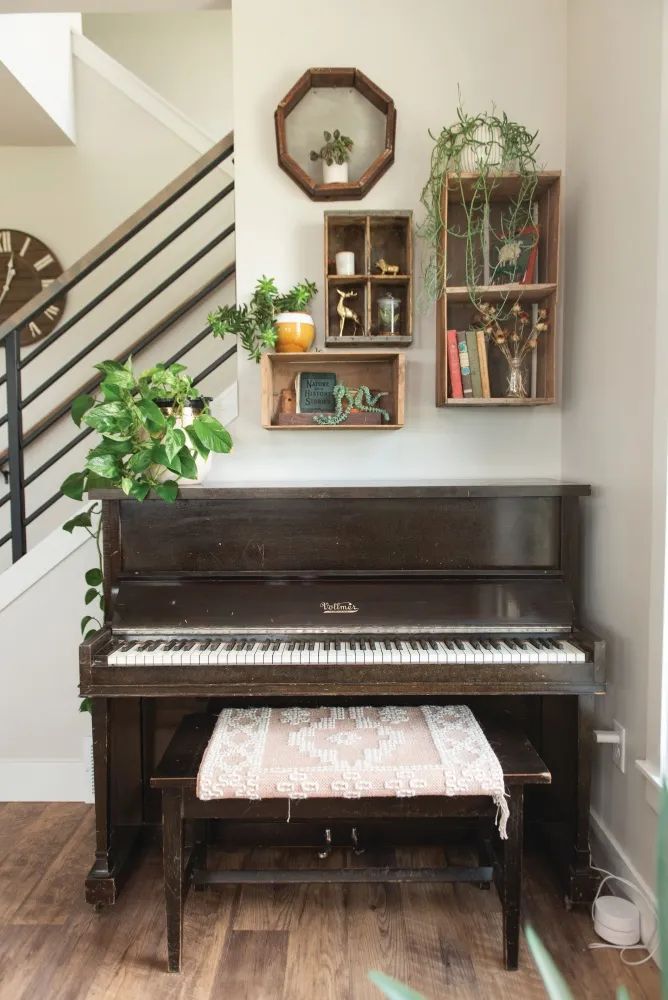 When searching antique shops for great finds, think outside the box, repurposing items can make a great statement wall
Cringy? I know I used to feel the same. I didn't want my house to look like my grandma's house. And sometimes antique shops kind of look like a junkyard, you know? Well, my friend Katelyn converted me. Antiques can work with almost any aesthetic. Don't think of it as an "antique shop." Think of it as a "one-of-a-kind shop." Boho, mid-century modern, rustic, farmhouse - all there, all one-of-a-kind!
If you shop at a box store like Target or Hobby Lobby, it's nice that it's organized and has theme-y sets all ready to go. You don't have to have a vision for your space. You can pick ten things from the same aisle, and they will all look great together. And if not, you return it. BUT... You're still kind of stuck with the same stuff everyone else has. An antique shop find will add a new dimension to your space's story, personality, character, age, and depth. I'm hooked!
Practical Tips to Get Started-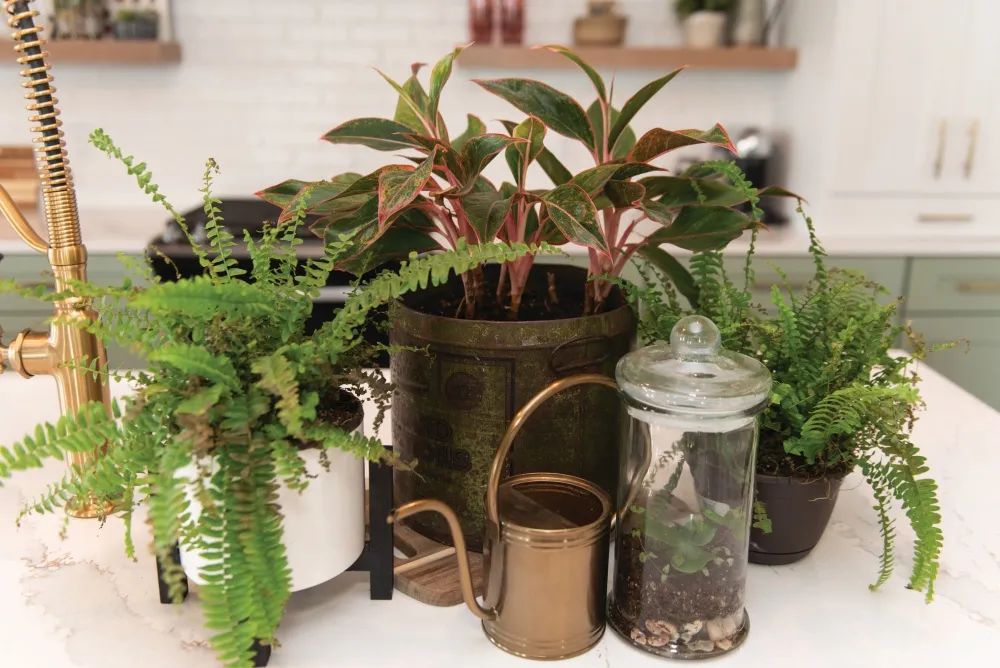 -Think of it as a hobby: no online shopping and quick deliveries. Your space won't be complete next week. This is more like an in-person treasure hunt. My favorite spot is Marketplace 3301. It's an every Saturday kind of place. They have live birds, lattes, a candy dispenser my kids are obsessed with, and new finds every week. You can't return anything. So, I take a picture of the things that inspire me, let it ruminate for a couple of days, and then go back for what I am sure about.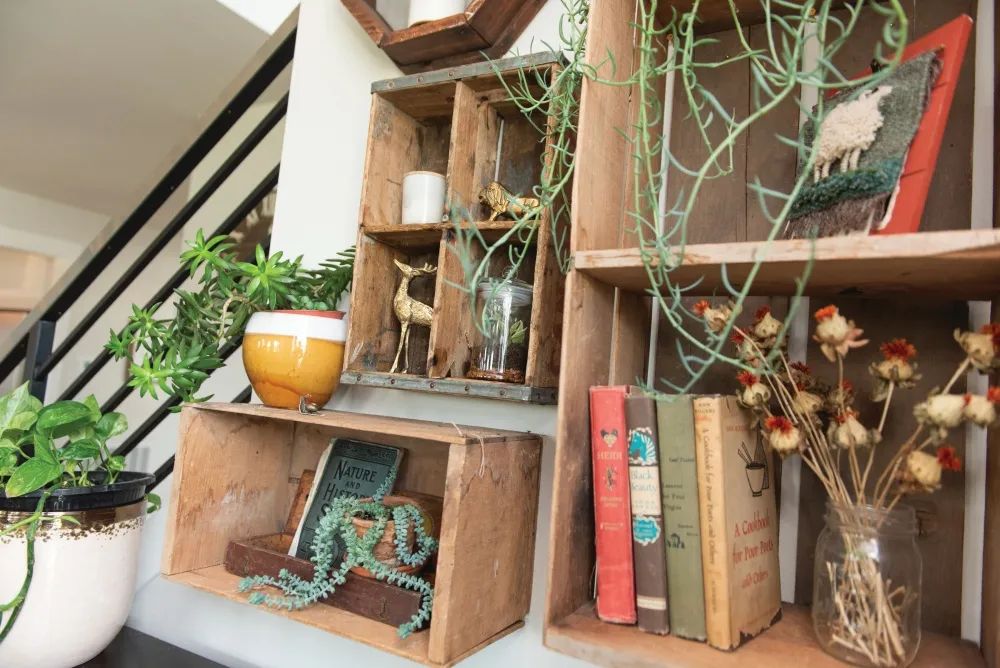 A box wall created from found crates accented with vintage treasures is anything but ordinary
-Bring your own vision. You'll be digging through all kinds of things that don't go together. It can be confusing and overwhelming. Look at Pinterest before you go. Have a clear vision of the aesthetic you want. And make a list! Example: I am looking specifically for a one-of-a-kind side table, blanket ladder, and dresser. That will help you spot your gems and look past the junk.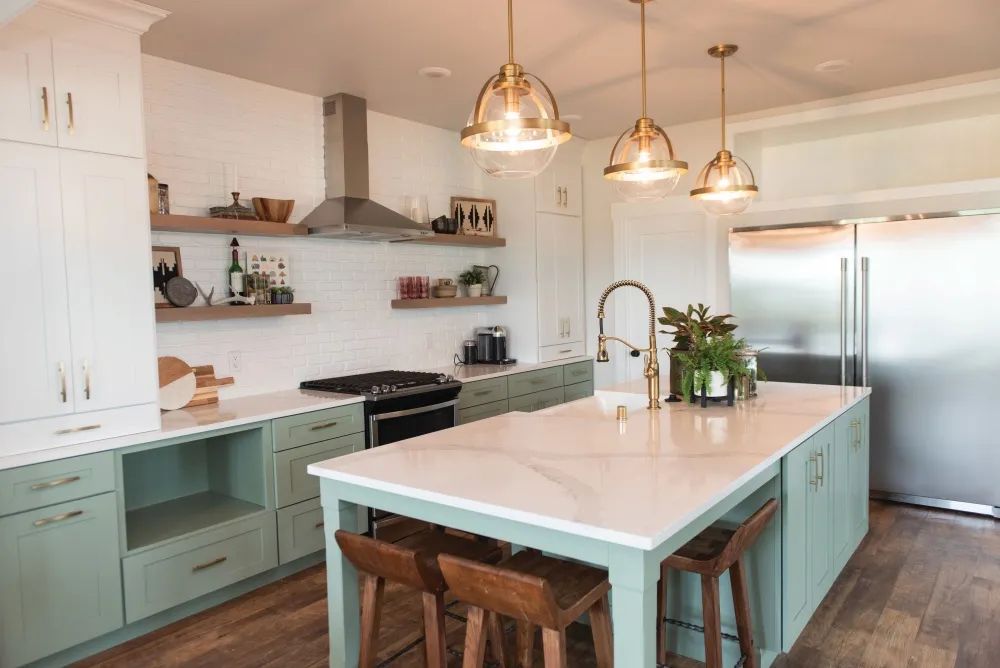 Open shelving is elevated when styled with old and new finds
-Mix old with new. If you find a big anchor piece you love, like a table or bed frame, mix in some beautiful new things like fresh linens, new light fixtures, and greenery. OR, get new big pieces like a couch and mix in some antique accents like vintage books, vases, candle holders, or wall hangings.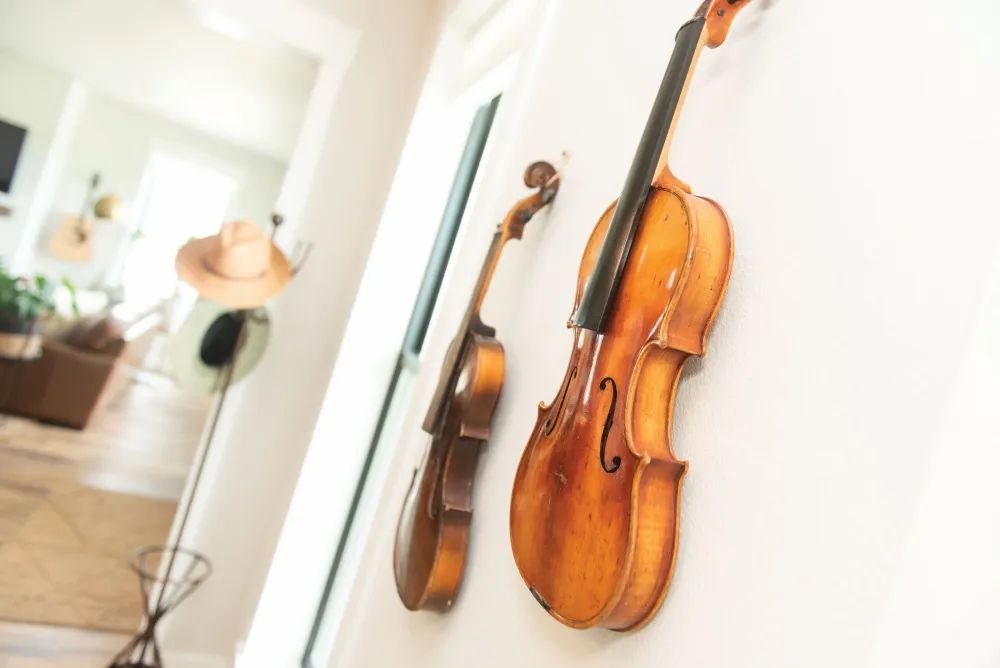 Instruments are displayed on the walls to encourage a love of music for the family
-Upcycle or repurpose. This part has been super fun. Old crates become a box wall. Old tins become pots. Old violins become wall hangings. Old nail bins become a hot wheel's garage. If you find something that speaks to you, get creative! 
Last note - I am still on the hunt for an amazing apothecary table, and I am putting out a public call to send me a message if you stumble across just the right piece to complete our space! 
Originally printed in the July 2022 issue of Simply Local Magazine
Never miss an issue, check out SLM's digital editions here!