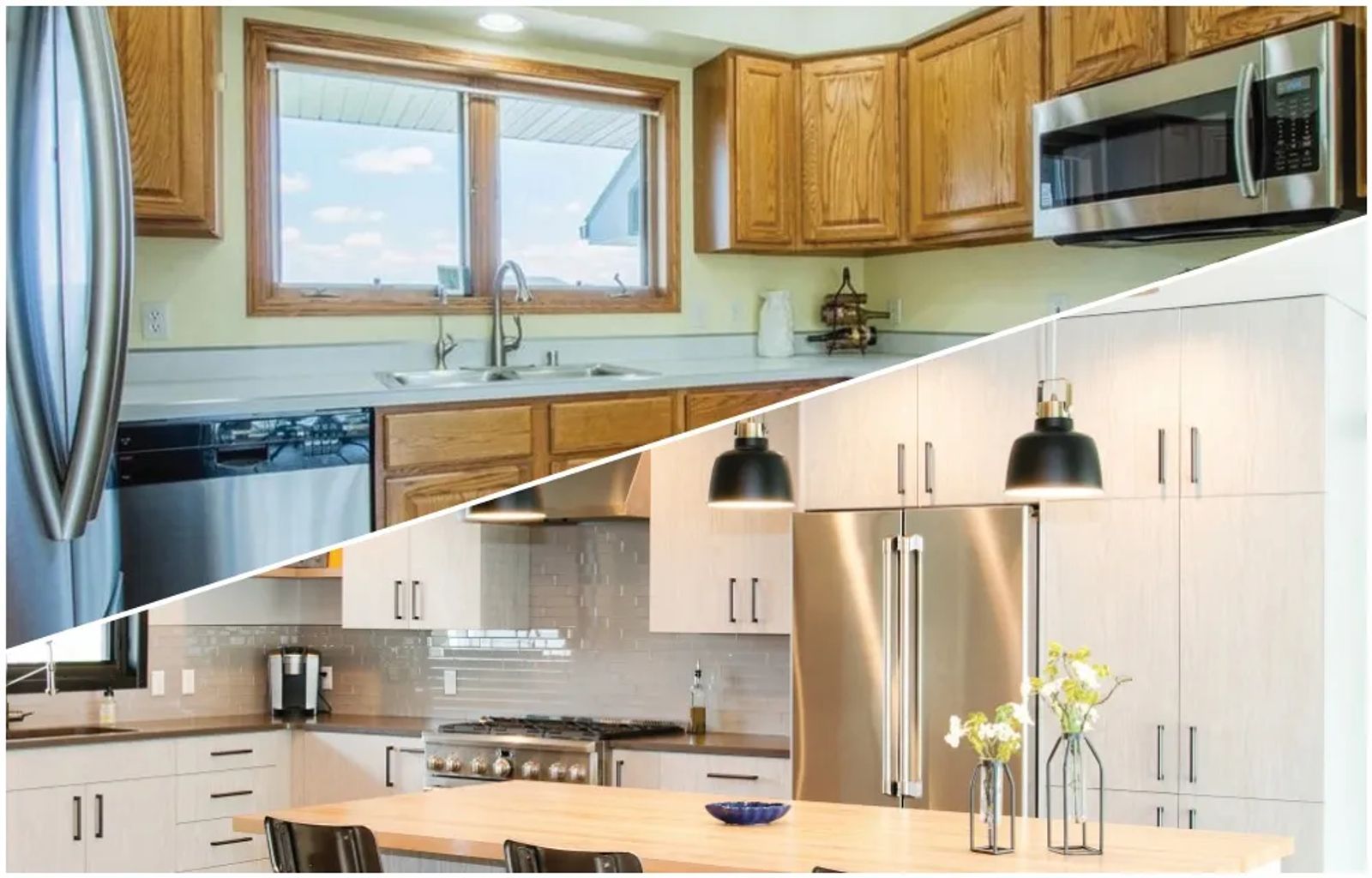 From Farmhouse to Chic House
July 2021
article & photos by renata haidle | before photos kendal mayer
Most of the time, country living in Montana would have you thinking of a ranch or a farmhouse. However, as the lines between city and country on Billings' West End are blurred, farmhouses are being replaced by modern homes that embrace every interior design trend we currently favor. In a growing neighborhood that hosts a mix of new and old dwellings surrounded by great expanses of green grass and old trees, a local family decided to purchase an older farmhouse and remodel it in a fresh, contemporary look that better suits their taste and their lifestyle. Walls were torn down, carpets were ripped off the old floors, entire rooms were removed and rebuilt. The owners, having previous experience with home remodels, did all of the demolition and some of the wall reconstruction themselves, while other tasks like plumbing, electric, tiling, and painting were left to professionals. This is a work in progress: while there is still quite a bit of work to do in the basement and outside, the main floor has been updated to current standards, looking refreshed and functional.
Aiming for a modern industrial style, the kitchen is a combination of soothing gray tones. Stainless steel appliances coexist happily with the light cabinetry. The island is topped with a butcher's block in a sunny blond finish that matches the open shelves, giving the area a softer, warm feel. Metro tiles add a touch of glimmer and glamour. The large black lights make a strong statement, adding to the industrial vibe.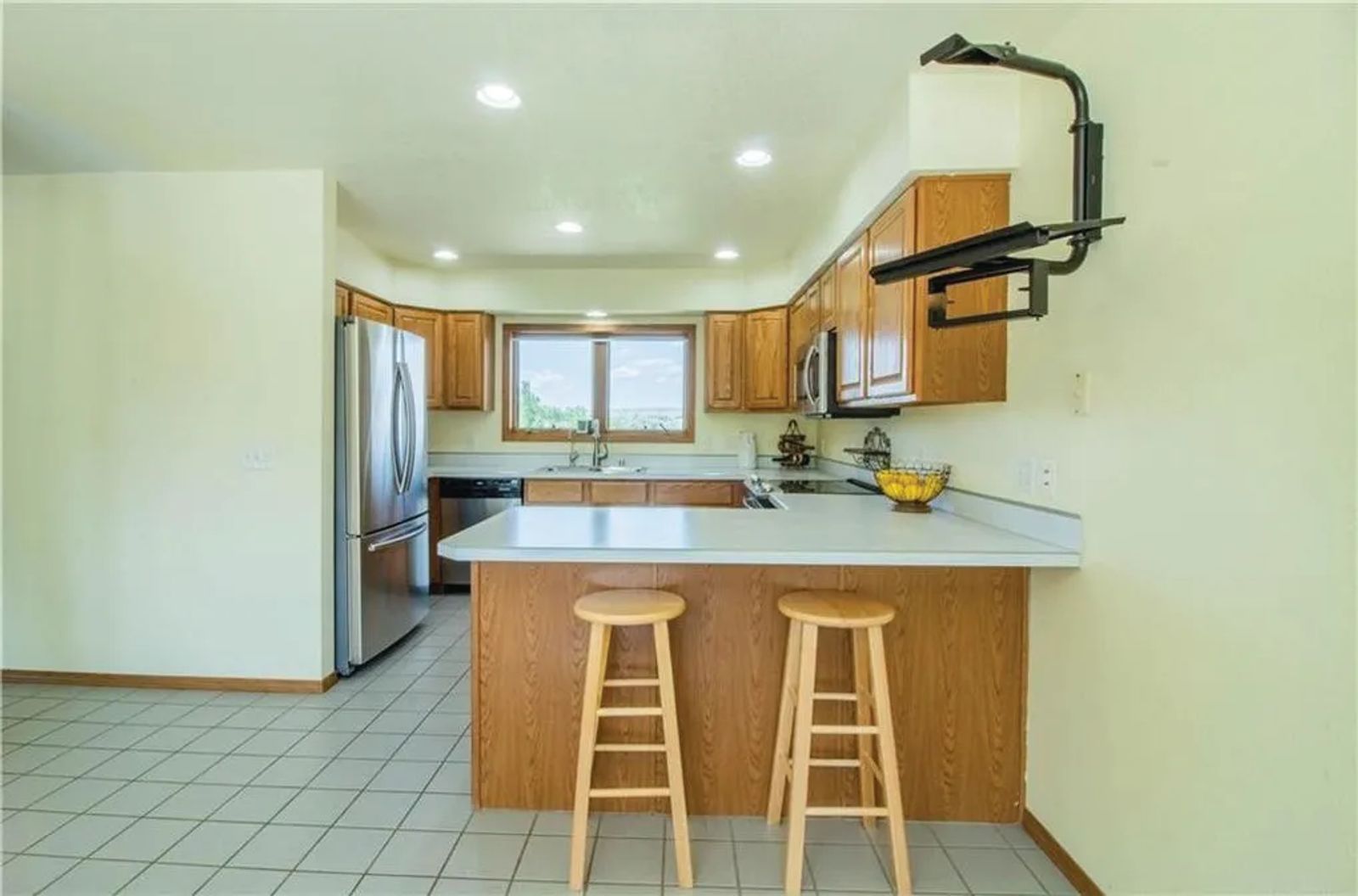 photo courtesy of Kendal Mayer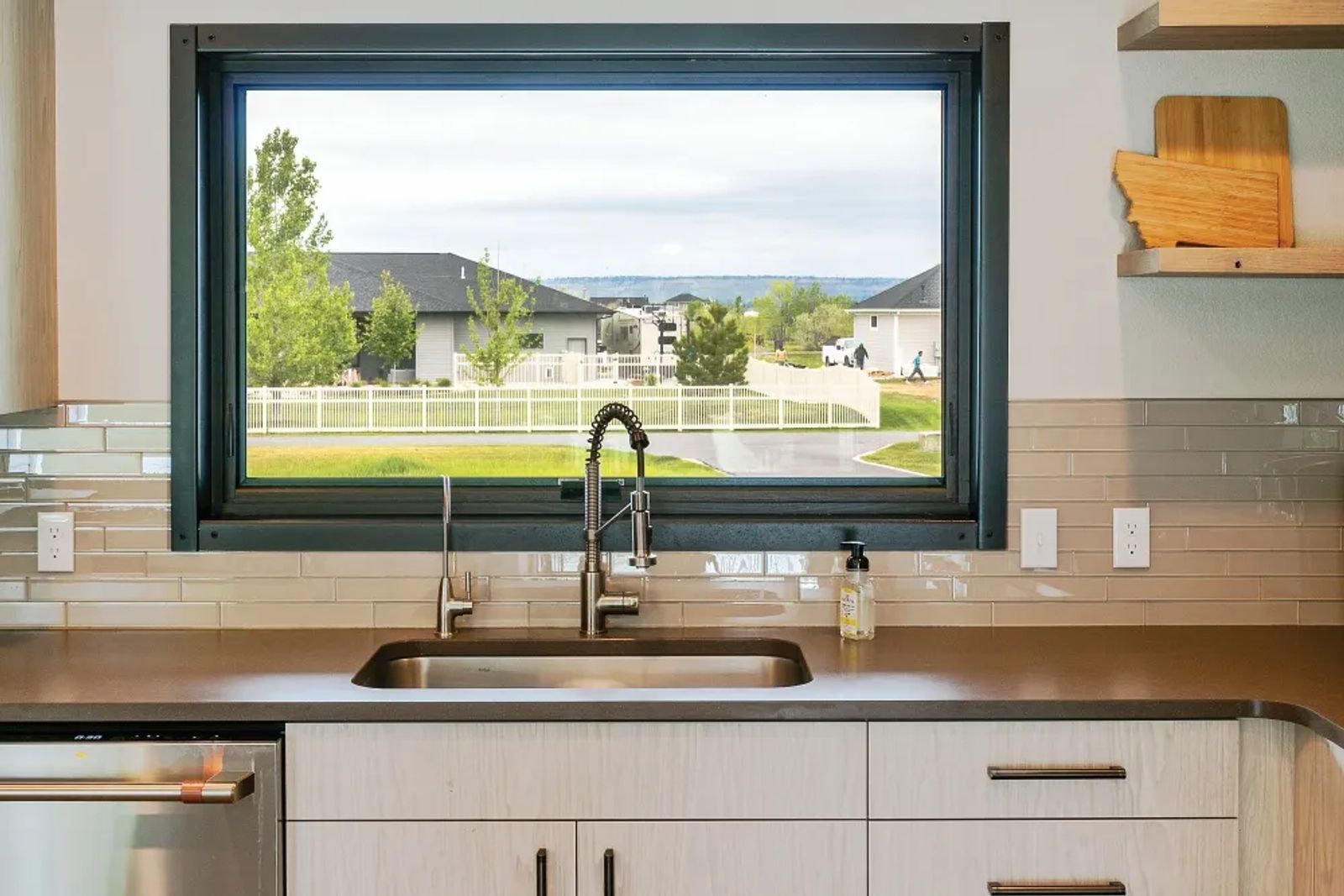 Strategically placed above the kitchen sink, a large black-trimmed window makes great use of the views that stretch all the way to the Rims. The undermount sink has a single hole pull-down faucet and a drinking water dispenser.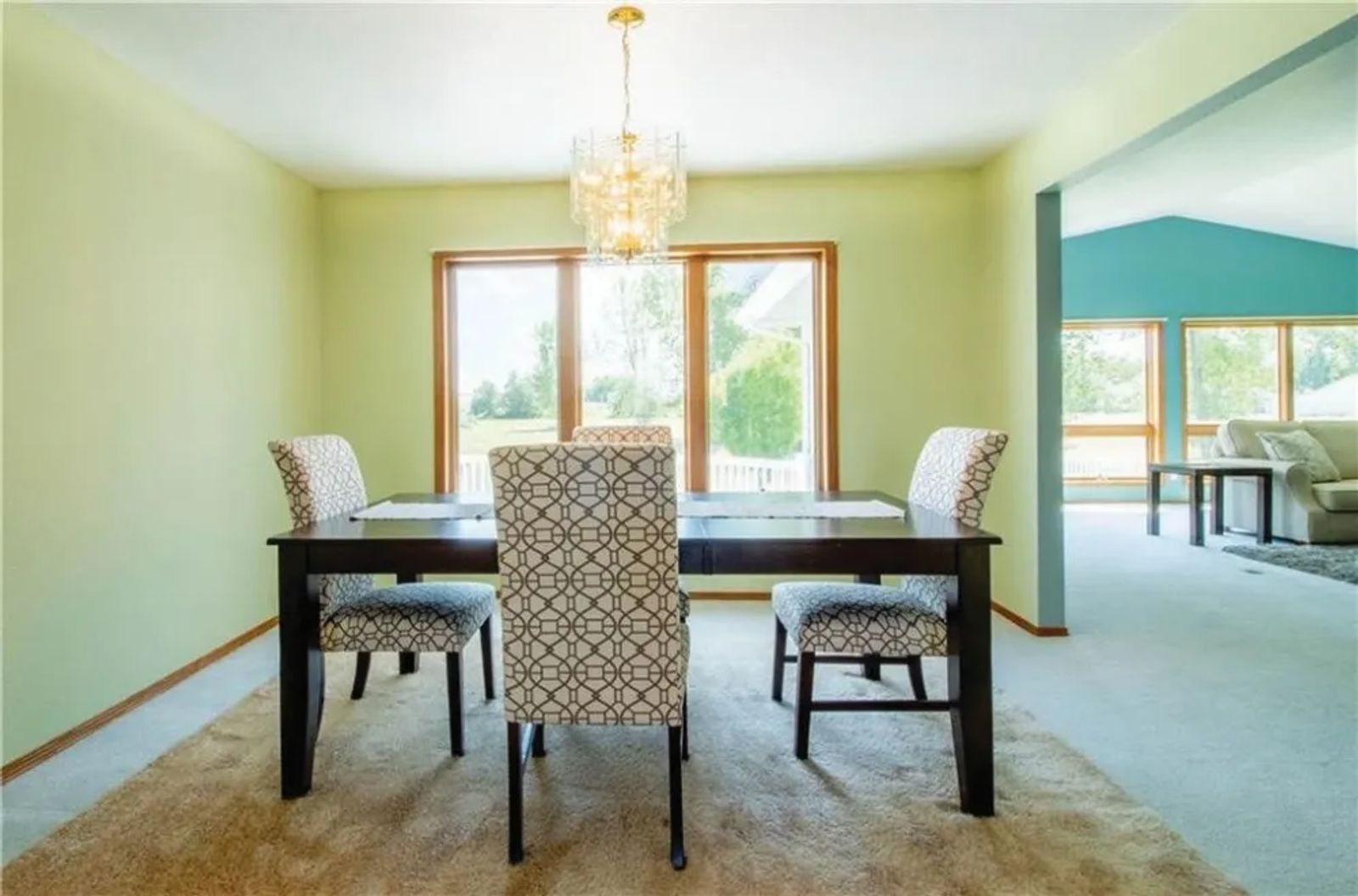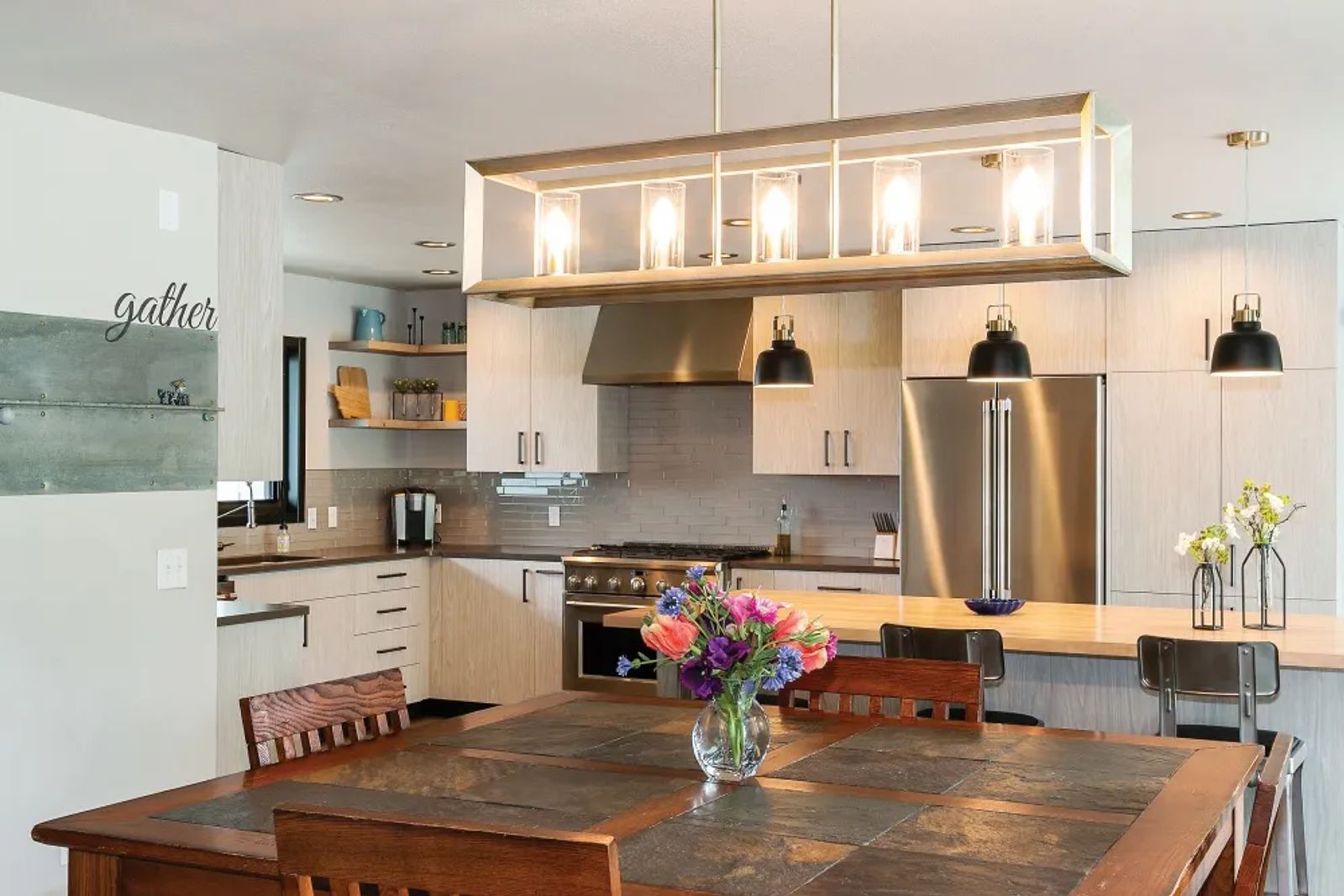 The dining room has been enlarged and shares the space with the kitchen. While the custom dining table has yet to be replaced (at the time of writing this article, it was getting the final touches), the elegant light fixture above it mimics the steel finish of the kitchen appliances.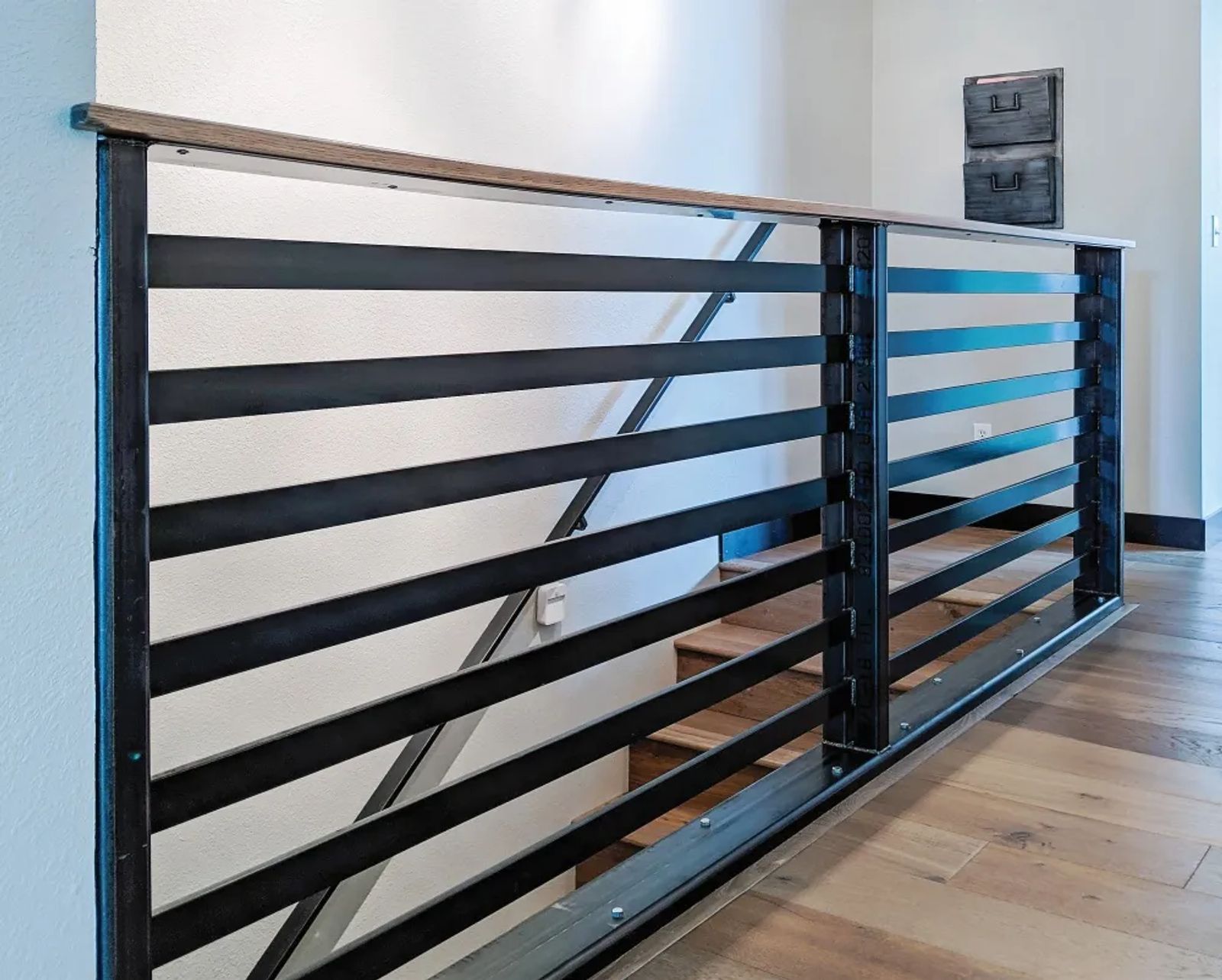 Right off the dining room, in the hallway leading to the bedrooms and downstairs, a black metal railing and a pair of rough metal correspondence folders attached to the wall reinforce the desired industrial look. Engineered wood planks confer warmth and a welcome touch of color.
Taking in the Views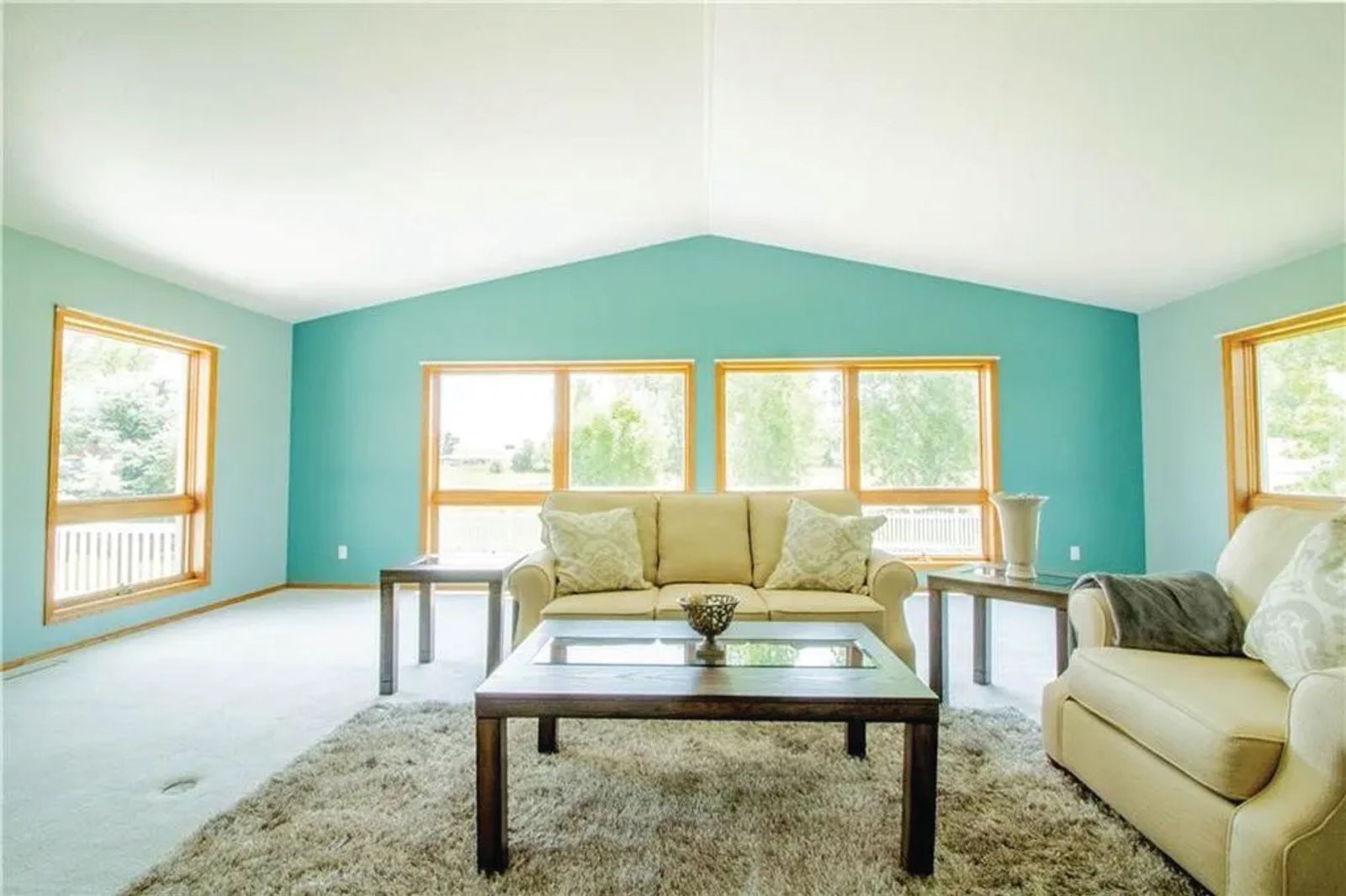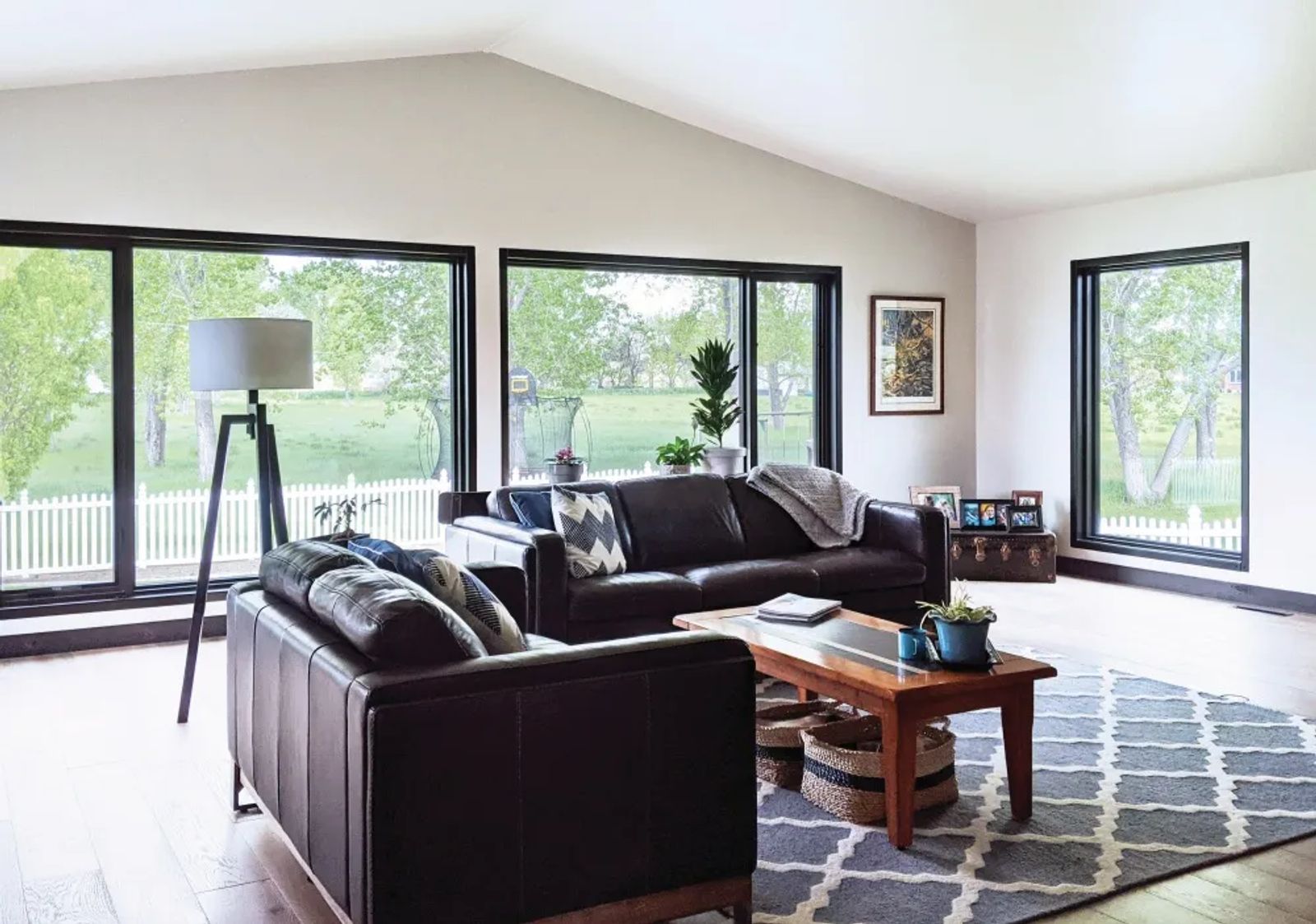 The living room walls have been painted a very light gray, accented by the stark black of the large windows. Since privacy is not an issue and the backyard allows for gorgeous views, the owners opted to forgo unnecessary window treatments. To balance the coolness of the space, they added cozy leather furniture and several potted plants, as well as layers of texture through pillows and blankets.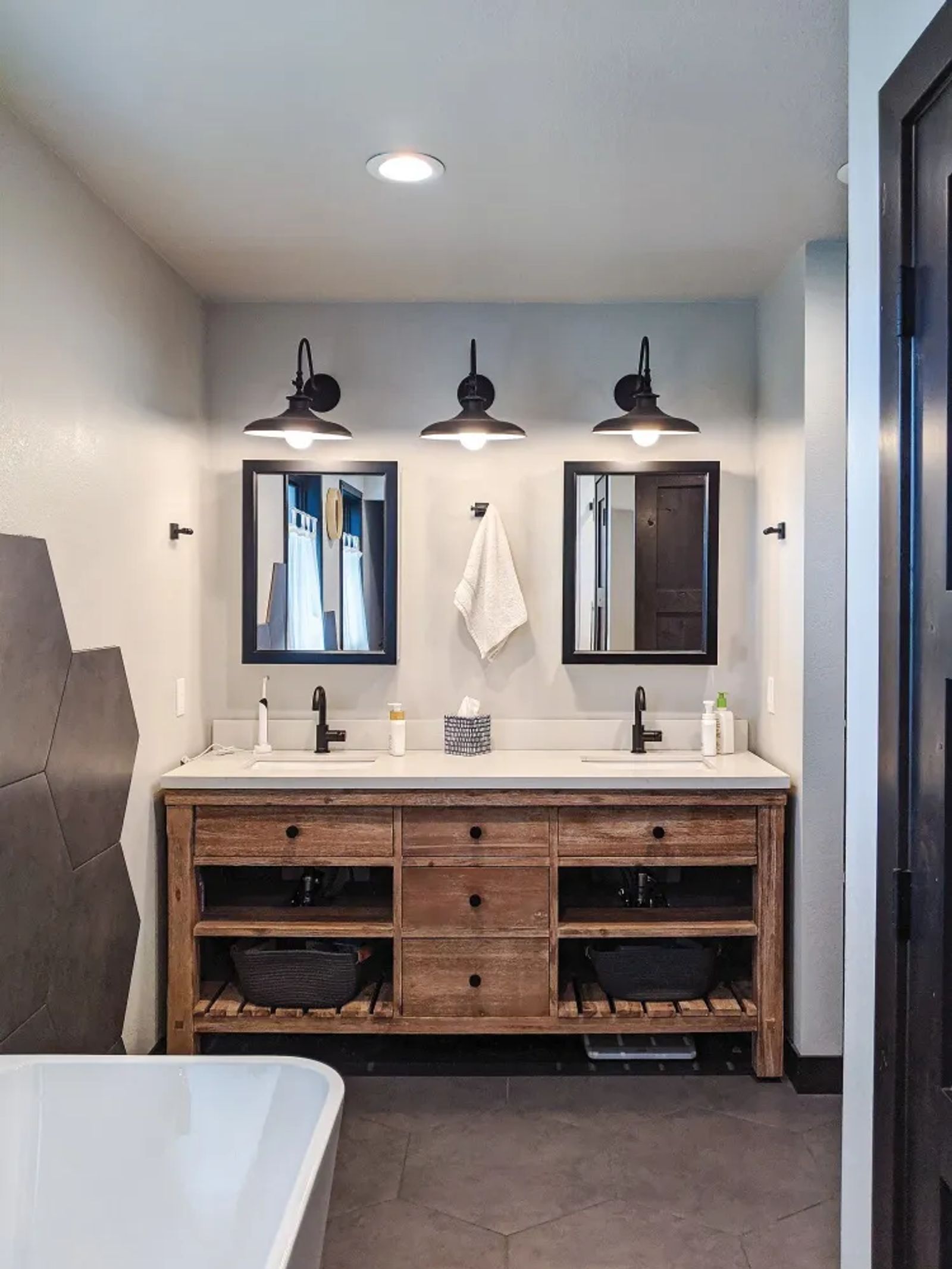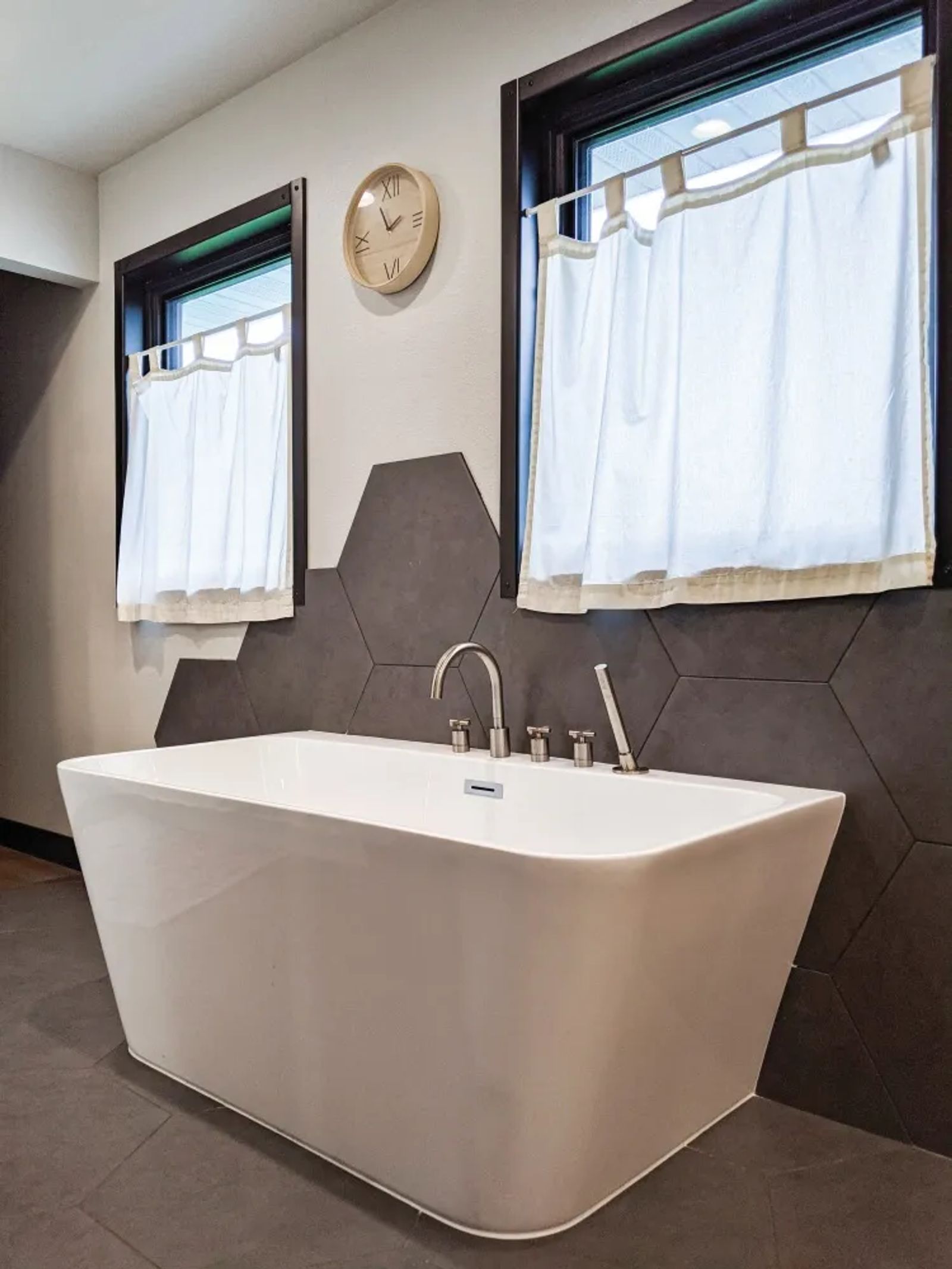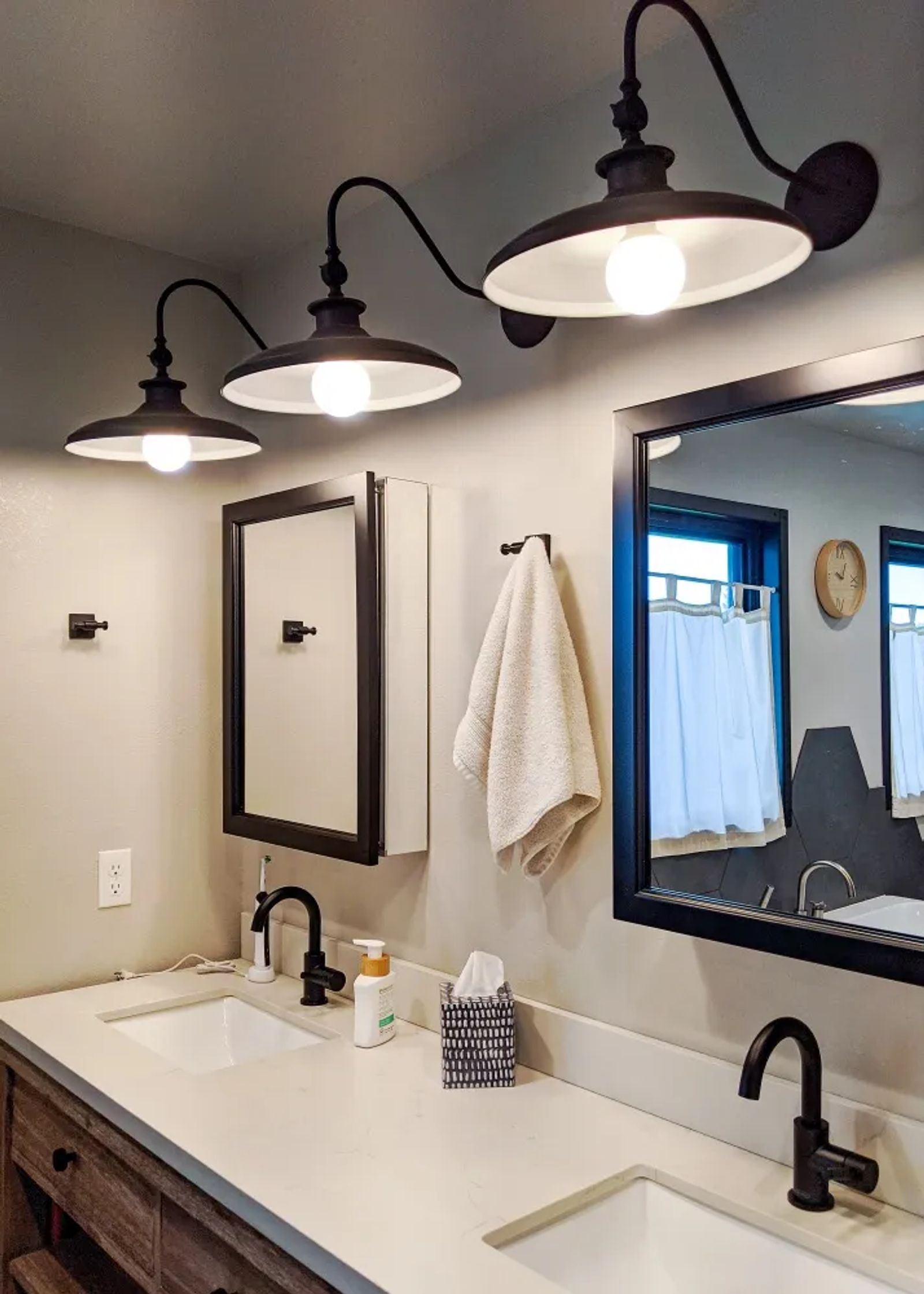 The same modern industrial style is repeated in the master bathroom and was achieved by choosing hexagonal gray tiles, matte black light fixtures, black faucets and hardware, with warm, distressed wood cabinetry to soften the look. The same hexagonal tiles are used to partially cover the wall behind the bathtub, functioning as a playful and stylish backsplash that is perfectly on trend
How to achieve a modern industrial look:
Key elements are exposed brick, visible pipes and air ductwork, concrete floors, metal hardware, oversized windows, distressed wood
Think natural when it comes to textures, colors, and finishes
Keep the color palette minimal. Focus on whites, grays, and blacks and warm them up with wood accents and warm leather (burnt orange and hunter green work well in this type of setting)
Choose rustic, reclaimed, and repurposed furniture and decorative objects
Create a large, open living plan
Opt for Roman blinds versus curtain panels or simply leave the windows exposed, if possible
Black metal windows are elegant, modern, and perfectly suited for the industrial chic home
Hang oversized art pieces that make a statement. Black and white and vintage photography are great choices, as well as interior graffiti or a large chalkboard
Decorate with unusual objects such as musical instruments, collectible items, concrete accent pieces, or bespoke neon signs
Avoid plastic objects - they do not belong in an industrial space
Select minimalist furniture with masculine lines, rectangular versus round, leather versus fabric upholstery
Originally printed in the July 2021 issue of Simply Local Magazine
Never miss an issue, check out SLM's digital editions here!