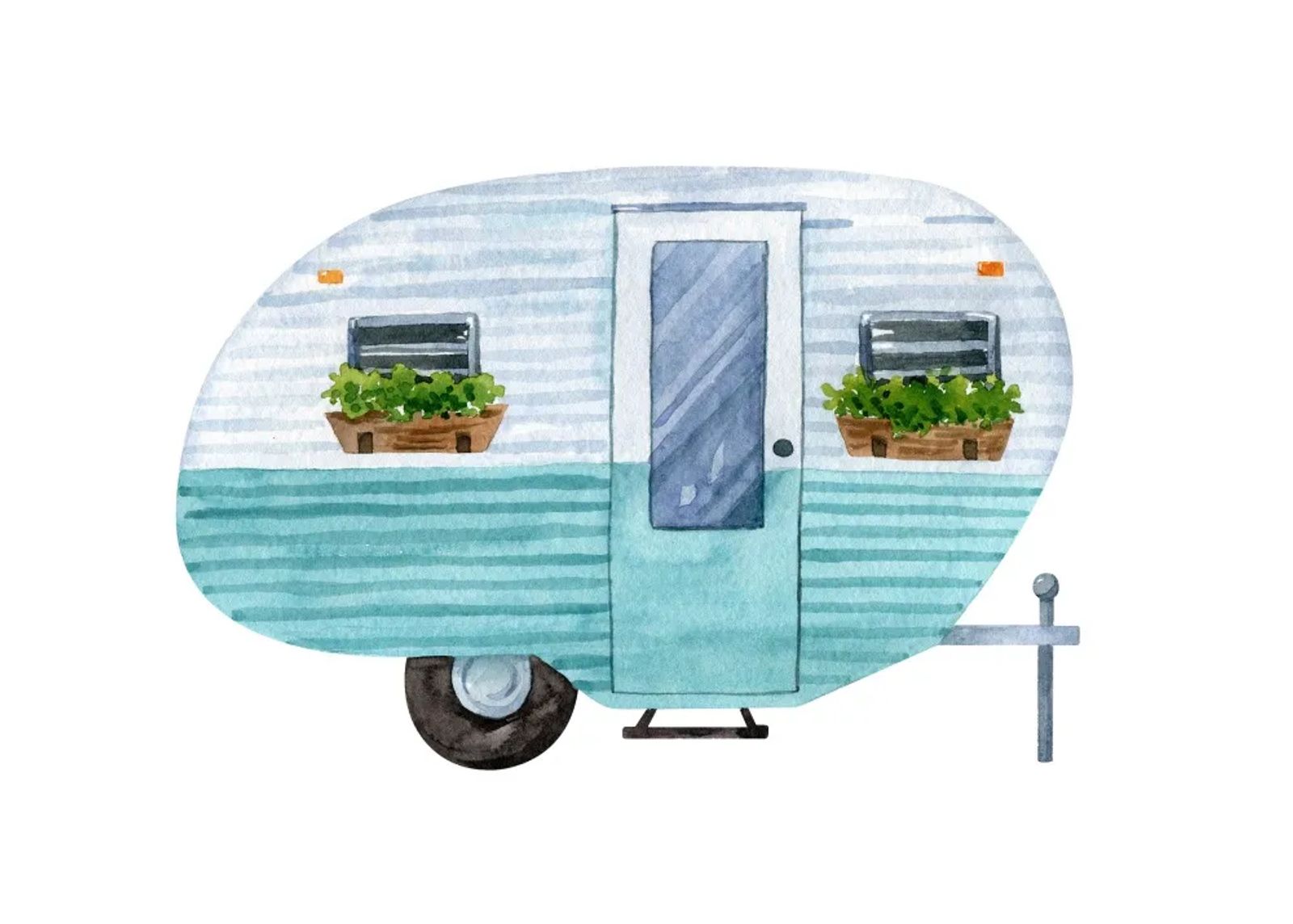 Old Made New: Homes on the Go
July 2021
by michael j. hitchcock | photos by lovely hitchcock
Are you on the lookout for a camper or RV but don't have a spare arm or leg lying about that you can use to pay for a new or recent model? Perhaps there's a solution to acquire that family getaway machine that will allow you to keep your most important limbs attached to your torso.
Call them classical caravans, mature mobiles, timeless trailers, or retro RV rollers; I'm talking about vintage campers, people, and they're back in a big way.
Defining the word "vintage" when it comes to campers can be a bit tricky as some claim anything made before 1969 fits the bill. Others declare that it is vintage if it's older than 25 years. Either way, I'm vintage, and I'm quite okay with that. Regardless of your definition, buying and/or restoring a pre-loved camper might be the best way to make your summer camping trips a more memorable and rewarding experience.
Take Jessica and John Finley, for example. Two years ago, they were scouting a local dealership and stumbled across a 2008 Keystone Passport Ultra Lite. Vintage? According to its birth date, maybe not so much, but upon their first family trip in the camper, they discovered some serious issues, including a rotted floor, a cracked water heater, and other plumbing issues. The problems were so severe that they were forced to gut the entire unit.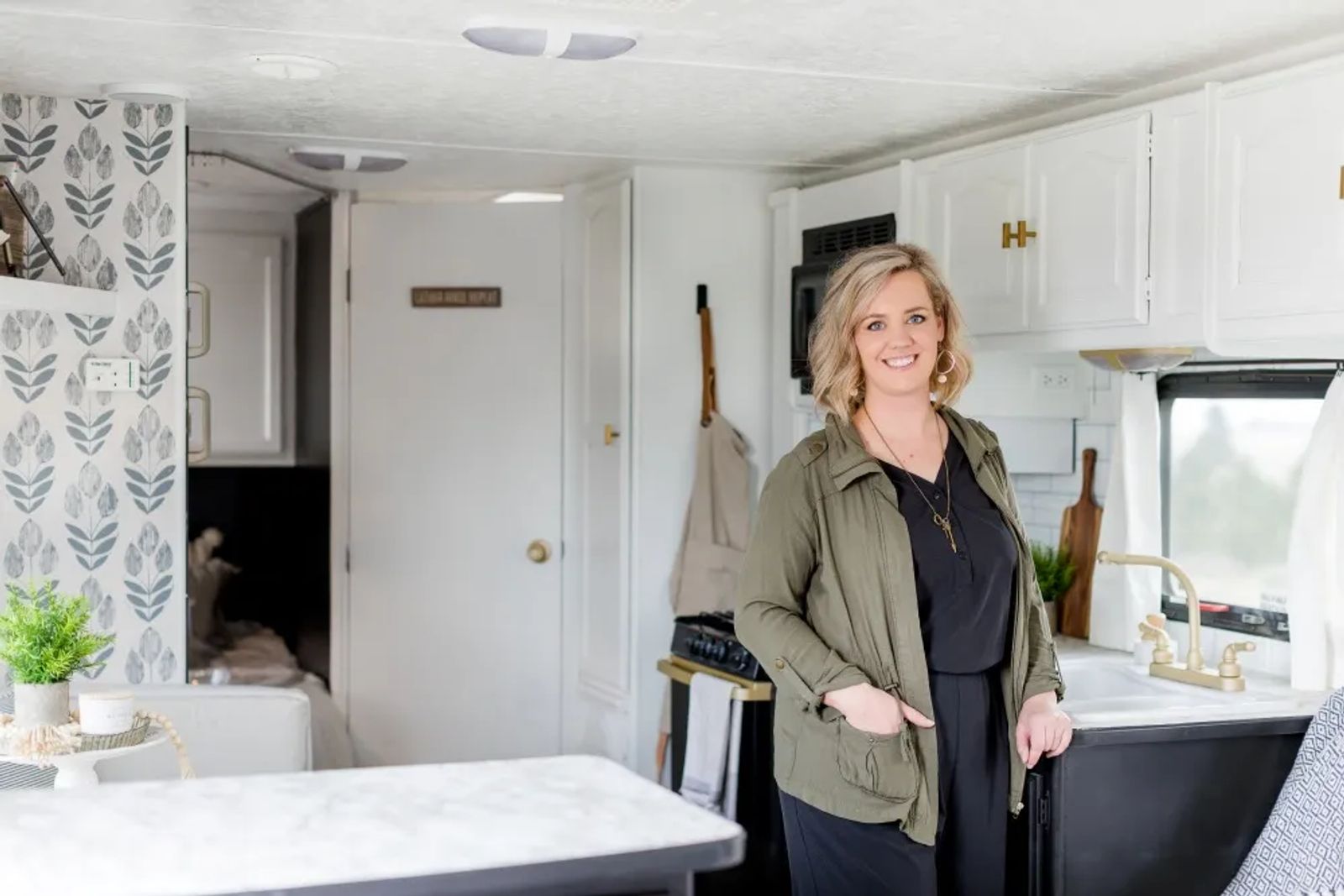 Jessica Finley in her fresh, functional, and beautiful camper.
Rather than hire an RV center or contractor to update the unit, the family decided to go a different route; faux vintage! Jessica spent some time on Pinterest looking for ideas and decided to make the camper look and feel like a second home. She recruited her husband and kids for the job. She started pulling out flooring, cabinets, plumbing, and anything else that didn't suit her taste.
They worked any time of day they had available. First, they laid the sub-floor, roughed up the cabinets, and went crazy with the paintbrushes. Jessica chose a black and white theme, as she liked the bright airiness of the white but felt the black added a much-needed contrast. She replaced the cabinet hardware with brushed-brass pulls and painted the refrigerator hardware, light fixtures, and faucet fixtures the same color. She used marble-print contact paper for the counters and tabletop and printed wallpaper for the dining area.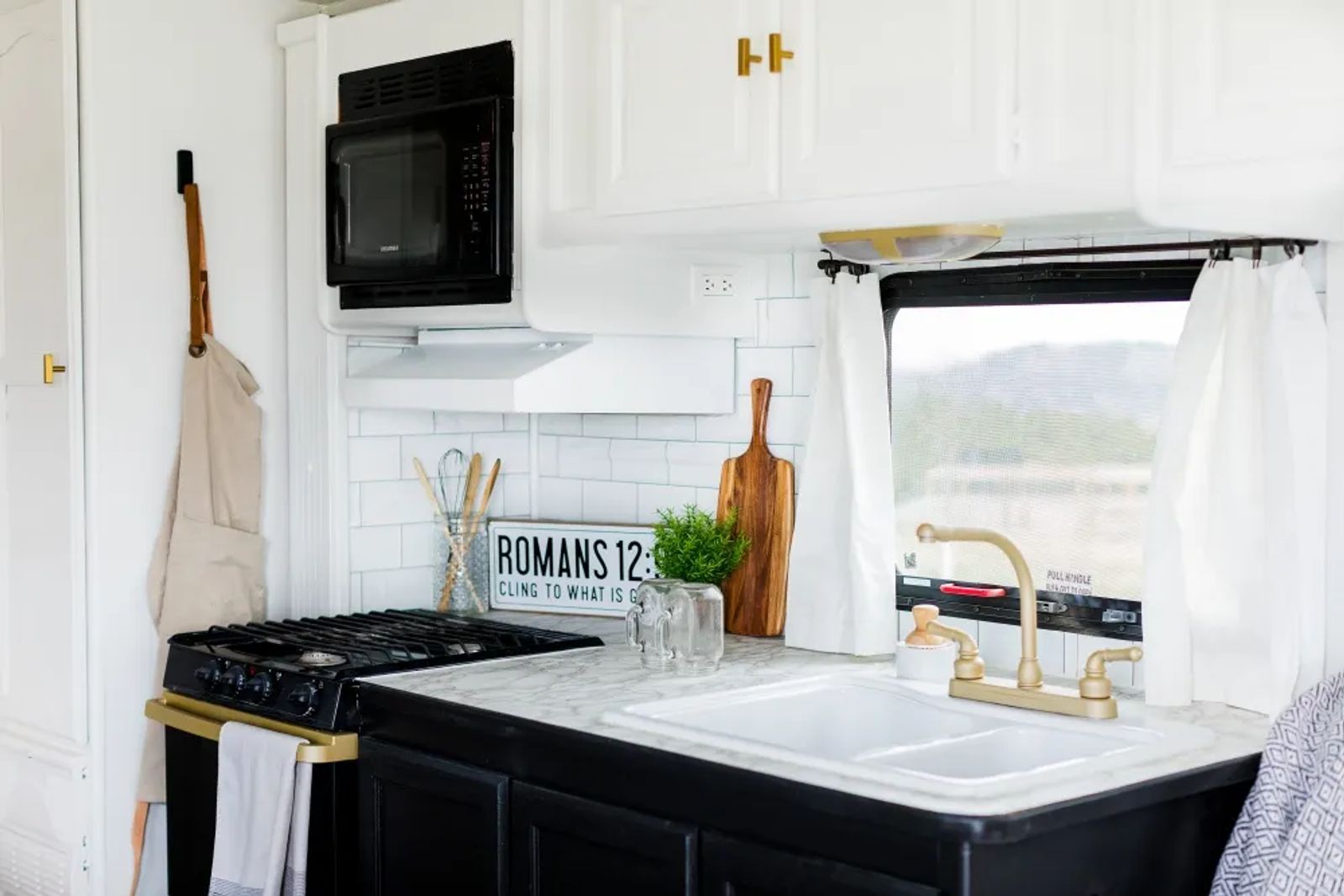 A bit of shiplap (home-cut) for the bedroom and other areas secured with liquid nails worked well. Next, Jessica decided that a subway tile with printed contact paper would visually separate the kitchen area from the rest of the camper. The couch and bench seat cushions were a bit of inspiration; she reupholstered using painter's cloth, an inexpensive yet attractive material that she also used to make attractive curtains in their new home.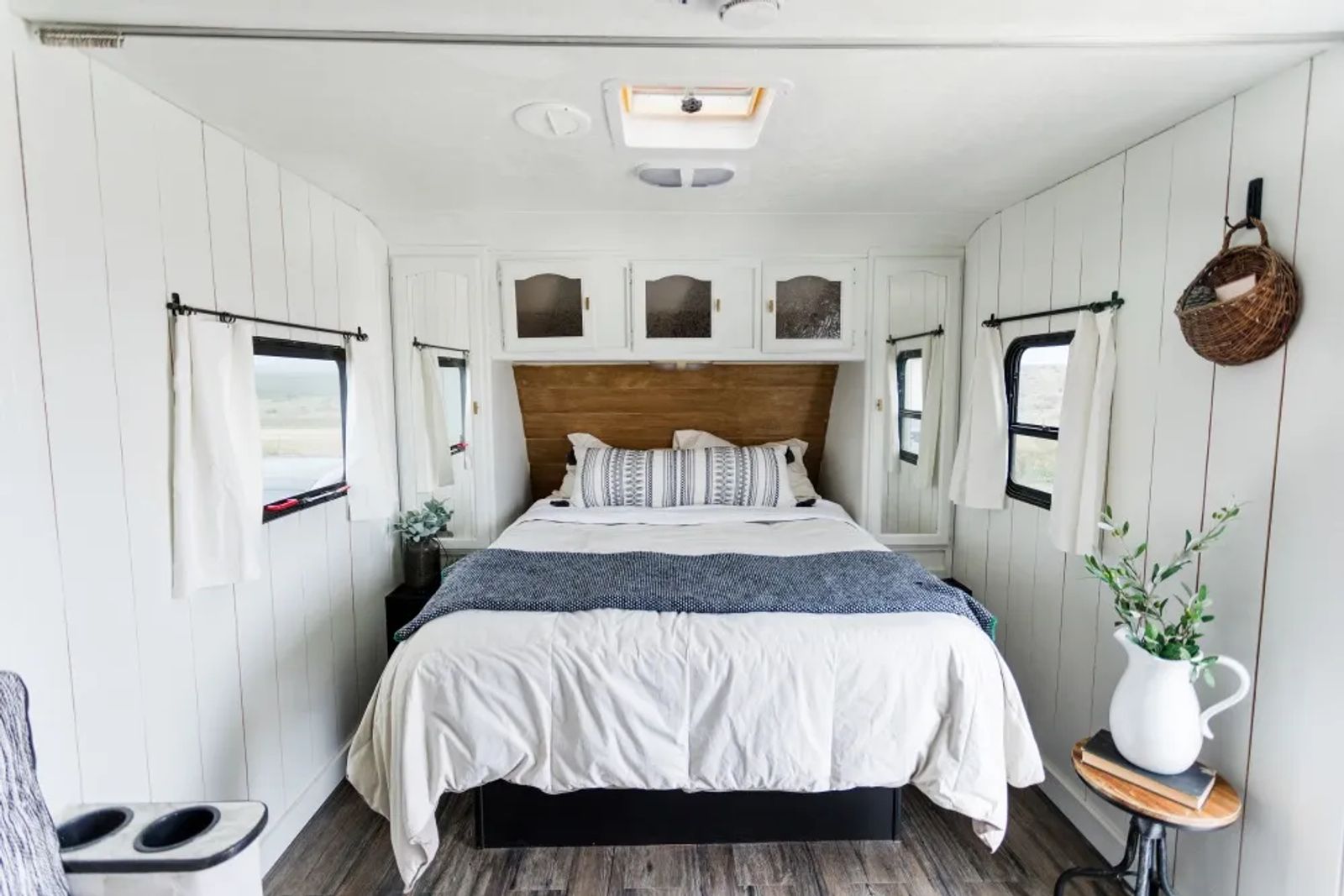 The total remodeling cost for turning a potential disaster into a beautiful family home with wheels: $1,350. Everything she used to renovate her family's second home was either sourced from her house, Amazon, or Target. The only thing she would do differently is not use contact paper on the walls as this can bubble a bit in cold weather (but works fine on the counters and tabletops). One other piece of valuable advice: Take on this type of project in the early spring or late fall unless you enjoy DIY in a sauna-type environment!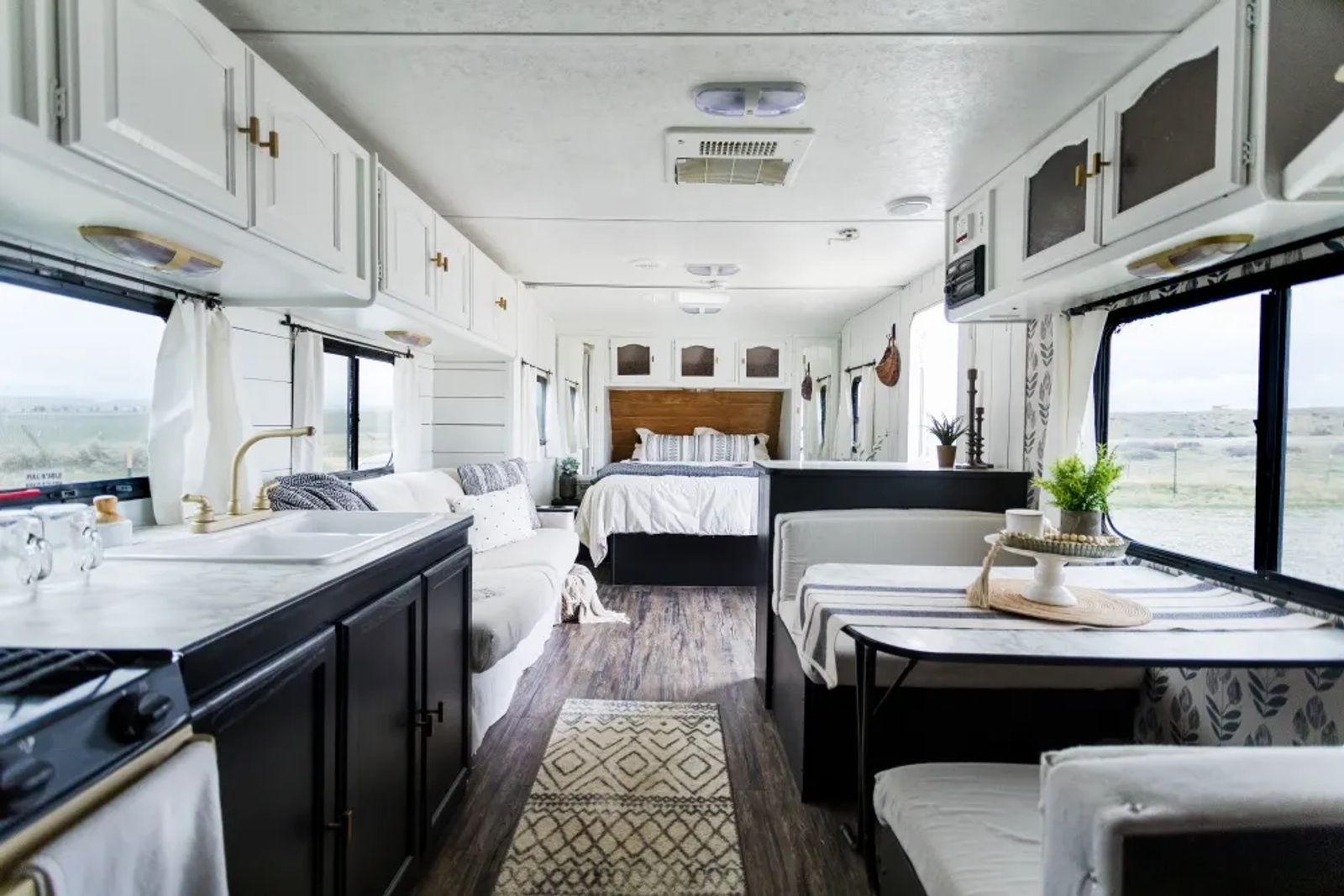 The Finley's took the vintage camper on a four-day family journey to the Big Horn Canyon. Even today, the kids still reminisce about games played to the flickering light of a crackling campfire beneath a dome of glittering stars. This is no small feat when you consider that Jessica and John have seven children ranging from 5 to 16 years old. But the couple welcomes challenges, including fostering several children and even planting a church in Joliet, Montana. They perceive camping as a perfect way to connect with their children more closely and share God's creation with them. While the renovation wasn't the easiest project this family has taken on, the rewards have been clearly expressed in smiles, laughter, and a release from the pressures of daily life for everyone.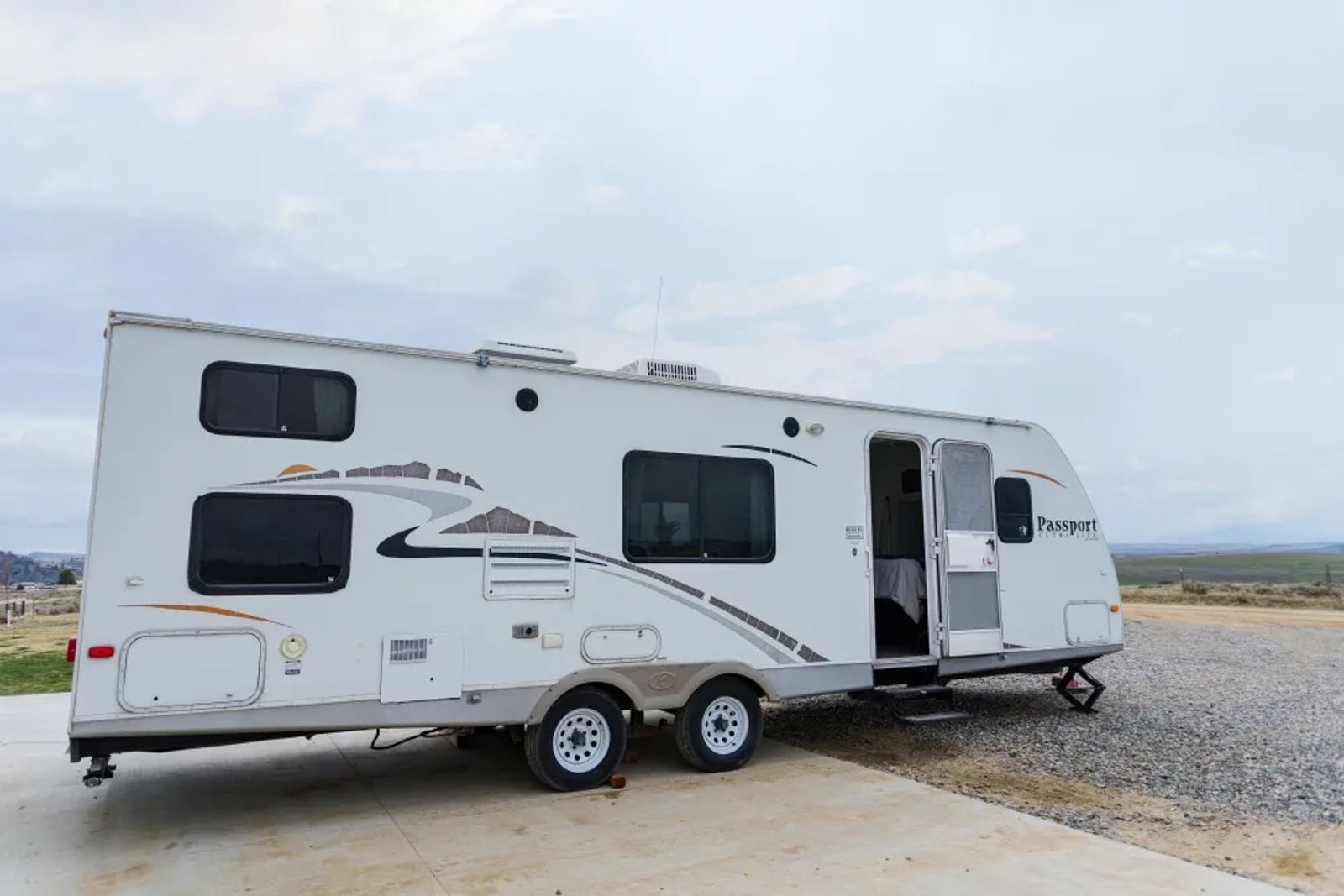 Whether you need a break for a few days from any place with a wifi signal or you feel like taking a family road trip in the comfort of your own accommodations, a vintage camper is a great way to spend time together, making your home-away-from-home without spending too much cash. In fact, "faux vintage" has recently become a popular trend for RV and camper owners. So grab yourself a camper in need of some love and make it your own with a bit of love, creativity, and sweat.
Seriously. It's Montana. Get rolling, people.
Originally printed in the July 2021 issue of Simply Local Magazine
Never miss an issue, check out SLM's digital editions here!