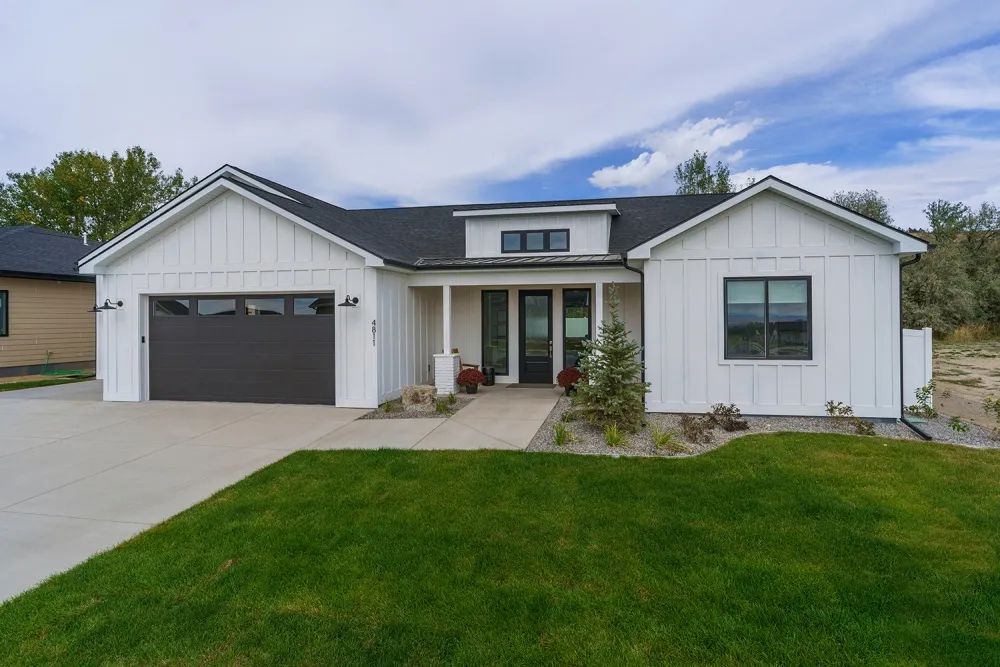 Michael Christensen Homes: Where Elegance & Style Comes Standard
May 2023
by maria weidich | photos by kelvin hammond
With over three decades of building custom and luxury homes across the Pacific Northwest, Michael Christensen was lured back to his hometown of Billings in 2022. Step into his model home at Silver Creek Estates, and it's clear he brings this same uncompromising quality and elegance to the Magic City.
At Silver Creek Estates, with its close-up views of the sun-drenched Rims, it's no wonder that Michael Christensen Homes is planting roots there. The premier subdivision in Northwest Billings practically sells itself with its easy access to parks, schools, and shopping and numerous hiking, biking, and golfing opportunities nearby.
It's here that prospective homebuyers can experience the builder's craftsmanship, quality, and style firsthand by touring their model home. This offers a unique experience for the buyer to physically see and assess the home before committing to a plan. "Some people love it so much, they want to buy the model," said Maya Burton, Associate Broker with Berkshire Hathaway HomeServices. "But, it's not for sale. We are strictly using this to let people know what we're building."
When first entering the model home at Silver Creek Estates, you'll be taken in by the massive entryway. "They love the openness and appreciate the spaciousness as you walk in," Maya said of homebuyers.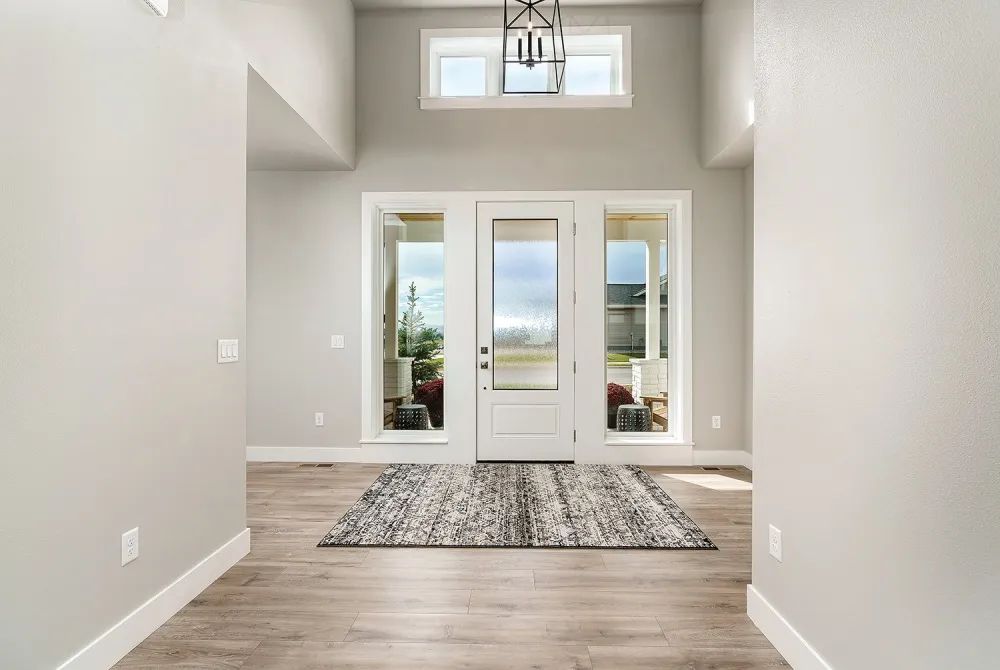 The grand foyer organically flows into the open-concept kitchen, dining, and living space.
Everything in the model home at Silver Creek Estates is considered standard, with very few exceptions. "We didn't want it to be a totally loaded model where you have to tell clients that's extra, that's extra," Maya explained. "People know up front, and it helps them visualize it and buy it before it's even finished." Some buyers want precisely what they see in the model home as it is, but people like the option to add upgrades, too. Michael Christensen added, "You have track homes, and you have custom homes. We have a blend of those two, offering a personalized experience in one of our floor plans."
The 3-bedroom, 2.5-bathroom, zero-entry floor plan is attractive to many buyers, Maya said of their homes at Silver Creek Estates. "It's perfect for single people, couples, and those who are downsizing. It's a very pleasing floor plan." While all the homes are one of five nearly identical floor plans, each exhibits a unique exterior and roof line.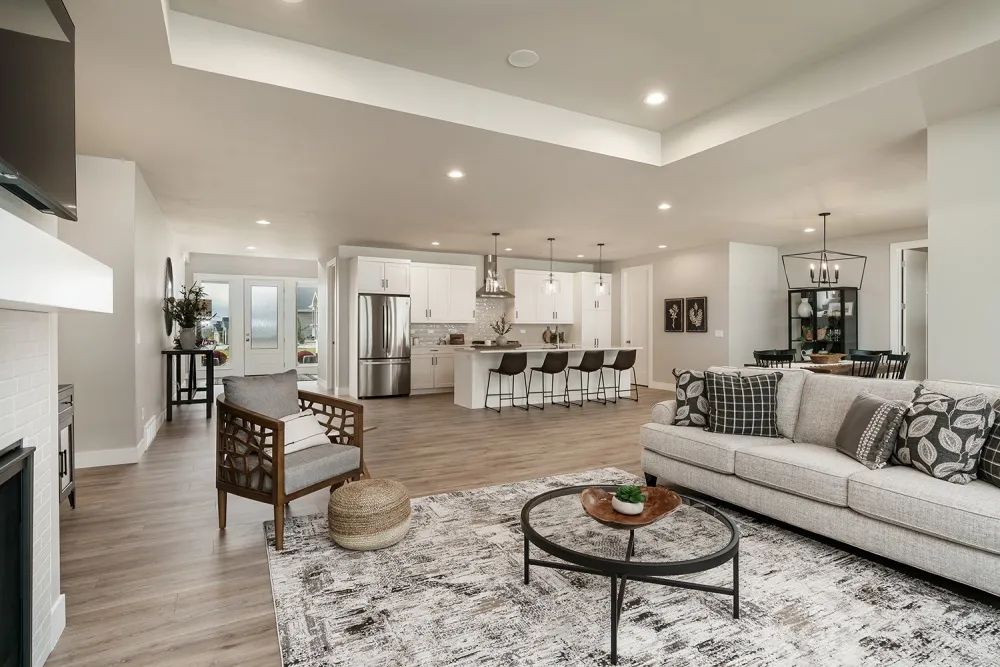 The 9-foot ceilings and airiness of the ample space lends plenty of room for big dinners, gatherings, and entertaining.
While the square footage of the floor plans is considered average (the model home is 2,380 square feet), everything about Michael Christensen Homes feels airy and spacious.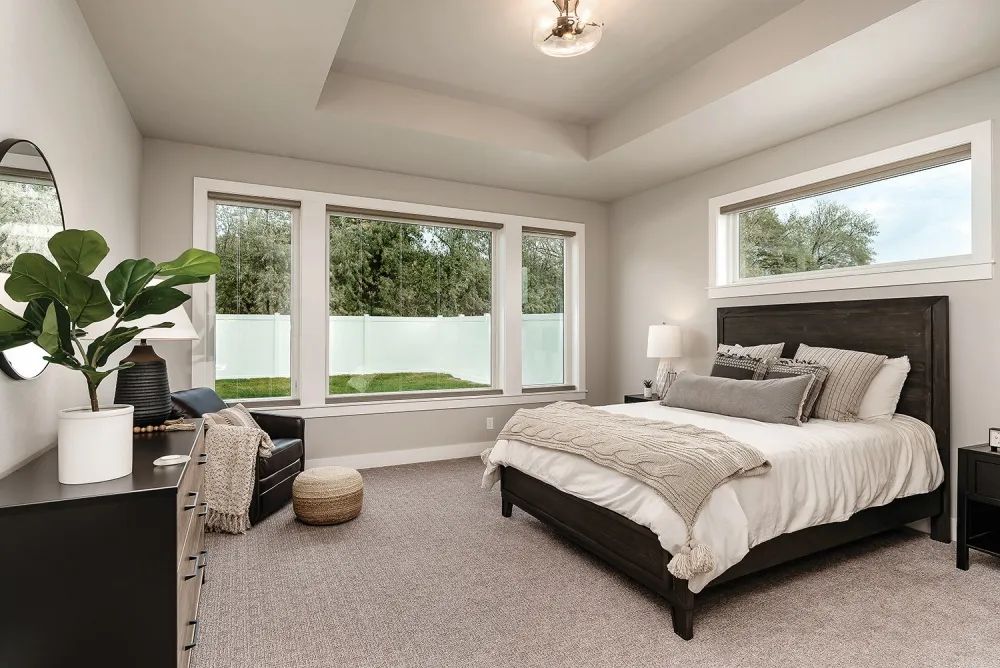 The grand suite is striking with its extra-large windows, massive shower, soaking tub, and adjoining walk-in closet.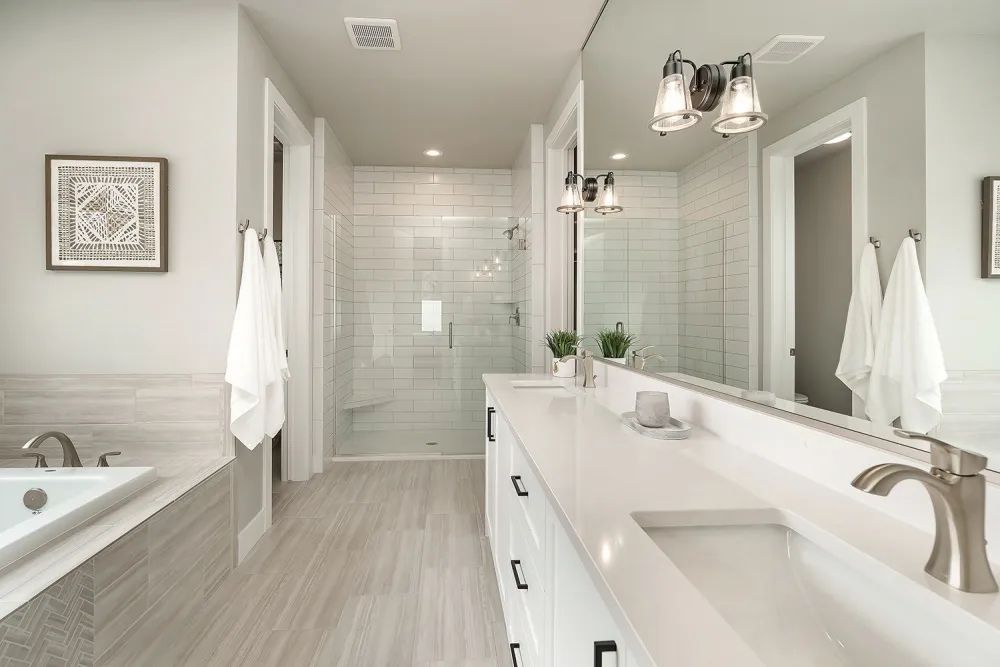 Exit the home through the massive eight-foot slider window to the covered concrete patio adorned with a stunning pinewood ceiling. The welcoming outdoor gas fireplace and designated space for an outdoor TV all come standard. Gold Creek borders the backyard, adding an extra layer of solitude and privacy to the home.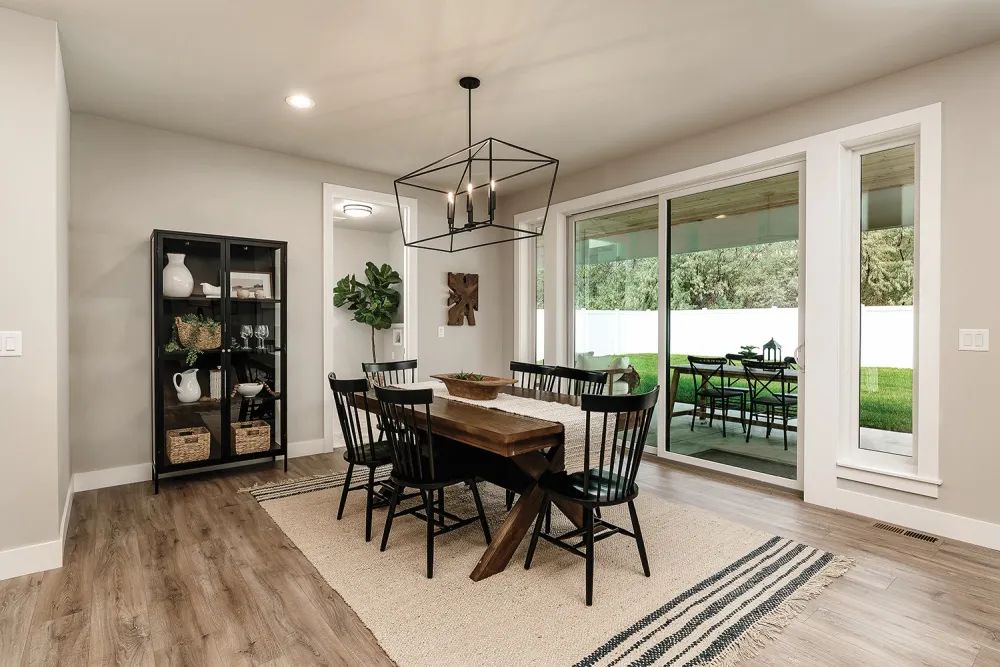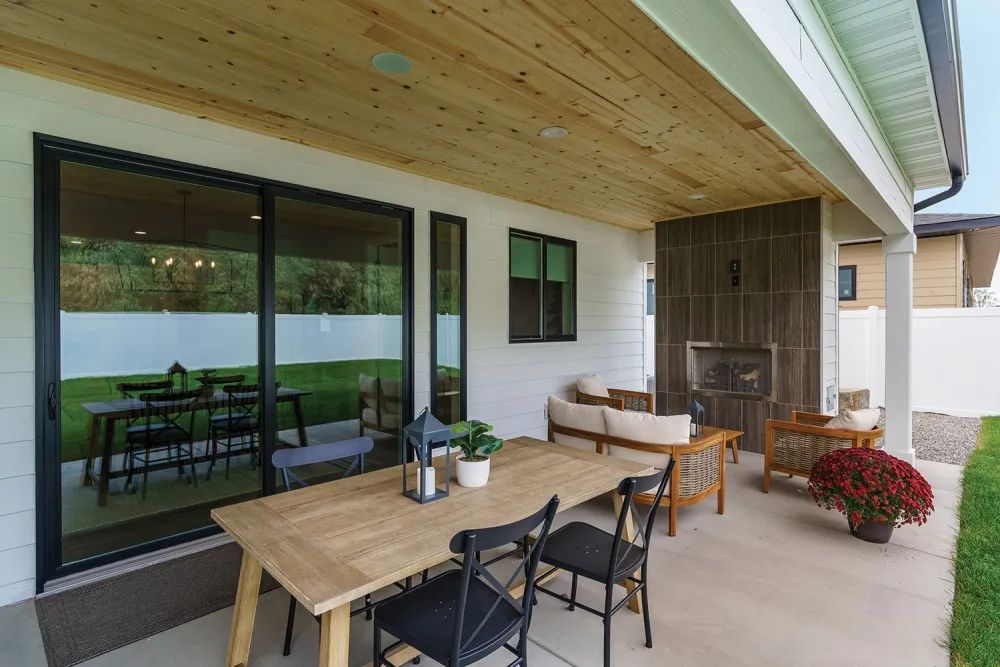 Guests and homeowners alike will be delighted with the home's backyard livability.
Montanans love to get out and enjoy the outdoors, and Michael Christensen Homes delights and delivers with its colossal three-car garage built standard for every home. The oversized third bay is perfect for RV or boat storage.
Once under contract with Michael Christensen Homes, homebuyers meet with a design consultant to make the house their home. Need more cabinets in the laundry room? Prefer different countertops in the kitchen? "We'd love to do that," Michael said. "We're going to customize the house to fit your needs. Your home, your way."
Learn more and take a virtual tour of the Michael Christensen Homes' Silver Creek Estates model at MichaelChristensenHomes.com.
Originally printed in the May 2023 issue of Simply Local Magazine
Never miss an issue, check out SLM's digital editions here!