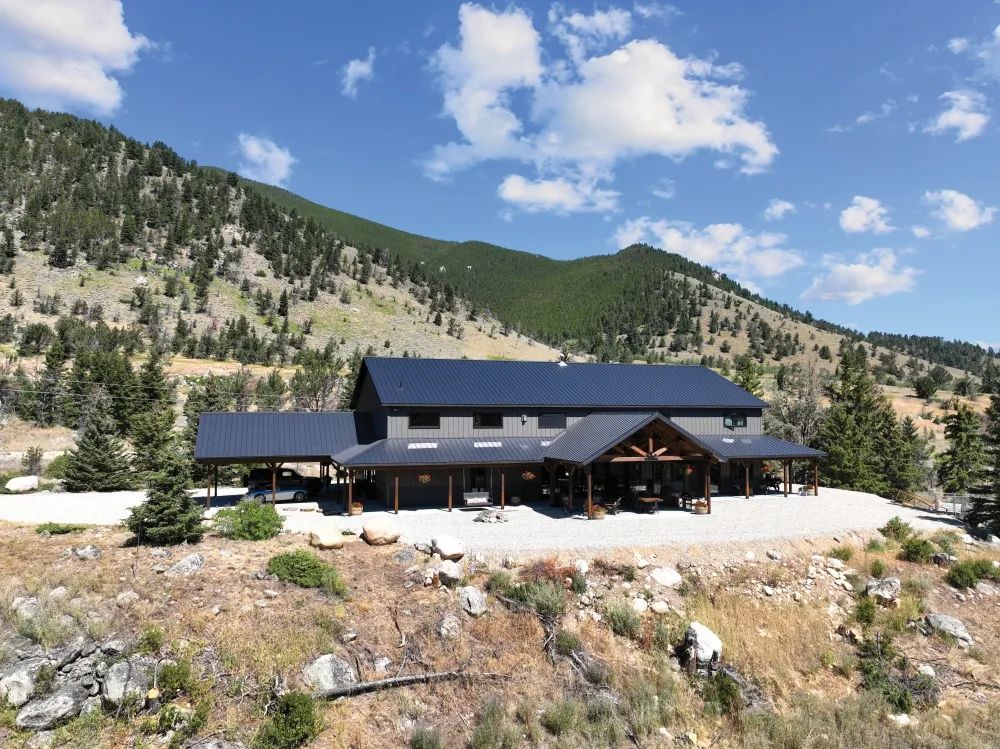 West Fork Lodge: A Family's Legacy
October 2022
by stephanie toews | photos by nathan satran
Jay and Joni Hancock have kept their roots in Montana with a lodge they've lovingly dubbed West Fork Lodge, but this dream began long before the build.
In the late 1950s, Jay's father, Ken Hancock, purchased the land, which included 150 acres and a small cabin up Silver Run in Red Lodge. Ken was instrumental in developing the Red Lodge Ski Area and the Silver Run Ski Club race camps, and "he understood the magical beauty of Red Lodge and the possibilities for development," Joni says. "Jay spent summers in Red Lodge with fond memories of working for his dad from a very young age."
When Jay's dad died in 1969, his mom, Dorothy, sold off all but 17 acres. After eventually remarrying, Dorothy and her new husband Ed built a sprawling ranch house on those remaining acres in 1975, where they lived for almost 40 years. When Dorothy moved into assisted living, Jay and Joni decided to sell Dorothy's home as they were well-established in Washington State. In 2019, when the home was under contract, it burnt down, and Jay and Joni faced more decisions. Ultimately, the Hancocks decided to rebuild a vacation home on the spot where Dorothy and Ed built their home.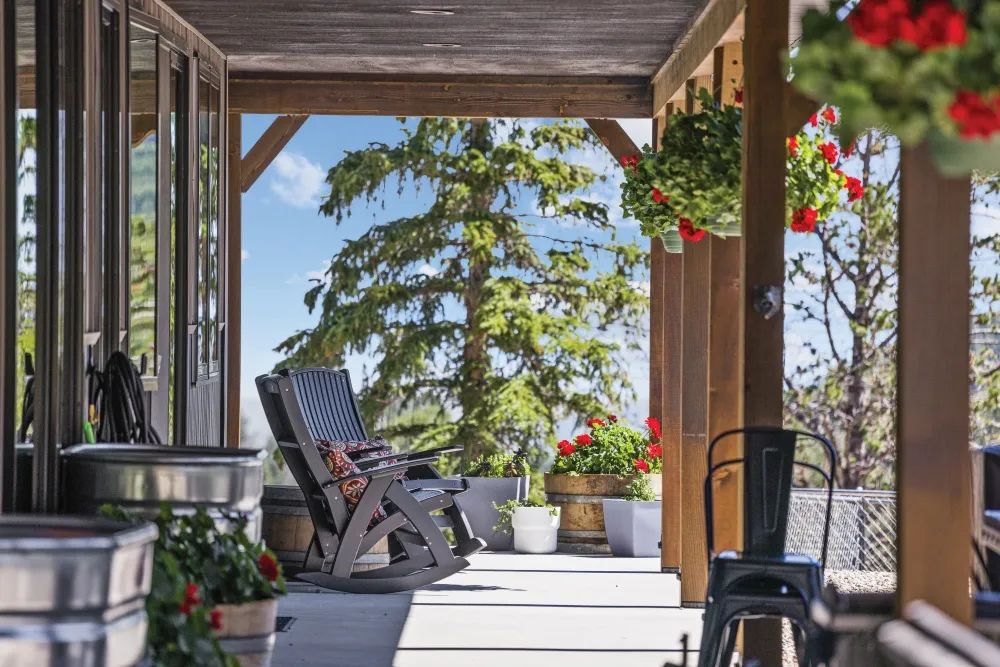 Red geraniums can be spotted throughout the property and are a beautiful reminder of Dorothy's favorite flower. Joni says this was the most meaningful outdoor element because "it made me think of Dort, as we called her, every time I looked at them."  These rocking chairs outside the primary suite were purchased at the Red Lodge Amish store West Bench and are a favorite place for early risers, Jay and Joni, to sip their morning coffee and watch the sunrise.
Montana Roots
Throughout their marriage, Jay and Joni have lived in Nevada and Washington State, each for 15 years. Yet, both felt strongly that somehow their roots were still in Montana. When the opportunity arose to build something to suit their family in Red Lodge, Joni says, "It just resonated with us that the next 15 years of our life needed to be about family."
This home was built to provide a place to hold all of their family, including Jay and Joni, five children and their spouses, and seven grandchildren.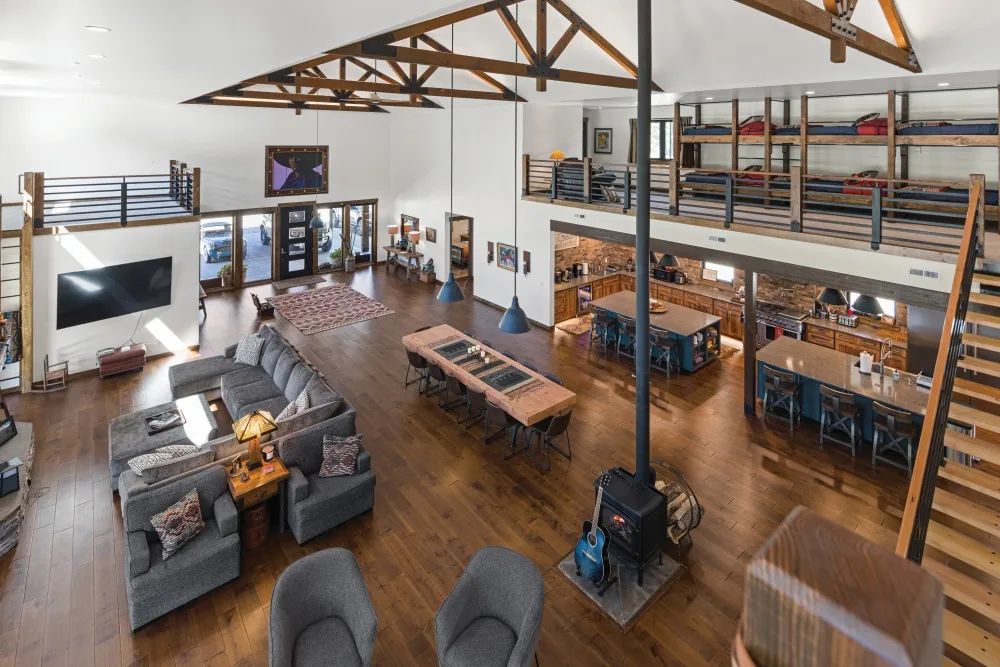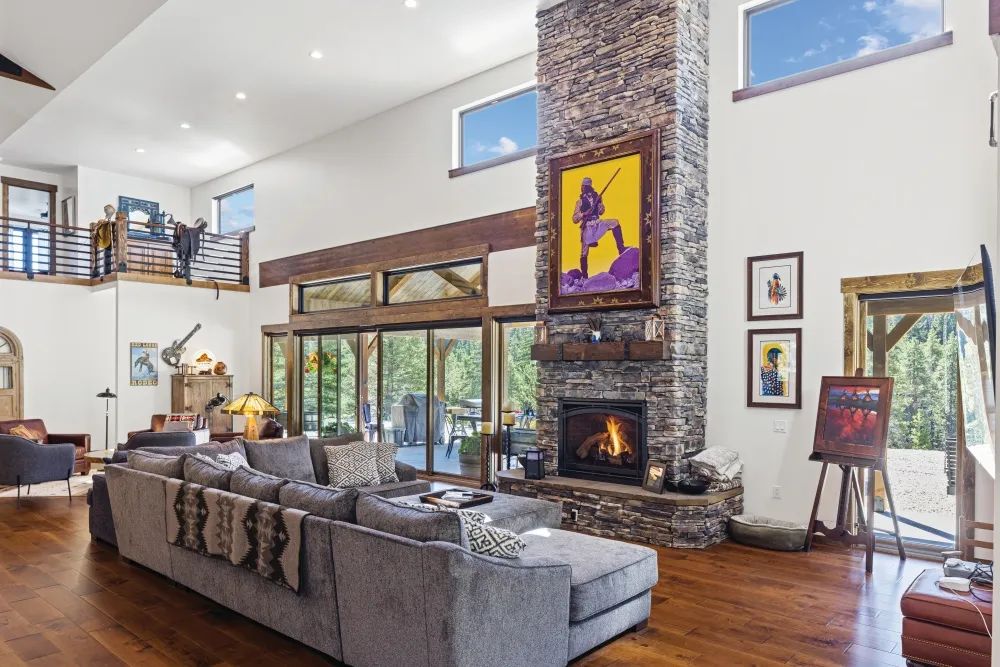 The Hancock's vision was "to provide a comfortable, low-maintenance home that would stand the test of time and hard use." They landed on the idea of a barndominium because they wanted "a big, open entertaining area that all of our family could fit into at one time." After Jay's niece, Kelly Coleman gave them the name of builder Charlie Brewer of Brewer Built Homes, Jay had several conversations with Charlie, and they enlisted him for the job.
"Our home is built to withstand just about anything. Charlie calls it the 100-year home, and I believe it will last much longer than that if lovingly cared for.
-Joni Hancock
Charlie has been a licensed and bonded contractor in Oregon for over 30 years, and he moved to Montana three years ago to be near all his kids and grandkids. Before his move, he completed a 5,000-square-foot ultra-contemporary home in Oregon. While the West Fork Lodge is his first project in Montana, his experience is vast in everything from golf course communities to ultra-contemporary homes, barndominiums, livestock barns, custom-built homes, and more. His current project is a large-scale conference center at Camp on the Boulder. Charlie says, "We are building these buildings to make them look like they're planted there."
The Hancocks are very pleased with Charlie's professionalism, saying, "Charlie was amazing. He is so down-to-earth and family-oriented, so he understood what we were trying to accomplish with this very large home." Charlie brought the couple's ideas to life with very little explanation, and he was incredibly flexible the few times they needed something changed.
Dining
"Everyone has a seat at our table."
When asked about the designer of their lodge, Joni admits, "I designed the home." The couple has remodeled five homes in their 30+ years of marriage, doing much of the work themselves. Joni took the best elements from their favorite homes and "very intentionally thought about spaces for each family as well as for the whole group to be able to cook and eat together."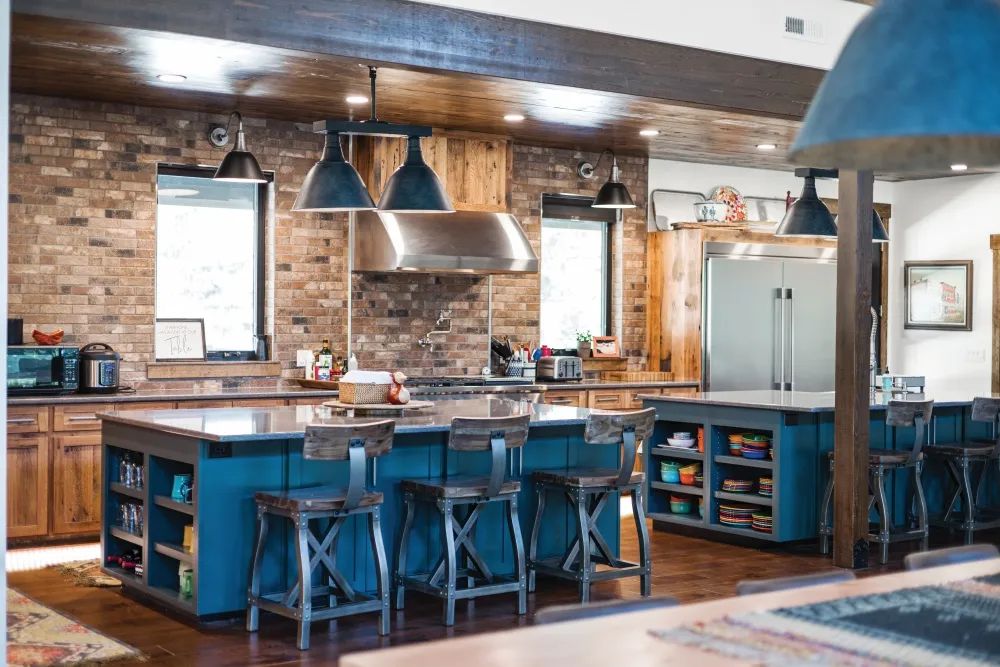 The brick kitchen tile was a nod to the industrial component found throughout the home in the staircase and banisters that Jay designed.
Joni says, "I think my favorite space inside is probably the kitchen. We have a lot of really good cooks in our family. And when you are feeding 20+ people for every meal, the space has to accommodate a lot of people prepping and cooking." This room is where Joni spent the most time thinking about the finishes. "We kept the kitchen timely with the reclaimed white oak cabinets, and the neutral, yet rich, dark green for the islands."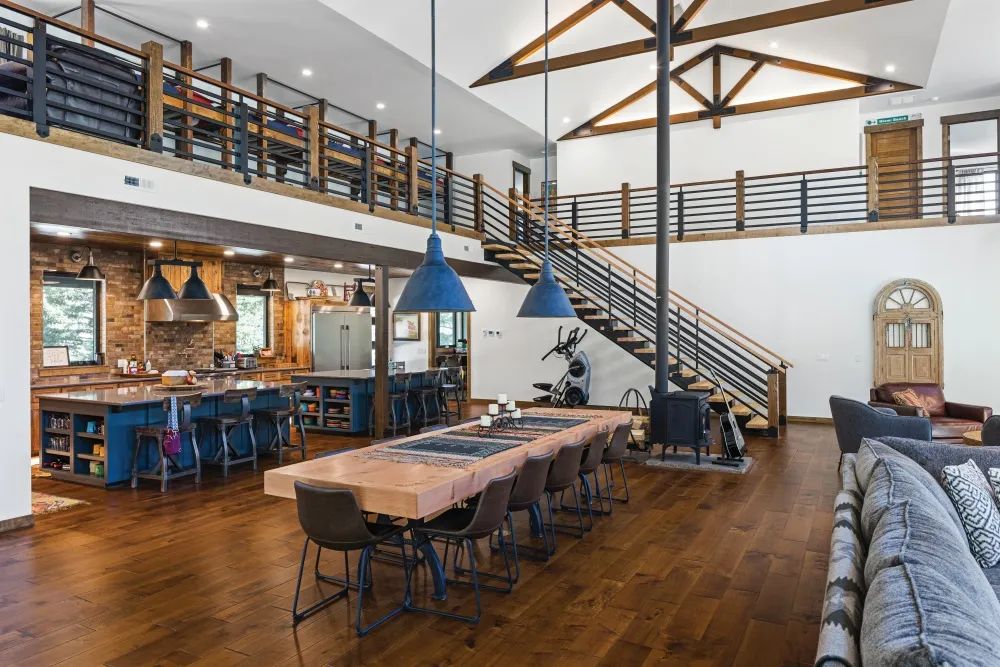 The dining table made by cabinetmaker Gordon Smith is 12 feet long and 42 inches wide and can accommodate 14 people around the table.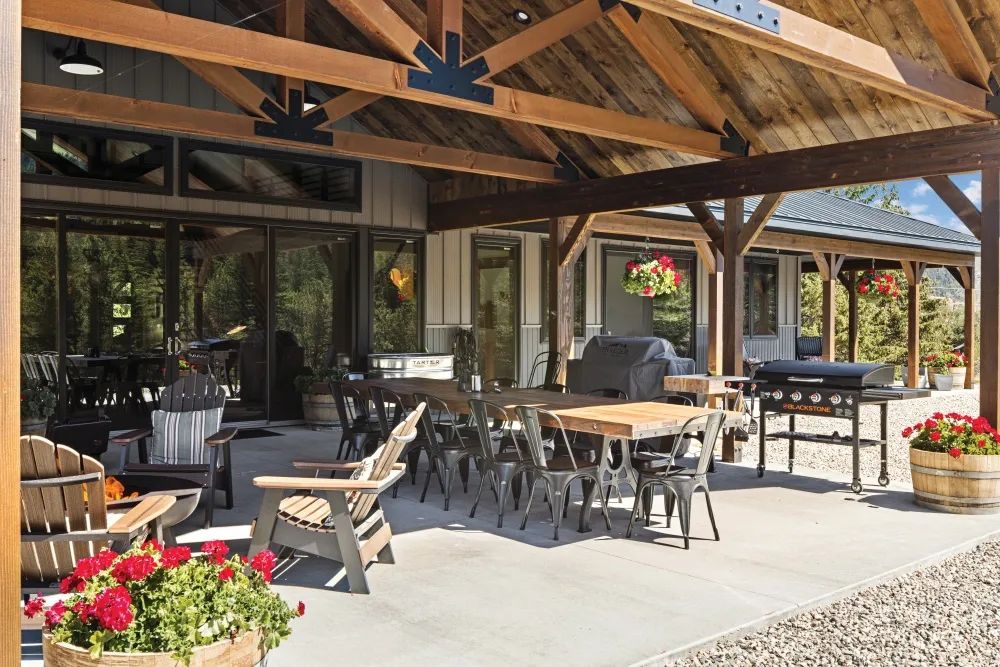 Jay built the large outdoor table with the help of their builder, Charlie.
Sleep Spaces
Joni selected comfortable bedding and sewed custom curtains in the upstairs bedrooms. She explains, "My mother was an amazing seamstress and taught me how to sew when I was about 12. Through the years of our marriage, being on a budget, I made many of the soft furnishings in our home. That way, they could be custom-made with beautiful fabric, but without breaking the bank!"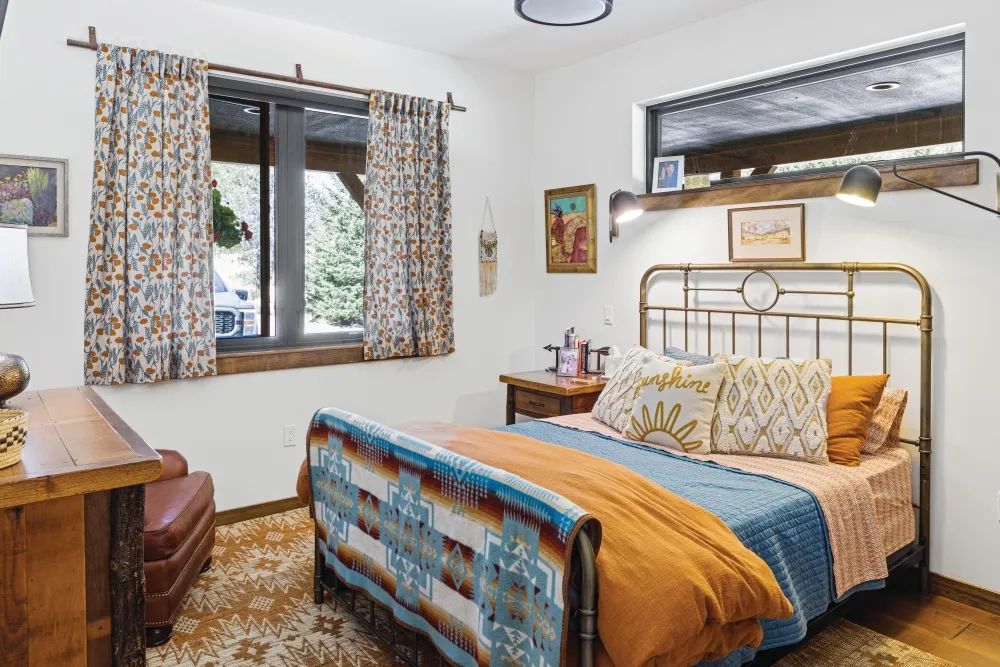 The blankets are mostly Pendleton that Joni has collected for several years because of their bold and colorful weaves.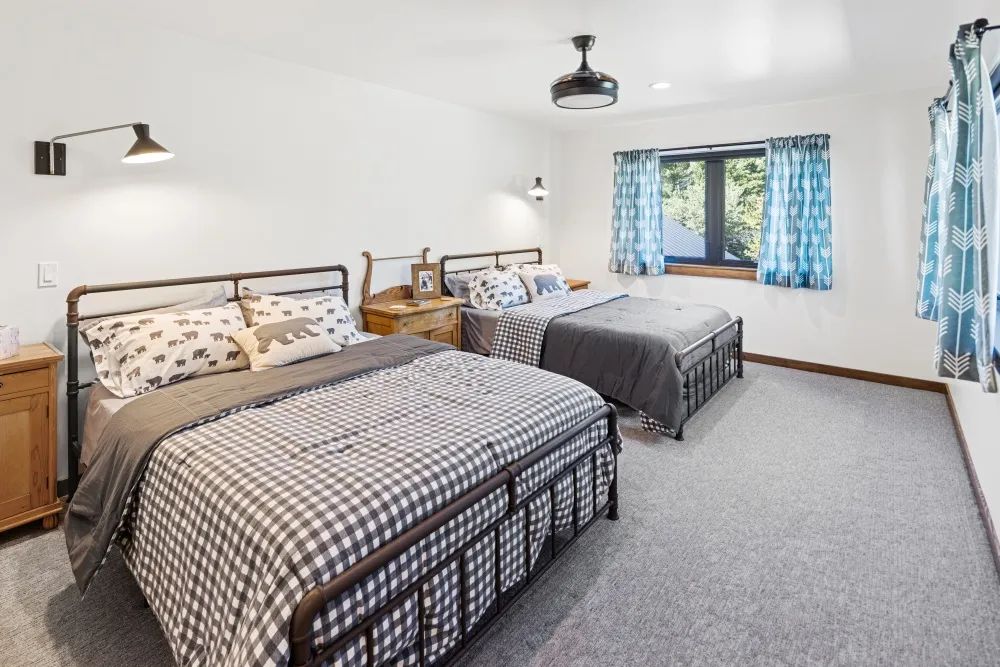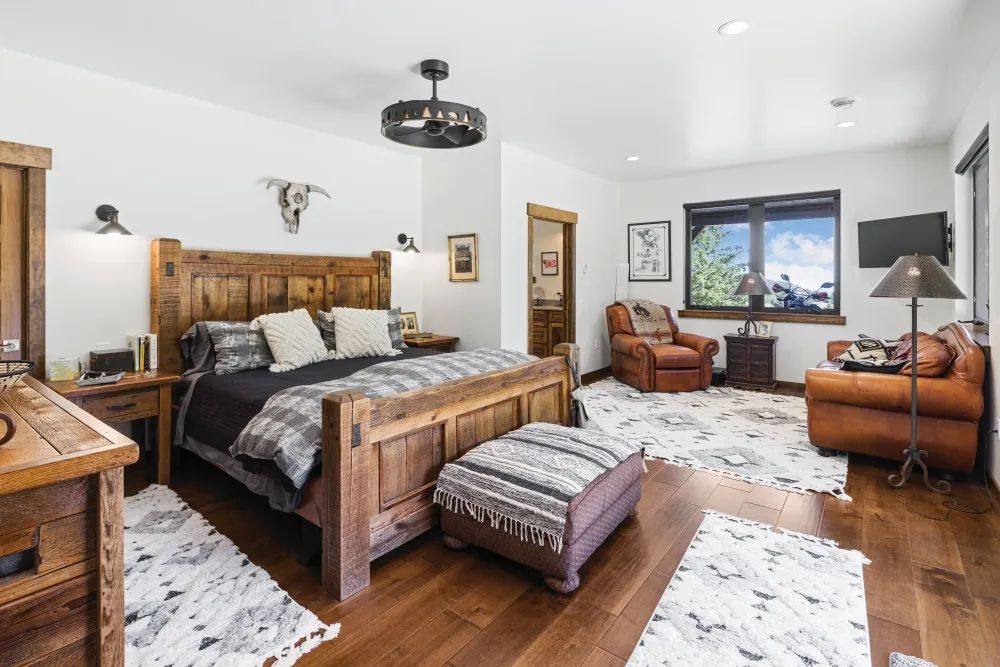 "We did not build West Fork Lodge to be a 'show home' but to be a beautiful legacy to our children. The hope is that the way we built and furnished the home will be timeless, low-maintenance, and efficient for large groups."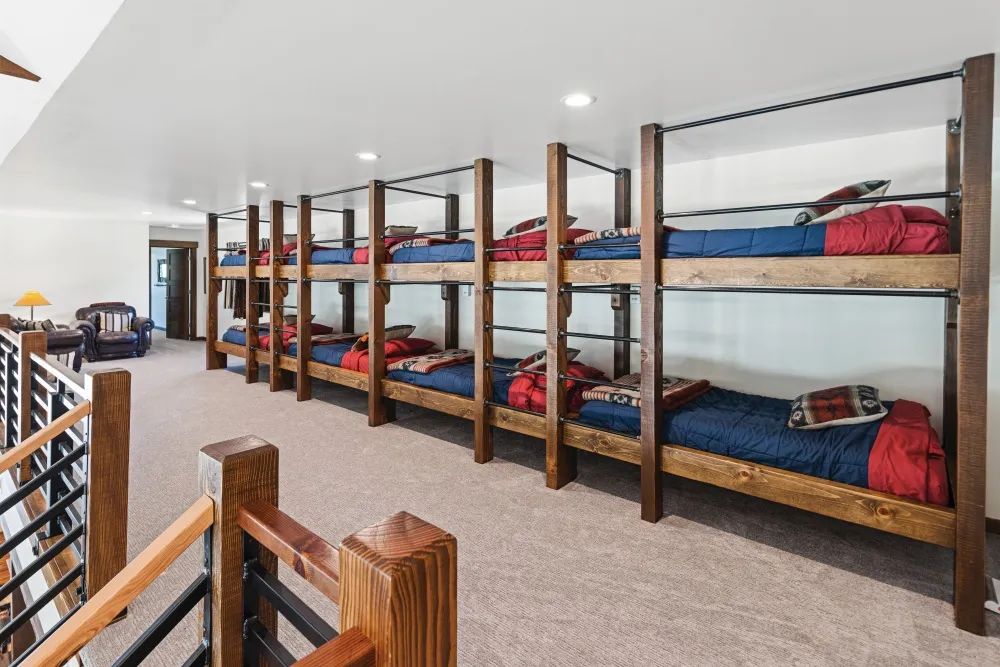 Special Thanks To:
Brewer Built Homes (Charlie Brewer)- 406.321.1002
Renewal by Anderson Windows- 406.259.3994
Royal Fabrication (Alex) truss brackets, post bases- 406.446.0313
Ds Insulation (Scott)- 406.252.6688
Geo Tech Inc. (Kevin Nelson) HVAC, radiant floor heat- 406.248-5700
Ferguson Plumbing- 406.252.4442
ProTech, steel Siding and roofing- 888.217.8335
Weststate Electric- 406.245.5864
Carpet 1 Flooring, tile, carpet- 406.272.0093
Hannesson Homes, Countertops - 406.409.4117
Geering & Co., wood stove- 406.252.2068
Fireplace Center, fireplace- 406.259.9690
Le Cabinet Shoppe (Gordon Smith)- 406.628.8222
Superior Concrete (Keith and Brian Epley)- 406.652.2746
Fisher Sand and Gravel, concrete supplier 406.657.9603
Thomae Lumber- 406.256.0740
Pride Industries, trusses- 406.655.1200 
Wiedrick's Crane Services (Dan Wiedrick)- 406.656.4674 
Structural Engineering (Phil Green)- 406.259.8700
 Lines and Designs (Brian Kenny) architecture- 406.896.0083
Keeland Excavation (Ryan Keeland) excavation and foundation- 406.206.3742
LaSalle Plumbing and Renovations (Andy)- 406.366.9720
Lund Drywall (Michael)- 406.896.8737
Red Lodge Contracting (Cameron Cooper Construction) painting contractor- 406.425.2870
Celtic Contracting (Grey Fitzpatrick) exterior stain work- 406.270.7888
First Interstate Bank- 406.255.5000
Red Lodge Glass Windows and Door, mirrors and shower doors- 406.446.3314
Originally printed in the October 2022 issue of Simply Local Magazine
Never miss an issue, check out SLM's digital editions here!