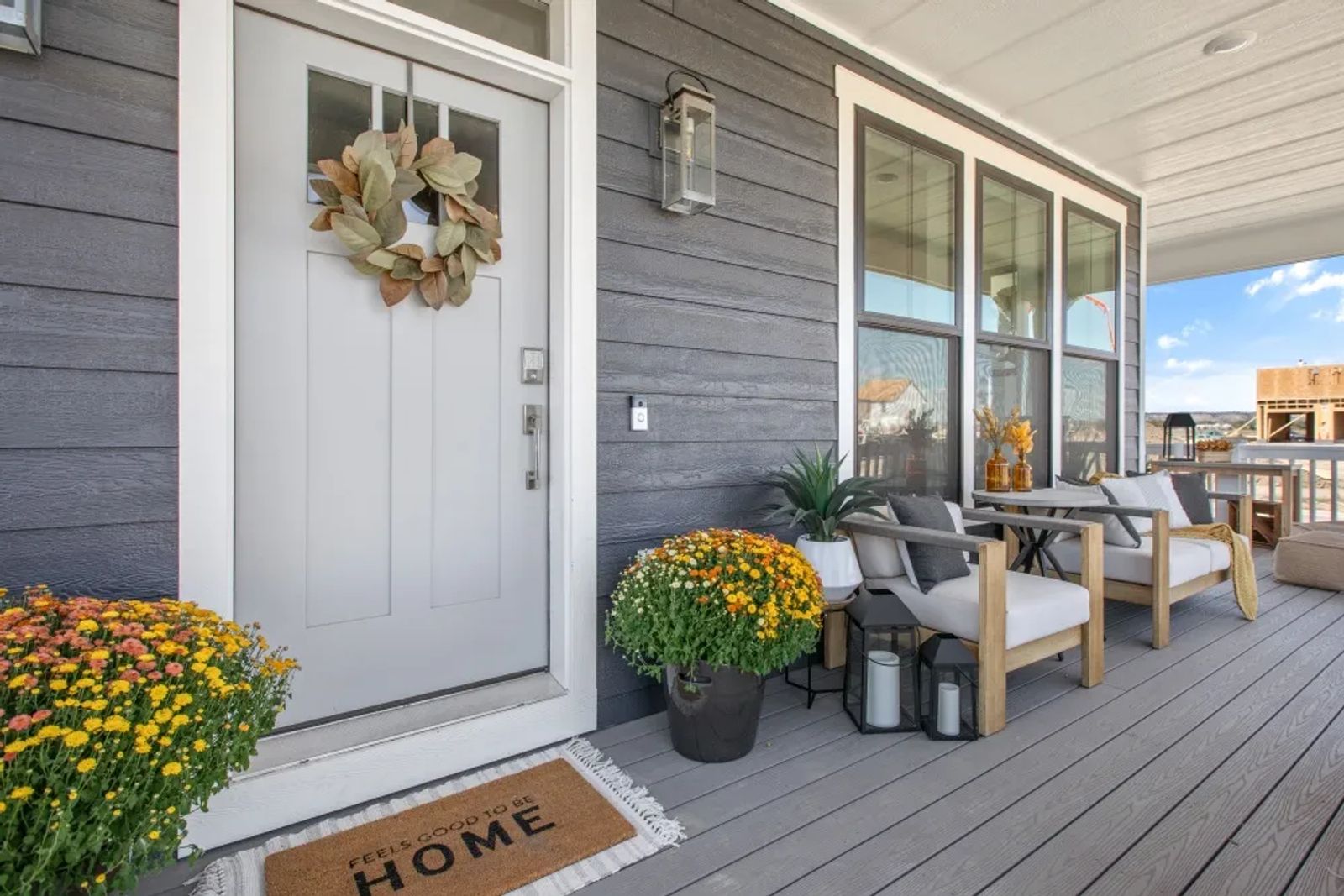 Falling for Front Porch Style
October 2020 | by carolee mccall smith, photos by nathan satran
The front porch was once an essential element of American architecture, it created a transition between the public landscape and the private world. Life happened on the porch. Whether it was saying hello to passersby, listening to the sound of children racing by on their bikes, or enjoying lemonade with a friend. It was a place for awkward hellos and long goodbyes.
At some point, the porch became less important, and we moved away from that space in our architecture. But with the rise in farmhouse popularity, porches have made a comeback! It leaves a new generation scratching their heads and asking, "Now…what do we do with this space?"
The porch sets the tone for guests to feel welcome upon their arrival at your home. A bare porch gives off a cold and unwelcoming vibe. The porch also allows you to embrace the uniqueness of each season with accents. I typically like to keep my accents subtler than a bang-you-over-the-head-with-scarecrows-and-leaves setup. A simple change in pillows and plants goes a long way to embracing the season.
Rusty oranges and yellows contrast beautifully with the deep, blue-gray paint on this home.
When styling your porch, first and foremost, treat it as if it were a room within the house. Not only will it feel inviting to your guests, but its charm will also pull you outside to make the most of your space. If you have the depth, try opposing furniture, facing both inward and outward to nurture conversation. It will feel like an outdoor living room.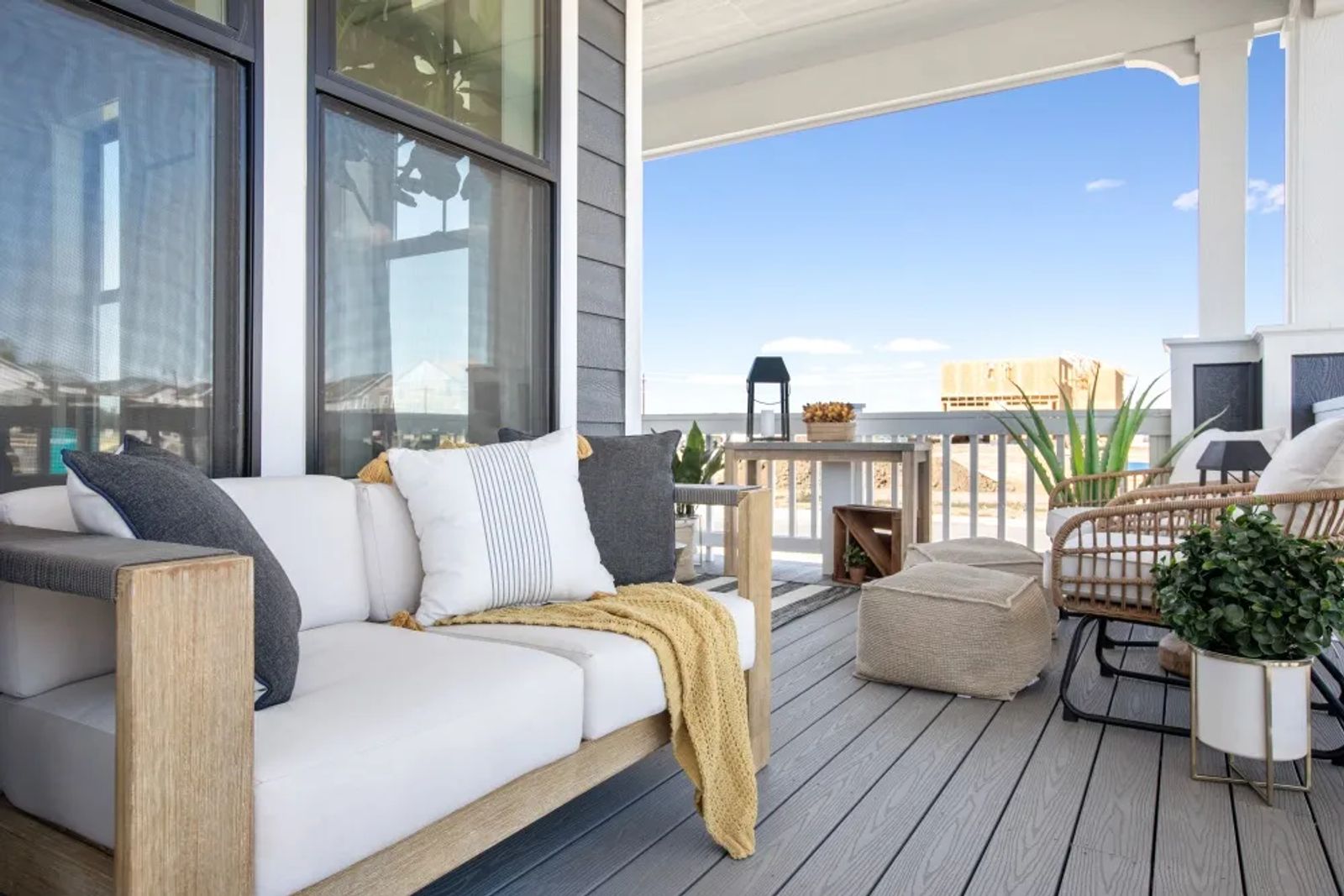 Many porches don't have the depth necessary for oppositional seating, and that's okay. A linear setup is great for intimate conversations or chats with neighbors passing by on the sidewalk.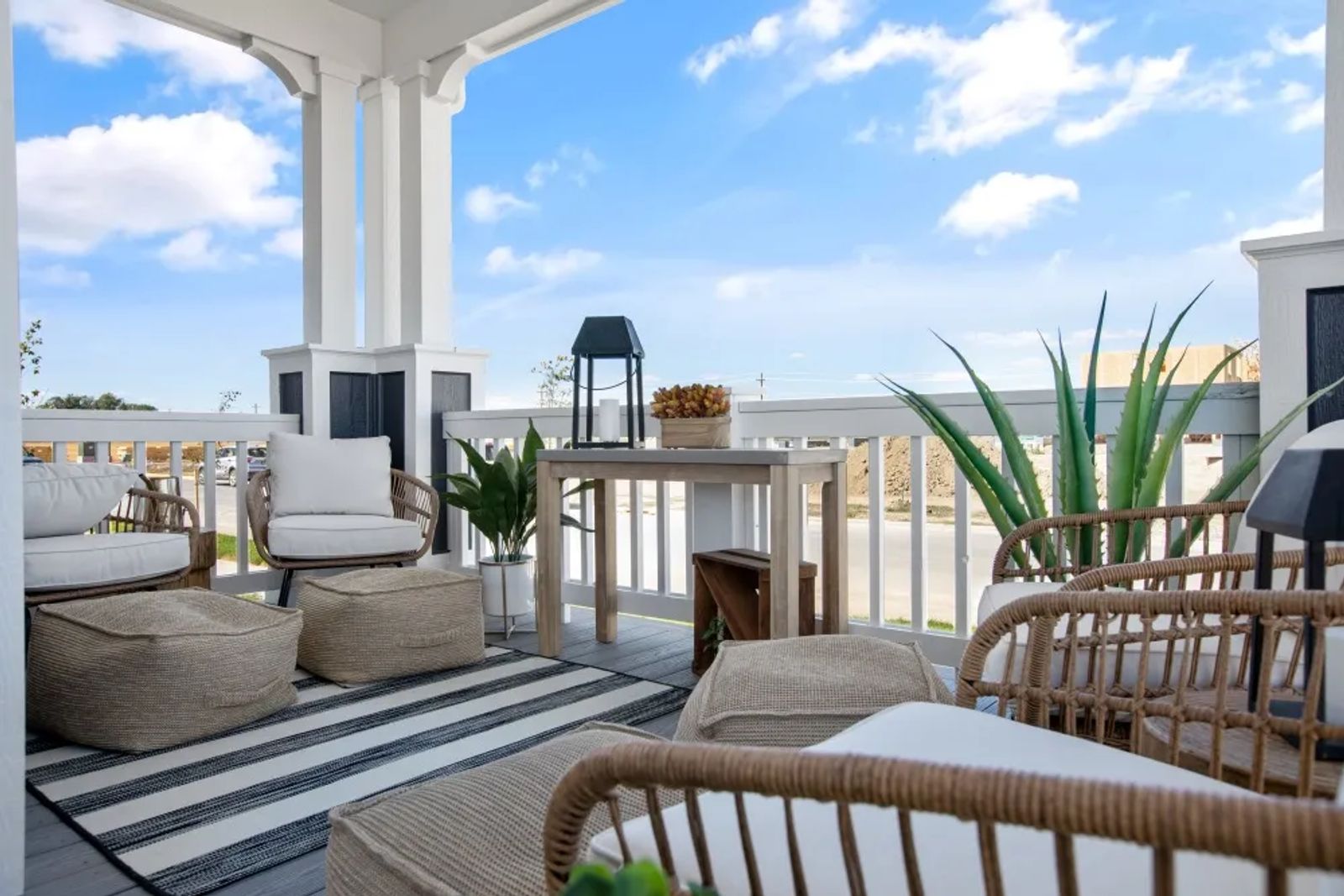 Perfect for socially distanced chats!
Make a great first impression.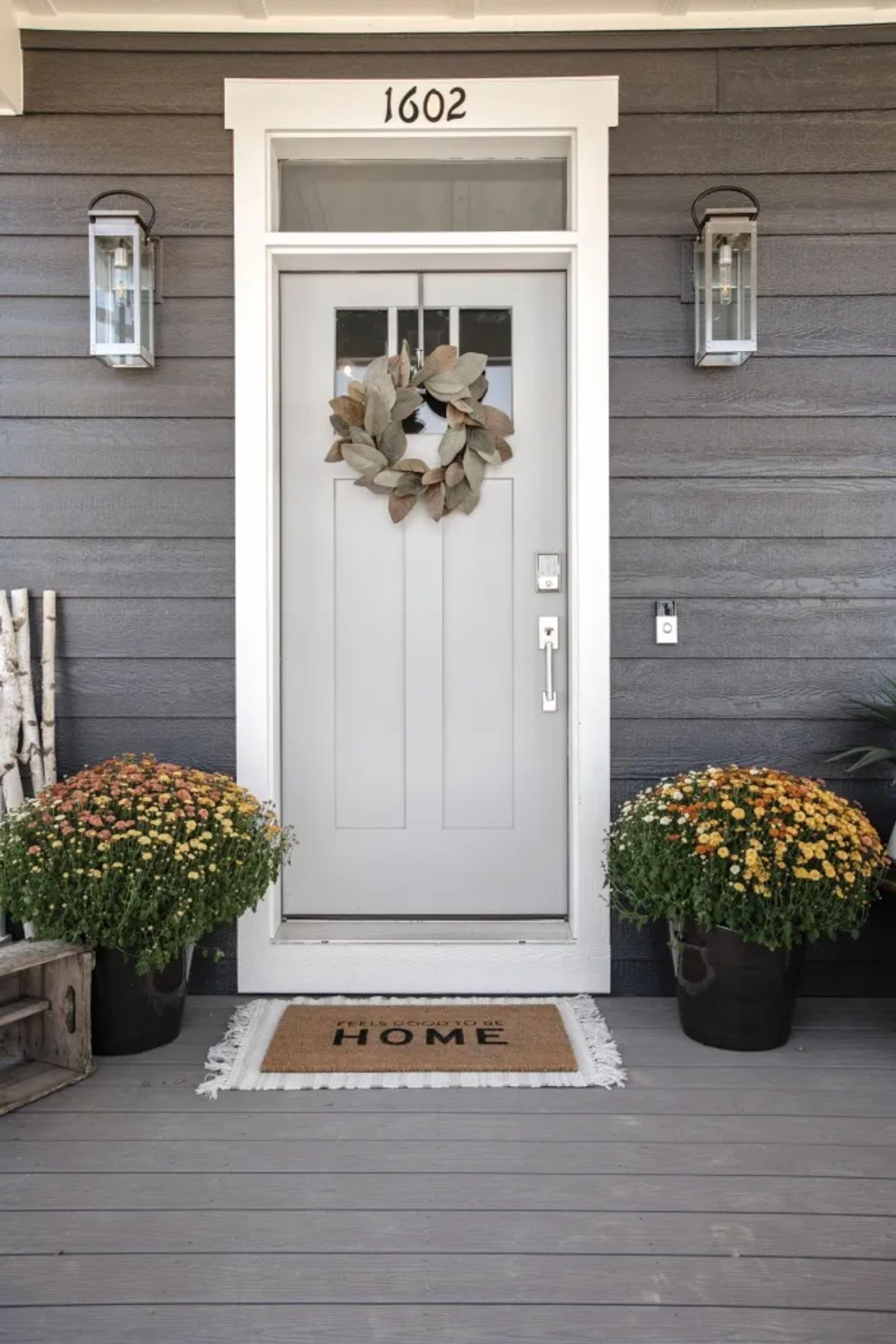 Here are a few more tips to make the most your outside room:
Keep the front door the focal point. After all, that's the first thing people see when they come to your house. Frame the front door with large potted plants. Mums are a great fall choice, and they're relatively inexpensive, so I'm not too upset when I end up killing them. (It's an accident! But the ones in the pictures are definitely goners by the time you're reading this.)
Use an entry rug. Have you ever noticed that front doors are always wider than entry rugs? Why is that? I don't have that answer, but place a larger flat weave rug under your hardy entry rug, to both soften it and give some visual balance to the front door.
Anchor your furniture with a weatherproof area rug. It's just as important outside as it is inside. Remember, we're treating the porch as an extension of the home. Layering furnishings is essential to creating a comfortable space. A rug will also help soften the porch material, especially in the case of concrete.
Mix textures. Although you can't go wrong with a classic rocking chair, I still like to incorporate softness into my porch as opposed to all hard surfaces. I chose furniture with cushions that are a light neutral so that I don't have to worry about fading. Now that said, it gets dirty out there, so you need to be realistic and make sure it is durable enough to be sprayed down with a hose every so often. 
Change it up for different seasons. Another benefit of neutral cushions is that you can change out your accents seasonally. For instance, in the fall, use small touches of warm yellows and oranges to bring out the color in your mums (before they get all crunchy because you forgot to water them for two weeks). In the winter, change your accents to pops of red and green.
Keep a blanket handy. Again, get something that will wash up well because dirt happens. But not only are blankets a great way to add color and texture, but you'll also want to wrap yourself up in one on chilly fall evenings.
Add lots of plants. I don't think I've written about an area yet where I didn't add in, "get some greenery in there!" And it's true for the porch too. In fact, you can get away with even more plants on your porch than you'd be able to inside so bring that life up out of the yard! 
Growing up, my great-grandmother lived directly across the street from us. We'd sit on her front porch, drinking cranberry juice out of fancy teacups, surrounded by beautiful flowers. Every time I left, she'd stand near the edge and wave while I made my way home. (I miss her dearly, but I'm thankful she didn't witness what I've done to those mums.) What once was old is new again, and the porch has made its return. It's up to us to create a space that lives up to its potential. 
Originally printed in the October 2020 issue of Simply Local Magazine
Never miss an issue, check out SLM's digital editions here!