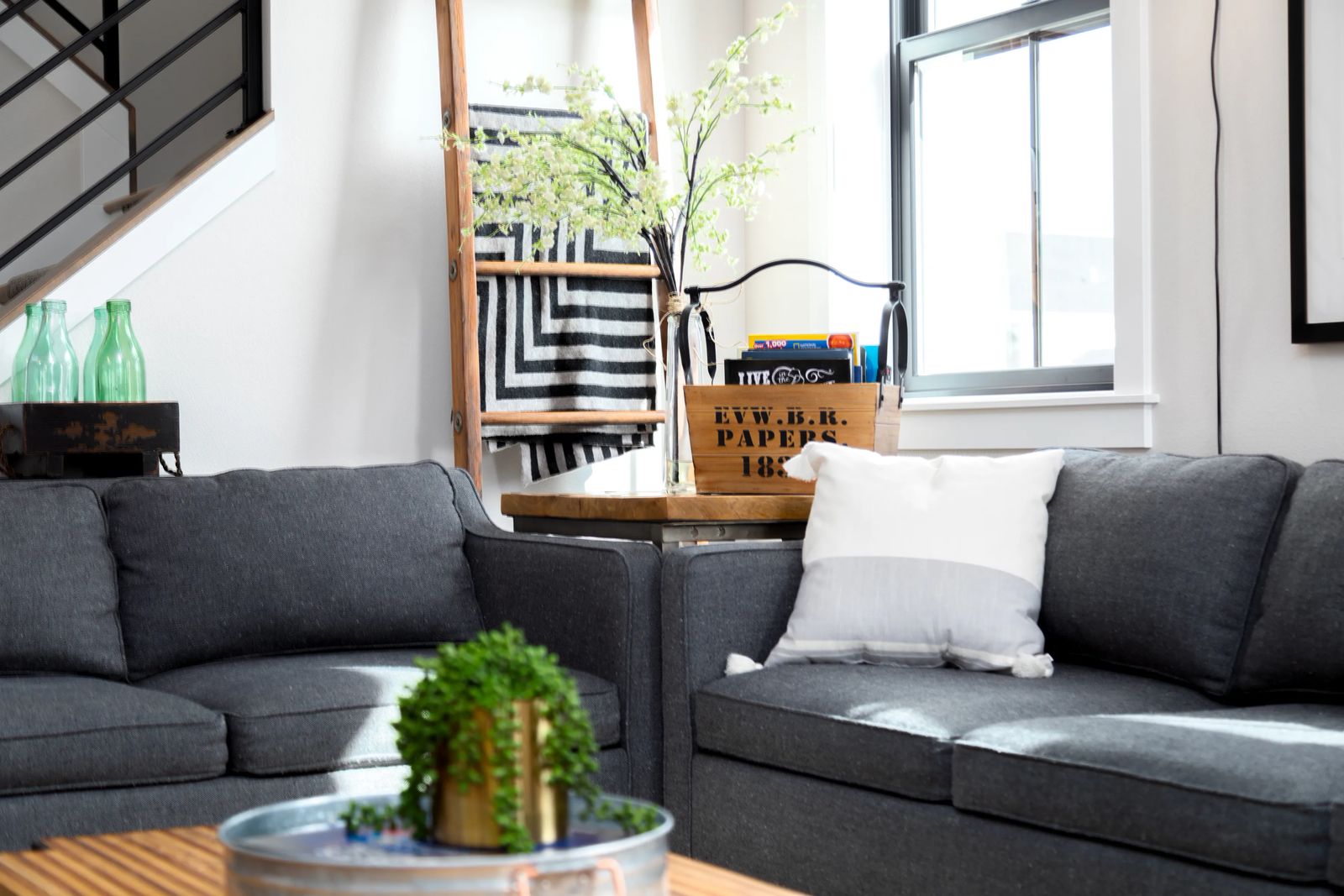 Green Scene: Styling Your Home with Houseplants
April 1, 2020 | by carolee mcCall smith | photos by nathan satran
Help your home feel refreshed by pulling the outdoors inside. Bold pops of green and varying textures create unique spaces and bring life to your home.
Mix it Up
Don't rush out and buy all the small houseplants you can find. Be sure to vary the size of your plants. A medium to large tree in the corner will go a long way in bringing life into the room while keeping the space from feeling cluttered with too many small pieces.
The fiddle leaf fig remains ever popular. Its large, leathery leaves soften the feel of the room while its vivid, green color creates a bold impact.
Are you tired of fiddle leaf fig trees? Try something unexpected like an olive tree. Its sage-like color pairs well with pops of jewel-tone colors.
Artful Arrangement
Styling bookcases can be particularly challenging. We want to fill them with the books we love, but even bookshelves filled with the most exciting books will feel lifeless without adding various textures to break them up. Try using plants as bookends to brighten things up.
Wood textures create a warm and inviting feeling, but it's helpful to soften them with some greenery. These cascading plants combine with the texture of the wooden pegboard wall to create a lively, unique focal point. (Special thanks to Jenna Jones at Salt + Sage Web Design for letting us get pictures of her great design.)
Bring spring inside with a bundle of flowering branches. Not only does it make your living room feel like a garden, they smell amazing!
Faux Show
Don't have a green thumb? Never fear, there are so many great faux plants to choose from today. While they might not pass close inspection by your gardening guru friend, they'll go a long way into pulling life into your rooms.
Faux plants are also typically less expensive than the real thing, so not only are you saving green (yep, I did that), but you also have a low maintenance friend. Just remember to dust them regularly so they don't give you away.
Full disclosure: due to allergies, we can only have faux plants in our house, and I love them. Besides, taking care of 3 kids and 2 dogs doesn't leave me with a lot of time to worry about plants' needs. So feel no shame in going faux! Be careful with faux flowers, though; they're usually easier to spot than faux plants. When using faux flowers, be sure to use them for brief periods. A bouquet of roses doesn't last for months, so change it out for a different arrangement often.
Go Natural
Continue bringing the outdoors into your space by using wood and stone. Neutral color palettes are still trending strongly right now, and adding different textures throughout will keep your space from feeling flat. Contrast smooth marble by mixing it with a rough wooden texture like a cluster of birch branches or a single Manzanita branch. Birch branches give off a casually cool vibe while a Manzanita branch feels unkempt and wild.
Originally printed in the April 2020 issue of Simply Local Magazine
Never miss an issue, check out SLM's digital editions here!