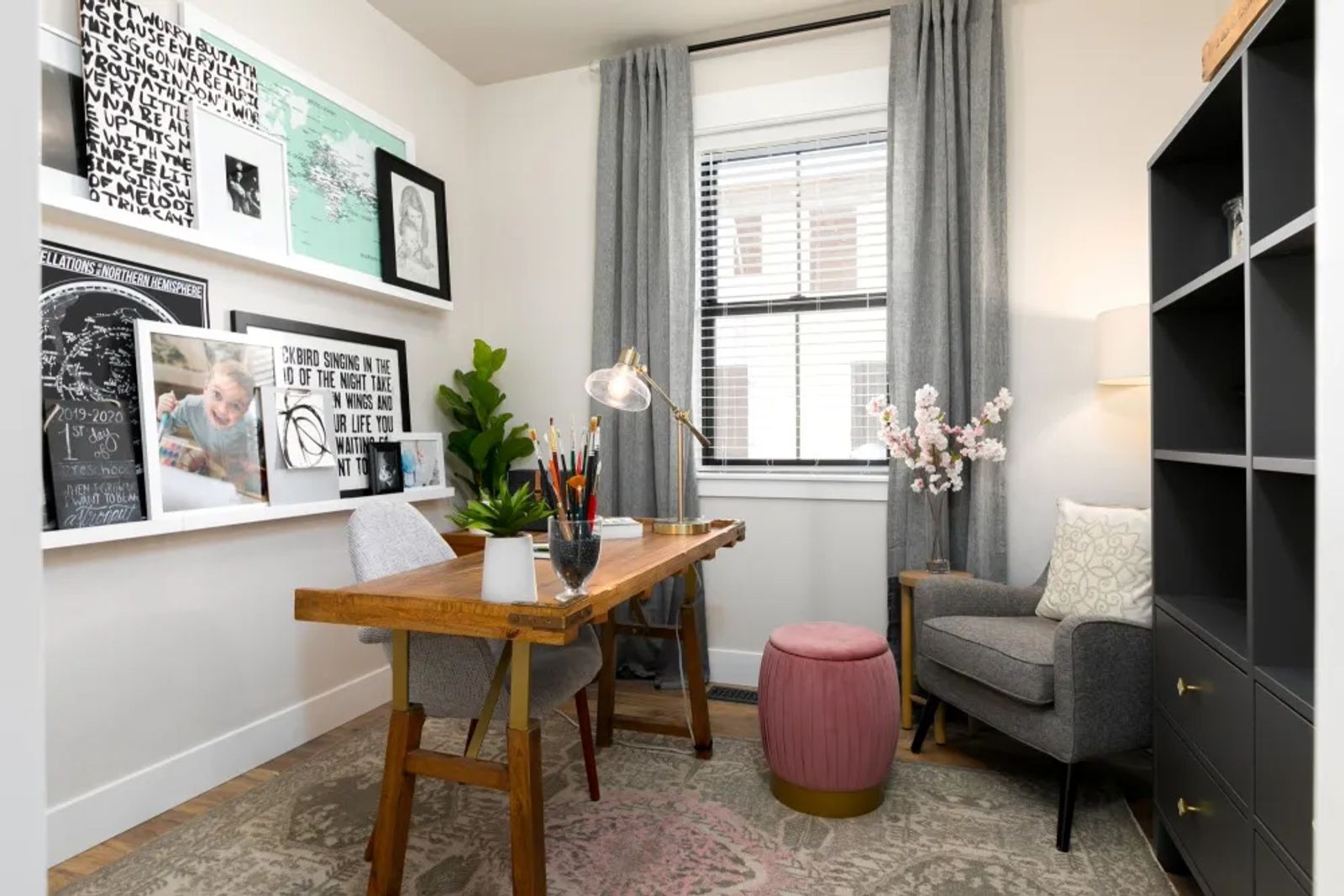 Curated by Carolee: A Home Sanctuary
May 2020 | by carolee mccall smith | photos by nathan satran
Your home is your sanctuary. These words have never rung more true for me than in the past few months. As a mom of three small children, I am presently balancing a full-time job with constant mothering and schooling. I never knew kindergarten could so challenge my sanity.
We each need a place to call our own no matter the circumstances, a place to unwind and mentally sort through the challenges of each day. Now, these places have become even more important. For me, those spaces are a small home office and my bathroom. And if I'm going to unwind, those places need to feel serene. If they don't, I find myself tensing up and thinking of all the things I need to do.
An office space should include the necessities to make it functional while simultaneously granting a level of comfort. This creates an environment that enables you to focus on the work at hand. A space like this doesn't need to be in its own room either. You could take a corner of your bedroom or living room to create a nook for yourself.
Once you have created a space that you want to be in, you'll find yourself sneaking in small opportunities to hide away with a book or work on your favorite hobby, even if it's just for a few minutes.
Complicated bathtub caddies that include an iPad holder, a phone holder, three separate trays for oils, salts, and bubble bath (the list goes on) are a dime a dozen. A quick search on Amazon reveals over 1,000 results. But we don't need to be texting and reading Twitter from the bathtub. Those are things we need to escape from for a few minutes. A simple wooden plank across the top of the tub provides the necessary tabletop for your glass of wine and maybe a waterproof kindle (I certainly have never mastered reading an actual book in the bath without getting it sopping wet). And it does it while giving off a relaxing vibe. The simplicity of the wood paired with its natural texture is calming. But why am I complaining about a silly thing like a bathtub caddy? It's because…
Clutter kills serenity.
Imagine sliding into the bath after a long, stressful day. You lean back, eyes closed, breathing in the steam. You slowly open your eyes and look around the room. You see…bottles and containers taking up every square inch of the countertop, a curling iron that you haven't gotten around to using in a week. Still, there it sits in its perpetual perch, along with toothbrushes caked with dried-on toothpaste. Your phone buzzes with notifications from its special cubby in that complex bathtub caddy.
Now you glance from place to place, continually seeing something else that needs your attention. You're sitting in the bath to wash the tension away; yet more is accumulating on your shoulders. Your moment of relaxation is gone.
So what can you do to reduce that cluttered feel?
My other favorite clutter-hiding move is to make functional storage beautiful as well. It's easy to leave makeup brushes in an old makeup bag that has ten years of blush build-up coating it. But it's not exactly pretty. Besides, it's a pain to find anything in it. Instead, put your brushes in a glass jar. The same goes for other oft-used products like cotton balls, q-tips, and soap. This way, they're right on hand when you need them while at the same time, they're creating texture in an area that can often feel too hard and smooth.
Now, more than ever, we all need moments to clear our minds and process our lives. By creating calming places in our homes, we give ourselves the space to let the weight of life fall from our shoulders, if only for a few minutes.
Originally printed in the May 2020 issue of Simply Local Magazine
Never miss an issue, check out SLM's digital editions here!