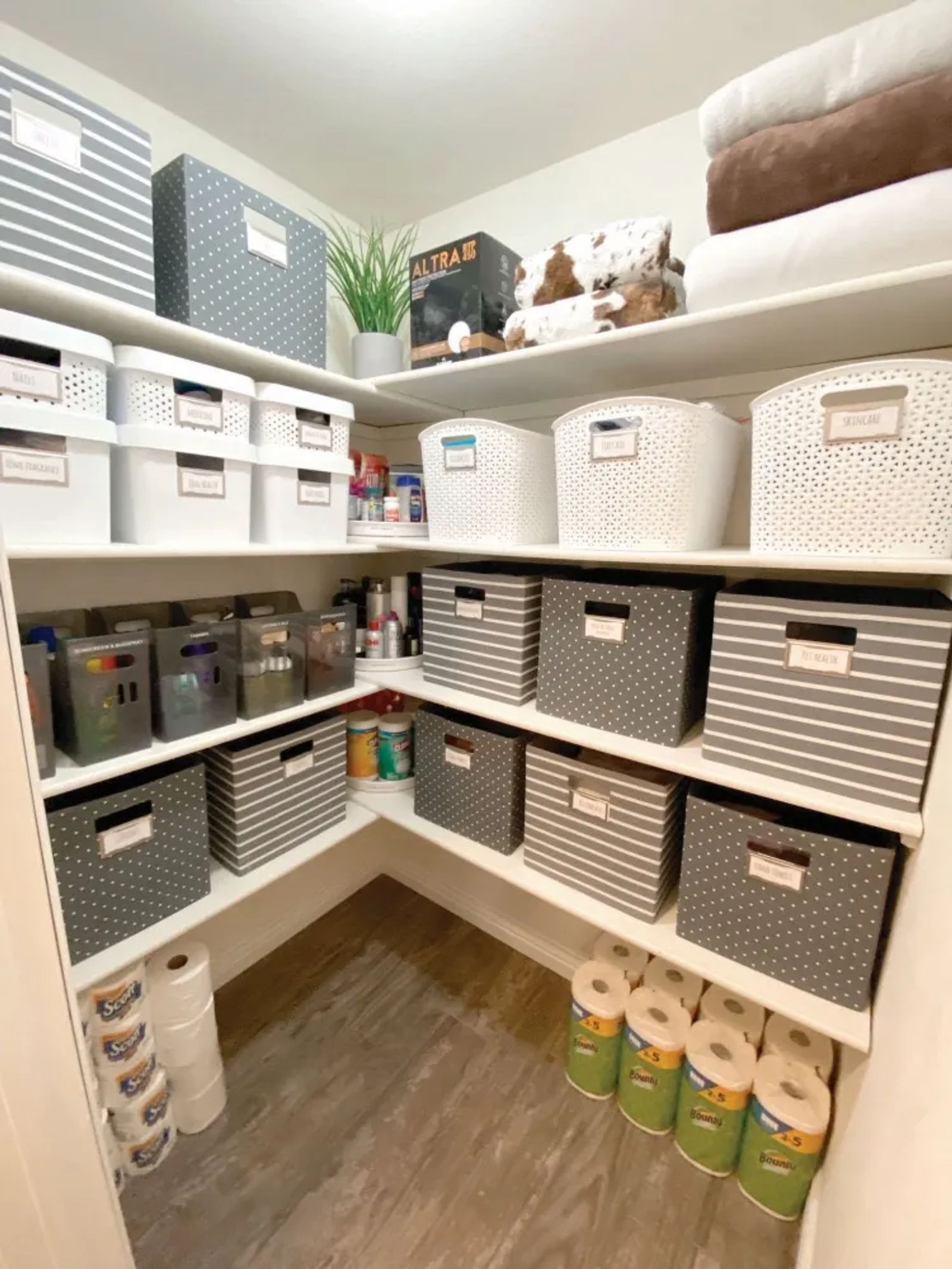 photo courtesy of the OCD girls
Organize. Clean. Design.
August 2021
by brooke wagner | photos courtesy of the OCD girls
"The only difference between a mob and a trained army is organization." -Calvin Coolidge
As the lazy days of summer transition into the more structured fall rhythm, many Billings families might feel a bit lacking in the organizational department. Enter, "the OCD girls," a local company determined to transform your chaos into order.
Rebecca Boyce and Jamie Holiday discovered they share a love of taming the out-of-control into orderly, incorporating functional techniques and storage to make spaces more workable. Their mutual affection for organizing was an oft discussed topic on the daily walks for the exercise buddies, offering each other suggestions and ideas that grew to discovering the truth of two heads being better than one as they helped each other organize other spaces. During the pandemic, it wasn't long before they ran out of spaces to organize and the popular Netflix show, Home Edit, gave them the confidence to turn their passion into a business that would benefit others who need a little organizational assistance. With a name that reflects their relentless obsession, the pair launched the OCD girls.
The OCD girls focus primarily on helping clients who want to be more organized but lack the time or the know-how to do it themselves. For many clients, their space has gotten so out of control that they don't even know where to begin. The thought of tackling such a ginormous project can be overwhelming and discouraging. Additionally, clients may be hesitant that even IF they can conquer the initial project with their help, they may not be able to maintain it. Typically, however, Rebecca says, "Most of our clients have us come in for an initial space and end up hiring us for additional projects. We love that!" The girls acknowledge that any season of life is a good time for a little extra organization. They have been amazed by the different types of people who have benefited from their expertise. They say, "We've helped with a retirement, an empty nester, a down-size, an illness, a divorce, a loss of a loved one, and more."
The girls say that "our favorite spaces to organize are the ones that make the biggest impact on the quality, efficiency, and function of our client's daily lives. For each job, that space is different. It seems to be the space that causes the client the most stress when they enter it." Popular targets for organization include a laundry room or mudroom, garage, pantry, or master bedroom closet. Pantries seem to be the most common space that people need help with, and the OCD girls love pulling in essential storage products to design a pantry that is both easy to use and helps cut down on food waste. No more moldy boxes of fish crackers and half-eaten cereal boxes pushed to the dark depths of the food closet!
Rebecca and Jamie aren't just business owners - they are busy moms as well. They understand the need for a space to be family-friendly AND budget-friendly and recognize that (spoiler alert) just like life, homes and spaces can't always be perfect. When asked if they keep their own homes as organized as their clients', they had this to say: "Yes and no. We both feel much happier when our lives and spaces are organized, but we are moms, which means we live with kids. So while we try to keep our spaces very organized, for the most part, we aren't perfect, and neither are our spaces."
"We are constantly refining our systems to try to learn new and better ways to help our clients solve their organizing challenges."
For many families, the greatest hurdle isn't the space but the things IN the space. Organization can only go so far if the problem is too much stuff. The girls remind their clients, "Own stuff...don't let your stuff own you!" They encourage others to think about what they own, why they own it, and if it's improving their lives. If it doesn't, let it go! They define clutter as "anything that is standing between you and life you want to be living." Many people apologize for their homes and spaces when the girls come in for an initial consultation, but their apprehension is quickly eased. Rebecca and Jamie have received incredible feedback from past clients, including an appreciation for how they didn't judge or criticize but just showed up to help.
No project is too big or small for the OCD girls. They offer a free in-home consultation to check out a space, discuss obstacles, and talk about a budget. A job that might take a busy, working family weeks to tackle can typically be done in hours by this well-seasoned team. They understand that cleaning up a space can involve physical and emotional work. The girls joke that they are more than professional organizers… "we are also therapists, interior designers, stylists, teachers, and coaches, because when you are truly decluttering with clients, you are doing all this and more!"
Originally printed in the August 2021 issue of Simply Local Magazine
Never miss an issue, check out SLM's digital editions here!