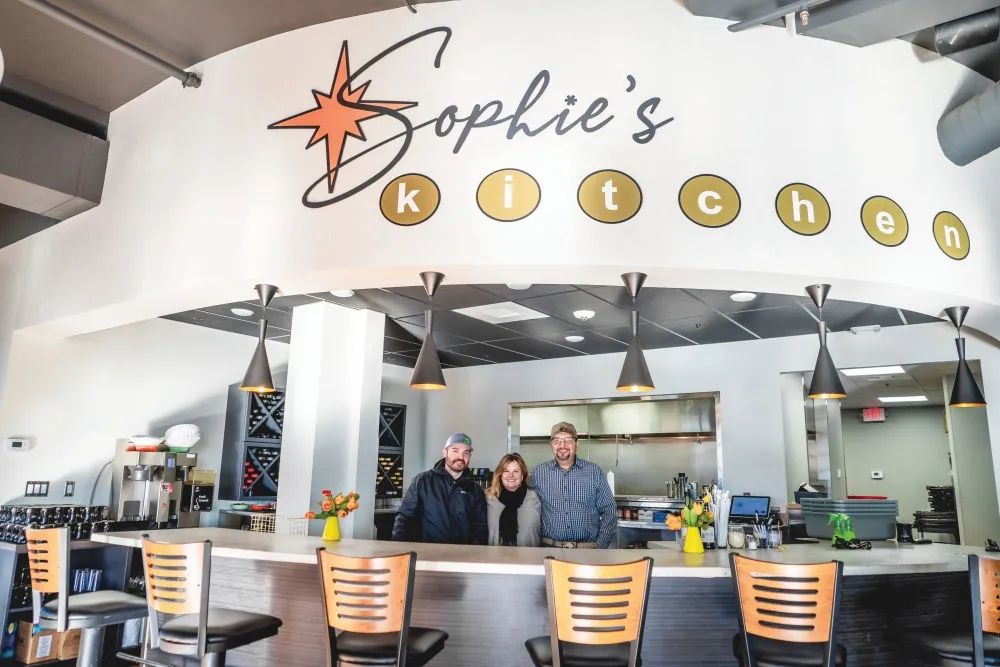 Cooking Up Comfort with Sophie's Kitchen
January 2022
article & photos by jamie blotske
Heading into their 17th year of partnership, Stacey Hettinger and Ramiro Gallegos are much like bacon and eggs, toast and jam, coffee and cream – the perfect pair! The duo began their journey together in the Seattle area, opening their first restaurant, Geraldine's. Placed in a community that didn't have much, Geraldine's quickly became the heart and soul of the area and is, to this day, a huge contributing factor to the growing success of the surrounding community. Stacey and Ramiro had plans to branch out with a vision for expansion, making their mark throughout the Emerald City. While the goal remained the same, the location changed, setting their sights eastward towards the Magic City instead.
Originally from Billings, Stacey has always considered it home. She particularly loves the big, blue skies, the ease of day-to-day living, and the slower pace of life here in Montana; all things she deeply missed while on the west coast. However, when coming back to Billings to visit family, she often noticed a lack of breakfast places and soon began to see a wide door of opportunity. Stacey's step-brother, developer Mike Stock, hounded (as Stacey so lovingly put it) her for three years to move back to Billings and open up a breakfast place, much like Geraldine's. Finally, his persistence paid off, and Sophie's Kitchen, built by Mike and his team, opened on November 9, 2019. Ramiro and family were on board with the move and have happily made Billings their new home. Dylan Brumwell has turned the dynamic duo into a talented trio by adding another member to the dream team! The business partners are off and running, serving breakfast's bests to the West End community in the Shiloh Commons complex.
Grandma Sophie
So many times, there is a story behind the name, and Sophie's is no different. It began in Seattle when Stacey, Ramiro, and business partner Gary, decided to name the restaurant after Gary's mother, Geraldine. As the three began to talk about branching out and starting up more restaurants, they loved the idea of naming each one after a family member. So even though Billings was not part of the original plan, they stuck with the idea of giving the restaurant a beloved family member's name. Sophie is the name of Stacey's grandmother, who happened to be an excellent cook, Stacey made sure to note. Sophie's Kitchen embodies everything we know a grandmother to be: warm and welcoming. When thinking of Grandma Sophie, words like comfort food and home-cooked meals were mentioned. That is exactly what Sophie's Kitchen aims to deliver.
What's Cookin'?
Ramiro is the main man in the kitchen, and his passion for the quality, preparation, and delivery of each meal is evident. "Everything is made from scratch. Nothing comes from a box and goes to the table. We make our own jam, biscuits, pancakes, and granola. We slice our bacon in-house, and we use 100% pure maple syrup. "We are taking comfort food to the next level," the head chef said. The food goes out hot and fresh with no heat lamps in the kitchen. Once the plate hits the window, the goal is to put it on the guest's table immediately. "No dry eggs!" Ramiro emphasized when discussing this approach. I think we can all agree that there is nothing worse than a plate of cold, dry eggs…
When asked what Sophie's Kitchen was most known for, Ramiro, without hesitation, said the French toast. This signature dish is made with bread from local bakery, Le Fournil. It is peeled, cut to a specific size, and marinated in a secret batter overnight. The French toast is a must-try with different fruit toppings almost daily, such as blueberry compote and vanilla soaked peaches!
Looking Ahead
The future is bright at Sophie's Kitchen, with many things to look forward to! Starting the new year off with a bang, Sophie's will officially open back up for dinner! Since the pandemic, the restaurant has been closed at night due to staffing issues. Now, they are ready to open their doors for dinner once again with a full staff. The menu will be smaller than breakfast but will offer appetizers, pasta dishes, steak, risotto, and something seasonal, as well.
Sophie's Kitchen has also begun a once/month "pop-up" event, serving up a delightful 5-course meal to its attendees. This will include some seasonal items and is an event you won't want to miss! They also plan to host random pop-up nights (not 5-course) throughout the year, so be on the lookout for those.
Whether it's breakfast, brunch, lunch, or dinner, Sophie's Kitchen has you covered! As the winter weather is upon us, there's nothing quite like a hot cup of coffee and a slice of French toast to warm up. Stacey, Ramiro, Dylan, and staff are excited to meet you and make you feel right at home, just as Grandma would.
Originally printed in the January 2022 issue of Simply Local Magazine
Never miss an issue, check out SLM's digital editions here!