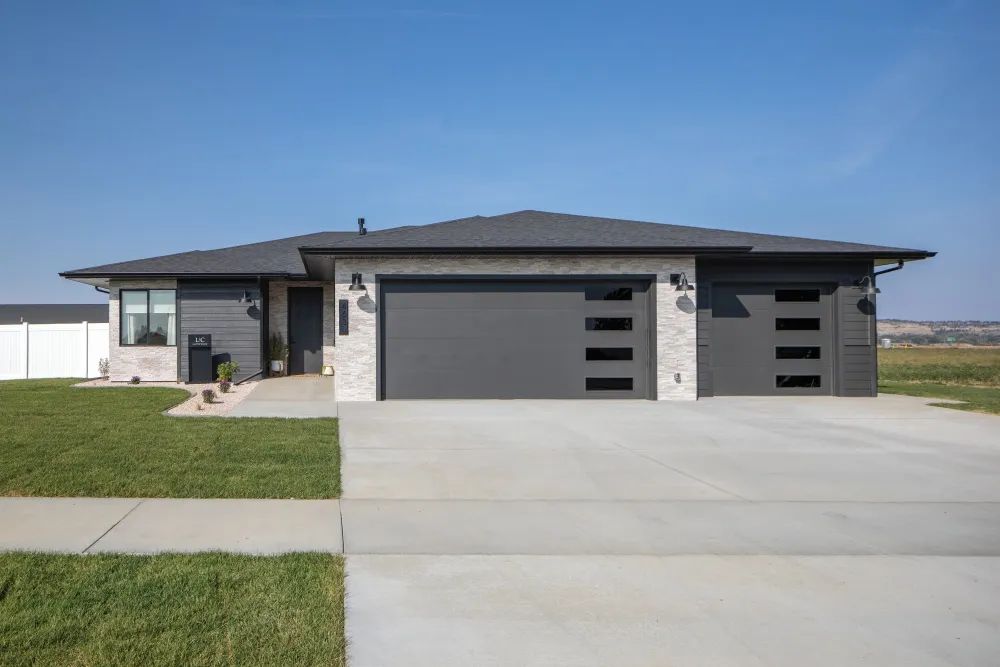 Vacay Every Day
April 2022
by stephanie toews | photos by nathan satran
When local realtor, Kelley Armstrong, enlisted LC Custom Homes to build her home in Sundance Subdivision, she had very specific goals in mind. Kelley loves to travel and wanted her home to be "pretty and manageable" for her lifestyle. While she knew she didn't want a huge house, she wanted it to be a comfortable and welcoming place to host her out-of-town family.
Kelley's previous home was a 1950s house with minimal natural daylight, and she desired her new home to have a very light and bright aesthetic and feel. When walking inside, it's immediately apparent that much attention went into making the most of the single-level home's footprint and creating a beautiful and welcoming environment for family and friends.
Small Footprint- Big Design
Stepping into Kelley's home feels a lot like stepping into your favorite boutique hotel, and this is no accident. Inspired by her love of travel and some of her favorite boutique hotels, Kelley enlisted the help of local designer Amanda Bowe to bring her design dreams to life. With great attention to detail - from the signature scent that greets you and the built-in coffee maker in the kitchen, to the comfortable beds and bedding and unique decorative touches throughout - the pair nailed the "boutique hotel vibes" atmosphere Kelley desired.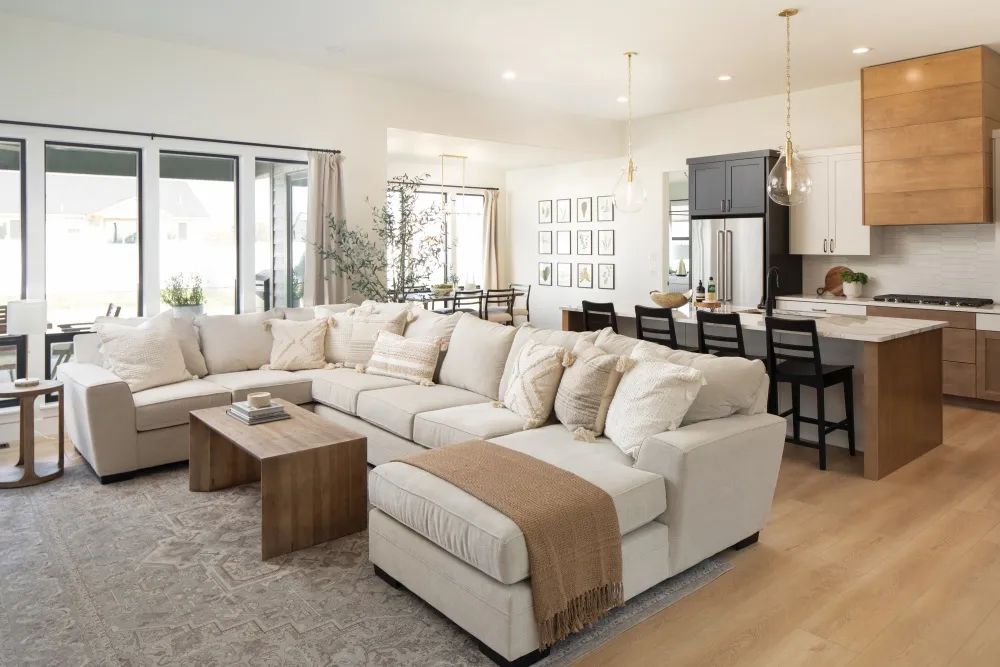 Floods of natural lighting from the many large windows throughout this home provide an instant feeling of warmth and comfort.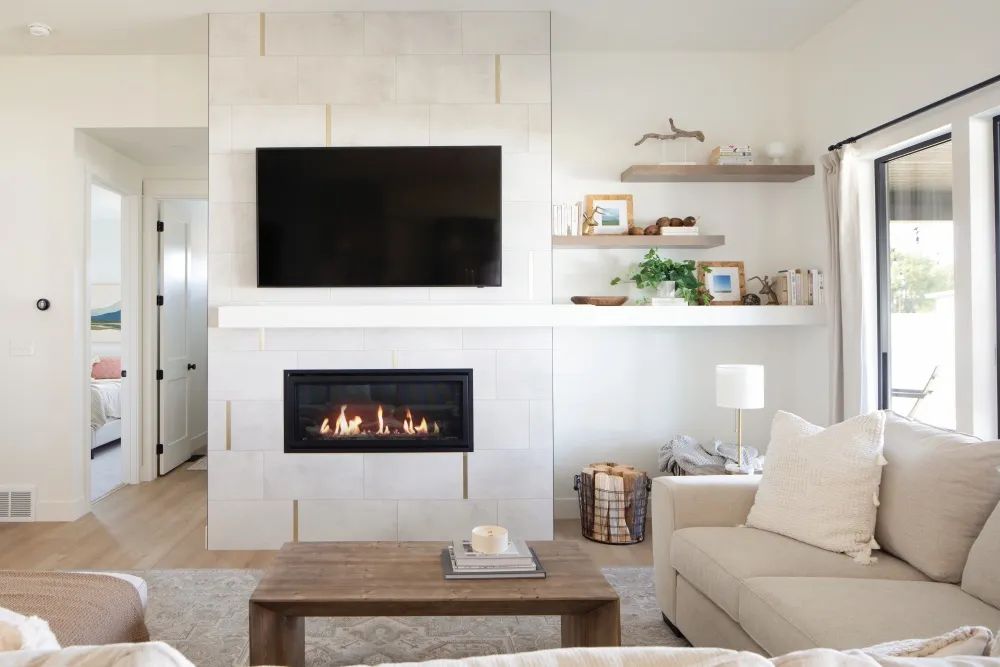 The tile fireplace is inlaid with sporadic gold tiles inspired by the floor of a hotel Kelley stayed in.
Unique floating shelving styled with "found" items and vintage treasures is something Amanda believes every home should have incorporated in order to to give it a one-of-a-kind feel.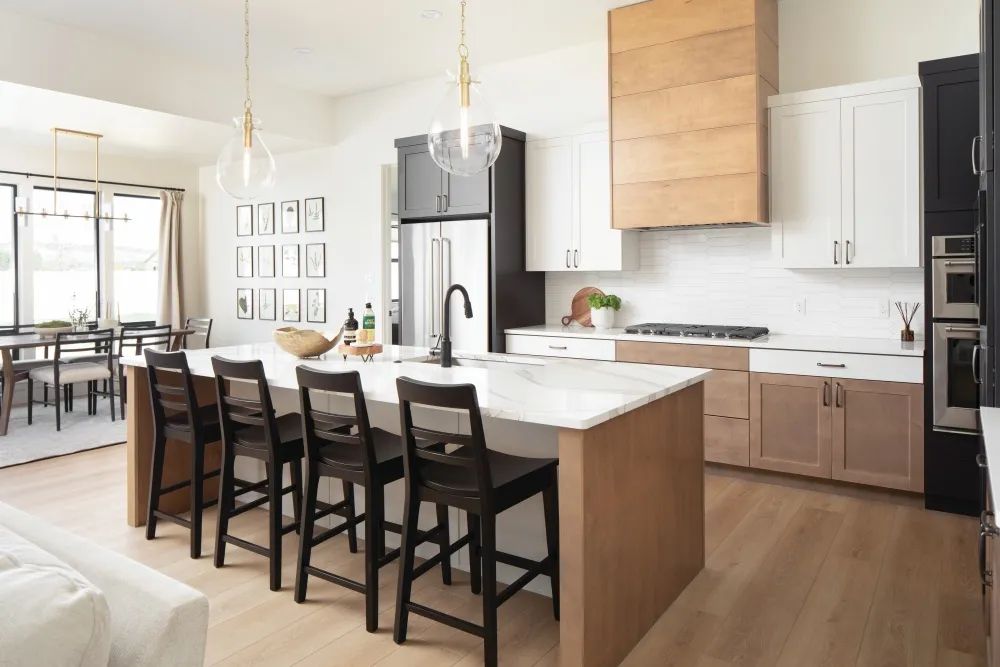 The large quartz kitchen island features dramatic and statement-making veining and it comfortably seats four.
Amanda says three things are essential for any design project she's involved in, "It has to be practical, functional, and pretty; in that order." This three-bedroom, two-bath home with an office is the product of creating a luxurious feeling home with efficient use of space.
A large island and built-in coffee maker were two requests Kelley had for builder Cody Delaware before the kitchen was built. She says she truly felt heard when expressing her ideas, and working with him was a wonderful experience.
Kelley also wanted three elements incorporated into her kitchen- wood, black, and white. Amanda worked to develop a unique design for a mix of cabinetry to bring these components together, saying it works because the tall cabinets are the same black color. Since the Parade, Steve Wylie of Rimrock Cabinetry has had several clients request the mixed design for their kitchens.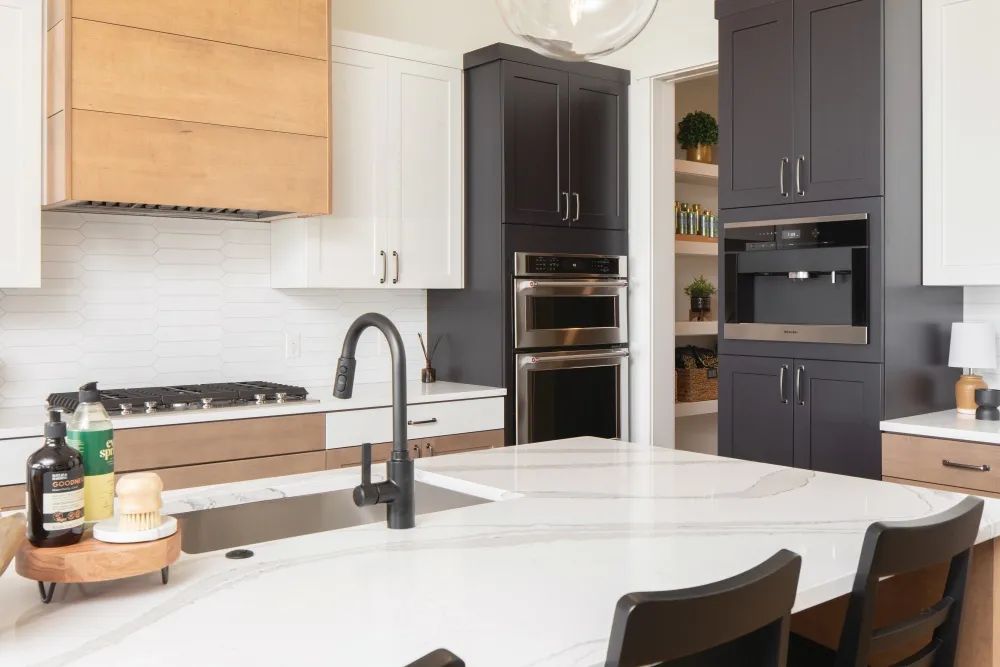 The built-in coffee maker was something Kelley wanted in her kitchen to help add to the vacation vibes.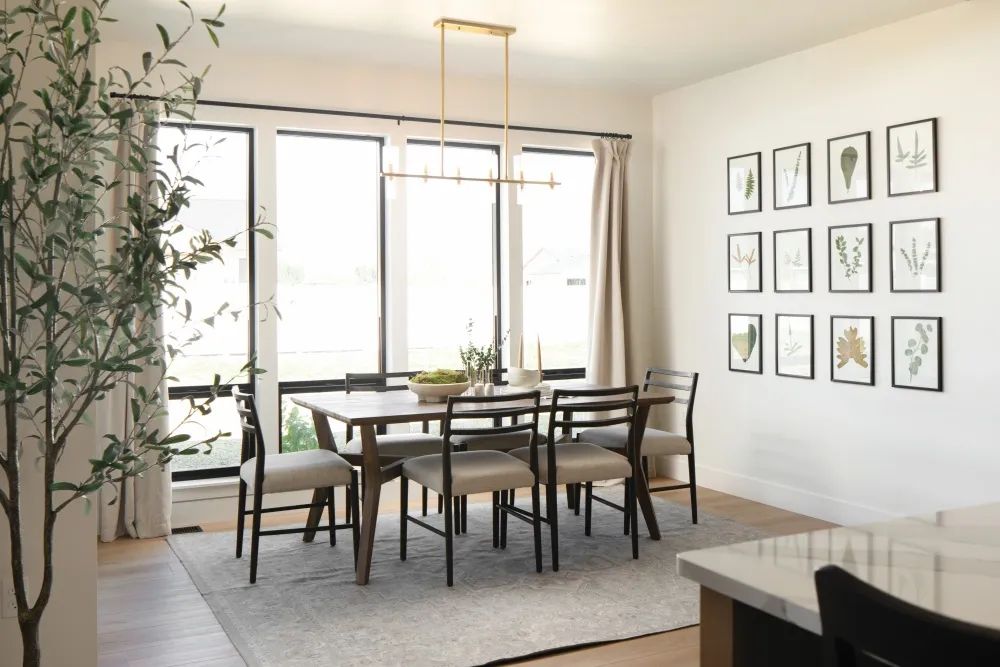 Amanda's signature DIY botanical framed art and faux olive tree bring nature's greenery indoors.
The roomy dining room comfortably accommodates eight and is the perfect area for family and friends to gather. Amanda is known for creating unique and inexpensive artwork, and the dining room's botanical framed prints are a beautiful way she covers a large area without breaking the bank.
Additional pops of nature can be found in the guest bedroom that Kelley's sister, Erin, stayed in when she first moved to Billings. Kelley wanted her to feel at home and love her room and says the bold green botanical print wallpaper accent wall was Erin's choice.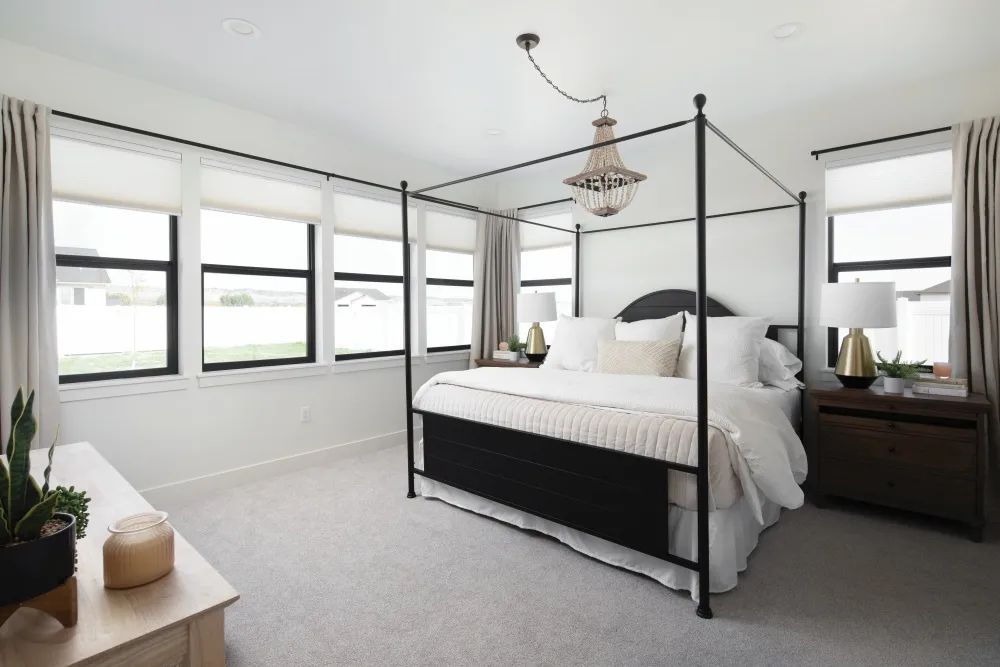 The main bedroom is filled with several windows for a bright and airy feeling.
Kelley works hard and wanted her bedroom suite to be a place of serenity and rest. This meant a soft and bright aesthetic with minimal clutter for ultimate relaxation for her.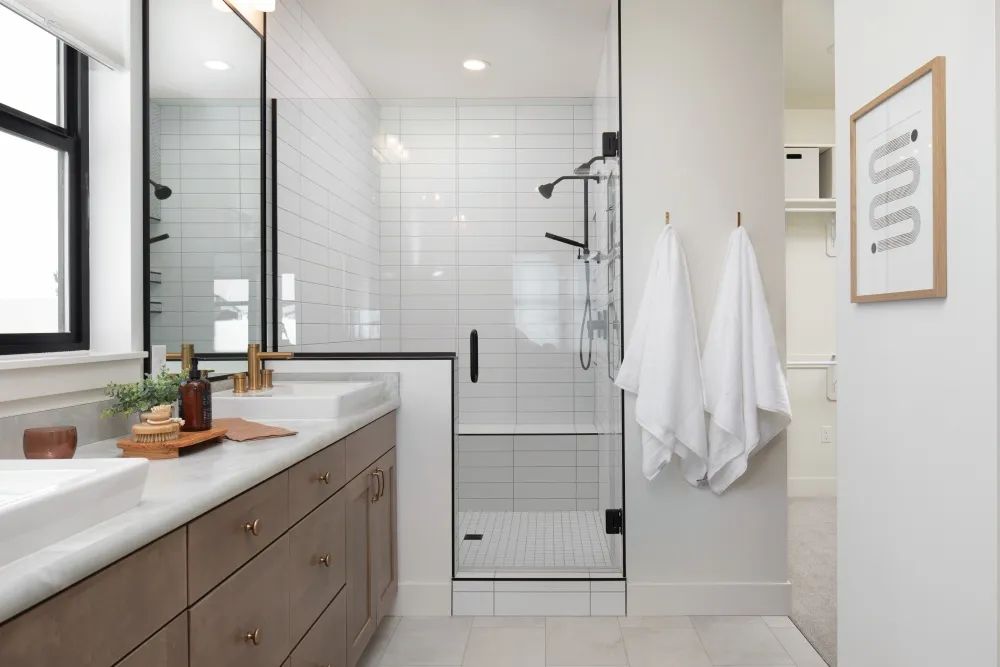 The en-suite bath boasts a large tiled shower with a bench, and a closet fit for a queen, thanks to the help of the OCD Girls' closet design and organization skills.
A Place for Dad & Mom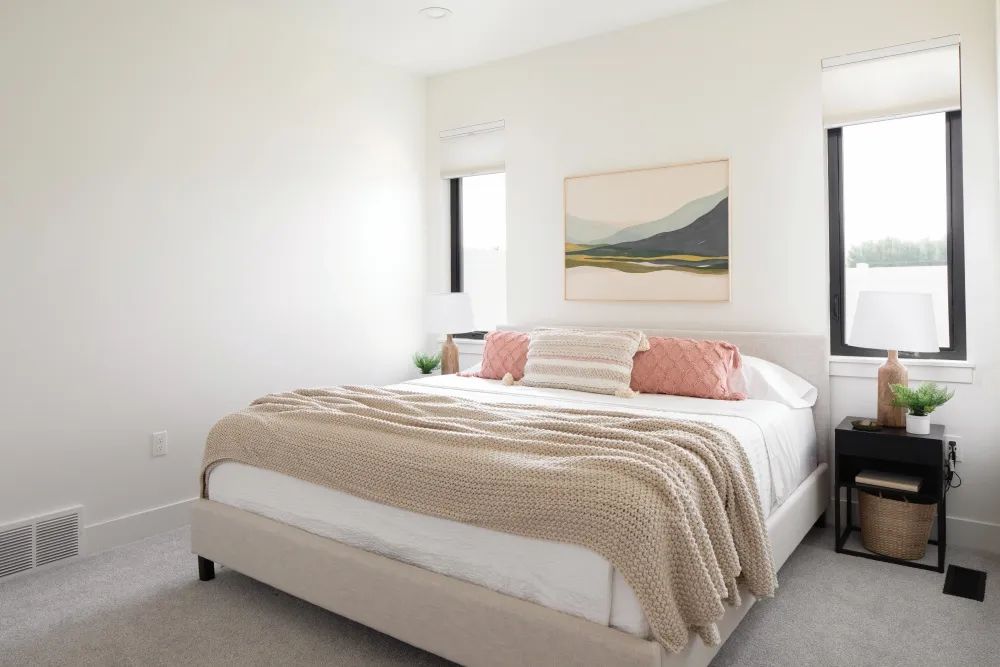 Another of designer Amanda Bowe's works of art hangs on display in the guest bedroom and adds a touch of color to the soft, neutral pallet.
In the second guest bedroom (aka Dad and Mom's room), Kelley wanted to make sure it comfortably accommodated a king-sized bed for her parents. This required changing the original design for one large window in the room to two smaller windows flanking the bed.
Each space in this home has been carefully curated to create the result Kelley was hoping for, and this house is proof that a new home doesn't have to be massive to feel open and luxurious, and function fantastically.
Special thanks to the following local contractors and suppliers for their hard work and professionalism in bringing this home to life.
Appliances – Ferguson
Bank/Lending – Yellowstone Bank
Bath Hardware - Ferguson
Cabinets – Rimrock Cabinets
Concrete Foundation – Fleury Concrete
Countertops – The Countertoppers
Design- Amanda Bowe
Door Hardware – A & H Turf
Doors (Exterior) – Grand Lumber
Doors (Garage) – Bailey Garage Door
Doors (Interior) – Grand Lumber
Excavation – DT Excavation
Fireplace – The Fireplace Center
Floor Coverings – Rich's Flooring
HVAC – Comfort Heating
Insulation – Billings Insulation
Tile – Rich's Flooring
Title Company – First Montana Title
Trusses – Pride Industries
Window Coverings – All Kinds of Blinds
Windows – 406 Window Co.
Originally printed in the April 2022 issue of Simply Local Magazine
Never miss an issue, check out SLM's digital editions here!