A Prairie Modern Parade Home
November 2021
by Barbara Scheppele, Cooper Creative | photos by Nathan Satran
In case you missed out on last month's 2021 Parade of Homes tour, Simply Local Magazine is proud to bring you the next best thing, a tour through the pages. Welcome to the 2021 Ban Construction Parade Home.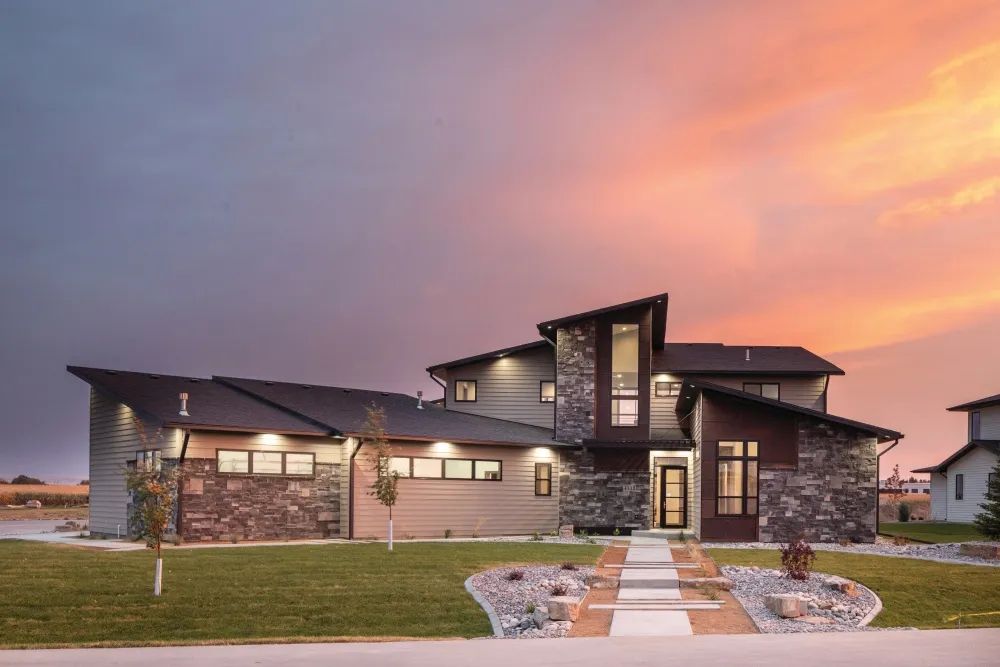 Ban Construction, The Nines Subdivision, 1337 Fisher Island Place
This striking Ban Construction home, located at 1337 Fisher Island Place in The Nines Subdivision, features an angular footprint and sloping roof lines adding a new twist to Prairie Modern. The unique slab pavers set in crushed granite draw you into the recessed front entry. There you are met with lovely black stone walls beneath a cedar inset that looks as if it is rusted metal. You begin to get a sense of what you are about to experience.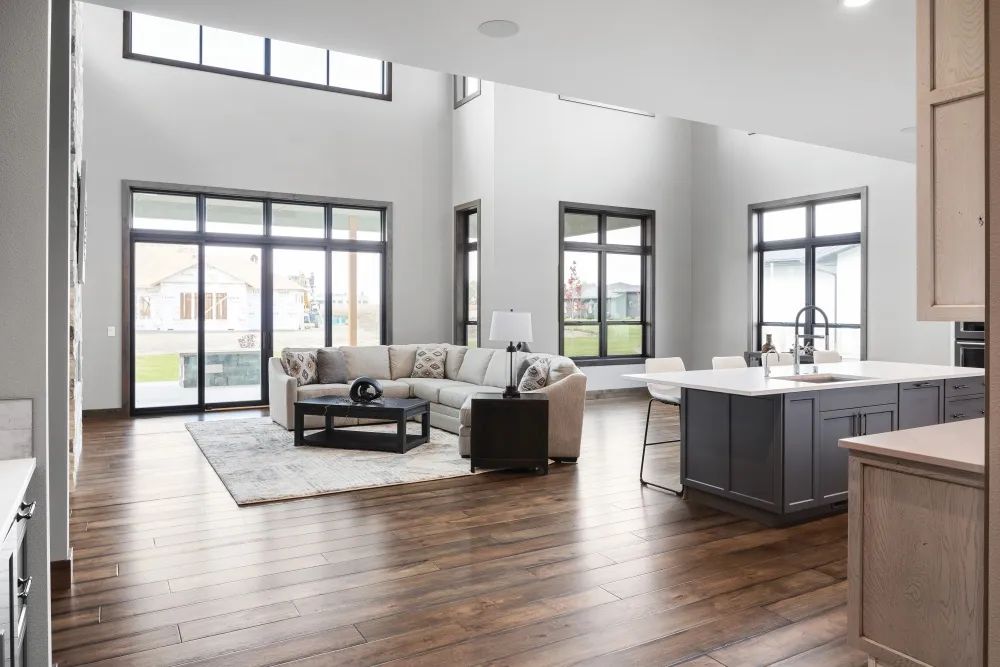 The Bans have a keen eye toward combining a cozy surrounding with contemporary design. The gray washed Alder trim is accentuated by the light gray walls.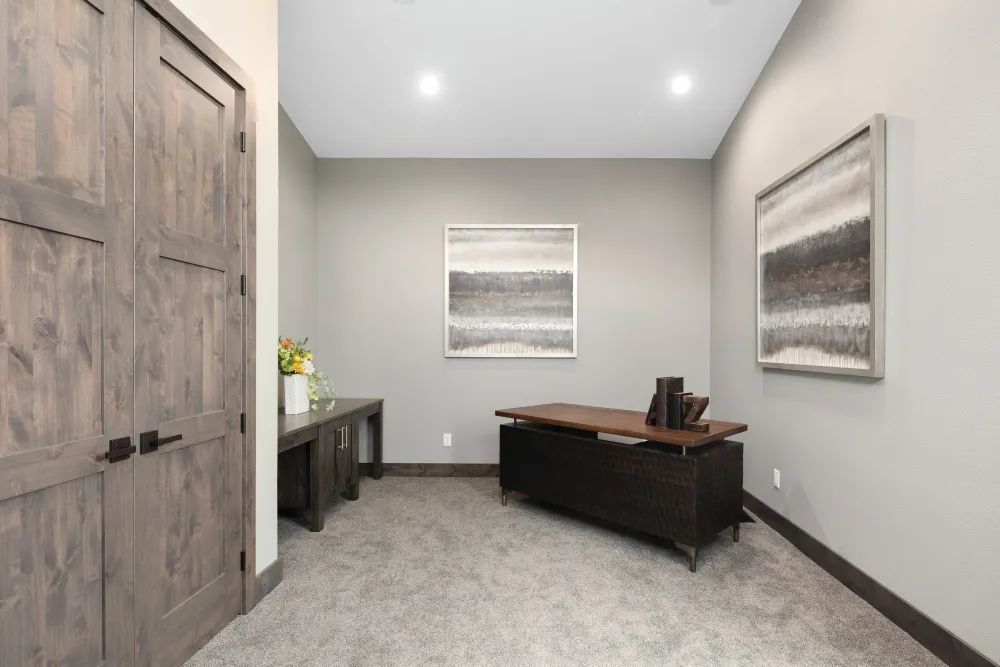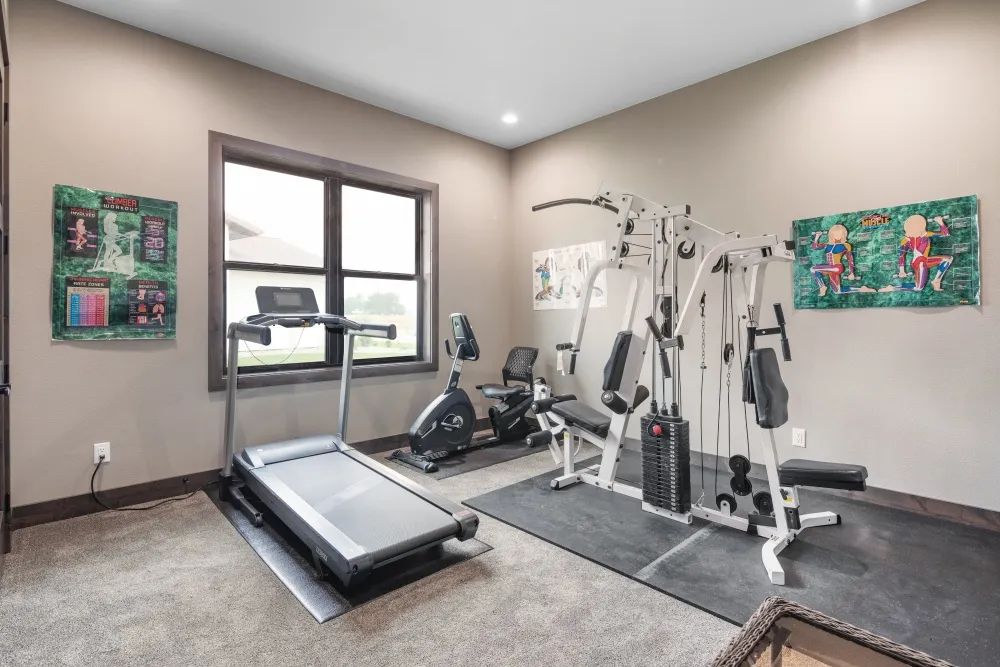 The first room to the right at the front of the home is an office with convenient built-ins for multiple uses. Just up the hallway is a bedroom or exercise room.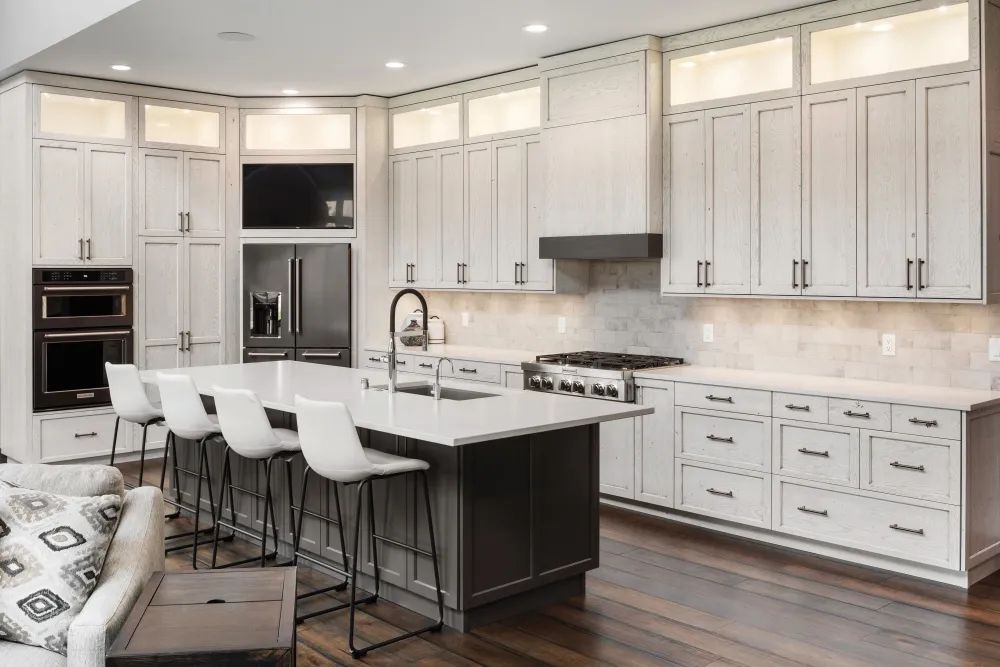 The kitchen and great room look out toward the backyard. The white upper cabinets are washed in gray and embellished with gunmetal handles. The lower island cabinets are a striking graphite color. The refrigerator is angle-set for continuity with the home's floor plan. Two pantries are down the hall between the garage/mudroom and the great room.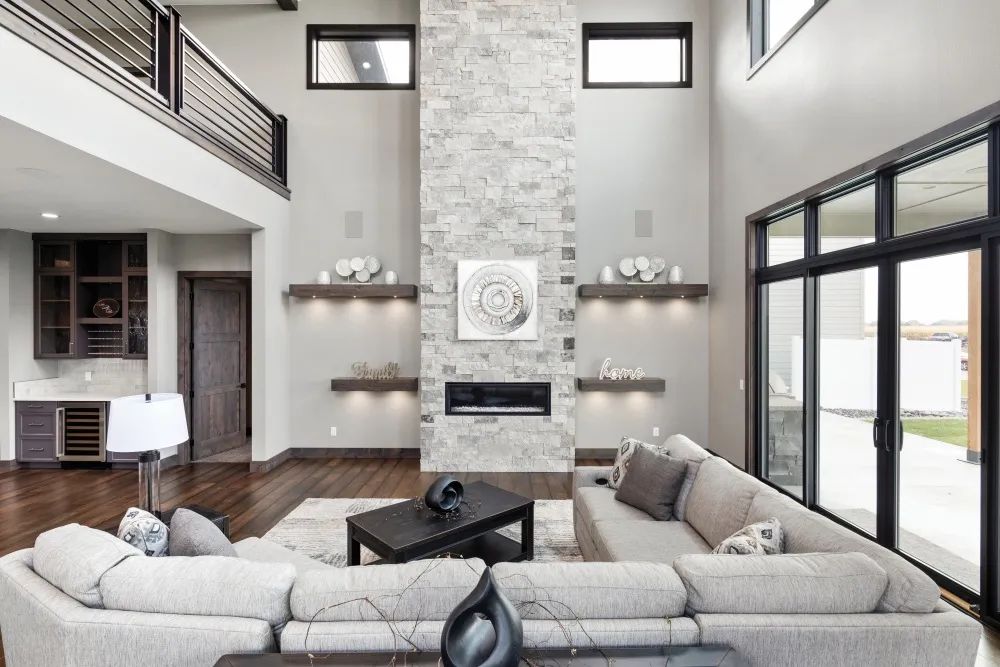 A floor-to-ceiling fireplace provides a fabulous focal point to the room with its light, dry-set stone beneath a high vaulted ceiling. Of course there is a dry bar for entertaining!
Feature Walls
A lot of thought and design prowess went into this home's bathrooms. Each of them has a unique feature wall in the tile bathtub surrounds. One has a brilliant display of black, gray and silver tiles in a chevron configuration. The chevron accent is repeated in the Grand Bath. A bathroom on the second level has a tweed-like tile with a feature wall that resembles a crazy quilt. These bathrooms are all worthy of a closer look.
<<<<<SWIPE<<<<<<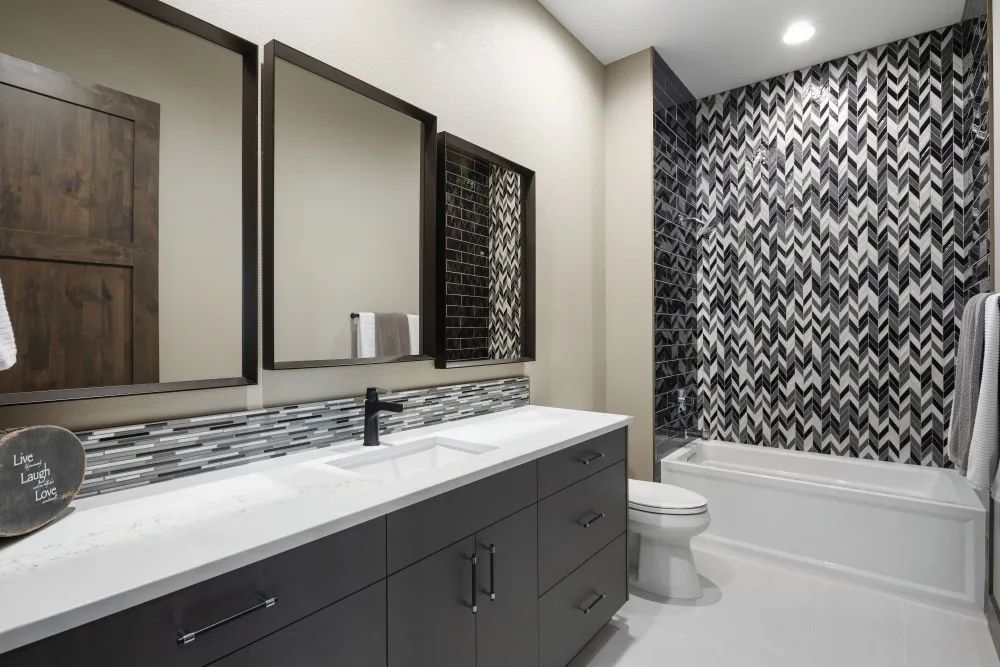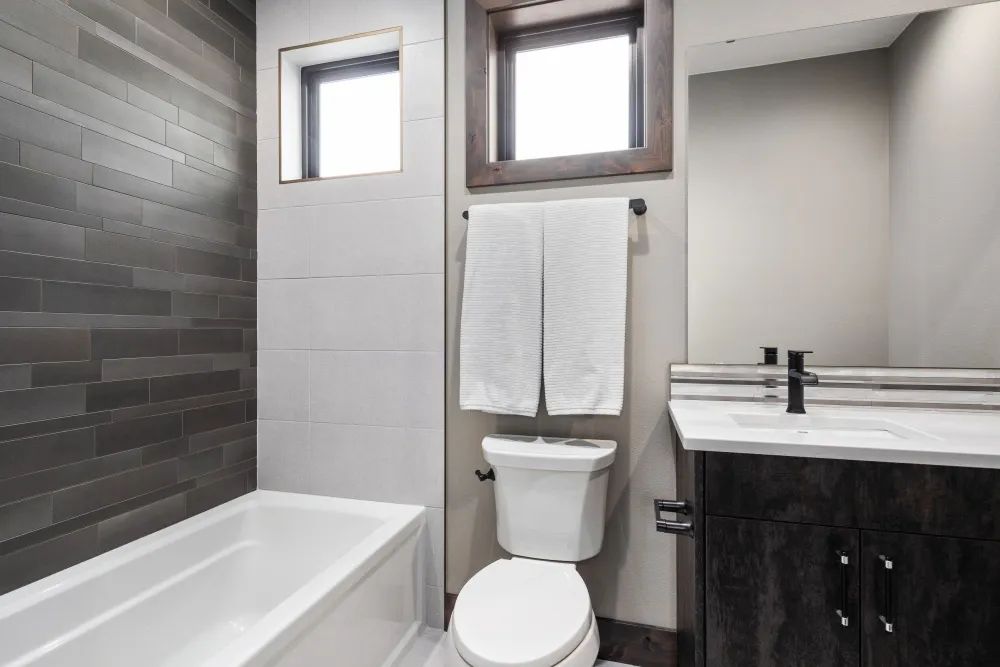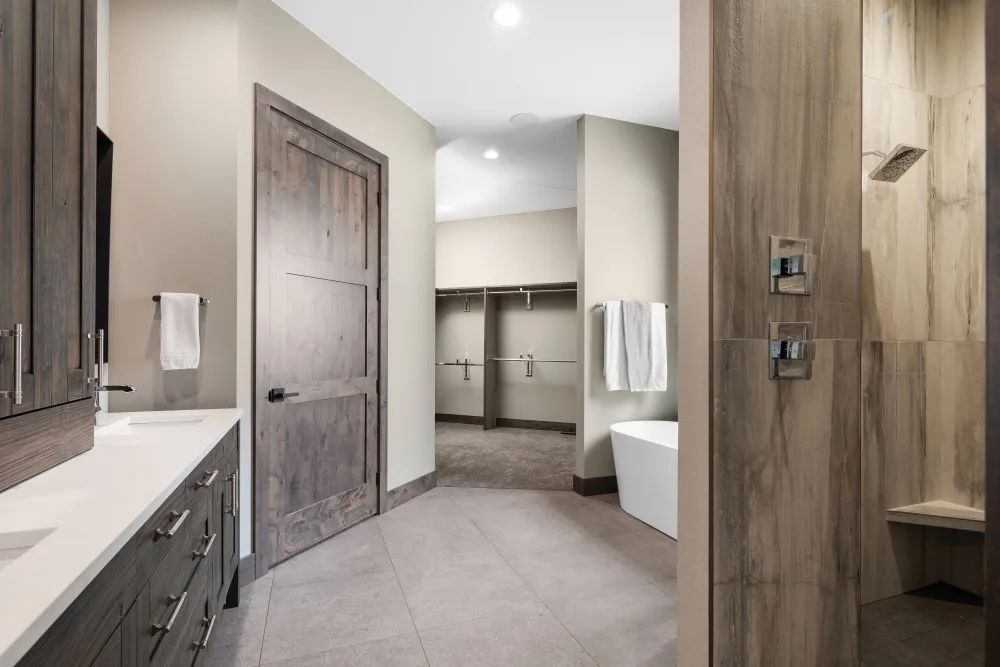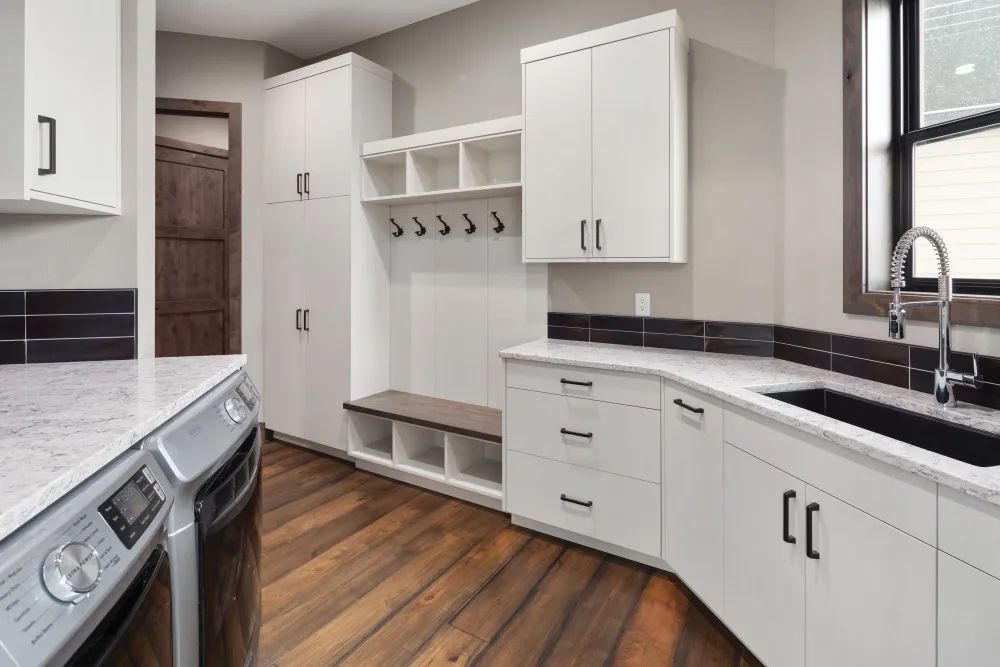 The cabinets in this home have unique finishes. It is easiest to see in the laundry room. The cabinets resemble fine linen in an oatmeal color. They are accented with dark handles and a wall of black subway tiles.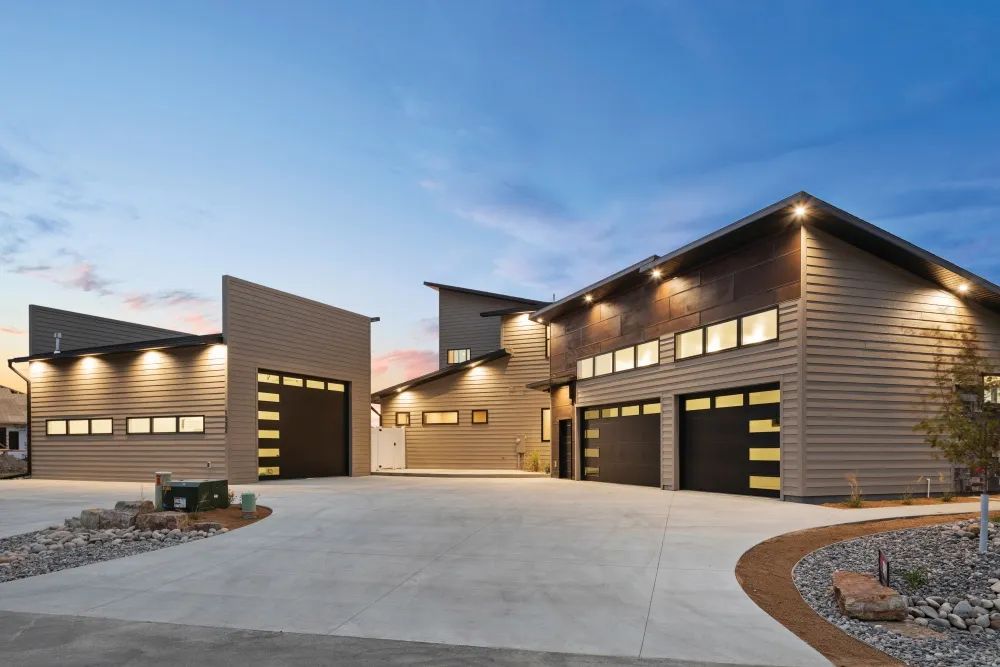 In addition to an attached 3-car garage, there is a separate large garage that could serve as a shop or be great storage for an RV.
Sources-
Appliances- Fred's Appliance
Architect/Plan Design- Impact Drafting
Artwork, Furniture- Time Square Furniture
Audio/Video- Home Theaters and More
Bath Hardware- Halton Homes Inc.
Cabinets- Kosmann's
Carpentry/Framing- Collins Lardy Construction Inc., Bloedorn Lumber
Concrete Flatwork/ Supplier- Custom Concrete & JMC Construction, Knife River
Concrete Foundation- FKF Concrete
Countertops- Magic City Granite
Custom Closet- Halton Homes Inc., Bloedorn Lumber
Door Hardware- Halton Homes Inc. A&H Turf
Doors- Exterior- Ban Construction, Pella
Doors- Garage- Bailey Doors
Doors- Interior- Halton Homes Inc., Bloedorn Lumber
Drywall- Hanging- Felipe Flores, Pacific Supply
Drywall- Tape & Texture- Image Drywall Inc., Pacific Supply
Electrician/Electrical Supplies- GPS Electric
Excavation- Ryan Keeland Excavation LLC
Fireplace- Fireplace Center
Floor Coverings/Installer- Rich's Flooring, Dave Hill
HVAC- Quality Heating and Coolings
Insulation- Billings Insulation
Interior Design/Décor- Ban Construction
Interior Trim/Hardware- Halton Homes Inc., Bloedorn Lumber
Landscaping- S&B Landscaping
Lighting Fixtures- Rimrock Lighting
Masonry- Harper Masonry
Painter/Paint Supplier- Ban Construction, Sherwin Williams
Plumbing Contractor/Supplies- Wallis Plumbing, Keller Supply
Raingutters- Stillwater Raingutter
Roofing Contractor/Supplies- GWC LLC., Pacific Supply
Shower Doors- Rocky Mountain Glass
Sidings/EIFS, Soffit, Fascia- Keep Hammering Construction, Bloedorn Lumber
Sprinkler System- S&B Landscaping
Tile Installer/Supplier- Dave Hill, Rich's Flooring
Title Company- American Title Co.
Trusses- Collins Lardy Construction Inc., Pride Industries
Windows- Collins Lardy Construction Inc., Pella
Specialty Items- RO System- American Water Technology
Originally printed in the November 2021 issue of Simply Local Magazine
Never miss an issue, check out SLM's digital editions here!