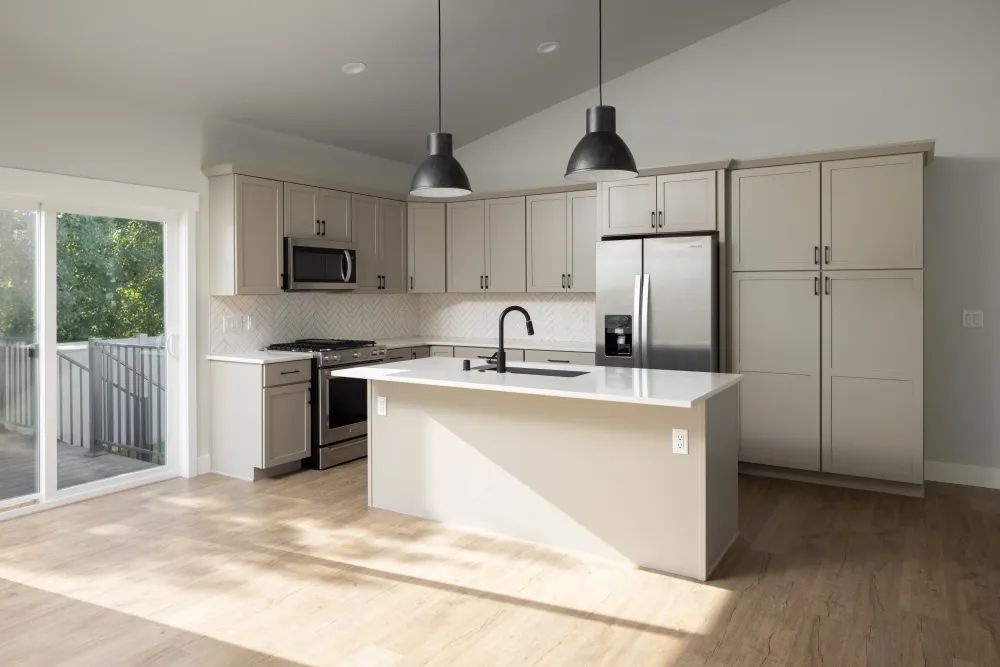 Render to Completion: A Student-Built Home
October 2021
by stephanie toews | photos by nathan satran
"We cannot always build the future for our youth, but we can build our youth for the future." Franklin D Roosevelt
Our youth are the hope of our future, and investment in them is critical for their successful launching into productive adults who, in turn, give back to their community. The Billings Career Center and Billings Homebuilders Association (HBA) have been providing that investment by way of hands-on learning experiences on an incredible 46 student-built homes to date. These homes are fully funded and supported by the Billings HBA.
Take a look at the 2021 Career Center home, located at 3075 Hunters Ridge Loop, and discover the process of bringing it all together.
Firsthand Experience
"I love to see creativity. I love to see a student become motivated and inspired." Luci Wollschlager
Third-year Career Center Interior Design and Interior Improvement teacher, Luci Wollschlager, grew up in the industry and jumped at the chance to teach at the Career Center when approached, saying, "I thought this would be a great opportunity to show students all of the options there are for design and for the career technical field."
Billings Career Center homes are built from the foundation up through many hands working together. Students experience firsthand construction industry instruction from three construction teachers while they physically build the house. They are provided with an opportunity to learn building, electrical, landscaping, interior design, and metals and manufacturing from professionals while practicing real-life application.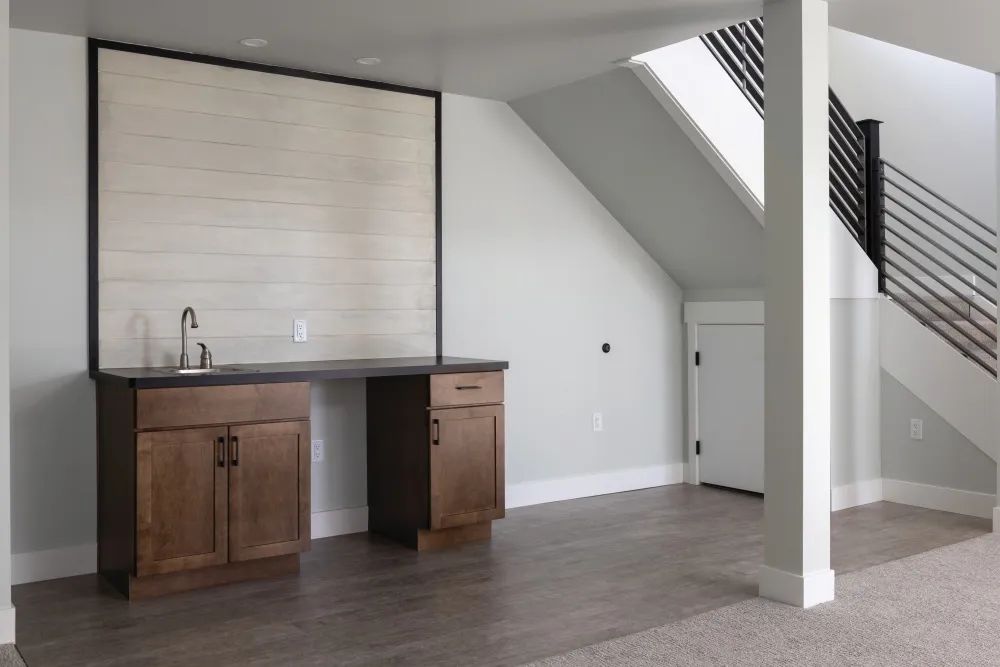 Wollschlager explains, "Our Building Construction and Geometry in Construction class builds the house from the foundation up. Our Electrical class wires the house, our Plant Science class designs the landscaping, and the Interior Design class does all of the interior and exterior finish selections. Our metals and manufacturing students have built our interior railings for the last few homes."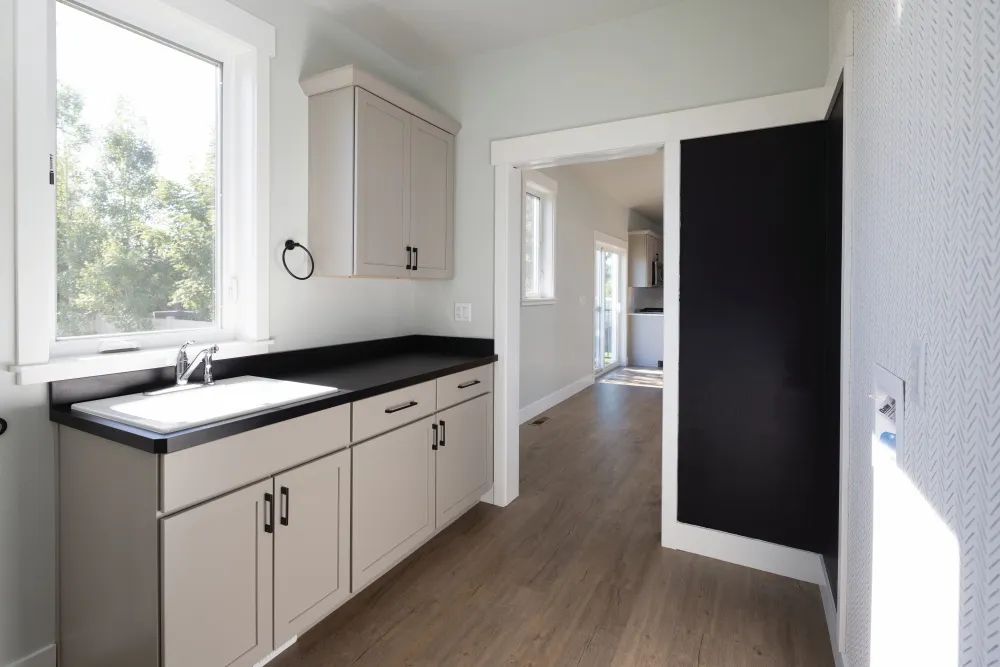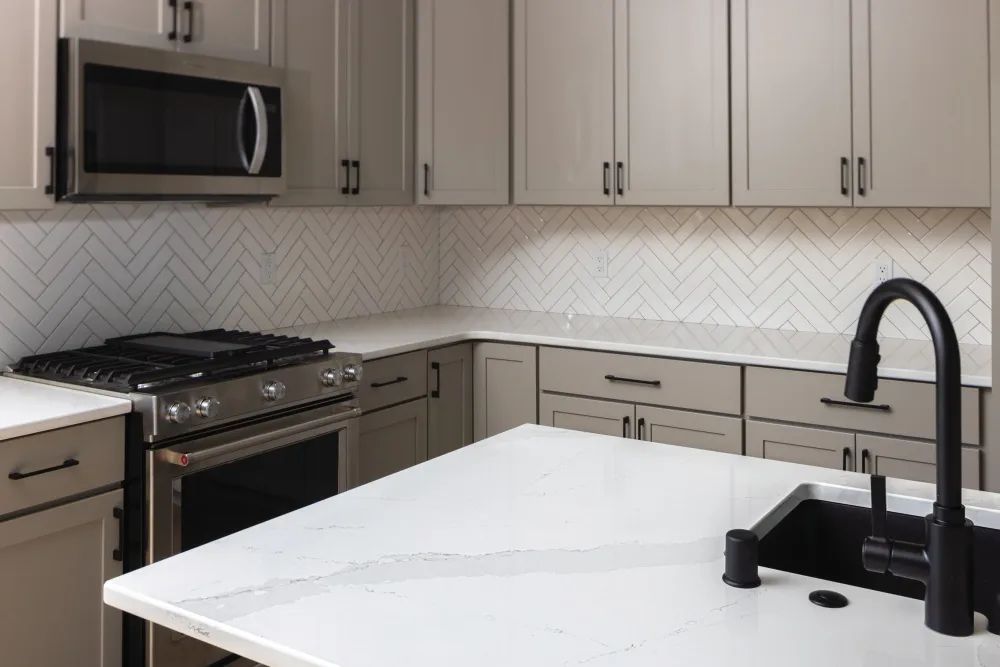 Wollschlager's class entails all aspects of an interior design profession, from 2D design drawings, 3D conceptual modeling, and general knowledge of finishes, furniture, fixtures, appliances, and accessories. Her class completes all of the interior design in the Career Center houses and also works with professionals to install tile, wallpaper, paint accent walls, and even paint a custom-designed mural in the home.
Career Center students have the opportunity to win a semester-long assignment by being paired as a team to select the home finishes. Together, they choose paint, cabinets, countertops, wallpaper, tile, carpet, vinyl, plumbing fixtures, lighting, and appliances and create design boards and 3D visualizations of the space. These designs are presented to the construction, electrical, landscape, and fellow interior design students to be voted on. The top six are brought before the HBA members, and the winner is selected based on their votes.
Beyond the house's overall design, each student designs a kitchen layout from which the construction committee selects the best kitchen for the house, which is then paired with the chosen finishes from the winning design. Students also design a mural with the winner's mural painted on a garage wall.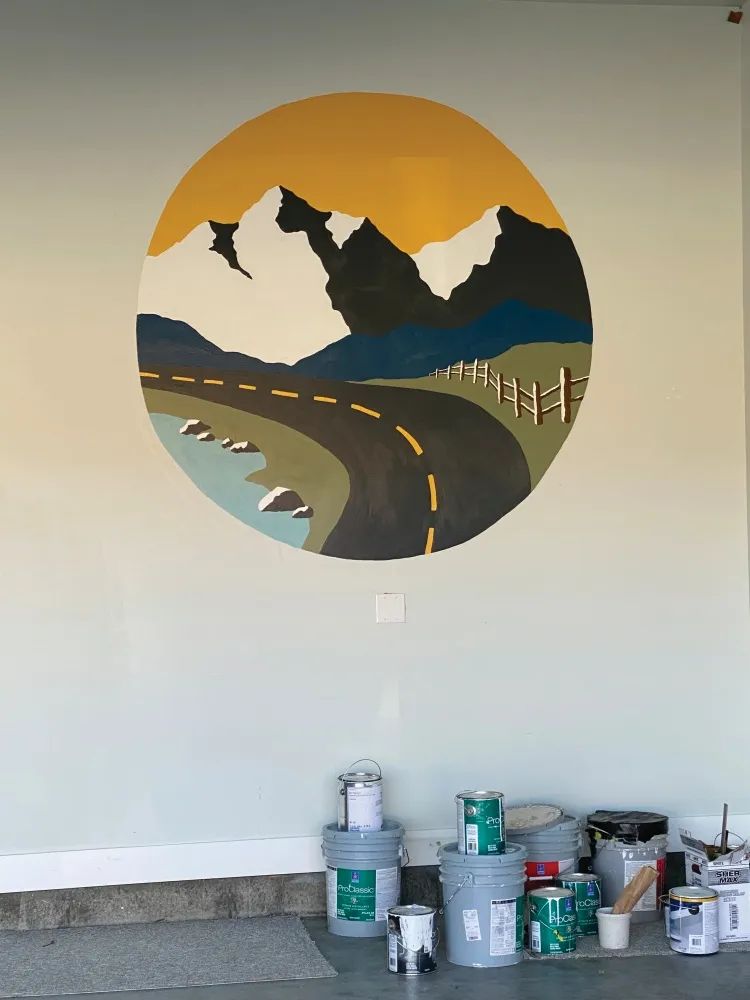 Custom garage mural by winning student Jenna Strobel | photo courtesy of Beyond the Box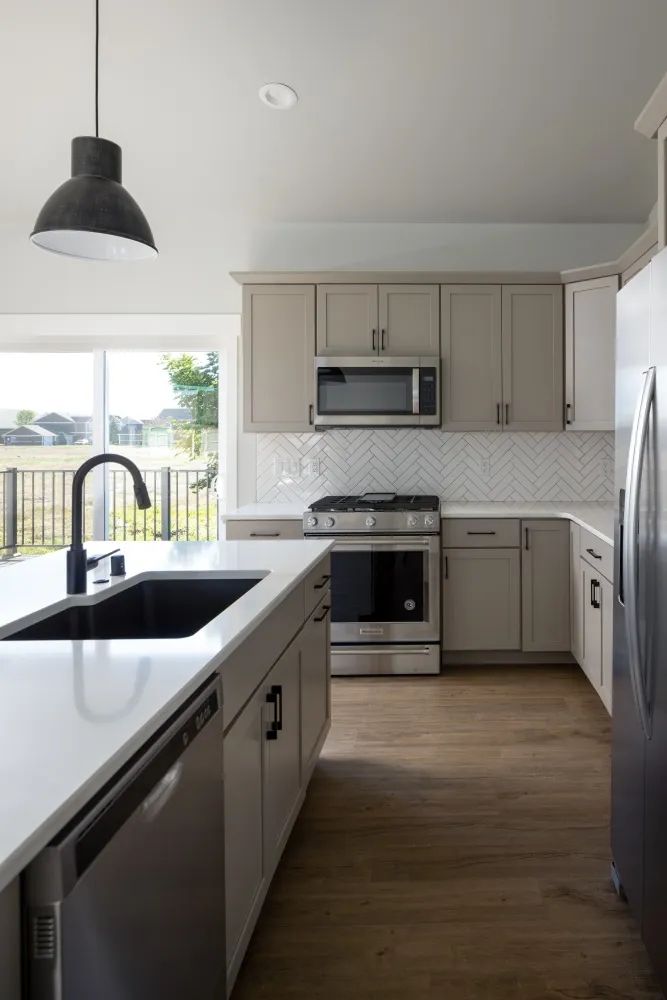 "I always knew I loved design work but didn't know my passion was for interior design until I took the Career Center class." Ragan Yetley
Ragan Yetley understands the benefits of attending school at the Career Center firsthand. The 2017 graduate loved her experience there and felt her success mattered to the teachers. Yetley learned hands-on training in various skills, including mudding, taping sheetrock, cutting tiles, and placing them in the master shower herself. The Career Center's dual credit Interior Design degree, offered through Gallatin College in Bozeman, was a perfect fit for her. "I got a jump-start on earning my college credits at the City College right next door to the Career Center during my senior year." In 2019, Yetley graduated from Gallatin College with a degree in Interior Design.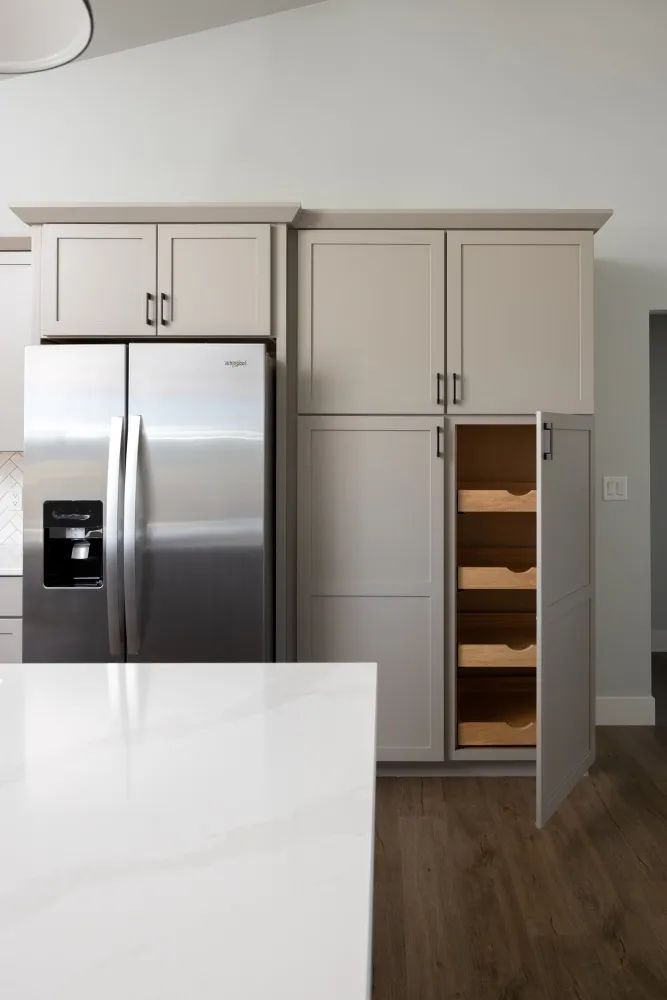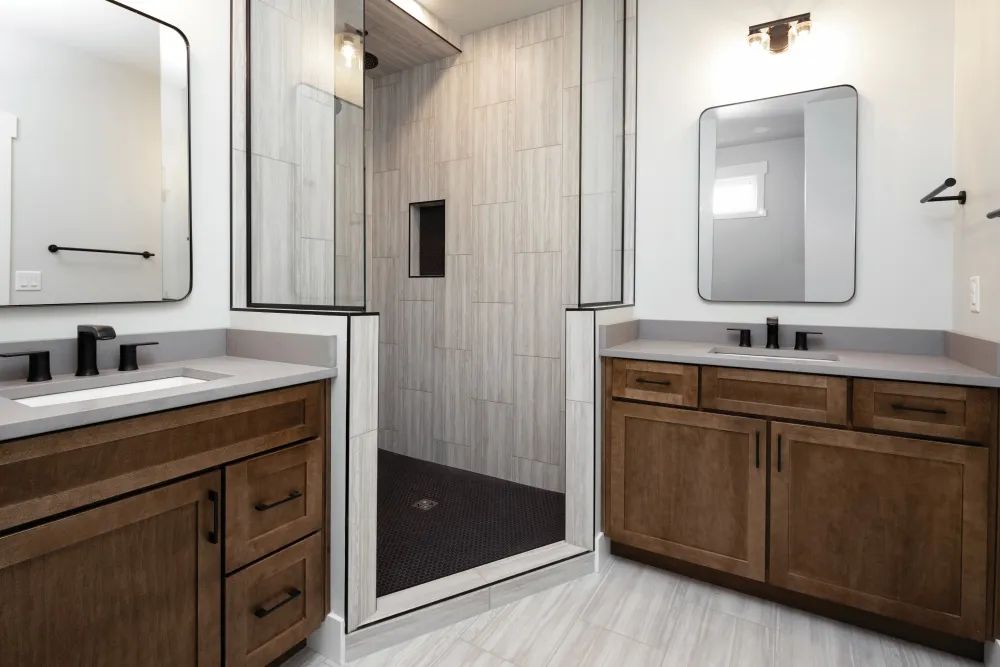 In full-circle fashion, Yetley, now a designer at Beyond the Box, was tasked with helping on the 2021 Student-Built home by bringing the students' kitchen and bathroom design visions to life. "I was able to walk them through the process as well as give them some good cabinet education," says Yetley.
Love What You Do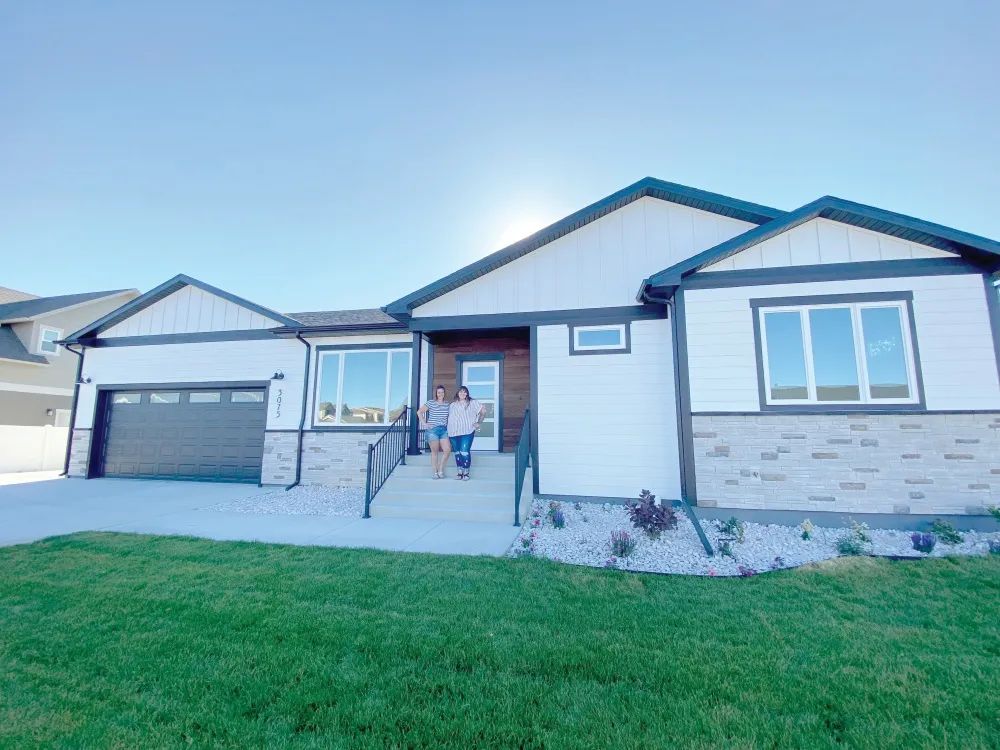 Luci Wollschlager and Ragan Yetley outside of the 2021 Career Center Home | Photo courtesy of Beyond the Box
As with any worthwhile venture, challenges will arise. However, both Yetley and Wollschlager express their love for what they do amidst these challenges.
Yetley says working in an ever-changing industry is a challenge that comes with many rewards. "I love what I do because it's very fun and rewarding work! I love that kitchen and bath design is creative yet technical. I love helping people bring their visions to life or helping them find their vision."
Fostering an environment of enjoyment for students is important to Wollschlager, who finds satisfaction in creating a learning environment with a real-life goal and outcome. "I love to change the way people feel in a space. I've been fortunate enough to do that for several clients over the years, and now I am able to teach students how to do that," says Wollschlager.
Special thanks to the following local organizations instrumental in the 2021 Career Center Student-built home's completion:
Contractor-Joe Bonini
Billings Homebuilders Association
Career Center Interior Design/Improvement Teacher- Luci Wollschlager
Cabinets- Yorketowne, Matt Snow
Kitchen backsplash, floors, shower tile- Floors by Design- Todd Krumm
Lighting- One Source Lighting, Lauri Patterson
Kitchen appliances, sinks, and faucet- Ferguson, Emily Keieger
Paint- Sherwin Williams
Master bath counters- Granite Mountain, Dennis
Construction Documents- A-Line Drafting & Design, Jeff and Luci Wollschlager
Originally printed in the October 2021 issue of Simply Local Magazine
Never miss an issue, check out SLM's digital editions here!