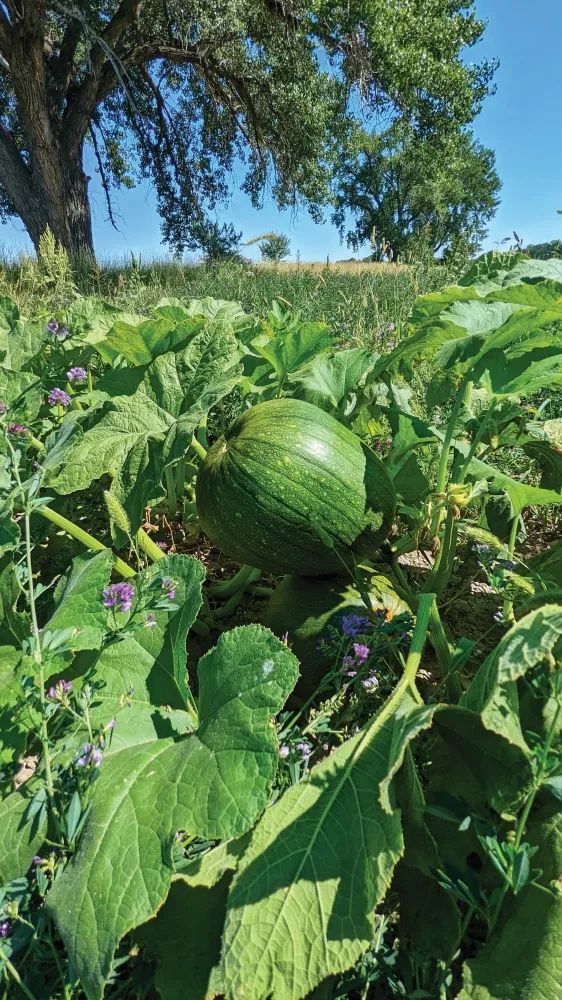 The Scoop on Winter Squash
October 2022
by anna rogers | photos by renata haidle
Nothing says "it's fall, y'all" like winter squash. Pumpkins have become iconic, incorporated into autumn home décor and countless recipes for the kitchen, not to mention the love-it-or-hate-it pumpkin spice latte. The craze for winter squash is well-founded. In fact, it was considered one of three primary crops in the Americas long ago. Its versatility and natural shelf-life is unmatched by any other fruit or vegetable, but are we getting the most out of our fall favorite?
What's a Winter Squash?
Many people think of yellow summer squash or zucchini when they hear the word "squash." These crops are plentiful in the summer, but winter squash is harvested in September or October before heavy frosts hit. The term "winter squash" includes kabocha, butternut, acorn, buttercup, banana, spaghetti, Delicata, turban, Hubbard, and YES – pumpkins! Within each of these categories are numerous varieties of squashes.
Winter squashes have a hard rind, firm flesh, and a center filled with seeds and pulp. The flesh is the most popular part of the squash for eating, and most squash are easily cooked by halving the fruit, scooping out the seed cavity, roasting with skin on, and scooping the flesh away from the skin.
Festive Fall, Indoors & Out
Utilizing winter squash is one of the most beautiful and efficient ways to decorate for fall. Use squash from October through Thanksgiving to bring beautiful color to your table, mantle, front porch, or Fall Festival. After you use the squash for décor, eat it or store it to be eaten later.
At T&C Farms, pumpkins and other squashes are the main attraction but also what's used to decorate the farm for festivities. Owner of T&C Farms, Tytus Harkins, gives us the scoop on decorating with squash this fall.
"Decor varies greatly, both in color and in size. We raise a trio that are all about grapefruit size and are dark green, orange, and white. These look great together and are Midnights, Orangetta, and Casperetta. All are edible and taste very similar to the popular table queen or acorn squash... I think even better! Decorate through Thanksgiving and eat for Christmas!
For larger decor, we love the "Cinderella" varieties. We grow a Rough vif D'Etampes that is very red colored, a Porcelain Doll that is pink, a Jarrahdale that is blue, a Flat that is white, and a Cinderella that is orange. All these varieties can be paired and mixed with each other. They all have thick flesh and small seed cavities and are very good for cooking and canning anything pumpkin. These varieties store well in a cool, dry place."
Read on for storage tips and ensure that you make the most of the squash you seek out for holiday décor!
Hollowing for Halloween
Get in the Halloween spirit with some family pumpkin carving! Many varieties of squash are ideal for carving, or painting, if that's more your thing. T&C Farms has the scoop (pun intended) on some of the best varieties for carving:
"We raise several varieties of pumpkins for carving pumpkins that have been selectively bred to have thinner walls and larger seed cavities. Our primary carving pumpkin is a Howden, which averages basketball size or larger and can get as big as 50 pounds. The Howden is the iconic Jack-o'-lantern in America. The Howden is the anchor of our field for carving pumpkins, with Connecticut Field being second."
If you plan to carve a pumpkin that's left outside and lit up with a candle or light, you won't want to eat the flesh later. Instead, save the seeds from these big boys and roast 'em up with sea salt and cinnamon for a delicious, healthy snack.
Time to Dine
Now that you've enjoyed the decorative beauty of your winter squashes, start getting creative in the kitchen! Try subbing a kabocha or Hubbard squash variety for the "pumpkin" in your pumpkin pie. Experiment with savory soups, pairing other cool-weather vegetables with squash like leeks, carrots, and parsnips. An immersion blender is a handy tool for making winter squash soups!
Butternut squash can be peeled and cut into cubes to add to curries and other dishes. Acorn squash is a great addition to a homemade pizza, pairing beautifully with gorgonzola and arugula. Add winter squash to breakfast casseroles just like you would potatoes. And one of my personal favorites – try it in place of mashed potatoes atop a shepherd's or cottage pie!
Store Your Squash
As we've mentioned, these fall beauties can last for months if stored properly. If you play your cards right, you can spend a Montana spring eating winter squash. Squash should be "cured" prior to purchase if necessary for the variety. The farmer will have kept the squash in a warm place with good air circulation for 7-14 days following harvest to harden the rinds and allows for a longer storage period.
Store squash in a cool, dark place with consistent humidity. Cellars or similar spaces are great for storing squash. At our house, we use a kiddie pool filled with straw in our crawl space to store our squash. The straw keeps the fruits' rinds from bruising.
Different varieties have different shelf lives, so pay attention to the variety you purchase and stay on top of the timing.
About T&C Farms…
Each year they plant around 45 varieties of pumpkins, squash, and gourds. Every year something does poorly, and something else does amazing. It makes doing pumpkin patch an adventure!
Visit them this fall for your own adventure! U-Pick Pumpkin Patch & Fall Farm Family Experience, including hay rides, corn maze, pumpkin slingshot, redneck skeeball, giant prize pumpkins, farm produce, farm animals, country store ("The Shoppe"), barrel train, picnic areas, coffee, cider, rolls, and MORE!
Originally printed in the October 2022 issue of Simply Local Magazine
Never miss an issue, check out SLM's digital editions here!