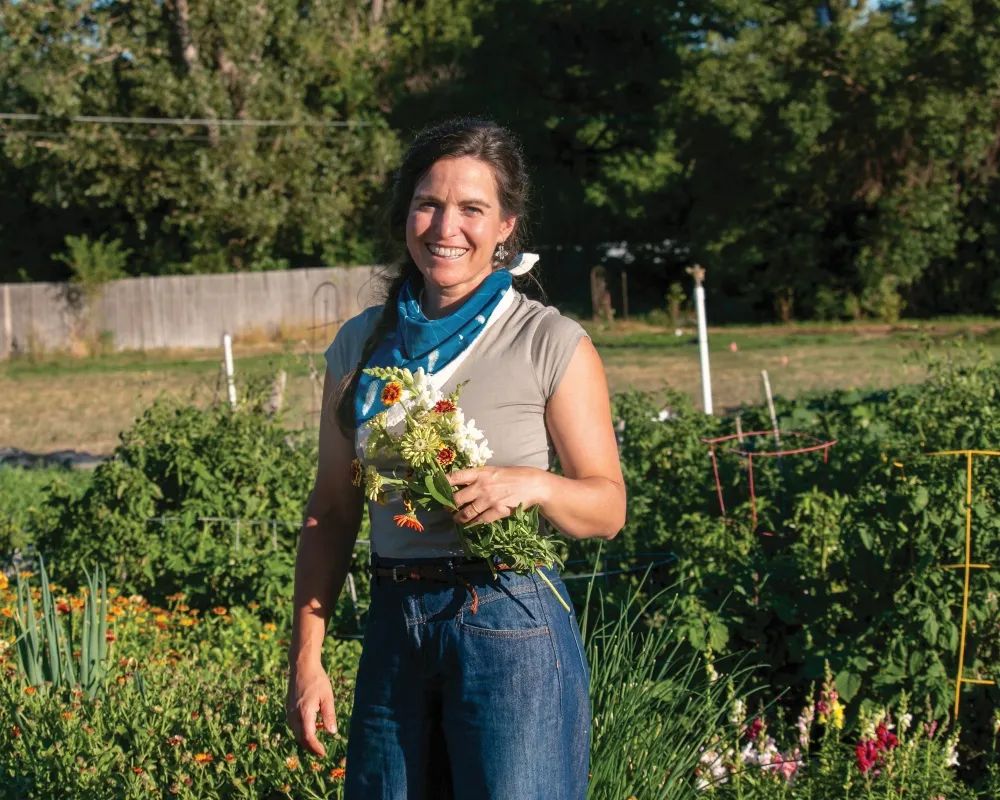 Meet the Gardener: Anna Rogers
October 2022
article & photos by renata haidle
Gardening in Montana can be a challenging endeavor. The growing season is short. We have to contend with hail, occasional high winds, and drought. There are hungry rabbits, deer, and grasshoppers to chase out of our gardens. And yet, the joy of picking that first tomato off the vine, warm and juicy and tasting of sunshine, somehow makes it all worth it.
For Anna Rogers, gardening has become a passion, a skill, and a constant drive to do better. It is a way to connect with the earth and its bounty and a path to building community. One year ago, she and her husband, Caleb, started a garden on a vacant lot owned by Mayflower Church at the corner of Poly and Rehberg. Living close to the church, the land was like their extended backyard, where their two young children, Rynn and Jackson, played and their dog Tucker ran around.
The couple started small, leasing a tiny parcel of land in the community garden already in existence. When the church leadership asked if they had ideas on what to do with the rest of the unused land, Anna and Caleb came forward with the plan of creating and developing a much larger garden area. Once a barren field full of weeds, under the family's loving care and assiduous work, it has become a thriving piece of land that gives back. Not only does the garden generate enough fresh food to cover the family's needs, but there is adequate produce left over to share with others as a weekly offering. Anna calls it the "fresh pick pack." It is an assortment of veggies and herbs accompanied by a bouquet of wildflowers, which she makes available via her website and social media.
The garden was designed as a 25x100ft bed, divided into 30-inch rows, with 18-inch paths between them for easy access. The rugged and arid Montana soil was covered abundantly with JB Farley Agri Organics* compost. Compost is the only thing that feeds it, and occasionally a bit of Big Sky Bio compost tea from Swift Buckets. Anna and Caleb are big proponents of treating the earth with kindness and keeping it healthy, as its ability to thrive will, in turn, affect our ability to thrive on it. Instead of killing all the weeds and starting with a fresh slate, Anna prefers to work with nature, not against it. "When plants come up, they take over the area and keep down the weeds," she says. "Squash is not worried about a little bit of Morning Glory wrapping around it."
Anna is a staff writer for Simply Local Magazine. She also runs her own marketing business and has worked in the film industry in graphic communications. So how did she become skilled at working the land successfully? While living in California with her husband, she became interested in how food was produced and where it came from. She was intrigued by how agriculture influences society and, ultimately, how we live. A move to North Carolina took this interest one step further. With a bit of time to spare, Anna enrolled in long-distance classes in horticulture to increase her knowledge. That knowledge was put to the test when moving from the East Coast to Montana. The seasons, soil, and growth rhythms are all different here. There are pests like rabbits and deer, which she learned to live with and accept as a "give back to nature" deal, as well as supporting the wildlife. "It is very challenging," she says, "and you have to be able to go with the flow and persevere. It's a good reminder that life is hard, it takes a lot of work and dirty hands - but life is also beautiful."
Not surprising for someone who grows bountiful produce, Anna loves to cook with it. She enjoys bringing people together over a meal and connecting them. She likes the idea of small farms feeding communities in a healthy, organic way instead of relying on food giants to feed everyone. She shares recipes on social media and likes to challenge people to think outside the box in the kitchen. Her pick packs contain whatever is fresh that week, including less commonly used vegetables like turnips or leeks. The goal is to encourage people to get creative, look for new recipes, and not let anything go to waste.
That same philosophy applies to the way she treats the garden scraps. "What we do is chop and drop," she says. "Cut at the bottom of the plant, leave the roots in the soil, and just lay the waste down on top, so it essentially becomes mulch. We try to utilize all of the living material that we have."
Looking ahead to next year, the second gardening bed, similar in size to the first one, is already covered in compost and becoming fertile under the covering of a large black tarp. There is no commercial interest in Anna and Caleb's efforts. Covering their costs would be nice, but the purpose isn't to make money off the garden. Their ultimate goal is to work with nature, help create a healthy ecosystem, grow healthy food, and, if possible, leave the land a little bit better than they found it.
"This little lot of land that we tend can be frustrating. There is bindweed, and there is grass, and there is more bindweed. There is urban traffic and pollution and people and dogs that walk through the garden when we aren't around. There is wildlife - mule deer and rabbits and crows and robins - and there are bugs, some of them incredibly destructive. But also, tiny seeds grow into miracles and rows that feed families. There are our children who learn where food comes from and how to work hard. There is color and beauty and life. I'm learning to be patient, fine, and balanced, and kind to myself in this journey to building something fruitful and wonderful." - Anna Rogers.
*JB Farley Agri Organics is a family-owned and operated business located in Lockwood. Every year they remove thousands of tons of organic matter from the landfill and generate STA-certified compost (a US Composting Council certification that assures the quality of the product).
Originally printed in the October 2022 issue of Simply Local Magazine
Never miss an issue, check out SLM's digital editions here!