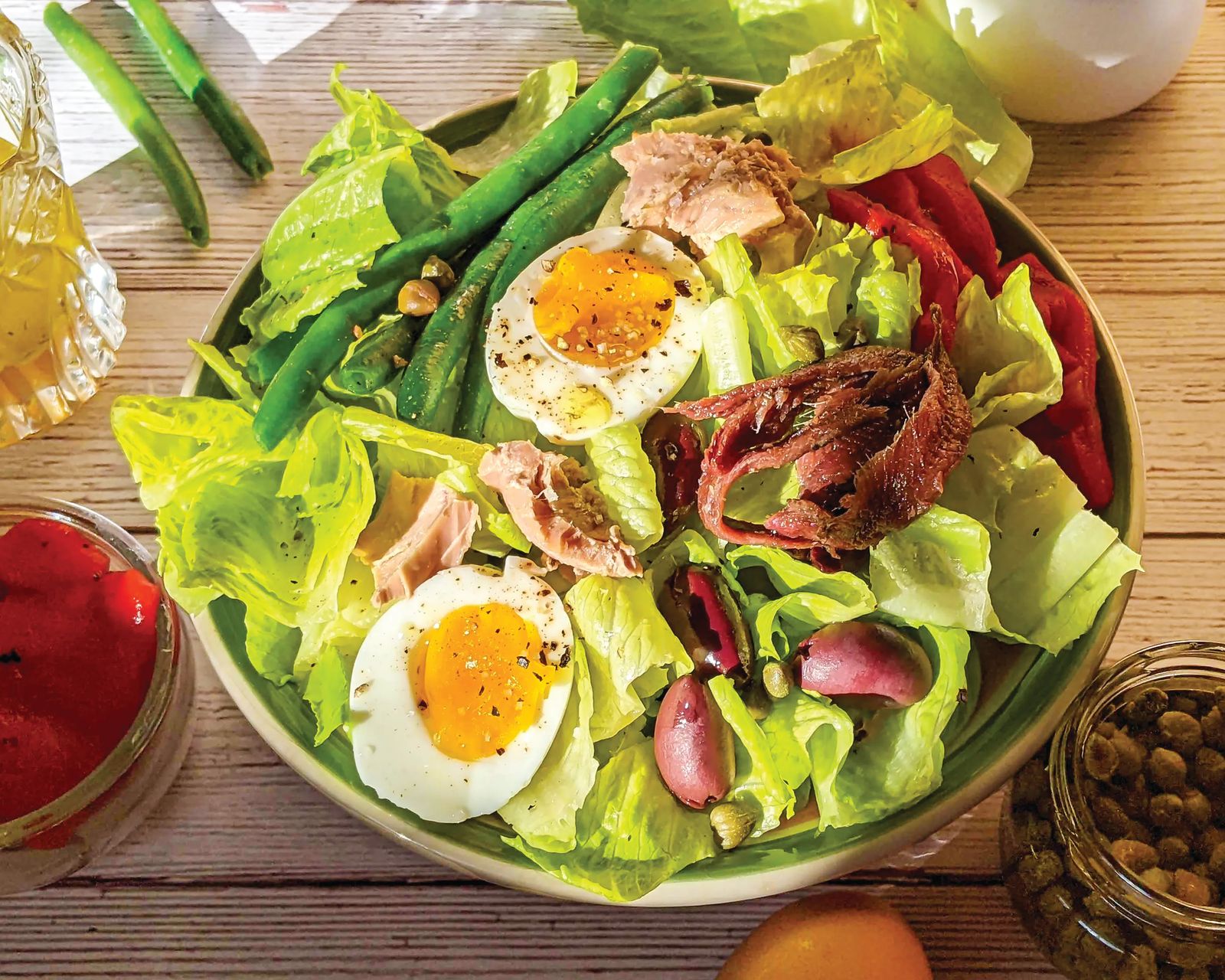 Good Greens: Simple Salads for Every Taste
April 2022
article & photos by renata haidle
The humble salad is often viewed as a boring sidekick to more exciting and hearty things like meats, casseroles, or pastas. With very little effort and a bit of imagination, you can transform your salads into the star of the meal, and add a healthy dose of necessary nutrients while doing so.
Always buy fresh and in-season, organic if possible, for optimal nutritional value.
You can make amazing salads with things you might already have in your fridge and/or pantry. Canned fish, nuts and seeds, and dry fruit make excellent toppings to many veggie-based salads.
The more colorful your salad is, the better the nutritional content (provided that color comes mainly from vegetables).
For your salad to be satiating, always think of including some protein.
Layer different textures, shapes, and colors for an appetizing plate.
Think outside the box when making dressing. Delicious dressings can be made out of a favorite sauce, fruit preserves, fruit juices, or yogurt.
To master any vinaigrette, combine three parts oil with one part acid. The acid can be vinegar, fruit juice, wine, soy sauce, etc.
Ahi Tuna Poke with Mango and Baby Greens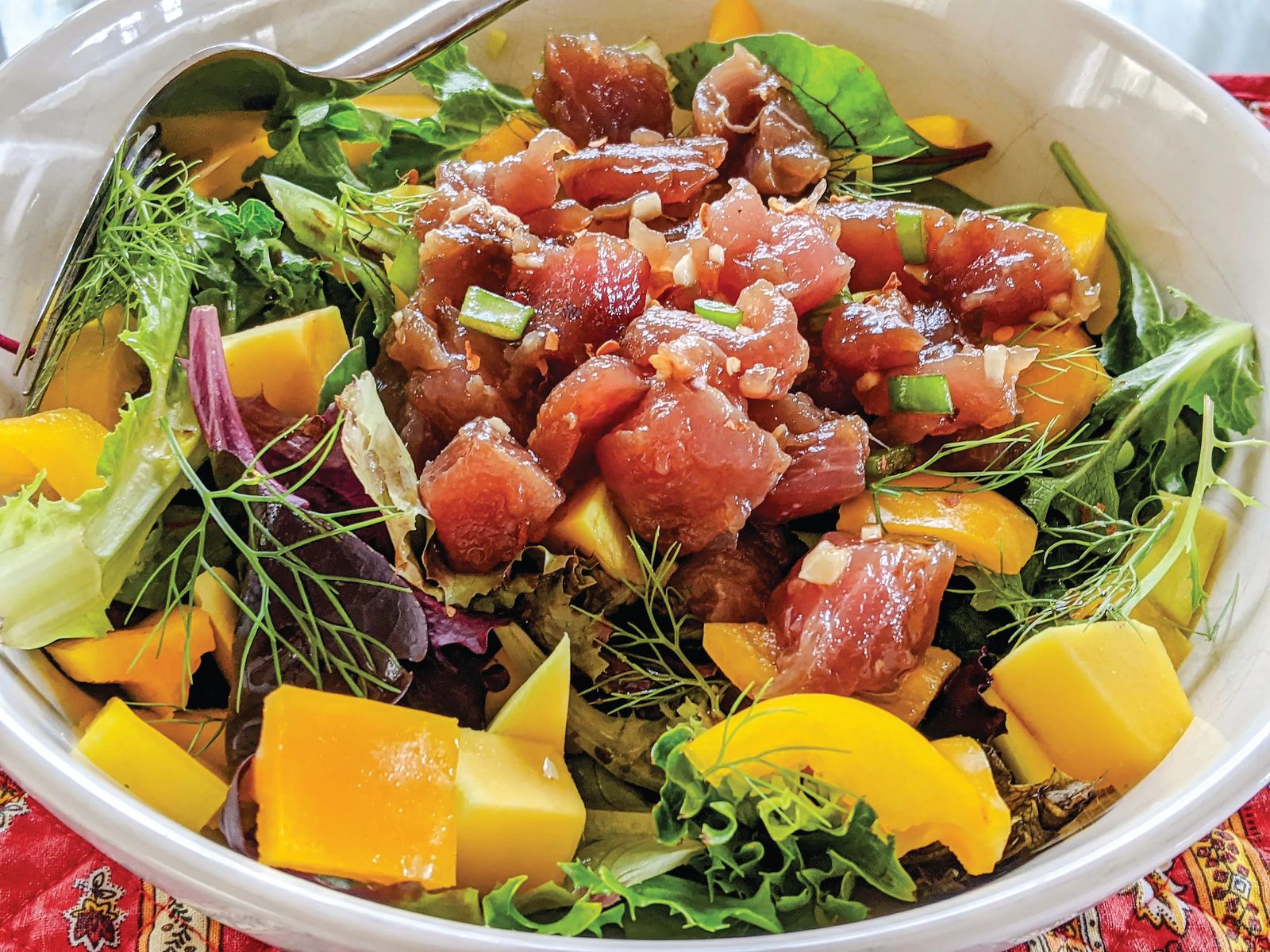 Ingredients:
4 Cups baby greens
1 yellow bell pepper, diced
1 mango, diced
8 oz ahi tuna
2 Tablespoons chopped green onion
2 Tablespoons chopped onion
4 Tablespoons soy sauce
2 teaspoons sesame oil
½ teaspoons red pepper flakes
Fennel frond tips for decorating, optional
Directions:
To make the ahi tuna poke: cut the ahi tuna (sushi-grade) into half inch cubes. Toss with the sesame oil, soy sauce, red pepper flakes, and onion until thoroughly coated. Refrigerate for 30 minutes before serving.
Makes 2 servings.
Peach And Stilton Spinach Salad with Honey Lemon Vinaigrette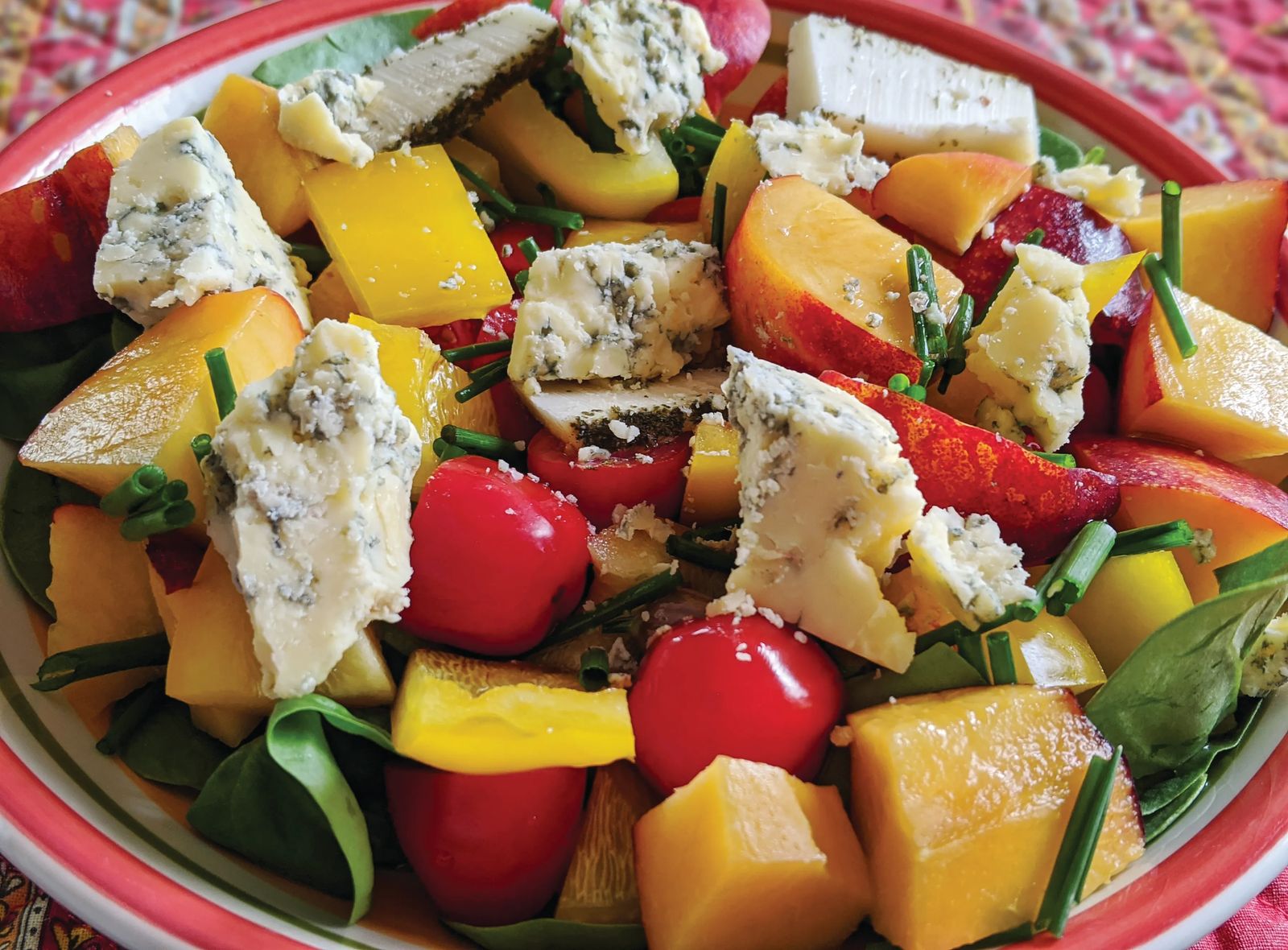 Ingredients:
4 Cups baby spinach
1 Cup cherry tomatoes, halved
1 peach, cubed
1 bell pepper, diced
2 Tablespoons chives, chopped
4 oz Stilton, torn into 1-inch pieces
For the honey lemon vinaigrette, mix 6 Tablespoons olive oil with 2 Tablespoons fresh lemon juice and 1 Tablespoon honey.
Makes 2 servings.
Red Quinoa With Celery and Grape Tomatoes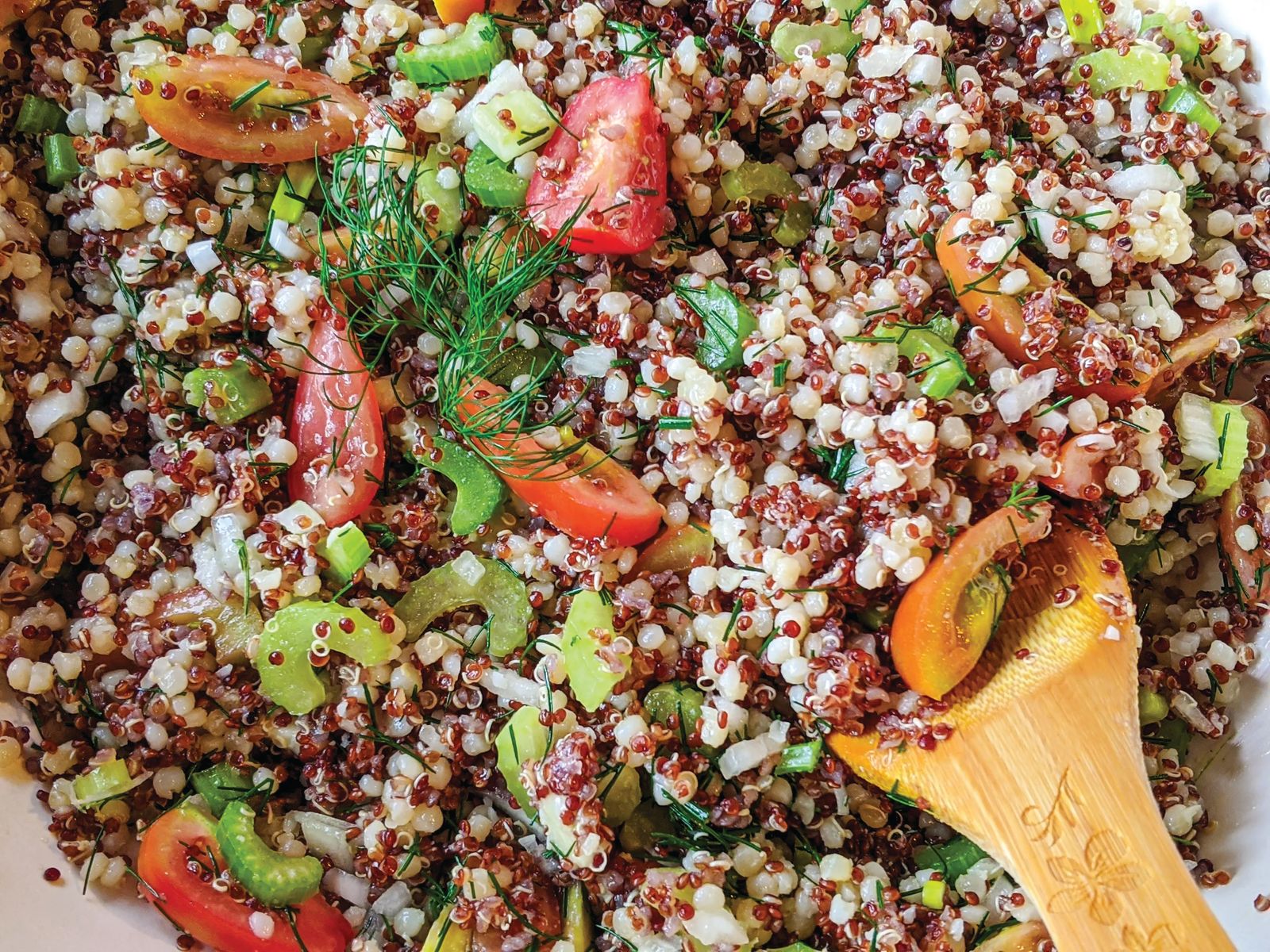 Ingredients:
2 Cups cooked red quinoa
2 celery stalks, finely sliced
1 Cup grape tomatoes, halved
2 Tablespoons dill fronds
Dress with olive oil, salt, freshly ground pepper, and a splash of lime juice.
Makes 2 servings.
Fig, Avocado and Arugula with Balsamic Vinaigrette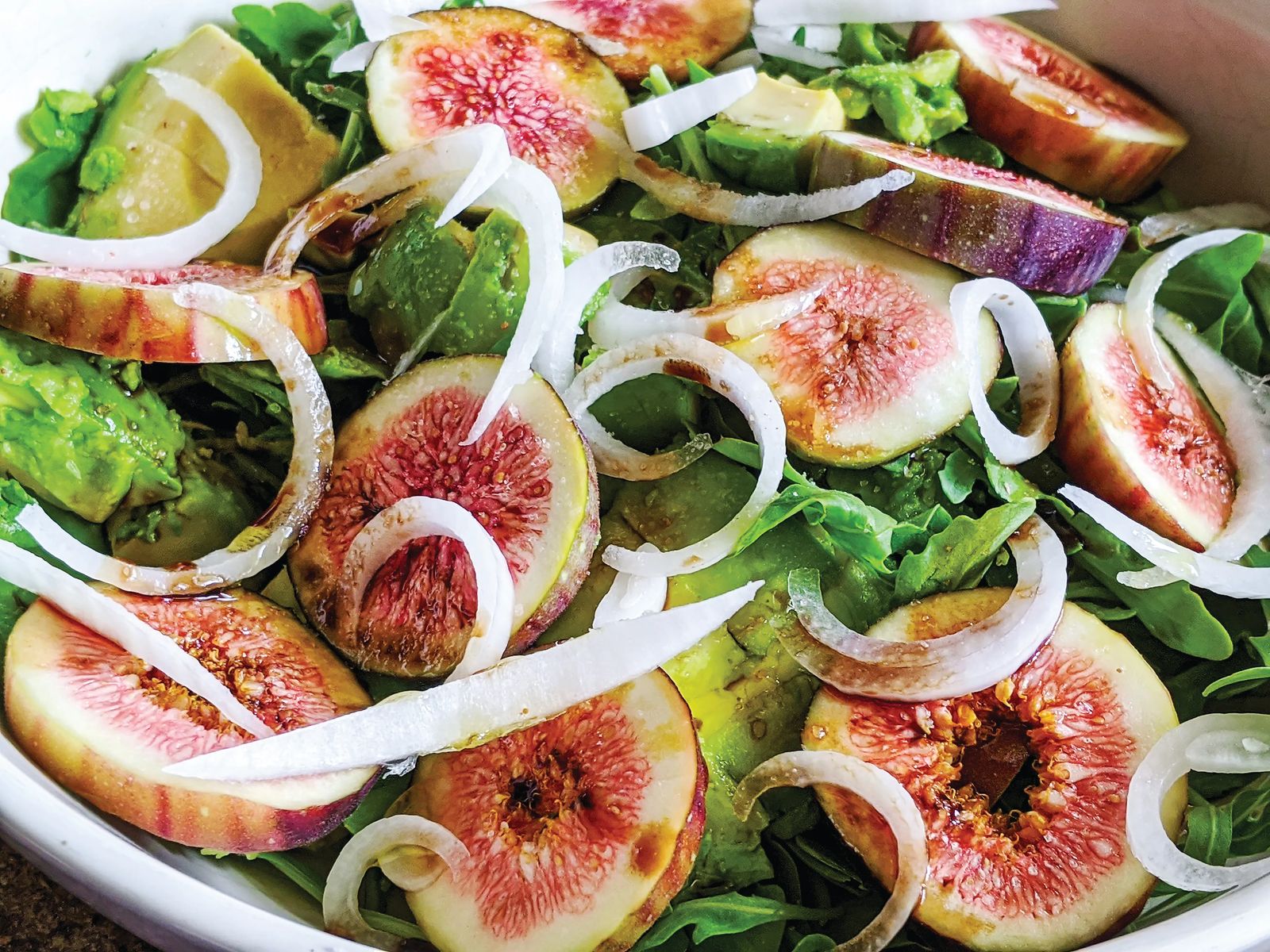 Ingredients:
2 Cups arugula
2 Tablespoons sweet onion, sliced finely
1 avocado, diced
4 large figs, sliced
For the vinaigrette, combine 3 parts olive oil with 1 part balsamic vinegar.
Makes 2 servings.
Mediterranean Salad with Tuna and Anchovies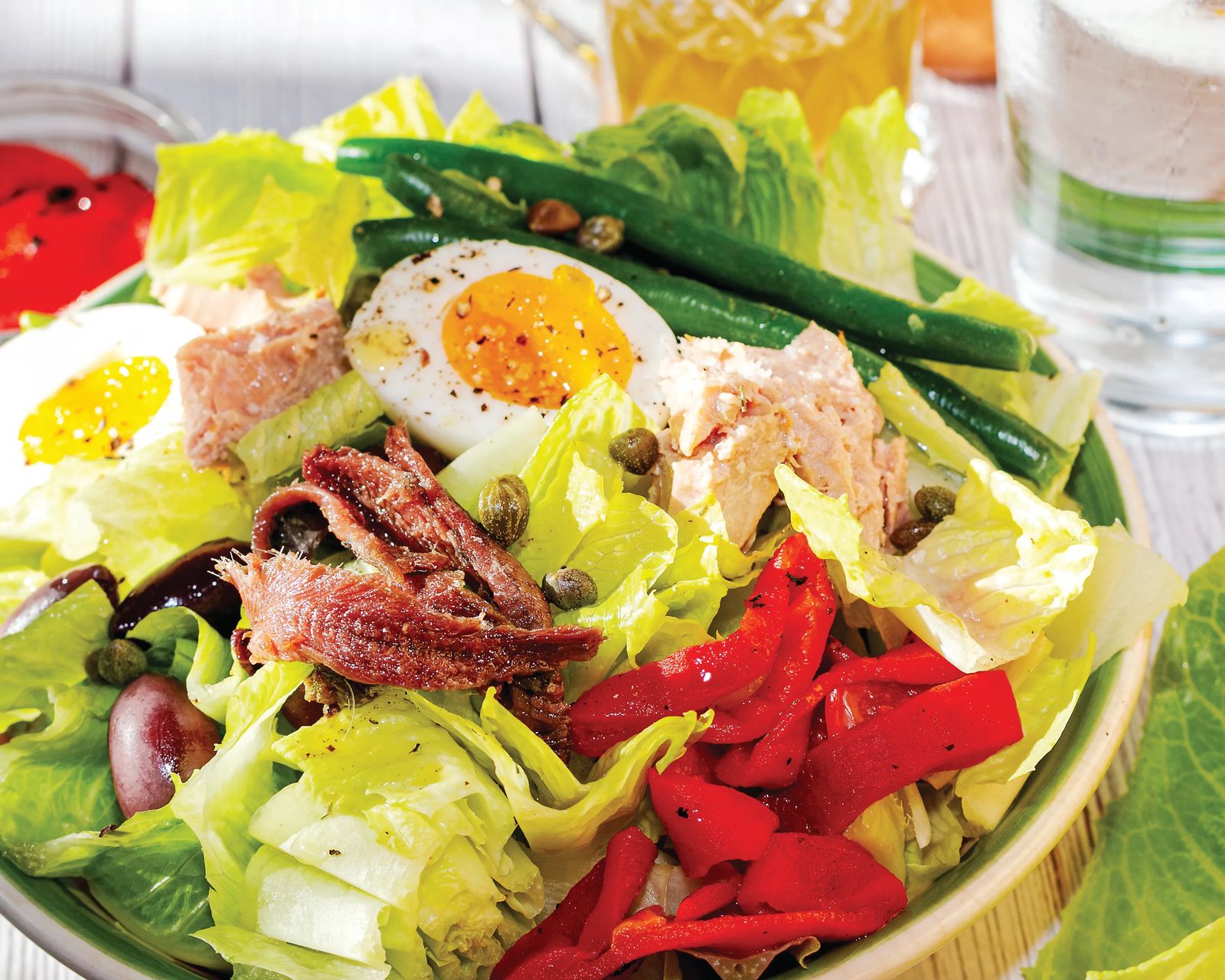 Ingredients:
4 Cups romaine lettuce, torn into small pieces
2 hard boiled eggs, sliced in half
1 can tuna
8 anchovy filets
¼ Cup Niçoise olives (you can substitute Kalamata)
8 green beans, blanched
1 Tablespoon capers
2 Tablespoons marinated red pepper strips
Serve with a honey mustard vinaigrette.
Makes 2 servings.
Red Cabbage with Feta, Blackberries, and Watermelon Salad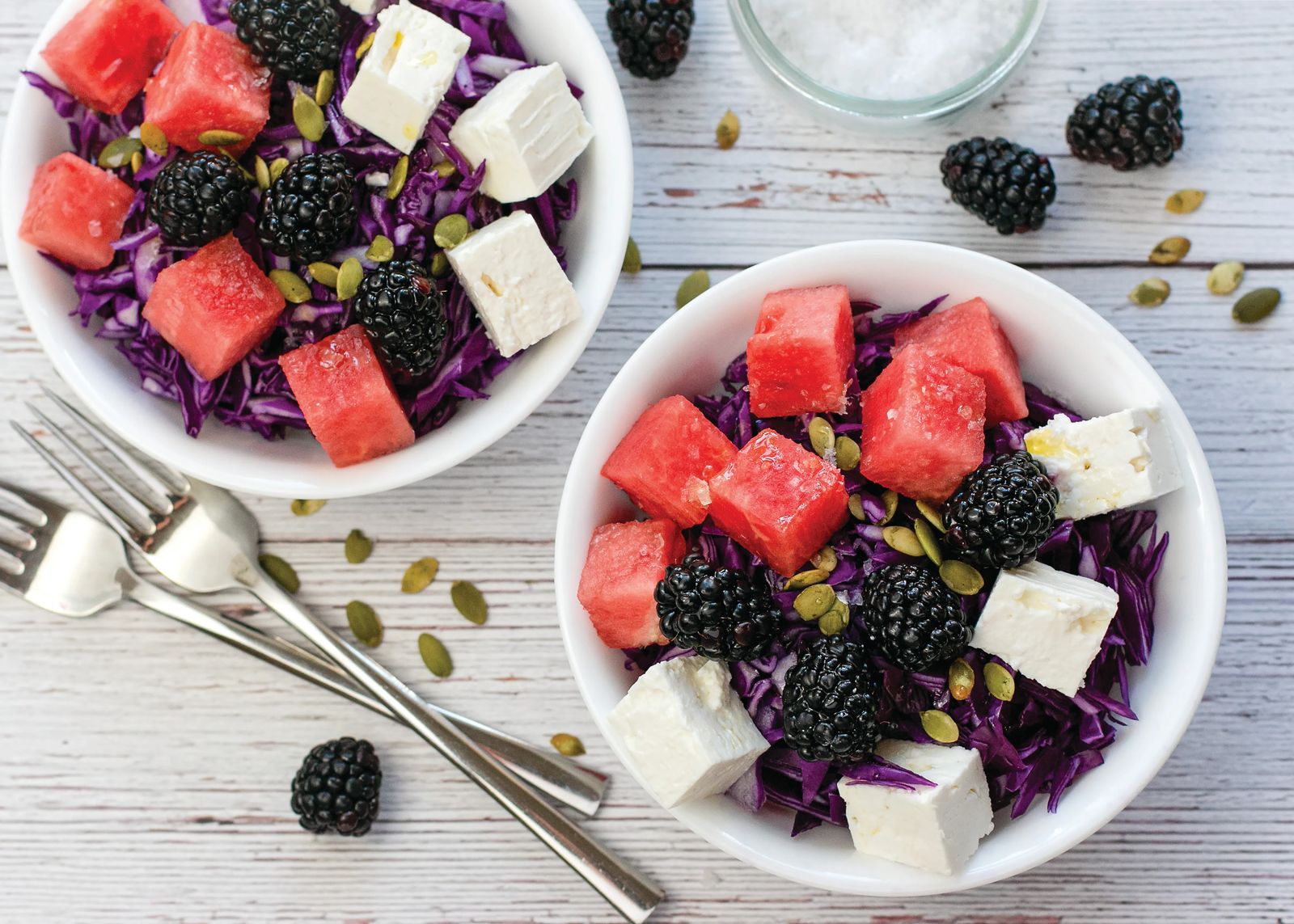 Ingredients:
2 Cups shredded red cabbage
1 Cup watermelon, cubed
1 Cup feta, cubed
1 Cup blackberries
1 Tablespoon sprouted pumpkin seeds
1 teaspoon kosher salt
Serve with balsamic or huckleberry vinaigrette.
Makes 2 servings.
Originally printed in the April 2022 issue of Simply Local Magazine
Never miss an issue, check out SLM's digital editions here!