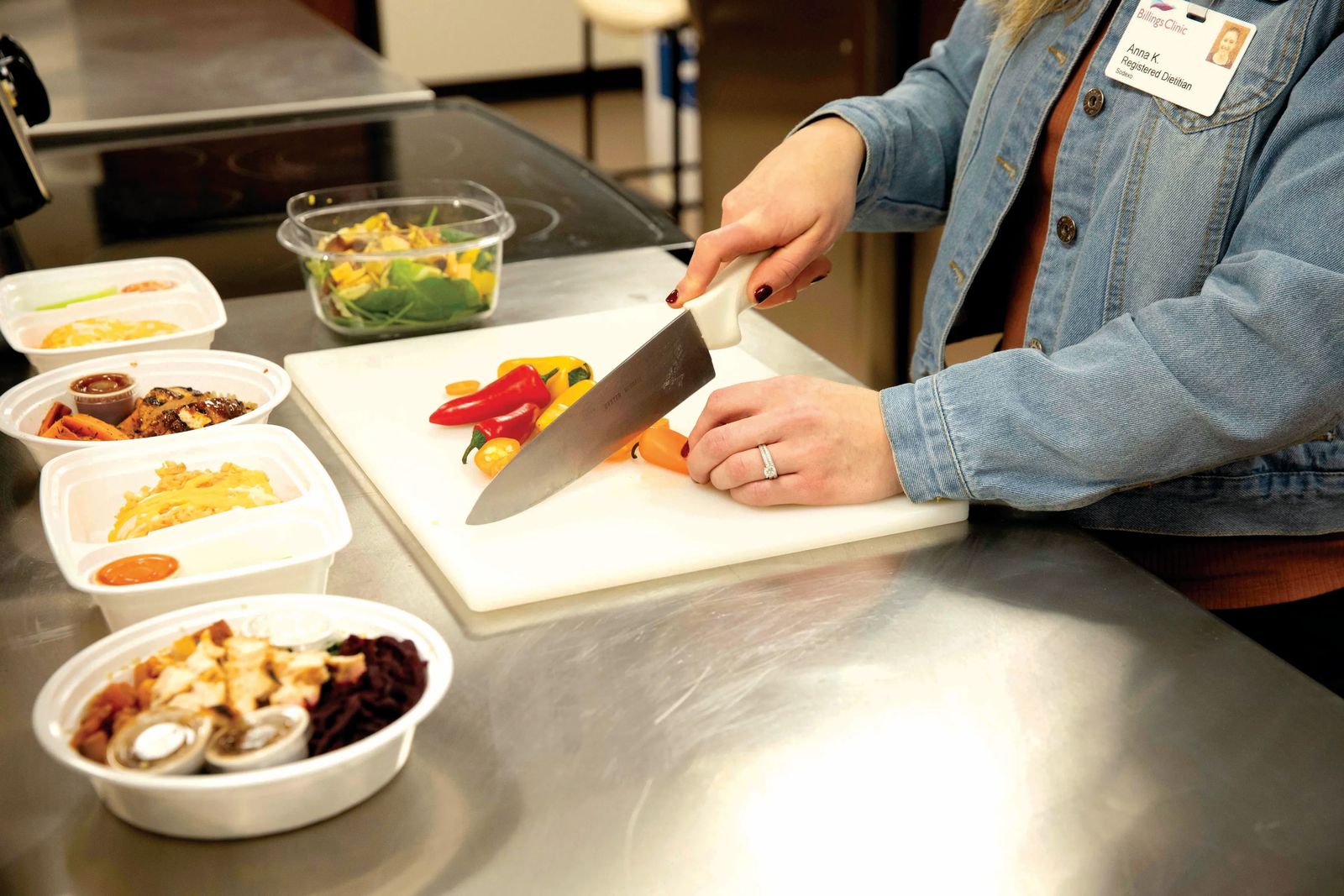 Going Green with Your Diet
April 1, 2020 | by stephanie hobby | photos by jana graham
When it comes to eating healthier, Billings Clinic registered dietitian Anna Kasperick offers a key point to remember: hunger always wins. The idea is that if you're hungry, you can try your best to ignore it, but it can lead to anxiety and feeling "hangry." You're more likely to make poor food choices when your stomach is demanding attention.
The good news, vegetables can help stave off those gnawing pains. The even better news, eating vegetables has never been easier. The most trending diet of 2020 so far has been plant-based, and the freezer section is playing a significant role in helping people stay on track. Shoppers can look there for cauliflower rice, zucchini noodles, spiraled carrots, and prepared beets. "If those foods are convenient, we're much more likely to grab them," said Kasperick.
Building vegetables into your diet doesn't have to mean a complete overhaul, something Kasperick advises against. She advocates adding vegetables to what you usually eat; if you eat a tuna sandwich at lunch, think about adding a cup of baby carrots as a side, or layering a handful of spinach onto your sandwich. Not only is this healthier overall, but there is a very tangible benefit that kicks in within a couple of short hours.
Most Americans are all too familiar with the slump that hits between three and four in the afternoon. That's typically the time of day when the office candy jar or vending machine looks a lot more tempting. The reason is that most people don't eat enough vegetables at lunch. Making small changes and planning to increase fiber and water intake can dramatically ease hunger pangs. "Hunger always wins, so anticipate it," Kasperick said. "If you know, at 3 o'clock every day that you get hungry, then pack a snack for 3 o'clock, rather than saying I'm not going to eat until dinner."
Making grab and go bags of vegetable snacks is another easy way to encourage healthy choices. Chop vegetables when you get home from the store, and store them in ready to go containers that you're more likely to choose when in a hurry. Carrots and cucumbers are a good place to start since most people like them, but you can also get more adventurous with sliced peppers or rinsed canned artichoke hearts. If eating plain vegetables feels burdensome, make a Greek yogurt, and Hidden Valley Ranch packet dip, it will still taste good and provides extra protein.
Plant-based proteins like lentils, chickpeas, and beans are relatively easy to mix into salads and soups and will give you added bulk and fiber to help you feel full. And if you're going out to eat, always order a side salad.
In years past, the sodium content of canned vegetables caused some people to avoid them, but Kasperick said sodium content has dropped for most canned items, but if there's still a concern, vegetables can always be rinsed.
Interestingly, fresh doesn't always mean better; canned and frozen foods are packed at the time of harvest, so in some ways, they can have more nutrients and be more appetizing than food that has been driven all over the country before being delivered to your grocery store.
Frozen meals have come a long way in the last few decades; Kasperick advises looking at food labels when buying prepared meals. Many of them are adding whole grains of quinoa, brown rice, whole-wheat noodles, and sometimes even Farro and barley. Look at the label; you should see a high fiber content. Check to see where sugar falls on the ingredient list. Kasperick recommends no more than 9 grams per serving.
Finally, be wary of any diet plan with a rigid structure that cuts out entire food groups and doesn't take into account human nature. Kasperick discourages assigning moral values to certain foods. If you're presented with a delicious-smelling fresh donut, it's perfectly fine to go ahead and enjoy it, rather than avoid it. "If I do enjoy that and move on with my day, my relationship with food is probably going to be better," she said.
There are plenty of helpful resources available if you're interested in learning more:
RECIPES
Sheet Pan Shrimp and Veggies
Ingredients:
1 pound shrimp
1 red onion, diced
1 diced bell pepper
1 Cup mushrooms
1 ½ Cups broccoli florets
1 Cup chopped or shredded carrots
1 Tablespoon olive oil
¼ Teaspoon salt and pepper
¼ Teaspoon paprika
¼ Teaspoon garlic powder
Prep Work:
Toss everything but the shrimp on a sheet pan and roast for 15 minutes at 425 degrees. Then add shrimp, toss and cook for another 7-10 minutes until the shrimp is done. Serve over brown rice.
Sesame Noodle Bowl
Ingredients:
¼ Cup natural peanut butter
¼ Cup warm water
¼ Cup soy sauce
1 Tablespoon sesame oil
2 Cups shelled edamame
2 Cups cucumber, diced
1 garlic clove or 1 Tablespoon garlic powder
Grilled or shredded chicken
Prep work:
Cook chicken and whole-wheat noodles, set aside.
Combine peanut butter, warm water, soy sauce, sesame oil, and garlic.
Add shelled edamame and cucumbers to noodles and chicken.
Toss with sauce.
Top with black sesame seeds.
Veggie Stir Fry
From the kitchen of Stephanie Hobby
Ingredients
1 Tablespoon cornstarch
1 ½ cloves garlic, crushed
2 Teaspoons chopped fresh ginger root, divided
¼ Cup vegetable oil, divided
1 small head broccoli, cut into florets
½ Cup snow peas
¾ Cup julienned carrots
½ Cup halved green beans
1 can garbanzo beans, rinsed and drained
2 Tablespoons soy sauce
2 ½ Tablespoons water
¼ Cup chopped onion
½ Tablespoon salt
1 lemon
Directions
In a large bowl, blend cornstarch, garlic, 1 Teaspoon ginger, and 2 Tablespoons vegetable oil until cornstarch is dissolved. Mix in broccoli, snow peas, carrots, and green beans, tossing to lightly coat.
Heat remaining 2 Tablespoons oil in a large skillet or wok over medium heat. Cook vegetables in oil for 2 minutes, stirring constantly to prevent burning. Add garbanzo beans. Stir in soy sauce and water. Mix in onion, salt, and remaining Teaspoon ginger. Cook until vegetables are tender but still crisp. Sprinkle with lemon juice and sesame seeds before serving.
Serve over brown rice.
Originally printed in the April 2020 issue of Simply Local Magazine
Never miss an issue, check out SLM's digital editions here!