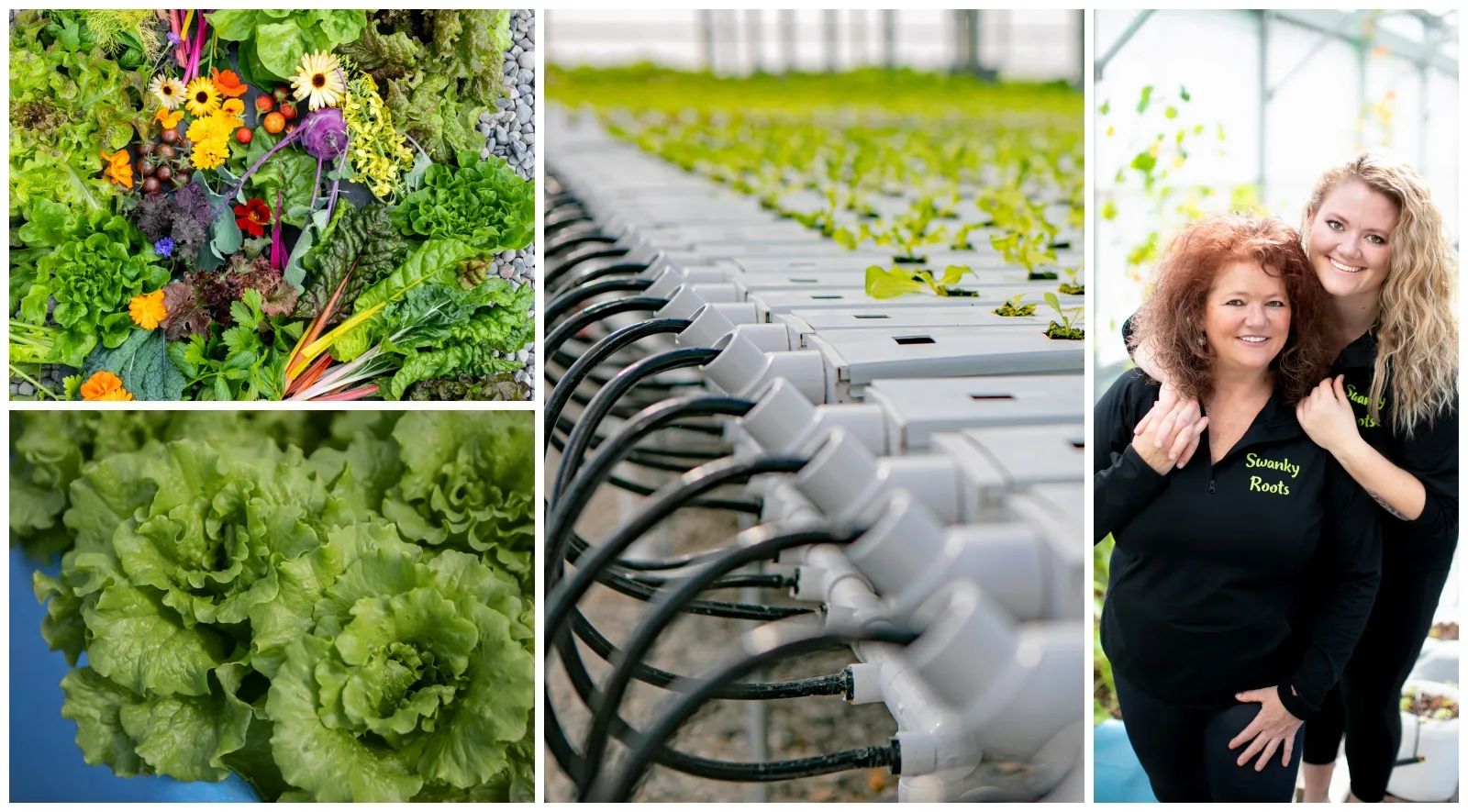 Passionately Rooted: Swanky Roots
April 1, 2020 | by anna rogers, photos by lovely hitchcock
Veronnaka Evenson never thought she'd be back in Billings.
She grew up here – her parents raised cattle, and she was one of the valedictorians of her Billings West High School graduating class. It was here in Billings that it all began.
A science teacher at West helped instill a love of plants and awe of nature in her. Another teacher helped her focus on what it means to be a good person. She took off for college in Bozeman, pursuing plant science, agriculture education, and biology teaching at Montana State University. Veronnaka was finishing up student teaching and considering her options; the plan was to stay in Bozeman. The possibilities were endless.
It was then that Veronnaka's mom Ronna started talking to her about an aquaponics greenhouse. The more she saw the system, the more she fell in love with it. "I knew a little about aquaponics but had not considered it as a career option. It was more hi-tech ag than I was used to, but the systems just seemed to be something that could work."
Let's Grow Some Lettuce!
Before diving into this new career, the mother-daughter team had a market analysis study done to be sure aquaponic greens were something people around Billings would like. They flew in samples from the developer of the greenhouse system in Wisconsin. Veronnaka loved the concept but wasn't sure how people would react. "It's just lettuce," she says, humbly downplaying her incredible produce.
But the response was overwhelming. The community was excited about the prospect, and people thought the samples were beautiful! The duo set off for Wisconsin to train on the basics of running an aquaponics greenhouse.
The start-up process was less than glamorous. Construction took longer than expected. Veronnaka spent most of her time gluing together pipes, anxious to get the fish into the system, and get growing. In November of 2017, Swanky Roots was established and ready for fish.
What Is Aquaponics?
aq·ua·pon·ics /ˌäkwəˈpäniks/
a system of aquaculture in which the waste produced by farmed fish or other aquatic animals supplies nutrients for plants grown hydroponically, which in turn purify the water.
Aquaponics is a combination of aquaculture and hydroponics. While hydroponics and aquaponics are similar, there are some key differences between the two. "Aquaponics has fish," Veronnaka explains, "and therefore the set up takes longer. In hydroponics, you add the nutrients right into the water. For aquaponics, you have to achieve mature water by getting fish in and feeding them, finding the proper balance of enough fish and microbes in the system."
This critical balance doesn't happen overnight. For Swanky Roots, it took almost a year to build up the water to feed the plants, but now that it is established, the process is incredibly sustainable and durable.
In the aquaponics cycle, healthy fish generate waste, microbes convert the waste to fertilizer for the plants, plants filter the water, and clean water returns to the fish. Swanky Roots is growing lettuce with six times less water than what they would use in a traditional field.
This sustainable system is also incredibly durable – it isn't susceptible to Montana's extreme temperatures, devastating hailstorms, or pests. The growing season is year-round, and there's never too much wind or snow to get into the greenhouse and harvest!
What's Growing?
Within Swanky Roots' greenhouse, you can find lettuce (of course!), herbs, microgreens, kale, and swiss chard. Veronnaka is working on expanding into more arugula and kale to meet demand. They have rotating vegetables seasonally, and even grow some edible flowers like nasturtium and calendula.
In addition to the harvest of plants, Swanky Roots harvests their fish every couple of months. The Blue Gill fish that fuel the aquaponics system are also delicious, and Veronnaka sells out at every harvest. "Everyone loves them!" she says.
"I never thought I'd be back in Billings, but there are really wonderful things happening here, and it's exciting to be a part of that. I'm so happy to be here."
The community is thankful she's here too. The response to Swanky Roots and their greenhouse has been amazing: "Thank you for what you're doing. Please don't stop."
---
Enjoy the Harvest
If you're interested in enjoying Swanky Root's harvest of greens (or fish), you can purchase directly from their storefront on-site located at 8333 Story Road in Billings. Not only does this give you access to more variety than in some other places around town, but it also gives you a glimpse into the growing process and understanding the inputs into your food. While not certified organic, Swanky Roots uses all organic practices.
Swanky Roots Store Hours
Monday – Thursday, 9:00am – 5:00pm
Friday & Saturday: 10:00am – 4:00pm
Swanky Roots products are also sold the new Produce Depot in downtown Billings. For CSA-style purchasing, you can order Swanky Roots' greens along with other local meat and produce through the Yellowstone Valley Food Hub's online ordering hub for local weekly pick-up: YVFoodHub.com.
With the closing of Lucky's Market, Veronnaka is working on getting into other grocery stores in Billings. Swanky Roots currently sells to consumers at grocery stores in Red Lodge, Bozeman, and Livingston.
From the beginning, Swanky Roots has been partnering with local restaurants and works with many chefs that carry the greenhouse's products regularly.
"I try really hard to get chefs and their staff out to the greenhouse. We're so used to ordering food online that there is a disconnect between the food we eat and where it comes from. By seeing the greenhouse, they get a better understanding of the process. It definitely takes a little more effort to buy local, but when you visit, you can see that it's worth it," Veronnaka says.
If you're dining out around town experiencing Billings' culinary scene, you can enjoy Swanky Roots at the following restaurants:
The Fieldhouse
Highlands Golf Course
Parasol
RaeRae's Bakery
Juliano's
Walker's – try their special salad featuring Swanky Roots!
Local Kitchen & Bar
Originally printed in the April 2020 issue of Simply Local Magazine
Never miss an issue, check out SLM's digital editions here!