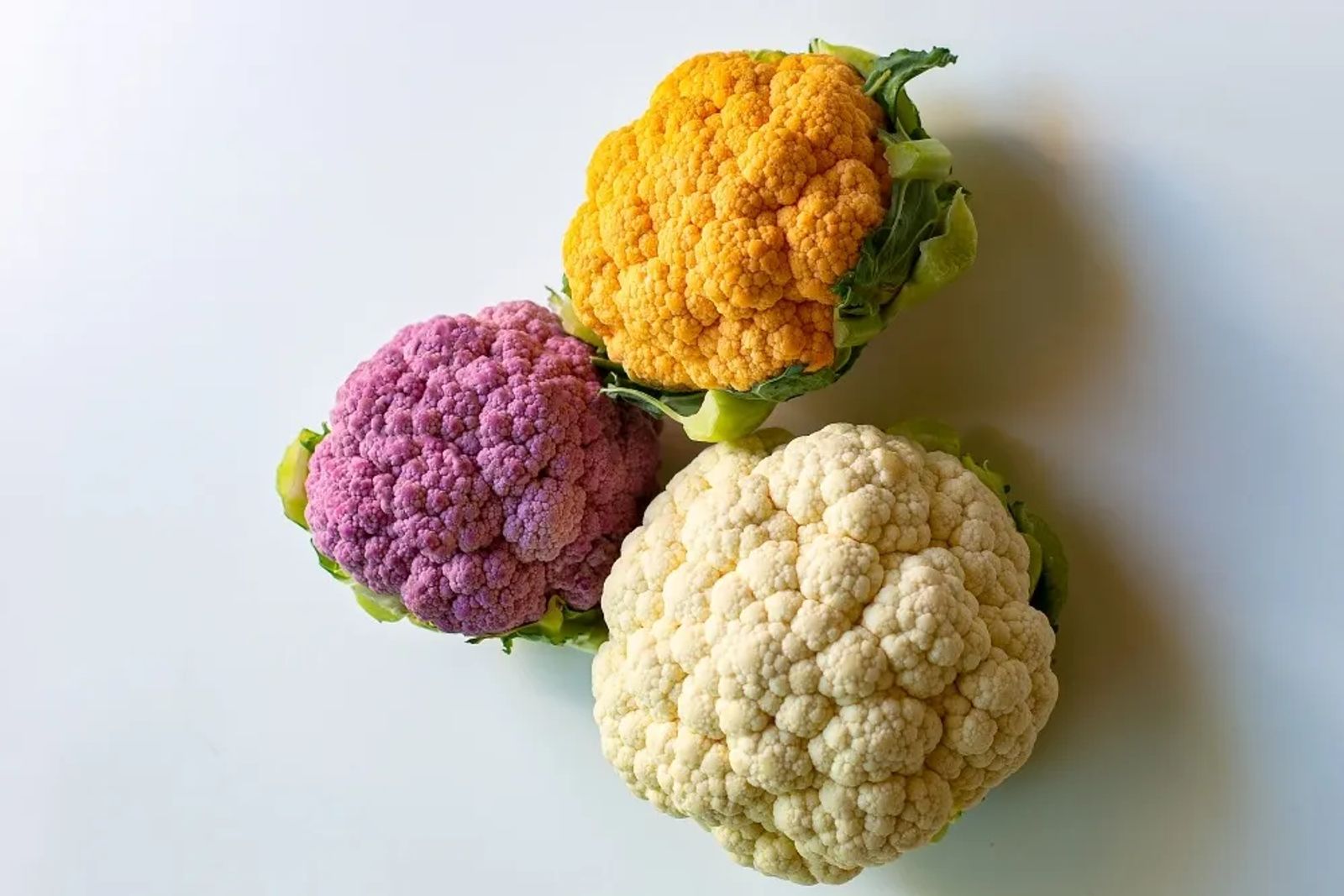 Cauliflower: A Veggie Garden Rockstar
August 2021
article & photos by renata haidle
Suiting just about any diet and health plan out there, the humble cauliflower has become a veggie garden star in its own right. Difficult to beat when it comes to versatility in the kitchen, cauliflower can be steamed, roasted, broiled, grilled, puréed, pickled, riced, made into pizza crust, and whatever else might cross your mind to experiment with. One random idea here: cauliflower chocolate mousse, anyone?
Nutritional profile:
Cauliflower contains a high amount of fiber and vitamin C
It is cholesterol-free and fat-free
Very low in calories, it is suitable for a variety of weight loss plans
Rich in antioxidants such as glucosinolates and isothiocyanates, which have been shown in lab studies to protect against certain forms of cancer
It is an excellent source of choline, which plays multiple metabolic roles and prevents disease.
Sulforaphane, a phytochemical present in all cruciferous vegetables, including cauliflower, has shown promise as a cancer inhibitor, especially effective against colon and prostate cancer.
Three Recipes to try this summer:
Raw Cauliflower Salad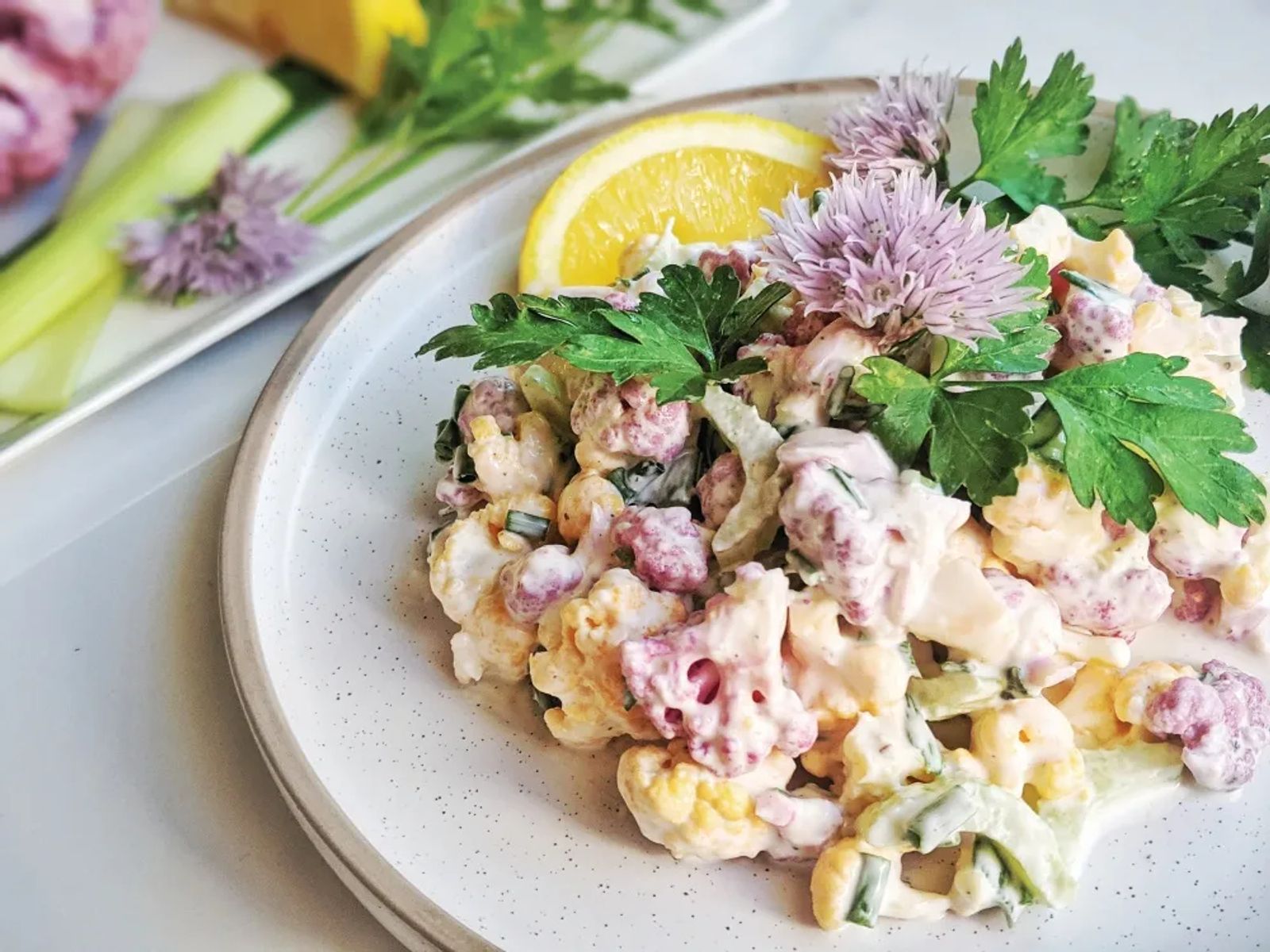 If you like a good crunch in your salad, this recipe is for you. It requires very little prep time, and it is made with simple ingredients commonly found in most pantries.
Ingredients:
1 Cup purple cauliflower
1 Cup orange cauliflower
¼ Cup mayo
¼ Cup sour cream (substitute with Greek yogurt for a healthier version)
Juice from ½ lemon
1 teaspoon salt
½ teaspoon pepper
1 garlic clove, grated
¼ Cup sliced green onions
Makes 4 servings.
Directions:
Chop the cauliflower into bite-size pieces.
Prepare the dressing by mixing mayo, sour cream, lemon juice, salt, and pepper. Grate the garlic and add to the mix. Toss the cauliflower with dressing until entirely coated. Gently mix in the green onions. Serve as a side or on its own for a light meal.
Roasted Cauliflower with Harissa and Almond Butter Sauce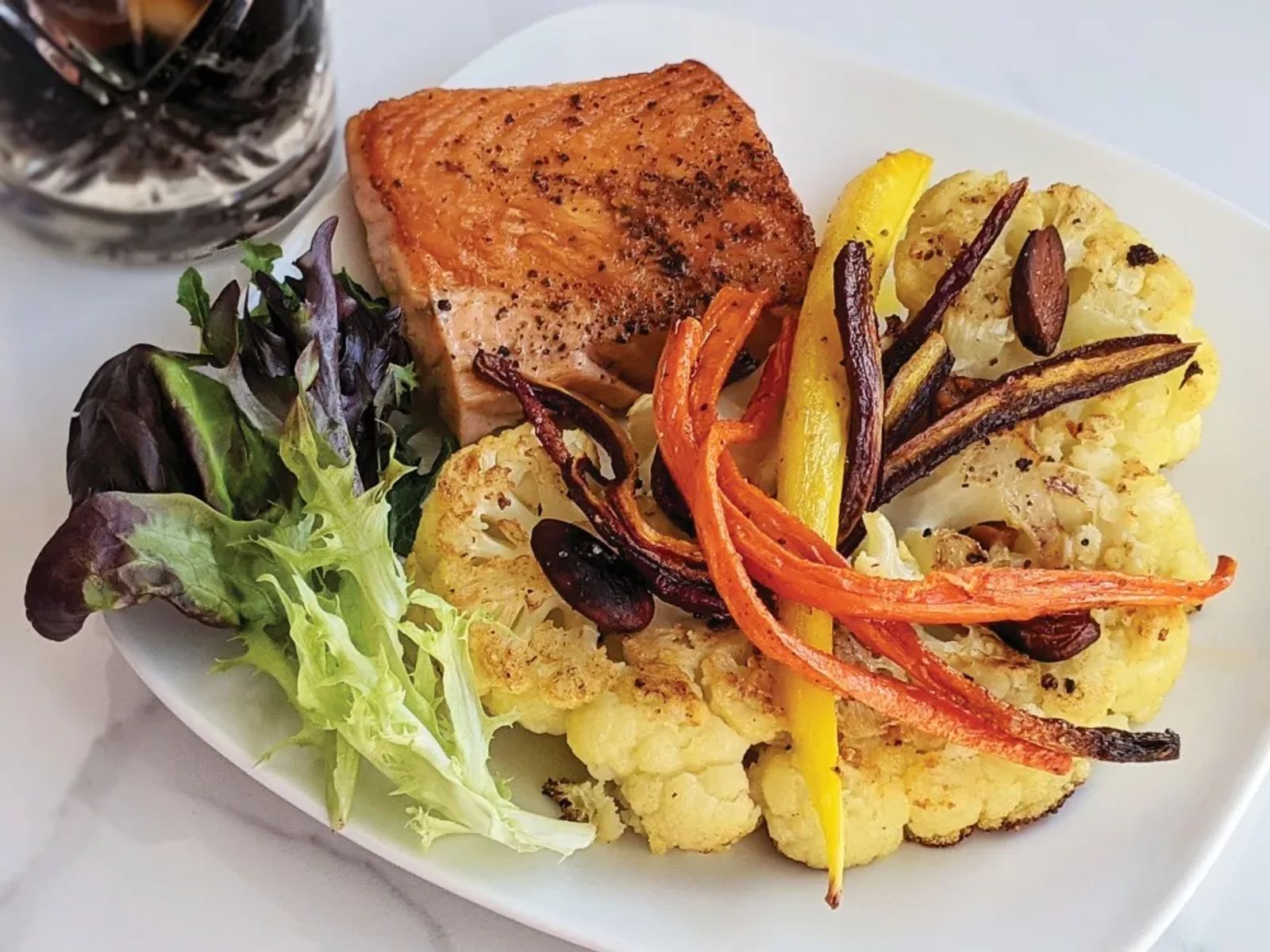 Crispy oven-roasted cauliflower steaks get a gentle kick from this unusual sauce that combines harissa and almond butter. Harissa is a popular North African hot chili pepper sauce that can be used as a condiment for grilled meat and fish and roasted vegetables or couscous.
Ingredients:
1 head of cauliflower
3 Tablespoons harissa
4 Tablespoons almond butter
Juice from half a lemon
3 Tablespoons water
½ teaspoon red pepper flakes
2 cloves of garlic, grated
2 Tablespoons coconut oil
2 teaspoons salt
1 teaspoon black pepper
Makes 4 servings.
Directions:
Preheat the oven to 450F.
Slice the cauliflower into 1-inch steaks. Cover generously with coconut oil and place on a baking tray. Add salt and pepper. Roast for 20-25 minutes, until golden brown.
While the cauliflower is roasting, prepare the sauce.
In a small bowl, combine harissa, almond butter, lemon juice, and water. Add the grated garlic and red pepper flakes.
To serve, spread a couple of tablespoons of sauce on a plate and place a cauliflower steak on top. Decorate with a few toasted almonds and slivered roasted carrots (they can go on the same tray as the cauliflower steaks).
You can serve this as a vegan dish or as a side to meat or fish.
Cauliflower Chocolate Mousse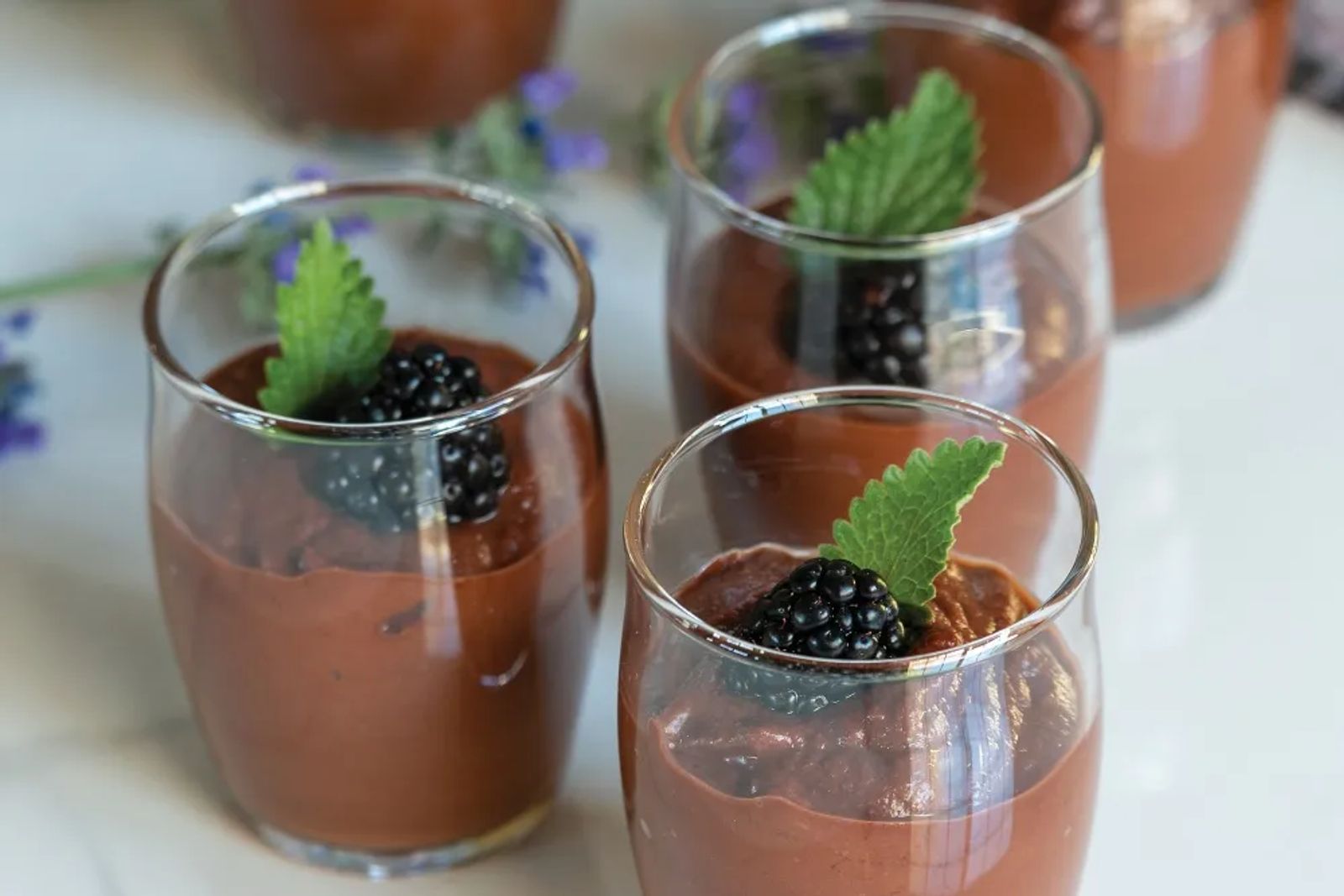 As improbable as it sounds, puréed cauliflower can be a great base for chocolate mousse and other desserts. Don't worry; you won't be able to detect any trace of the sulfurous odor you would expect from a cruciferous vegetable.
Ingredients:
1 pound frozen riced cauliflower
1 banana
3 Tablespoons thick coconut milk (canned milk such as Thai Kitchen works best)
5 Tablespoons maple syrup
1 Tablespoon vanilla extract
¼ Cup cocoa powder
Makes 6 servings.
Directions:
Cook the cauliflower according to the manufacturer's instructions. Let cool slightly. Place in a food processor or blender with all the other ingredients and blend until smooth. Refrigerate for 20-30 minutes before serving.
Originally printed in the August 2021 issue of Simply Local Magazine
Never miss an issue, check out SLM's digital editions here!