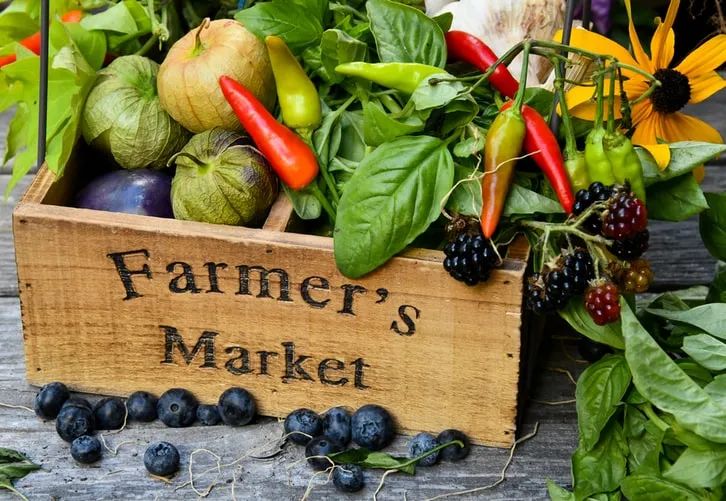 photo by Shelley Pauls via Unsplash
Local Farmers' Market Harvest
August 2021
article & photo by renata haidle
You may never have thought of Billings' South Side as a food desert. After all, we live in a vibrant city surrounded by vast areas of fertile land, not to mention all the inner city gardens lovingly cared for by so many of us. Nevertheless, according to USDA guidelines such as income level, proximity to the nearest grocery store, and transportation cost, the south side of Billings is considered a food desert. Living in such an area is not an issue of availability, but of access. Compelled by the urgent need to provide this part of town with fresh, affordable food, Riverstone Health, Billings Clinic, and St. Vincent Healthcare created Healthy By Design, an initiative that aims to promote healthy choices throughout Yellowstone County.
One of the solutions Healthy By Design offered was a South Side Gardeners' Market, which started in 2011. Now in its 11th season, the market occurs at South Park (South Broadway and 6th Avenue South) every Thursday from 4:30-6:30pm, between June 10th- October 7th.
"We've been at beautiful South Park for the last 9 seasons to create a more family-friendly atmosphere, where families can shop and bring their kids to enjoy the fun that South Park offers. It's also been a way for us to offer fresh and affordable produce to the South Side community. The Gardeners' Market does not charge a vendor fee to sell, so vendors can reduce the price of their products to make it more affordable for customers," says Eden Sowards, market manager. "Everyone is welcome to shop at the Gardeners' Market and we continue to take new vendors throughout the season. We have vendors who sell produce, meat, eggs, and limit baked goods and crafts vendors to make healthy food access the priority. Many of our produce vendors are not even farmers, they may just have a garden with an abundance of produce that they don't need, so they like to sell to bring fresh produce to the community, engage with customers, enjoy South Park, and make a little profit in the process."
To make it easy on customers, the Gardeners' Market offers more payment opportunities than any other market in the county. "We accept cash, debit/credit, SNAP, WIC Farm Direct Checks, and Senior Farmers Market Nutrition Program vouchers," says Sowards. This benefits both the customer and vendor. Despite the pandemic last season, customers spent over $24,000, which went right back into the local economy supporting these vendors."
In addition to live music twice per month, there is one special event scheduled each month during the season.
June 17th- Outdoor Photo Booth
July 15th- Senior Day
August 19th- Active Transportation Day
September 9th- Youth Day
For more information about the Gardeners' Market or to sign up for their weekly newsletter, go to www.hbdyc.org/market, and stay up to date by following @HBDYellowstone on Facebook. Vendors looking to sell at the market can reach out to market@hbdyc.org or call 406.651.6444.
Originally printed in the August 2021 issue of Simply Local Magazine
Never miss an issue, check out SLM's digital editions here!