The Rise of the Martini Bar
June 2020 | by michael j. hitchcock, photos by lovely hitchcock
Shaken, not stirred. Once considered a man's drink exclusively and, oddly enough, a healthy (low carb, low-calorie) option, the iconic martini has recently become somewhat of an appetizing treat for all. Originally served as a clear, dry, slightly acerbic mixture of vermouth and gin complemented by a dash of orange bitters, today's martinis are served in a colorful range of delightful fruit and candy flavors often garnished with small treats such as raspberries or even Gummy Bears. The classic martini adorned by a hand-stuffed olive or slice of lemon has given rise to a fresh generation of inspired creations that please both men and women throughout the world.
An American invention, the martini was likely introduced in the late 1880s and was first officially mentioned in Jerry Thomas Bartenders Guide published in 1862 (a publication still available on Amazon). This macho mixture was built from an ounce of "Old Tom" gin, two ounces of vermouth, a dash of bitters and Maraschino liqueur, shaken with 2 cubes of ice, and then strained into a large cocktail class. Garnished with either a twist of lemon peel or green olive, this primary incarnation of the uniquely American cocktail remained the standard form well into the 20th century.
Post-WWII, thirsty returning servicemen took an interest in the drink, which evoked a massive surge in popularity. However, the popular cocktail remained fairly unaltered for the following 20 years. In the 1970s, the martini finally experienced a second fashionable incarnation as vodka, liquor that had only started to become popular in the 1960s, began replacing gin as the main ingredient. Despite this base change of recipe, the classic cocktail was destined to spend another 20 years in component uniformity.
Today's wide range of fruity, sugary martinis began about 30 years later, some time after the introduction of the first flavored vodka in 1986 by Absolut. While flavored and infused liquors were nothing new (think of Sangria and Captain Morgan's Spiced Rum), the vodka-dependent martini would remain virtually untouched until Absolut kicked off the flavored vodka revolution of the 1990s. Coupled with a steady increase in the relative number of female cocktail drinkers that began in the 1950s and an overall reduction in the price of alcohol production, creative bartenders inevitably began morphing the dry, classic martini into something more appealing to those with a sweet tooth. By the late 1990s, the martini had become a favorite cocktail of both genders equally, taking on an ostensibly unlimited number of flavors ranging from the espresso martini to the pecan pie martini. Today, there appears to be no limit to the number of existing martini recipes, while dozens more are added daily throughout the world.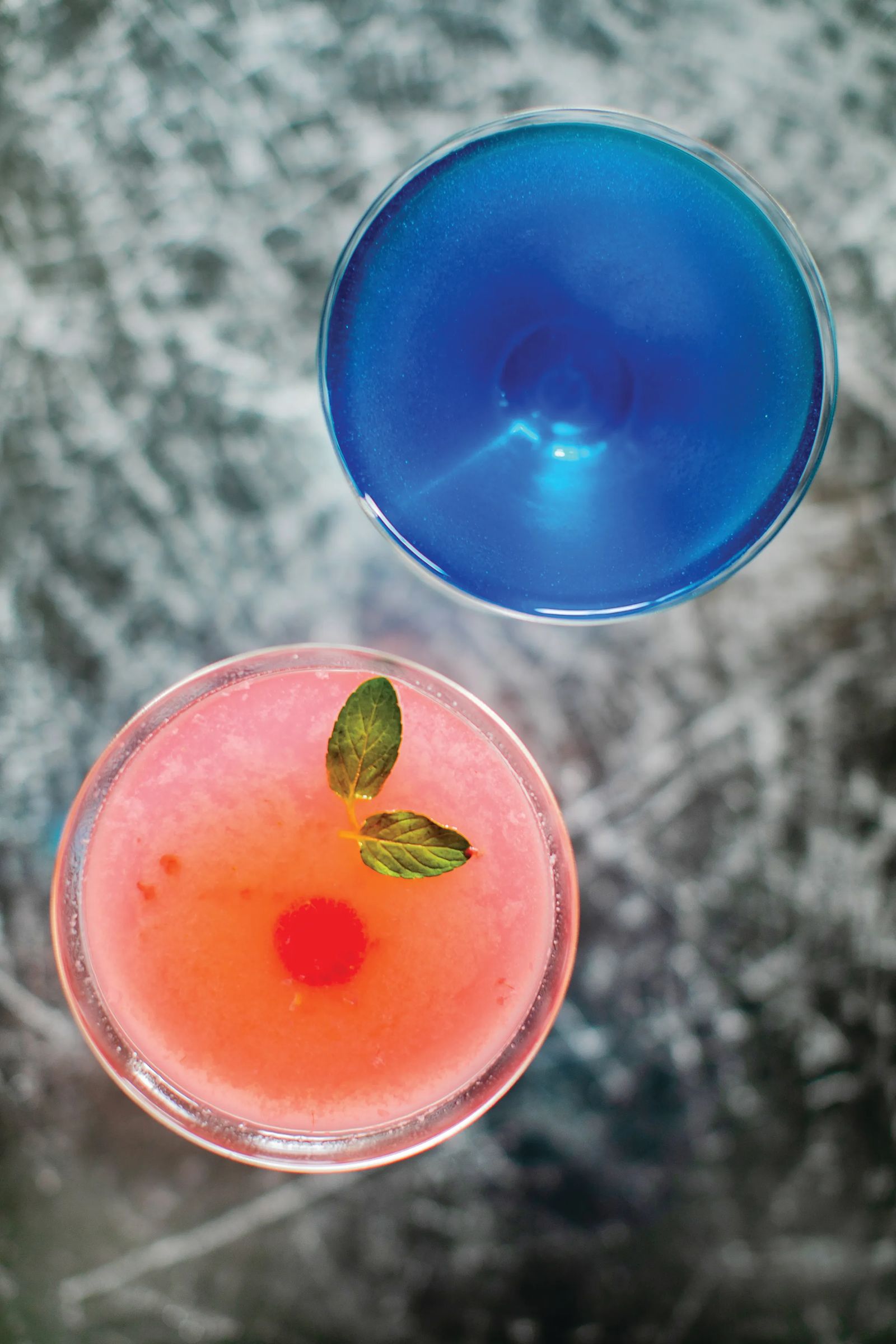 Billings was introduced to the modern varietal martini through its many cocktail bars but only realized its first, dedicated martini bar five years ago when Doc Harper's Tavern Martini Bar opened its doors on North Broadway. Co-owners Bruce and Barb Harper were searching for a fun business to open when they walked into a closed pizza parlor property. Both became immediately inspired by the long, tall, open space they encountered. They were intimately familiar with the same style of long, narrow martini bars in cities like New York and San Francisco, so they instantly decided their new business would be Billings' first martini bar. Once up and running, Doc Harper's inadvertently recreated the historic gender shift of the martini with their first year of business, seeing 70% of sales coming from Montana's female population. Today, however, the sales have settled evenly among the genders with an age demographic ranging from 21 years to 80+ years old.
Doc's caters to both martini lovers and casual sippers alike with a parade of flavors ranging from the sweet and sour "Barb's Tini" to the more potent whiskey-lovers' "Bruce's Manhattan." In between, there lies an assortment of flavors to suit any drinker's tastes, including S'mores, toasted salted-caramel pecan, and even an Appletini for those feeling a bit nostalgic for early 2000's television. The number one seller is solidly the Spicy Pickle Martini, followed by the Lemon Drop. Fridays and Saturdays frequently see a full house of 110 people merrily sipping away while engaging in casual conversation. During the summer months, the crowd will often spill out into the street where the staff constructs a temporary parklet; a wooden patio covered with chairs and tables where patrons can enjoy the cool Billings summer evenings.
Each cocktail is served perilously close to overflowing in gorgeous martini glasses reminiscent of '40's gangster movies. The room at Doc's is large and seductively modern with an elegant mix of 1960's New York and 2020 Billings. Nestled beside a smorgasbord of restaurants and shops in downtown Billings, the location is prime, if not perfect. If you would favor a snack or a meal to accompany your drink, Doc's has a great selection of food at the ready; I wholeheartedly recommend the Panini!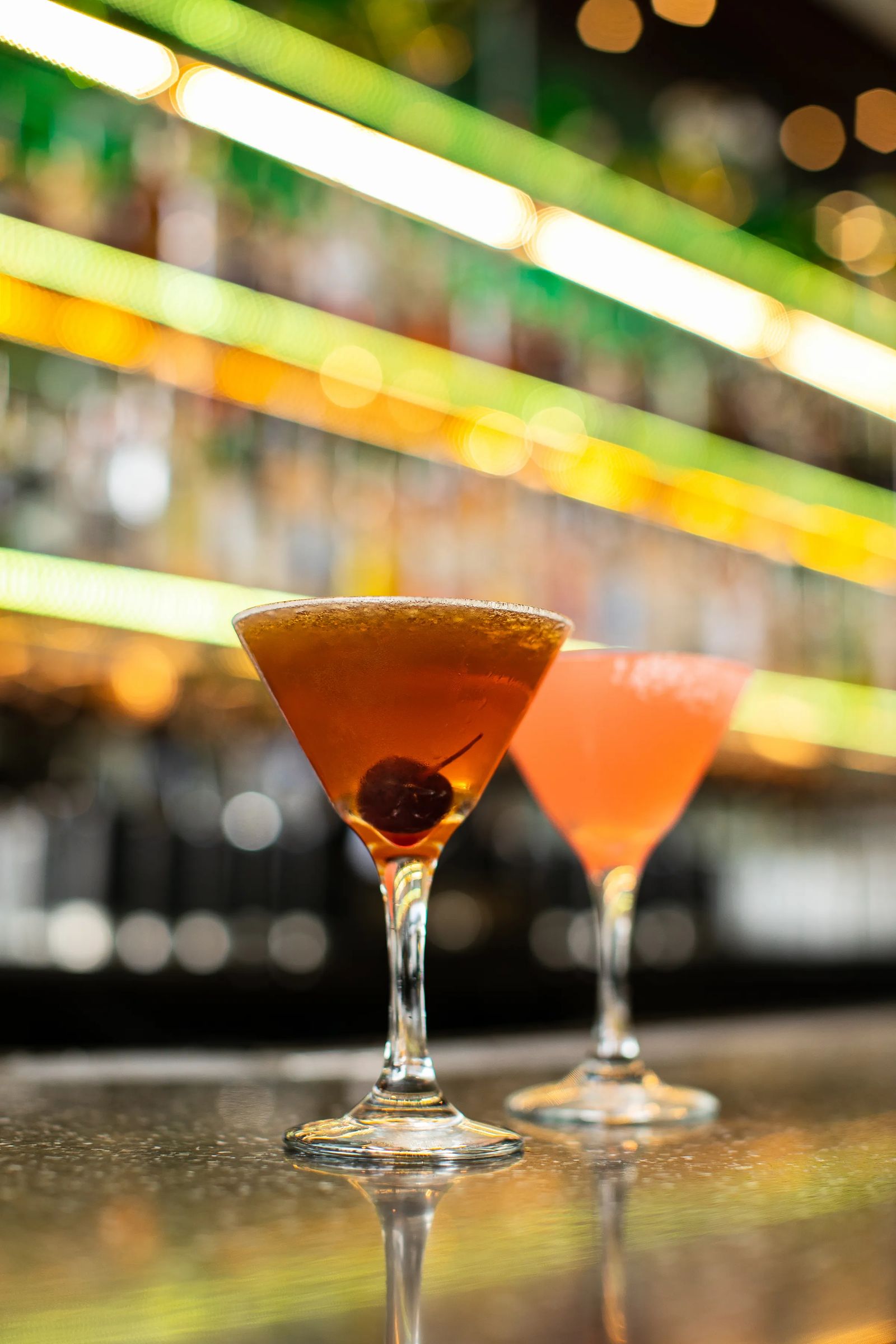 Delectable food is the lifeblood of Montanan entertainment, and Commons 1882 has been a part of our dining culture since 2014. Therefore, in 2019 when they opened a second location in the recently developed Shiloh Commons, it seemed appropriate to build a martini cocktail and wine bar in the adjoining space. General Manager Anthony McCoy explains that they felt the need for a martini bar available on the West End of town, and the new space was perfect for it. The recent addition of The Rims Martini and Wine Bar adds an entirely new dimension to West End Billings entertainment.
Although they had initially considered converting the unused space into a brewery, Anthony recognized the transformation from a male-dominated martini to a more gender-shared market. He saw this as an opportunity to provide a fun, mellow place that all customers could enjoy together. This hidden gem of a bar serves the same outstanding food you'll find at the adjoining restaurant but additionally boasts a delightful drink menu of 24 various martinis, 75 varieties of whiskey, and a broad range of wines and beers (both draft and bottled). While I find the Raspberries & Cream Martini perfect for making any day just a bit more reposeful, there is no doubt that you will discover something there that fits exactly right, as well. Maybe it will be their classic 1882 Manhattan or the more daring Pineapple Habanero Martini. Certainly, you'll find the exact drink to perfectly complement any meal of your choice.
With two martini bars spanning our fair city, you could spend many an adventurous weekend searching for the consummate martini to meet your tastes perfectly. Yet it would be wise not to limit yourself to just a single favorite. To enjoy the full impact of this quite historical drink, you should make your search for the perfect martini a lifetime effort. Better yet, bring a friend and share the joy that is the modern American martini. Shaken or stirred, the magnificent martini is a classic that is forever ours to sip and savor.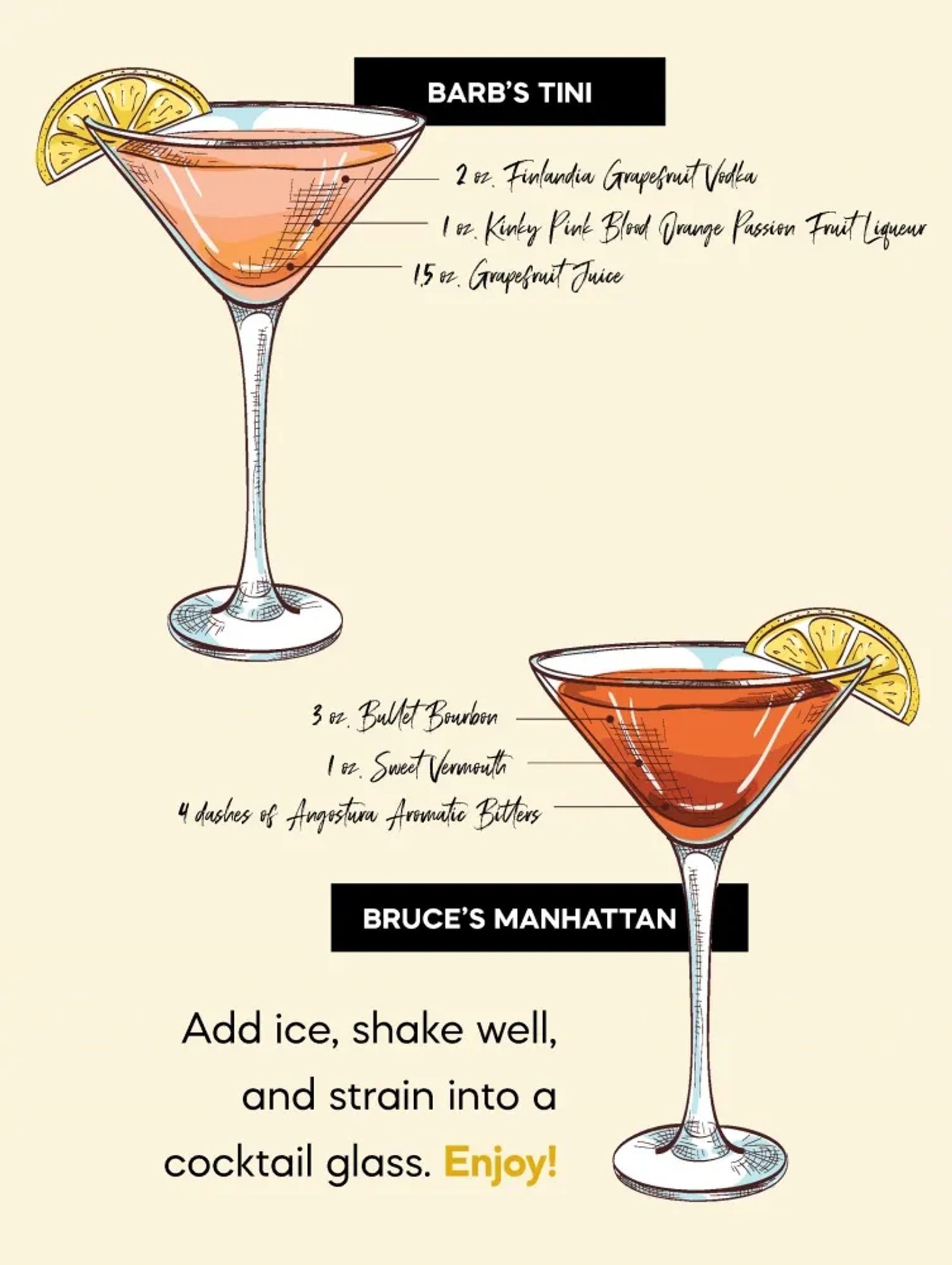 Barb's Tini
2 oz. Finlandia Grapefruit Vodka
1 oz. Kinky Pink Blood Orange Passion Fruit Liqueur
1.5 oz. Grapefruit Juice
Bruce's Manhattan
3 oz. Bullet Bourbon
1 oz. Sweet Vermouth
4 dashes of Angostura Aromatic Bitters
Add ice, shake well, and strain into a cocktail glass. Enjoy!
Originally printed in the June 2020 issue of Simply Local Magazine
Never miss an issue, check out SLM's digital editions here!