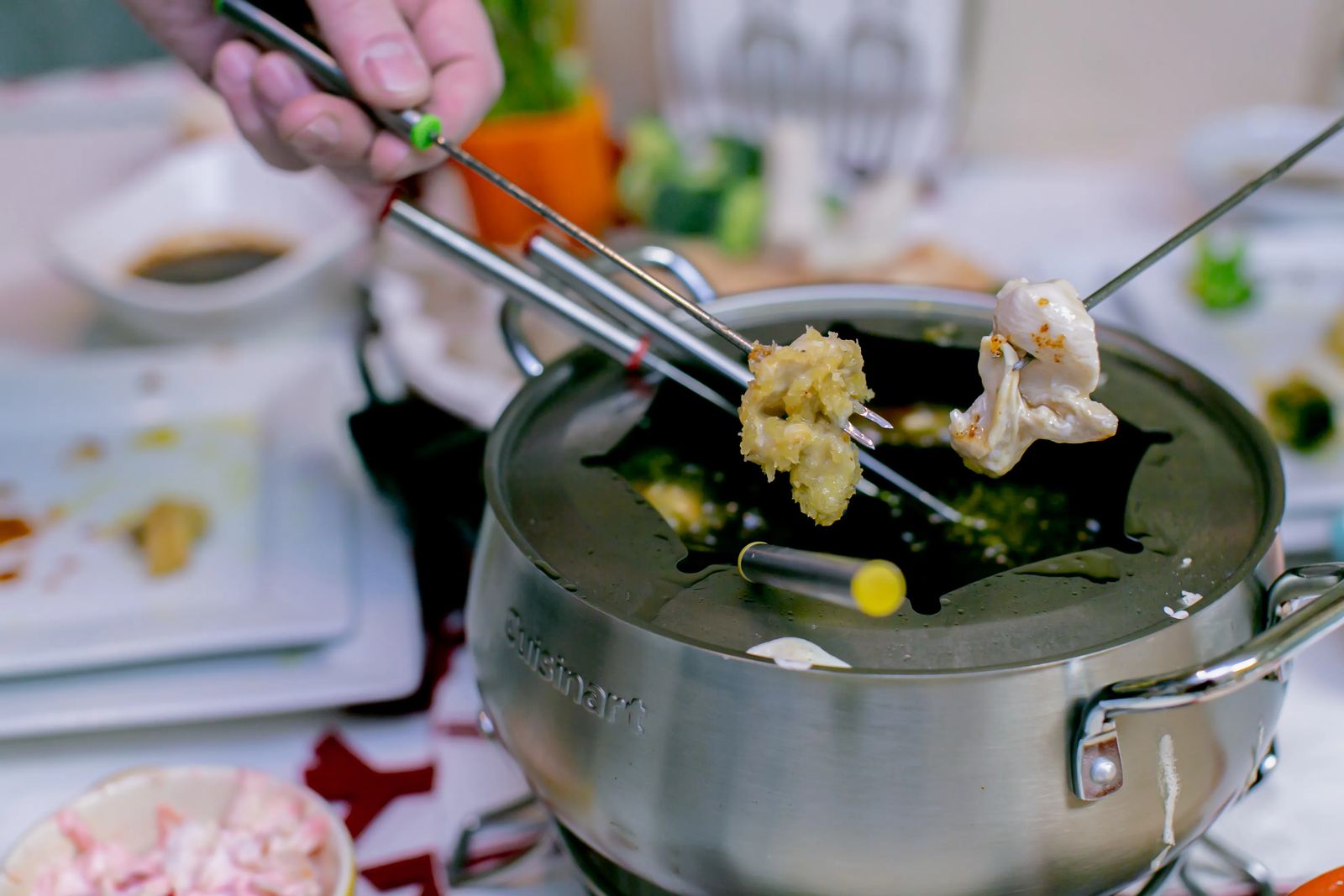 March 1, 2020 | by lovely hitchcock
There are so many beautiful things to celebrate outside of the ordinary, party-hat holidays, including the little victories of everyday life. Celebrations can be nothing more than an excuse to spend quality time with our loved ones or to relax and escape the drudgery of the day-to-day.
I vividly recall the first time that I heard about fondue. At first, I couldn't imagine what this little pot could possibly do. Once I understood the concept and mechanics of fondue, it changed my entire view of celebrating. I quickly became a fondue junkie because this little pot of oil, cheese, or chocolate is, in itself, something worth celebrating. If the discovery of a common method of cooking and eating can be the cause for celebration, imagine what other celebration excuses you could come up with.
Fondue revolves around an inconspicuous, innocent little pot. I've always used the electric ones for ease-of-use, but any heat source will do. Whichever method or design you choose, this pot is a communal cooker accessorized with color-coded, long-stemmed, metal forks. You can use all manners of oil (I highly recommend olive oil), a wide selection of meltable, gooey Swiss cheeses, or chocolate. Dip small pieces of food into the hot medium, chat with friends and family about nothing in particular, and enjoy the delicious bounty.
The fondue method was invented long ago as a way to salvage hard bread and old cheese, appropriately called Swiss Cheese Fondue. Some folks would add cheddar for a sharper flavor. The cheese was allowed to first melt in the pot before dipping in small slices of bread, apples, steamed green beans, blanched broccoli, or chunks of potatoes pre-cooked in olive oil or butter. Keep the heat very low, so it doesn't scorch the cheese.
Chocolate fondue it another (more decadent) option. Enhance your chocolate fondue by pairing with your favorite fruits such as strawberries, kiwi, oranges, and/or pineapple. Try dipping brownies or cakes, marshmallows, and any other sweet snack you can imagine. Use straight chocolate or mix in a couple cups of heavy cream for a creamier texture. You can even add a tablespoon of pure vanilla extract or brandy.
Bourguignonne (ˌbu̇r-gēn-ˈyȯn) fondue, or "oil fondue," is a unique style. I typically add extra virgin olive oil, which tends to be a bit kinder towards one's stomach. For this style, prepare a bowl of tempura batter (per the instructions on the box) as well as a bowl of Panko (Japanese style bread crumbs). Dip beef, chicken, shrimp, mushrooms, asparagus, sweet potatoes, broccoli, and any other vegetable you can think of. First, dip the food into the tempura batter, then gently coat it in the Panko. Finally, sear it in the oil for a minute or two and savor your treat. Pair it with Teriyaki sauce or your favorite dipping sauces. Remember, there's no need to precook the food. Slice the meats into manageable sizes and nestle them on a beautiful platter with the vegetables. You can use bell peppers cut open as cups to hold asparagus, and lettuce serves as a nice mat for the other veggies. This requires little prep time yet creates a charming, beautiful, celebratory spread sure to impress everyone!
To make your table even more appealing, fill a glass pitcher with your favorite cocktail beverage. We like to keep it simple with a mixture of cranberry juice, clear soda (Sprite works well), a generous amount of red wine, and a bit of fruit. For extra deliciousness, drop in some cubed, frozen fruit.
Without a doubt, everyone at your fondue table will be so busy conversing and laughing with each other that they won't have time to stare at their phones. I've used fondue as my go-to celebration feast for over 20 years and it's a joyous hit every single time. Now it's your turn to put your own twist on it and make it your new celebration tradition.
Cheers!
Originally printed in the March 2020 issue of Simply Local Magazine
Never miss an issue, check out SLM's digital editions here!