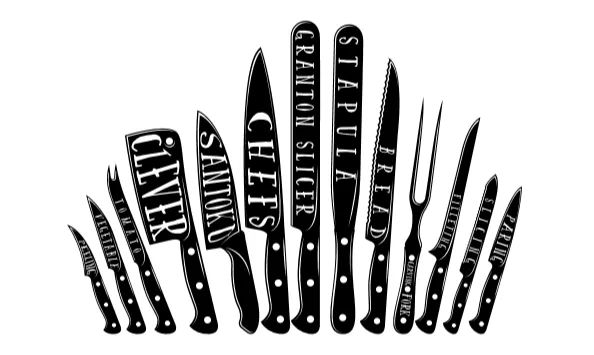 Making the Cut: A Guide to Kitchen Knives
January 1, 2020 | by stephanie toews
A good-quality knife can make all the difference when it comes to food prep. But what constitutes a good kitchen knife and which ones are the best for everyday cooks to use in the kitchen? Read on for some tips on selecting knives that make the most of each cut.
Chef's Knife
This is designed to be the primary knife a cook will use in the kitchen and a great choice if you're looking to invest in one or two knives rather than the typical knife block set. It is used to chop, slice, dice, and mince everything from fruits and vegetables to meats and fish. Look for one that's made from high-carbon stainless steel offering excellent edge retention, rust resistance, and more durability against hard materials. The most popular chef's knife size for home cooking is 8".
Paring Knife
A paring knife (typically 2"– 4" blade) is a must-have for slicing smaller fruits and vegetables, and meat prep that's not as comfortable using the chef's knife. Think trimming strawberries and Brussels sprouts, halving mushrooms; you'll use this little guy a lot!
Serrated or Bread Knife
These knives are great for cutting through foods with hard exteriors and soft interiors such as a loaf of bread or a tomato. The wavy blade allows you to saw through foods without crushing the inside.
Sharpening Steel
Not a knife, but it's a necessary tool that goes hand in hand with maintaining the lifespan of your knives. As you use your knives, their sharp tips and edges will become dull from use and won't be as effective. Using steel to re-align the tips will improve functionality and allow them to last longer between sharpening. This affordable and essential tool comes in 8", 10", and 12" lengths. Purchase one that is longer than the longest knife in your set. Ten inch is typically a great size for most households.
Originally printed in the January 2020 issue of Simply Local Magazine
Never miss an issue, check out SLM's digital editions here!