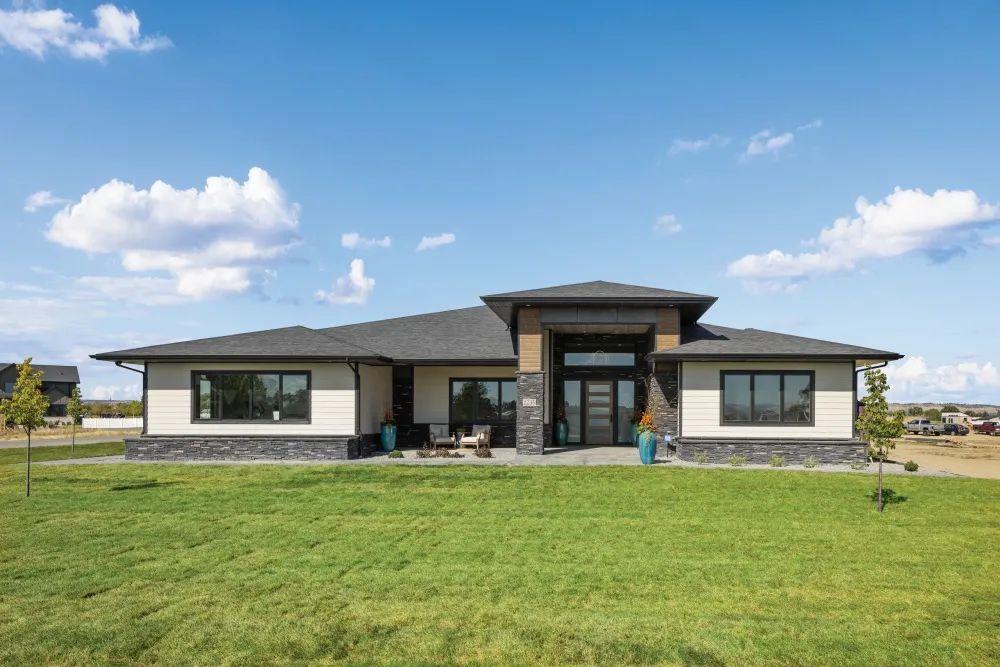 The Modern Montana Home
January 2023
by maria weidich | photos by nathan satran
The Billings Parade of Homes has showcased local builders and delighted homeowners in the Magic City for over 30 years. Though Visionary Custom Homes was a newcomer to the Parade in 2022, it didn't stop their team from taking home not one but two People's Choice Awards: Best Kitchen and Most Unique Feature.  
Owned and operated by Scot and Toni Bonenberger and their longtime friends, Mike and Patty Ninichuck, Visionary Custom Homes illustrated that sentiment with their recent build located in The Nines subdivision in West Billings.
"We wanted to highlight what we're capable of," explained Visionary Custom Homes builder Scot. "We don't just build cookie-cutter stuff. There are features in this home that show my team can do a heck of a job, and we can build a beautiful custom home."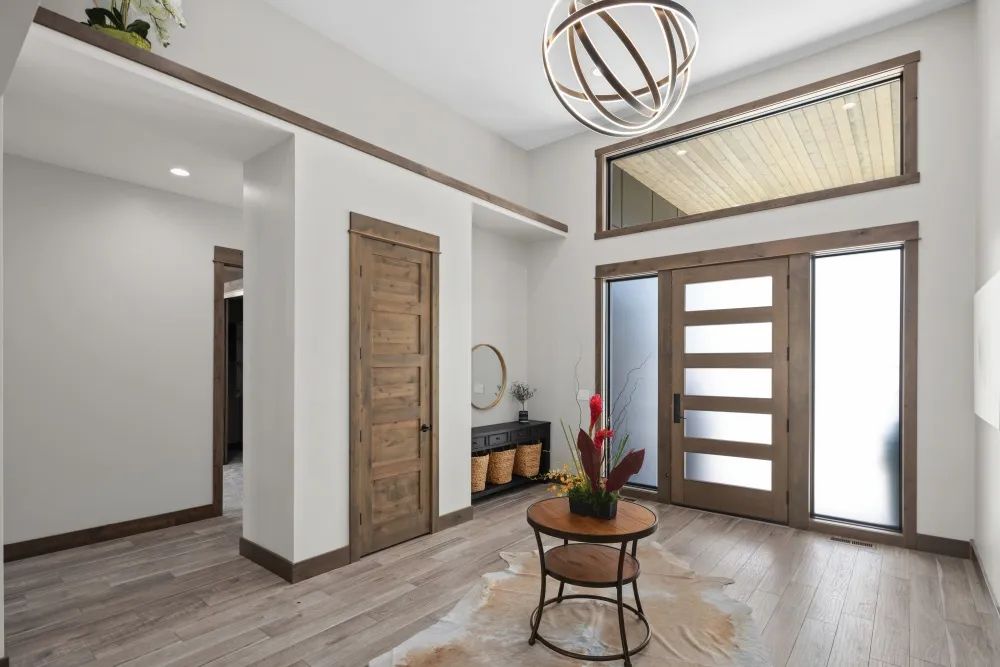 Patty, who spearheads the Visionary Custom Homes design team, said, "I wanted to make it modern, but at the same time, when you step into the front door, I want it to feel like you're in the beautiful west."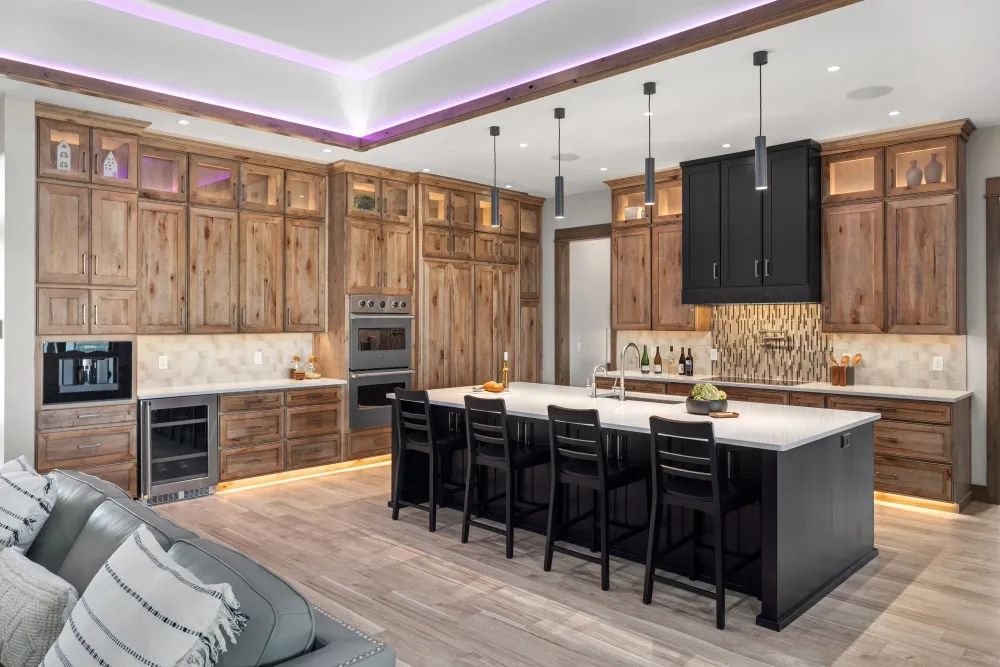 "It's so big. I love that space; it's like a master chef's kitchen." Patty Ninichuck
According to Scot, the kitchen's efficiency and large size make it award-winning. This year's Parade participants were highly impressed with 10-foot ceilings, a 5' by 10' island, custom appliances, and a walk-through butler's pantry. Are you dreaming of a pot filler faucet above the stove? This home has that, too.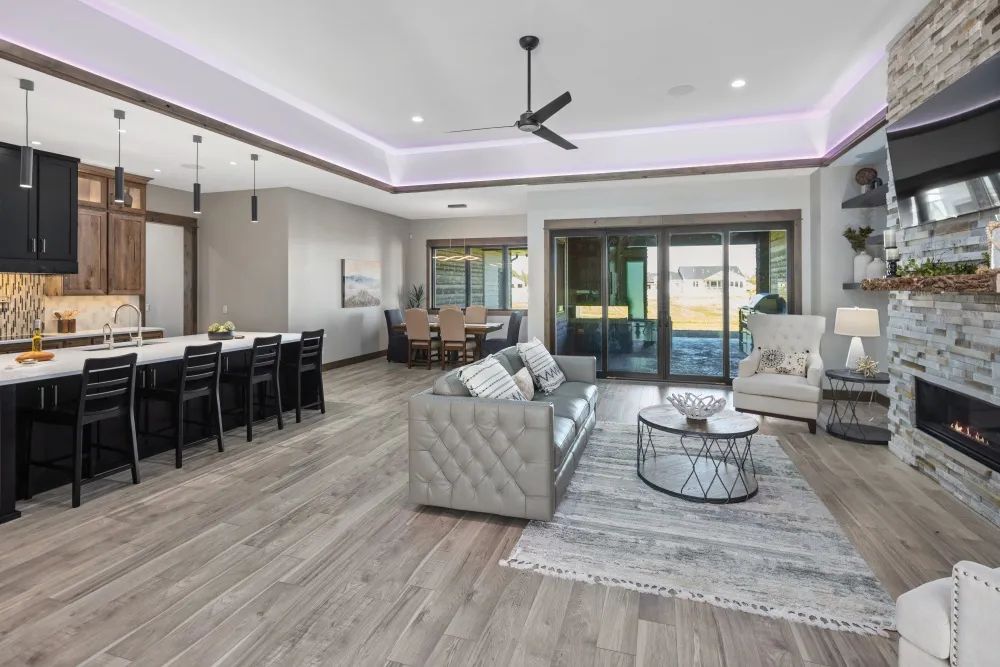 The home's interior and exterior lighting installations were highly acclaimed and earned Visionary Custom Homes the Most Unique Feature recognition.  From the customizable outdoor lights to the large LED sphere in the grand entry and the illuminated tray ceilings, the lighting features are anything but average.  "You can change the colors to whatever you want. It's pretty unique," Scot said of the all-LED, smart system.  
Dual Purpose Mudroom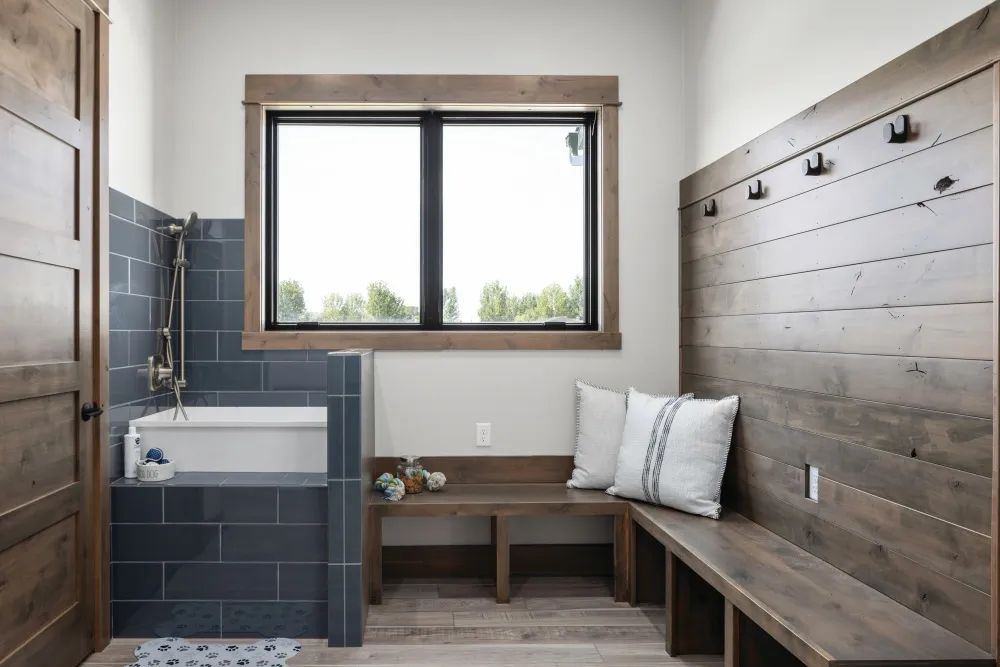 Another feature adored by Parade goers is the home's mud room
"Everybody has a sink in the laundry room," Scot said. "But even then, it's never big enough." To remedy this, his team incorporated an extra-large sink in the mud room, making it big enough to wash off dirty shoes and even the dog. "Everybody loved the doggie wash," Scot laughed. "It definitely serves a dual purpose."
Iconic Style
Scot admits it might take an eye for architecture, but the home's interior design gives a nod to Frank Lloyd Wright's prairie-style homes popularized in the early 1900s. The horizontal lines, built-in closets, and bathroom faucets that cantilever outward are all influenced by Frank Lloyd Wright's iconic style.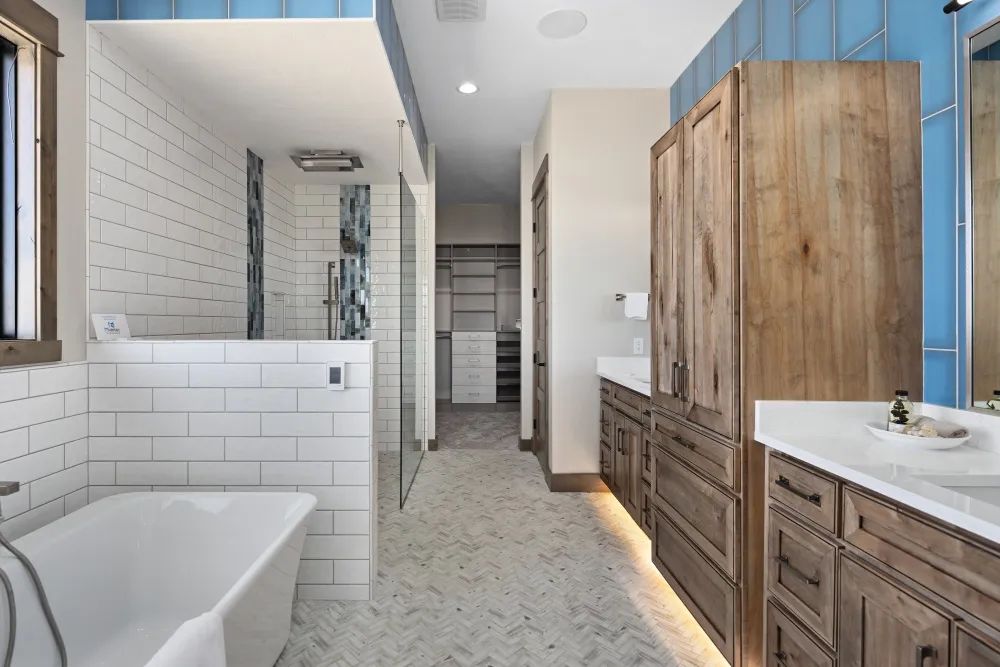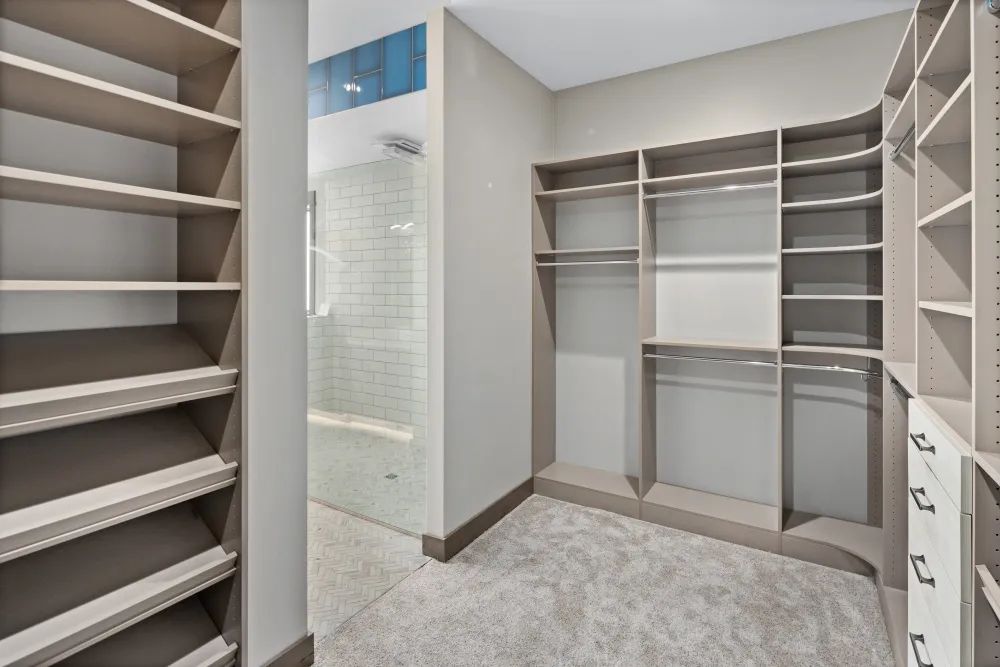 Custom Closet Designers Beyond the Box
The home's grand suite is equipped with a small kitchenette, providing a beverage fridge, sink, and plenty of storage in close reach. "Why not fix your coffee when you get ready in the morning?" Patty joked. "Or, if you don't want to talk to anybody, you can have your glass of wine, and you never have to go to the kitchen!"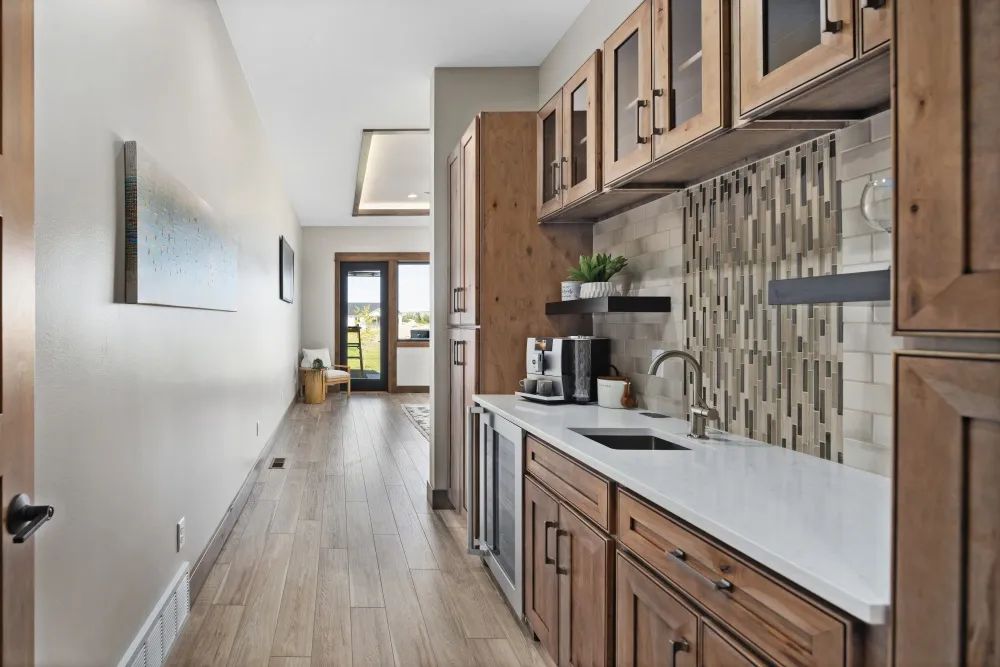 To achieve this modern yet warm atmosphere, Scot and his team added a beautiful alder trim with a gray tone stain throughout the home. "We wanted to show that there's not a detail that we can't do. We can do everything from the simple things to the modern, smart home."
"It's a Modern Montana," Scot said. "It's contemporary, but not too contemporary. It still feels warm and welcoming inside."
"When people walk in, they feel like they're in Montana," added Patty. "No matter where they move from, this is a Montana home."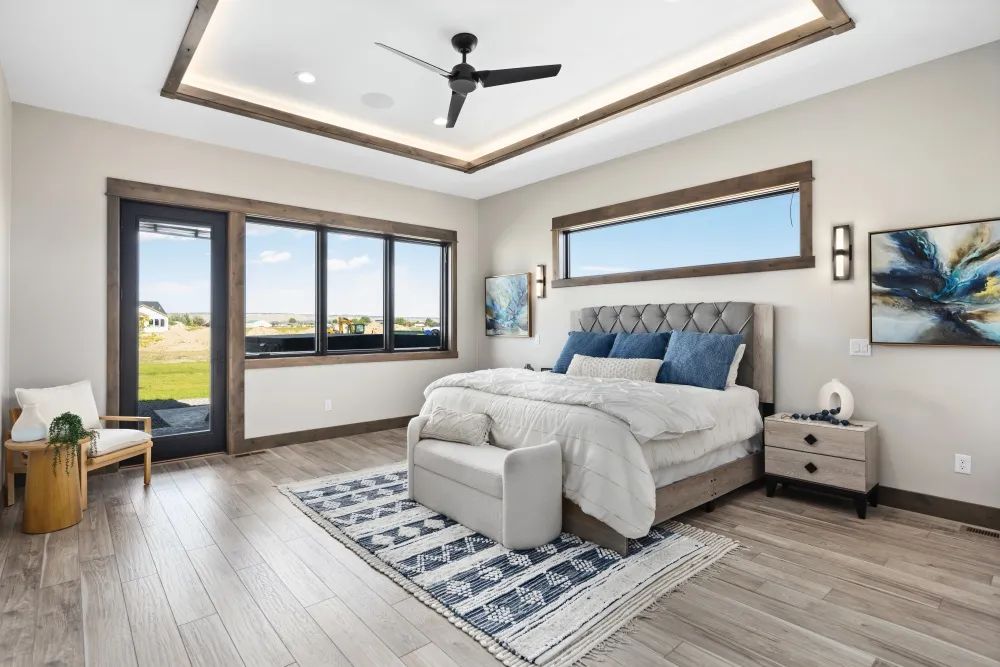 The single-level home covers an impressive 4,100 square feet of living space, four bedrooms, 4.5 baths, a large room equipped for a home gym, and a separate home office. "Every room is useful and livable, with no wasted space, " Patty said.  The stamped concrete patio and outdoor fireplace offer a relaxing place to unwind or a comfortable place to entertain.
Patio Perfection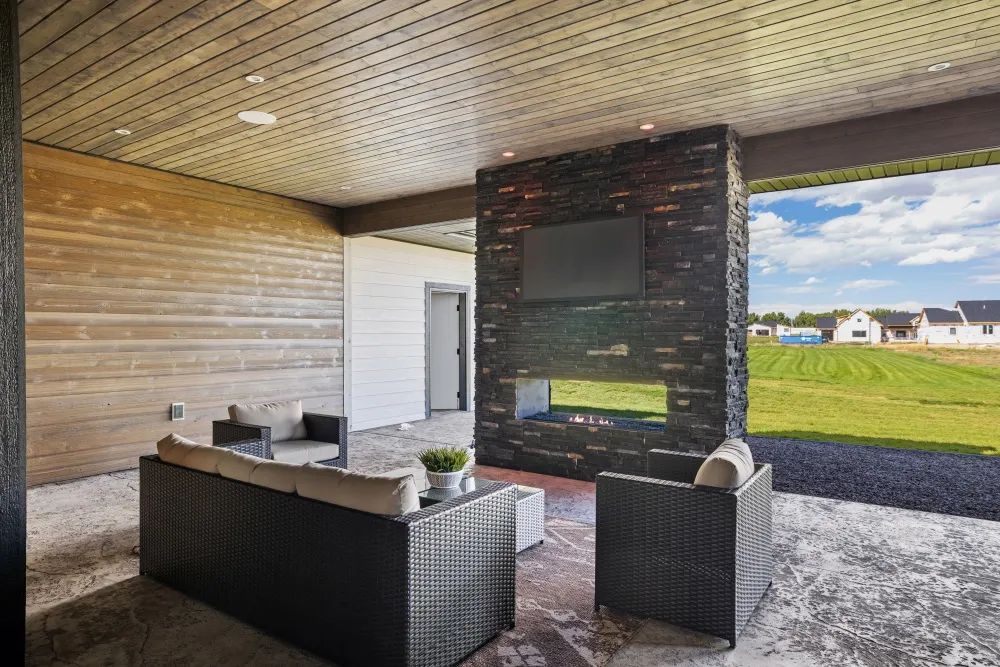 The home is positioned in such a way as to enjoy the morning sunshine on the back patio, as well as providing optimal shade on those long summer nights. "We make sure the house is set where you can enjoy it throughout the year," Patty said.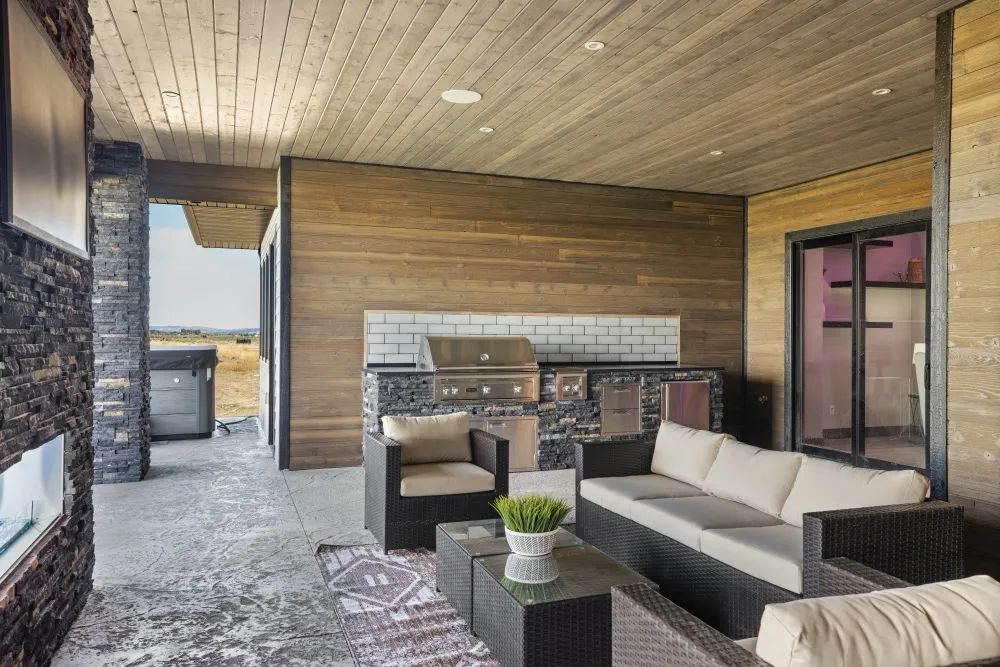 Visionary Custom Homes promises its clients personal interactions from start to finish. "We're there all the time," Scot explained. "I always want to be a part of the process; I don't ever want to be an office builder."  
"I treat it like I'm building it for myself," he added. "We've always said that, and we really do feel that way. It's the satisfaction of watching our client's dreams come true; that's the best part of this whole job. When I see the home through my client's eyes and see how proud and excited they are, that's truly what it's all about." 
Sources and Suppliers-
Appliances- Fred's Appliance
Audio/Video, LED Lighting, Security System, Smart Home- CK Tech
Bank/Lending- Bravera Bank
Bath Hardware- Keller Supply
Cabinets- Rimrock Cabinets
Cabinet Installation, Clean Up, Concrete Framework, Door Hardware/Interior Door/Interior Trim Hardware Installation, Drywall Tape & Texture, Soffit/Fascia Installer, Stamped Concrete, - Visionary Custom Homes
Carpentry/Framing Materials, Interior/Exterior Doors, Interior Trim & Hardware, Lumberyard, Siding Materials, Soffit/Fascia Supplier - Zentz Lumber
Concrete Supplier- Knife River
Countertops- The CounterToppers
Custom Closet- Beyond the Box
Fireplace- Comfort Heating
Flooring, Tile- Murray Floor & Window Coverings
Furniture, Patio Furniture- B Staged Montana
Lighting Fixtures- One Source Lighting
Masonry- Harper Masonry
Paint Supplier- Sherwin Williams
Plumbing- LaSalle Plumbing & Renovations
Roofing Supplies- R&S Supply
Title Company- Stewart Title
Trusses- Pride Industries
Windows- Pella Window & Doors
Originally printed in the January 2023 issue of Simply Local Magazine
Never miss an issue, check out SLM's digital editions here!