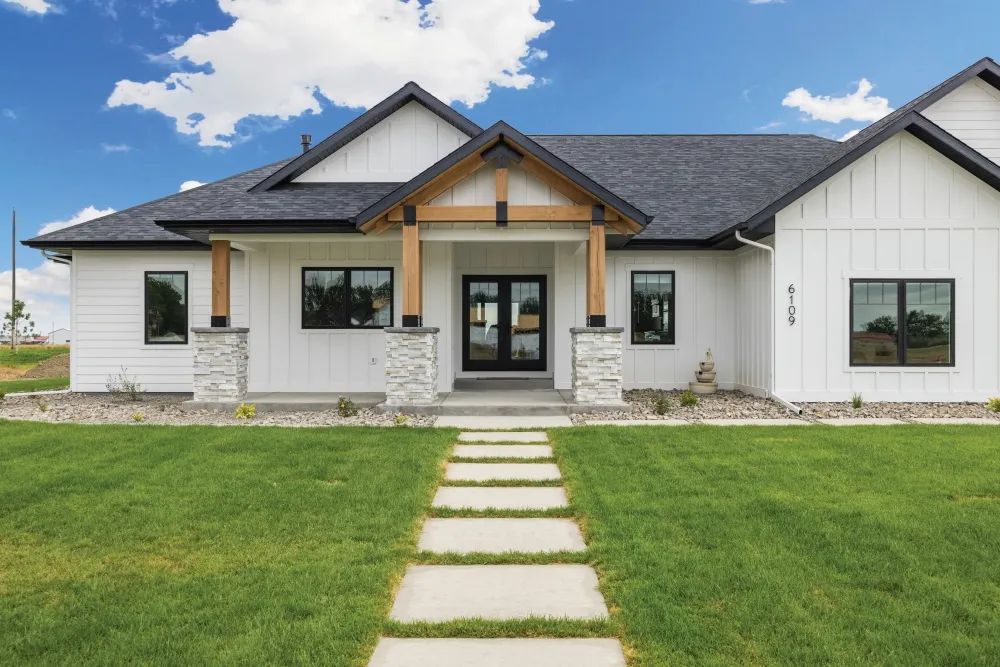 On Parade with Branding Iron Construction: The Montana Empty-Nester of Your Dreams
December 2022
by maria weidich | photos by nathan satran
Not only do Jarrett and Karen Smith of Branding Iron Construction build homes their clients will love, but they also aspire to create a functional space to live, too. "Some houses have a lot of bells and whistles," Jarrett said, "but once you're in there, you might find the traffic patterns are off, or it just doesn't feel homey."
One of the couple's recent builds was featured in the 2022 Billings Parade of Homes. They're confident it's livable and homey because it's their own home.
As empty nesters, their latest (and 24th!) move landed Jarrett and Karen in the custom, farmhouse-styled, single-level West End home. In their 27 years of marriage, they've learned a thing or two about compromise. "Karen likes everything to be nice and clean and sharp, and I tend to lean more toward the rustic look," Jarrett said.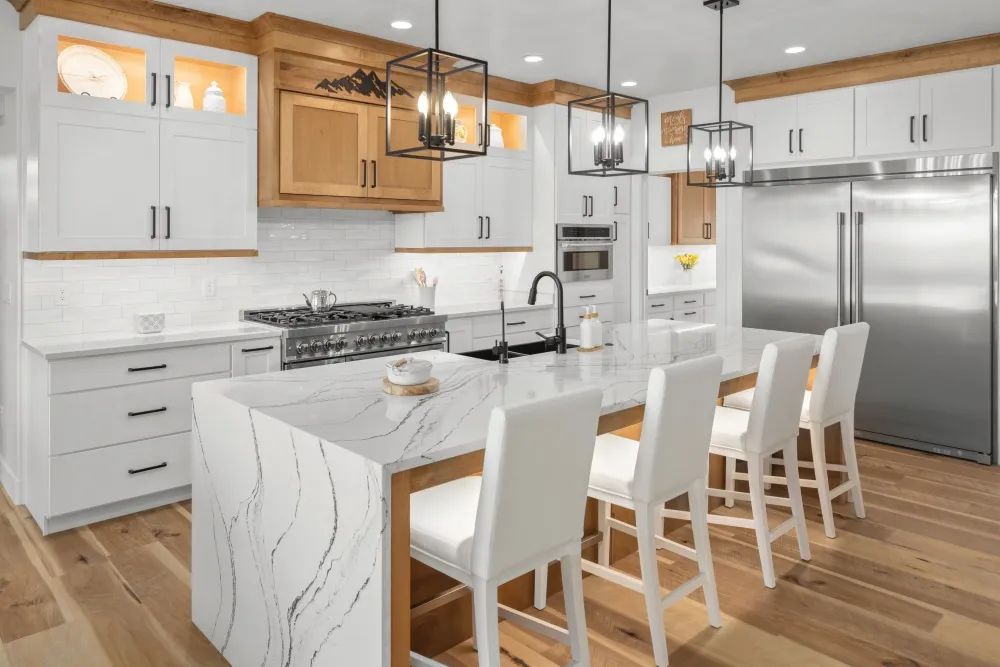 As such, Karen admires the home's crisp and contemporary kitchen. The space provides a tidy and uncluttered look, from the seamless waterfall island to the butler's pantry.
Jarrett incorporates his love of exposed wood beams, live-edge mantels, and tables. The home exudes a sophisticated Montana rustic style through and through with natural hickory flooring, solid maple doors, and even a unique wood range hood. "It's a mix between us," he said of the home.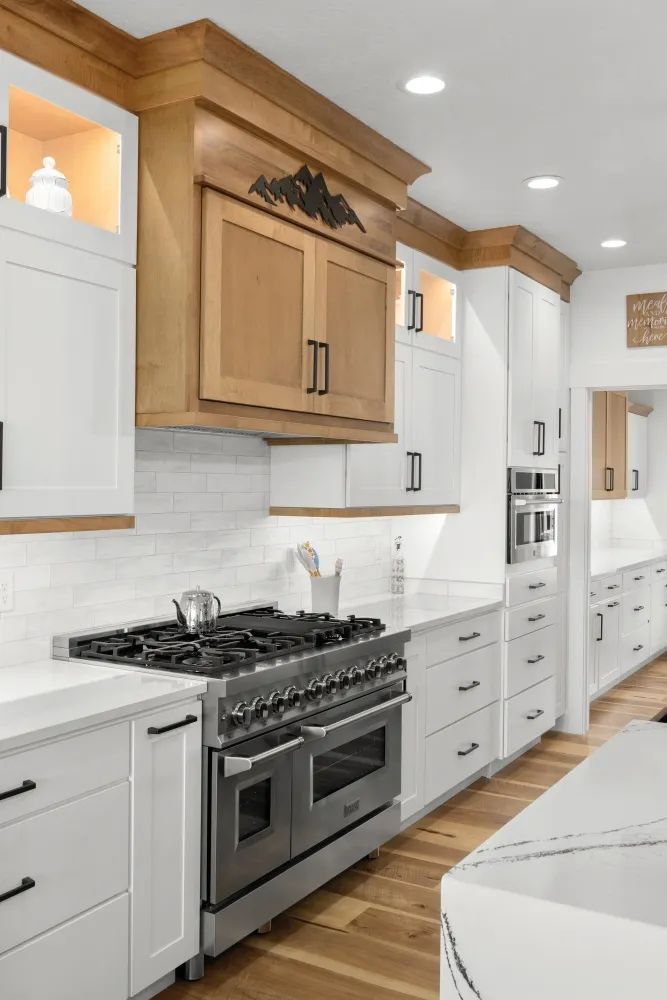 Designer Selection
When designing the home, it was a no-brainer to choose Branding Iron Construction's go-to designer, Home Yellowstone. "It wasn't even a question to have them design our home," Jarrett said. "It's a one-stop-shop; they do everything."
They really do it all, offering everything one would need to outfit a home, from flooring, custom cabinetry, interior design, appliances, window coverings, countertops, hardware, and lighting. "That's truly the big advantage of Home Yellowstone," Jarrett said. "And Denise is fantastic! Without Denise, it wouldn't work."
Denise Audet is Home Yellowstone's Lead Designer and worked closely with the Smiths to make this home distinctly theirs. "We love working with Jarrett and Karen. They have fabulous ideas and wonderful taste!"
Suffice it to say that with 32 years in the design industry, Denise loves her job. "Working with my clients and finding what they like and how they want their home to look and feel, and once they see the final project and how happy they are, it's very gratifying!"
"The Smiths have a lot of original ideas," Denise said. "But the one that stands out that you don't see every day is the two-tone cabinets, specifically the wood tone crown and light rail on the white cabinetry."
Gathering in Style
The continuous living and kitchen space opens up to Billings farmland by way of a beautiful window wall. A spacious back patio adorned with a large focal fireplace adds a place to relax and unwind or a fantastic entertainment area. "I love the openness of this home," Denise said. "It's perfect for family gatherings."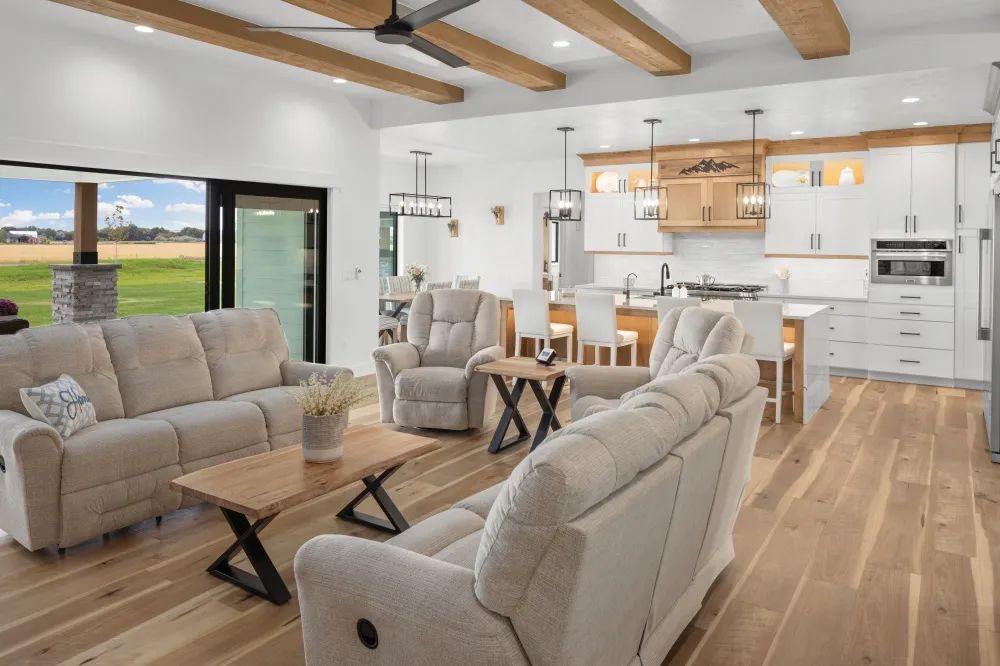 "I love the openness of this home," Denise said. "It's perfect for family gatherings."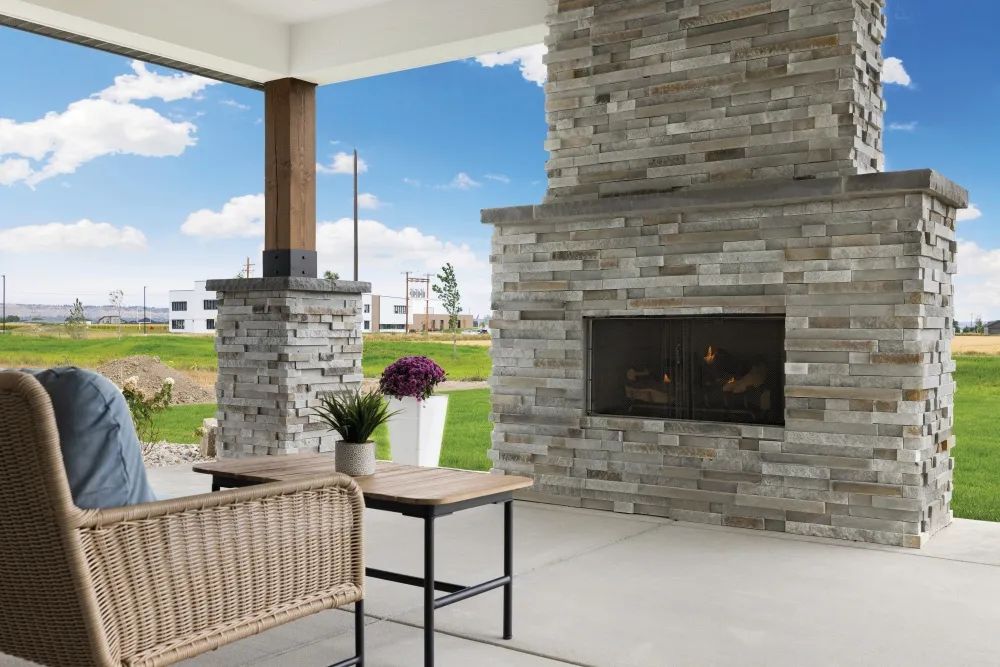 Trendsetters
The home's primary bath raised some eyebrows as the community took part in the Parade of Homes earlier this year. "There was a lot of commentary," Jarrett laughed of the shower wet room. "Some love and a lot of hate."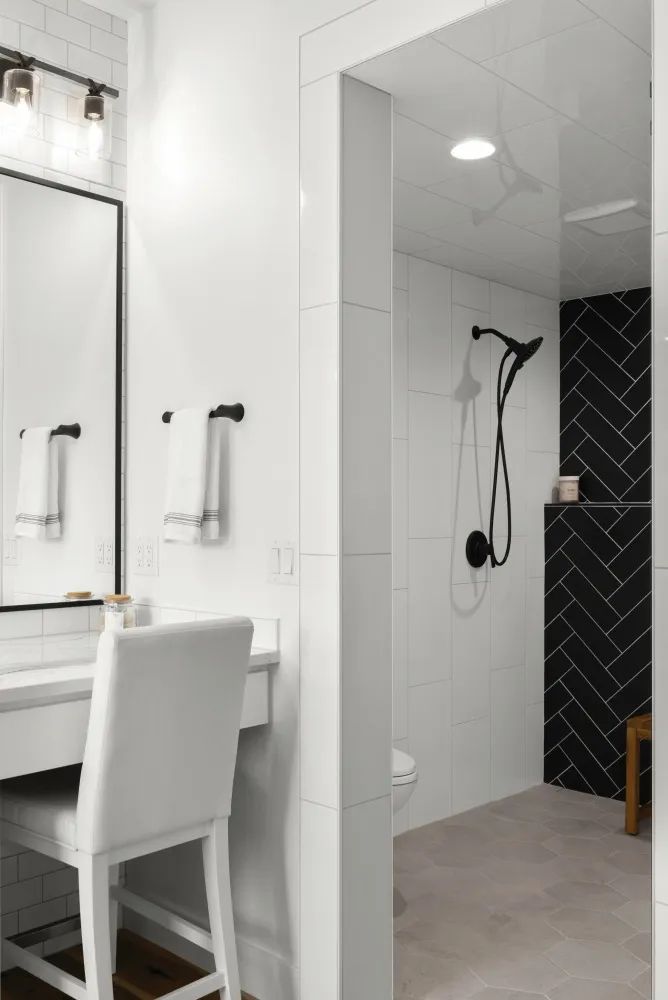 The toilet is mounted on the wall in the same zero-entry room as the walk-in shower. "Now that I've tried it out, I know I love it," Karen said of the wet room. "The handheld shower on one side reaches across the room, and I just spray down everything. It's never been so clean!"
With heated floors, the room dries out quickly, too.
"The wet room is a wonderful concept," Denise agreed. "It's one that we are doing more and more."
For an elegant, spa-like experience, a freestanding soaking tub is situated in the bathroom's corner with a recessed electric fireplace above.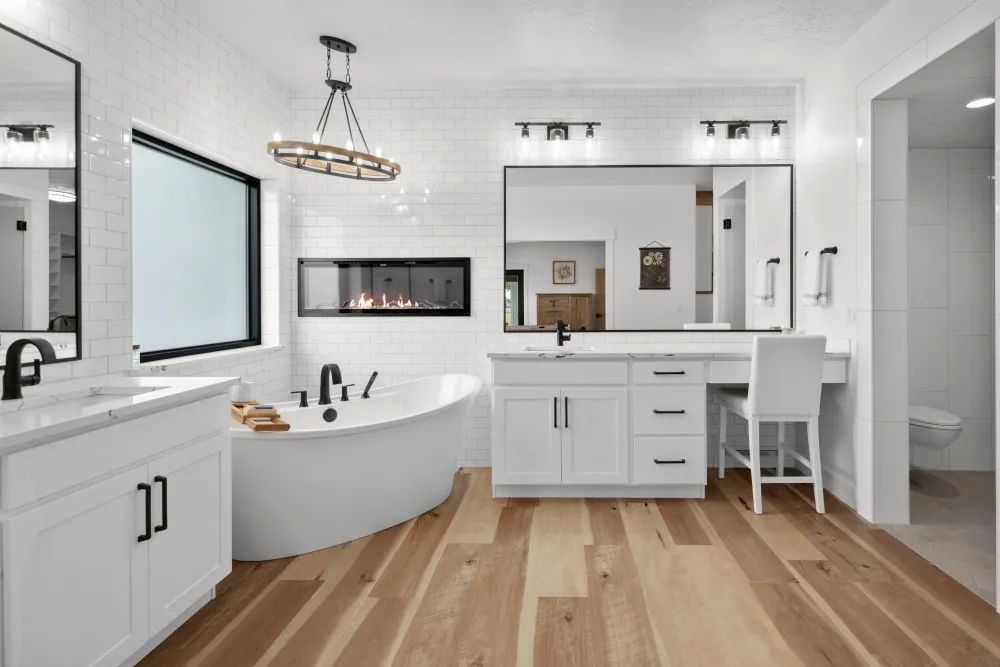 Color Selection
When selecting a color pallet for the Smith's home, they wanted to shy away from the popular greys and instead incorporate warmer, light brown tones. "I think we hit the mark on that with those at The Parade," Karen said. "It looked different from all the others."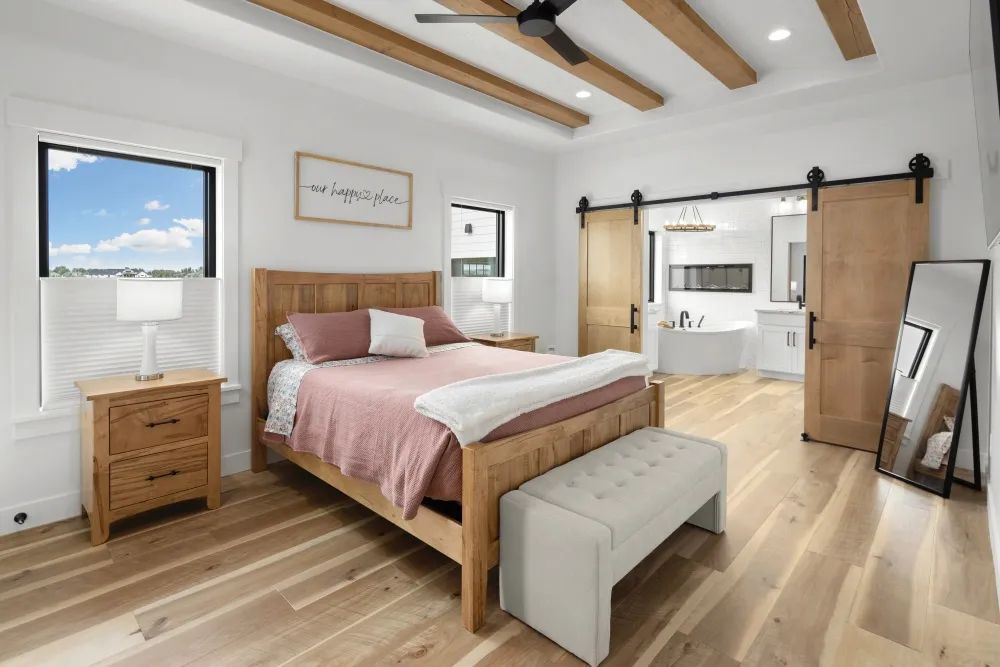 Ensuring the size of the home was maintainable without any wasted space was a must for both Jarrett and Karen. "The home is perfect for the Montana empty-nester looking for single-level living," Jarrett said. "It has everything we need, and when you go to clean it, it doesn't take all day."
Home Yellowstone has been creating their client's vision for over two decades and delivering a home that reverberates family has always been their number one goal.  Denise explained that family is at the forefront of their work because their business operates as one. 
"The family environment and experience that we offer is what sets us apart," Denise said. "We alleviate clients' stress because we provide direction, design options, and our contacts; following the client through until their project feels like home."
In these modern, post-pandemic times, though, supply shortages have put a damper on building their client's dream homes. "Homeowners aren't used to not getting what they want if they have the money to get it," explained Jarrett. "You can get it; it just might not be in a timely fashion."
Denise reaffirms this sentiment, as the timeliness of receiving products has been a hurdle for Home Yellowstone, too. "We talk in-depth with clients about what options we have and how they want to proceed. It's not always an easy conversation, but when they hear it from multiple sources, they understand."
One thing that may set Branding Iron Construction apart from other builders is Jarrett's involvement in the build process from start to finish. From initial project planning, lot selection, customer service, floor plans, and all the ordering, Jarrett does it all without the assistance of staff or a Foreman. "He is completely hands-on and on the job every day," Karen said, "which is unique in this setting for custom homes."
In addition to working as a full-time Certified Public Accountant, Karen is also on the job daily, though behind the scenes, conducting the business' bookkeeping. "We call her La Patrona, sometimes El Presidente," Jarrett teased. "She's been supporting my building habit for years," he laughed.
With over 200 houses under their tool belts, it's evident Jarrett and Karen make a winning team. "We're a very customer-driven company, and customer happiness is our number one goal," Jarrett said. "We'll build what they want and do our very best to achieve their dreams."
To learn more about this builder and design team, visit BrandingIronConstruction.com and HomeYellowstone.com.
Sources and Suppliers-
Appliances- Home Yellowstone, Fred's Appliance
Architect/Plan Design- Impact Drafting & Design
Bank/Lending- Yellowstone Bank, Phil Nelson
Bath Hardware, Plumbing Supplies- The Water Closet
Cabinets- Home Yellowstone
Carpentry/Framing Materials, Fasteners- Bloedorn Lumber
Concrete Supplier- Knife River
Concrete Foundation- FKF Concrete
Countertops- Home Yellowstone, Stone Wild
Doors (Exterior)- Pella Windows & Doors
Doors (Interior), Siding Materials- Thomae Lumber
Excavation- KE Construction
Fireplace- Fireplace Center
Floor Coverings/Tile- Home Yellowstone
Furniture- Conlin's Furniture
Insulation- D's Insulation
Interior Designer- Branding Iron Construction, Home Yellowstone
Ironwork- Artistic Iron
Lighting Fixtures- One Source Lighting
Real Estate Agent- Jarrett Smith
Roofing Supplies- R&F Supplies
Soffit/Fascia- Dustin Davison Construction
Title Company- Chicago Title
Water Softener- Culligan Water
Window Coverings- Pella Windows & Doors, Home Yellowstone
Windows- Pella Windows & Doors
Originally printed in the December 2022 issue of Simply Local Magazine
Never miss an issue, check out SLM's digital editions here!