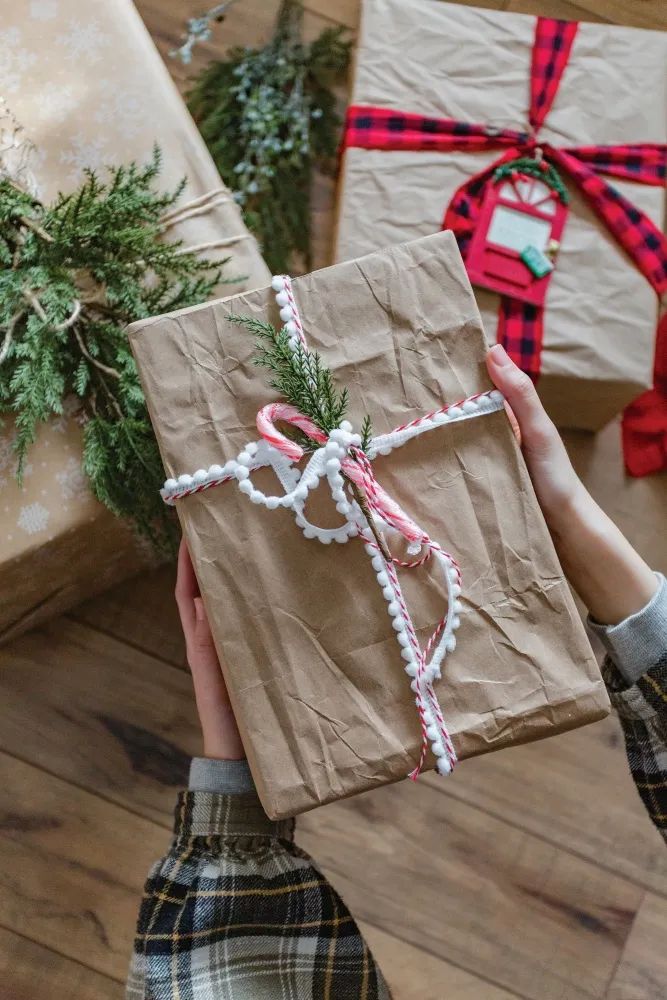 The Heart of Gift Giving
December 2021
by rebecca stewart | photo by lovely hitchcock
It's no secret that this time of year, while meant to be joyful, is often synonymous with stress and busyness. We are the makers of the lists and the doers of all the things. It's a lot. We put pressure on ourselves to create this magical holiday experience and to find the "perfect" gift for every person on our list. Which got us asking, what is at the heart of gift giving?
For me, I love giving a gift that evokes big emotion. Whether that comes in the form of tears or laughter or squeals of excitement, I am enthusiastically here for all of it. Added bonus if it makes your people feel seen and heard. My modus operandi when it comes to intel gathering for holidays and birthdays is to listen for the random comments throughout the year, then I tuck those ideas into a Gift List app. The kids now know that they can't just drop a random want that's meant to be a joke because Aunt Bec will surely scoop that out of a conversation and run with it.
Let's face it, when we're shopping for littles, life couldn't be sweeter or easier, it's the adults and tween/teen ages that bring on the challenge. So, let's dive in and look at how we can put some heart into our gift giving this holiday season. And, for the parents who desperately don't want a million more toys added to the household, a few outside of the box ideas for those easy-peasy littles in your life and on your list.
When it feels like we all have enough stuff, going for an Experience is an excellent opportunity to gift outside of the box. Though we might automatically think about these things for the kids, it can also be great for your parents who might have told you once or twice that there is literally no more space on their walls or shelves.
Think Season Passes/Memberships (Zoos, National Parks, Pools/Waterparks, Museums, Theatre, Streaming Subscription…)
Activities (Trampoline Parks, Movie Theater, Bowling, Creating/Crafting, Miniature Golf, Escape Rooms…)
Classes/Lessons (Dance, Sports, Swimming, Horseback Riding, Music, Martial Arts, Yoga…)
Special Treats (Concert Tickets or Gift Cards for: Spa Day, Favorite Restaurant or guilty pleasure, Coffee Shop, Favorite Candy Store…)
A Weekend Getaway or Family Vacation (Some families choose to forgo traditional gifts and instead spend their money on a family trip.)
As with all gifts, know your audience when you're selecting the experience. The beauty of gifting an experience is that you're almost always also giving the gift of time spent together. Also, it is extra delightful if you choose to write a poem to accompany this particular gift – I strongly recommend a dramatic reading of said poem.
Perhaps the most obvious gift from the heart is the Handmade Gift. Your brain might immediately go to knitting, sewing, or woodworking, but just as we talked about in the September issue, photo books are also undeniably special. As are a whole variety of other options that showcase your creativity and care. Some thoughts:
Blankets- Photo Blankets, T-Shirt Quilt – not so crafty? You can have these made. Memory Quilt – made from family members' clothing. Fleece Tie Blankets, using fabric that reflects your giftee's favorite things.
Christmas Ornaments- Anything with handprints is a guaranteed win.
Photo Books- Whether going hands-on and physically scrapbooking or utilizing the gift of technology, you can't go wrong. Picking a theme can be helpful – like a special trip or a book all about you and your sibling that highlights your most beloved memories.
Artistically gifted? Then get creating in your favorite medium, pulling inspiration from your giftees' favorite things.
There are far too many special handmade gift ideas than we have the space to list here; let us remember that it doesn't necessarily have to be elaborate, these creations. One of my all-time favorite gifts came from my daughter. On a little, clear plastic case, she wrote "20 Messages from Abby," and inside, in her handwriting, are 20 things she loves about me; it never fails to brighten my day.
If you've not so much been blessed with the gift of craftiness and creativity, there are people who can help you with that. Here is where I would invite you to Shop Local. Gifting in this capacity creates ripple effects of goodness. From the store itself and our community to the person you are giving the gift to.
Surely, by now you know that at Simply Local Marketplace, you can find handmade gifts and artwork by local and Montana makers that are exquisitely beautiful and sure to please.
Locally owned clothing, jewelry, and accessories boutiques are excellent options for spreading (and keeping) cheer right here in our community.
And for those who love a culinary creation, consider gifting an experience in cooking classes or dining at a locally owned restaurant vs. a chain restaurant.
Be intentional in your shopping this season because supporting local goes far beyond Small Business Saturday, not to mention the treasures you might discover.
While we generally think about the "wants" of the people on our gift list, sometimes it's as simple (and important) as: Find a Need, Fill a Need. Like giving the gift of an experience, this option is about looking beyond things (that we may or may not even want). The key here is first, asking what they really need and then their willingness to be vulnerable enough to share it.
There's a meme going around that suggests:
Offering a night (or day) off from the kids, providing your excellent (free) babysitting skills.
Are they overwhelmed with all the things? How about a home-cooked meal or meal delivery service? Or a cleaning service to get them caught up? (Definitely make sure this is a voiced need, lest you unintentionally insult your loved one).
Maybe they need help with a utility, or other, bill?
Perhaps they could just use some one-on-one time, with someone actively listening to them over a cup of coffee.
Whatever it might be, consider filling a need this holiday season.
So, what is the heart of gift giving? It's not about the price tag; dare I say it's the very thing we seek in this season: joy. Not every gift we give will be worthy of an epic reaction, but we can aim to be purposeful, making our people feel seen, heard, and loved. What bliss.
Originally printed in the December 2021 issue of Simply Local Magazine
Never miss an issue, check out SLM's digital editions here!