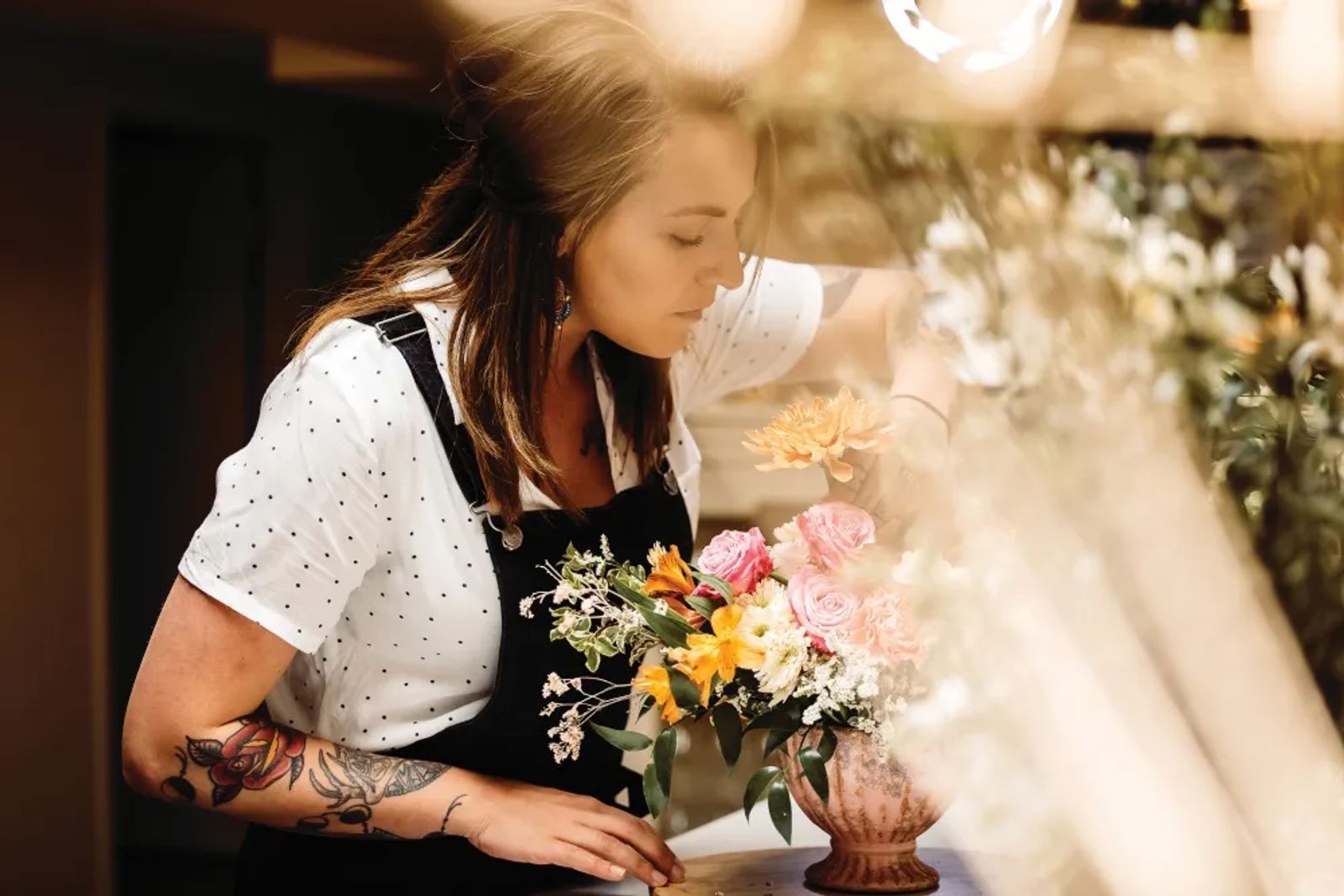 The Face of Stigma and Style Co.: Casey Konen
June 2021
article & photos by arianna skoog
When I first met Casey Konen, I thought to myself, "This girl is super rad; I want to be her friend." I couldn't quite put my finger on why, but it was something about the way she carried herself - a confident and grounded human being oozing creativity.
Casey grew up in Butte, Montana and was a fiery little thing, getting her hands dirty with crafts and making a mess with glue. However, it was drawing that first provided an outlet for her creative energy.
During her senior year in high school, Casey decided to drop all of her classes and sign up for art courses; she just loves to create. She aspired to go to art school but didn't have the luxury of affording it and so she started nannying. Her first interview as a nanny just so happened to be with a florist who immediately saw potential in Casey. One day, Casey's boss, Leslie, asked her to assist at one of her weddings, allowing her to experiment with flowers. Casey immediately understood color and composition. She was a natural. "I remember the day when I was working with chocolate cosmos, smelling them, and feeling in a complete flow state. I felt truly happy and the most grateful."
In no time, Casey became Leslie's apprentice, working for her on and off for a couple of years. From there she decided to live in Big Sky for a year, which extended to a longer adventure. In 2015, Casey did her first wedding on her own. "It was very exhilarating, and I realized that I am an adrenaline junkie. With flowers, you need to move and hustle, and you just lose track of time." Word spread, and Casey started building her business. "It wasn't intentional; it just happened." She traveled across the state, not charging her worth but getting experience and loving it.
Casey started following Katie Bennett of Mac's Floral and was really into her work. So in 2019, when Casey moved to Billings, Katie and Casey connected and started working together. Once upon a time, when Casey was working with Leslie, she did the wedding flowers for Cassie LaGreca of Better to Gather, who happens to share a space with Mac's Floral. Cassie loved Casey's work, and serendipitously, Casey discovered she has a team of cheerleaders in her corner here in Billings. "I love working with Katie; she is a mentor to me rather than a competitor. I have more work than I could ever imagine."
During the universal staycation that was COVID-19, Casey was pregnant with her first-born, Dash. "Having Dash was the kick in the pants I needed to get my own business going. The birth of her child coincided with the birth of her business, Stigma and Style. Casey, also being passionate about doulas and feminine culture in general, named her company after the female reproductive organs of a flower. She came up with the name when she was seven months pregnant. "I just really want my business to be about collaborating with other talented women, bringing beautiful things to fruition."
Whether working on weddings, birth alters, or exquisite headpieces for collaborative photoshoots, Casey makes magic happen whenever she uses her craft—shedding light on everyone's gifts and talents.
Originally printed in the June 2021 issue of Simply Local Magazine
Never miss an issue, check out SLM's digital editions here!